Stuart Semple is a contemporary British artist and curator, born in 1980 in Dorset. At the age of 19, he became an artist after a sudden near death experience due to an allergic reaction. At that time Semple was studying Fine Art at Vbreton Hall in the Yorkshire Sculpture Park. He is known for large-scale works which incorporate text and combine contemporary figurative painting with pop art. It bears similarities to Richard Hamilton's Pop Art. His works are ambitious and emotive, featuring eye-catching use of color and composition, which often contradicts his recurring themes of art history, spirituality and alienation.
Art of Stuart Semple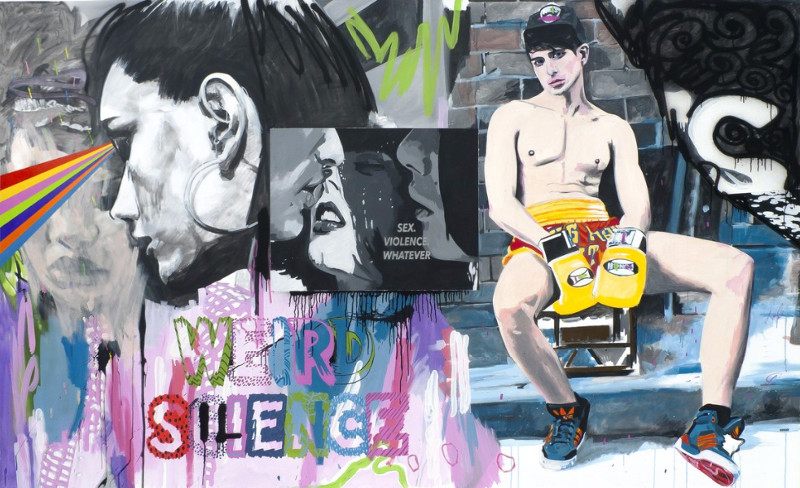 The Beginnings
He was born in Bournemouth, Dorset and studied Advanced Art and Design at Poole, and Painting and Printmaking at Bretton Hall College in Yorkshire. Semple's family had an influence on him becoming an artist. His grandmother was also interested in painting and had books about Impressionism, which Semple read and copied in his childhood. Seeing Van Gogh's Sunflowers at the age of 7, when he went with his mother to the National Gallery, was a turning point in his life.
In 2002 he had a near death experience, following an allergic reaction, and claims that the experience motivated him to dedicate his life to art.
In 2004, he met art dealer Anthony d'Offay who convinced him to move to London and set up a studio in East End. In 2007, he had a solo show with $1 million sales within the first five minutes.
Andy Warhol 80th Birthday Banana, 2008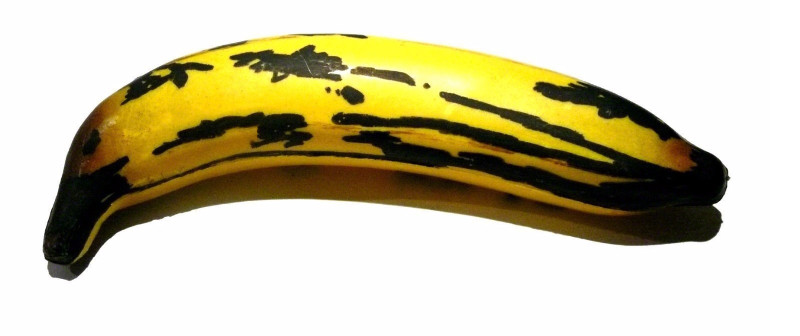 Using the Potential of the WWW
From 1999 to 2002, while he was recovering, Stuart created around 3000 artworks and sold them via eBay. It brought him his first solo show at London's A&D gallery in 2001. He was one of the first artist who used the potential of the internet in promoting his art. He created an online community on eBay and posted drawings every night.
His wish to create and distribute the art via the Internet and make it accessible to everyone, led to Stuart's 2012 release of a body of work called EXIT, which was planned to be a fully digital experience. It was released on iTunes, making Semple the first artist to do so. It was accessed for an affordable price by anyone in any part of the world.
He produced a new series of five websites-artworks and sold them on eBay in 2015, thus making possible for digital art to be bought, sold and viewed using hosting.
Guaranteed Return 25K, 2009

Happiness
In 2010, on the night of General Elections, Semple hosted the opening night of his Happy House exhibition in his studio. The BBC spent the day reporting live from the studio. With the series of Happy House works, his goal was to warn the public about the possible outcome of the country's financial situation and its policies towards culture. It was a direct response to the recession, and an attempt to make people happier, even for a fleeting moment, and highlight how important creativity is.
In 2013, during the UN's first International Day of Happiness, Stuart got a medal at The House of Lords. Semple nominated Marilena Borgna and May as his Happiness Heroes. He revealed The Independent his secret to happiness – his son makes him truly happy.
In 2014, Semple released thousands of Happy Clouds over Moscow, the performance which could be also seen in Italy, Ireland and Australia. The artist represented the British Program for The Night at The Museum festival.
In 2015, he published My Happy Colouring Flip Book, an anti-stress and creative therapy coloring book for adults. It was also aimed at raising funds for the Mind creative therapies fund.
Semple's Paintings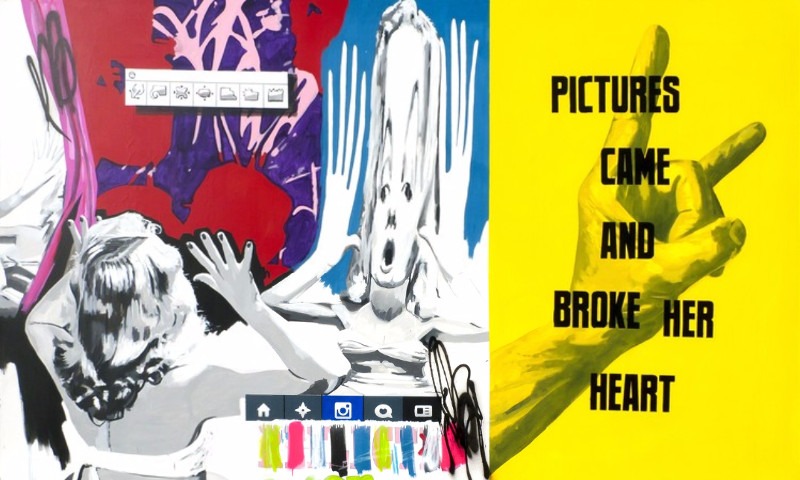 Stuart Semple and Pop Culture
Fifty years after Richard Hamilton defined Pop Art movement, Eric Bryan debated Semple and contemporary Pop Art. He stated that Semple and the new generation of artists now tackle the theme of fear and violence. He talked about his relationship with pop culture, after Warhol, in Vogue Italia. In 2007, in his interview for Trebuchet Magazine, Semple said that cultural icons gave him the feeling of something larger, the feeling that he tries to rediscover in his works. In 2013, as part of The ICA's Culture Now series, Stuart discussed his influences with Josh Spero.
Mixture of contemporary figurative painting and pop art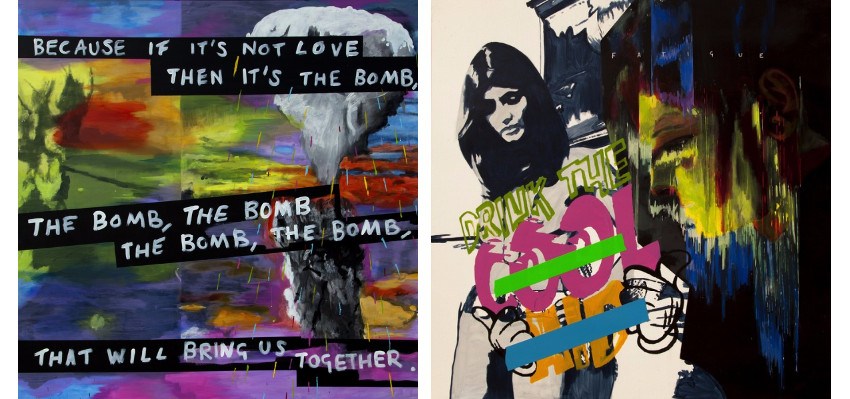 Effecting Social Change: Semple's Campaigns
Stuart Semple has supported many activist campaigns. He is a supporter of Amnesty International. He produced works for the Freedom of Expression Campaign. In 2011, he was appointed an Ambassador for mental health charity Mind. Within the organization, Semple started the Creative Therapies fund, launched together with Stephen Fry and Melvyn Bragg. He also curated the exhibition and auction Mindful.
Collections and Exhibitions
Semple's works are featured in many private and public collections, such as David Roberts Foundation in London, United Kingdom; Niarchos Foundation in Athens, Greece; Getty Collection in South Africa, and sammlung FIEDE / Aschaffenburg.
The artist has exhibited his works widely – in Europe, China and the USA, in biennales, major art fairs and exhibitions. Not only an acclaimed visual artist in his thirties, Semple is also a curator, whose projects include London's Anti-Design Festival with Neville Brody, Mindful at the Old Vic tunnels and different international group exhibitions.
He is represented by Fabien Castanier Gallery.
Stuart Semple works and lives in London and Dorset.
All images copyright © the artist