The world would be a much more interesting place if we could taste the colors or touch the sounds. If you had a wonderful gift of synesthesia that allows you to hear images, then SupaKitch, a young French artist, would be one of the greatest graphic songwriters. His history of writing graffiti dates back to 1990, and he's also a famous tattoo artist. In the streets, his style is easily recognizable and incredibly colorful. SupaKitch's road to success was unpredictable, but always imminent. From being an artistic director at a young age to adopting his current moniker and meeting a love of his life, it's been a bumpy ride, but it was worth it.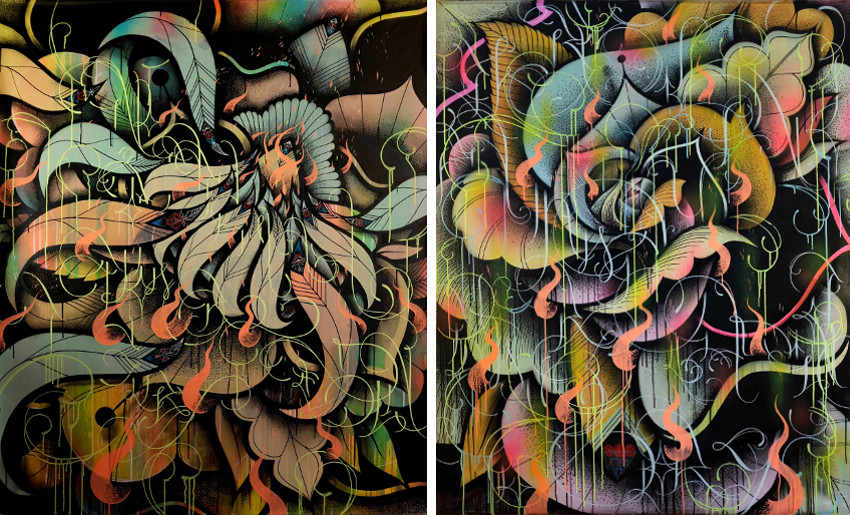 Between Urban Art, Street Art, and Graffiti
His approach to art is eclectic, as he tends to mix several different techniques such as acrylic paint, collage, silkscreen, spray, and even tattoo. The music and Asian manga and movies are among his biggest influences. With his greatest hero being Hayao Miyazaki, SupaKitch's work revolves around re-creating the universe of movies and manga, and the characters present in them. That allows the artist to project his own fantasies where he's the hero in the worlds he's creating. Music is also a huge inspiration for Supa. In fact, Listen To My Picture is a concept he's pursuing constantly, composing beautiful graphic melodies through the contrast of traditional techniques and nostalgia, and advanced technology.
Japanese myths, manga and movies have managed to leave a big impression on the artist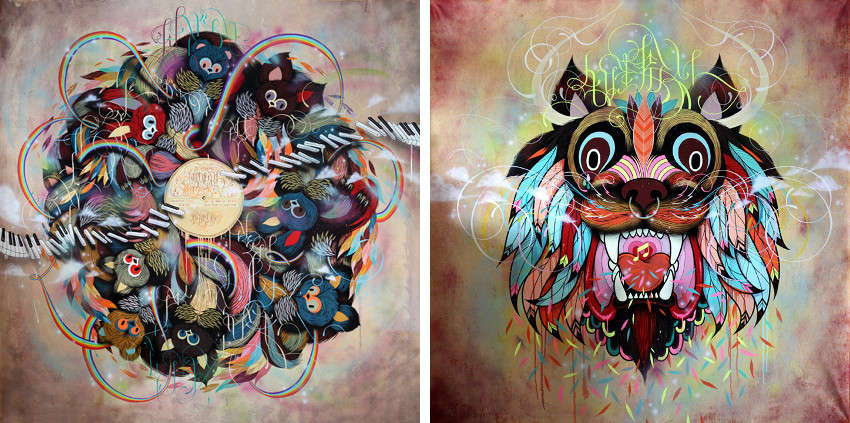 The Love and the New Name
The artist decided to follow a career of an artistic director working for several advertising agencies, completely unaware that he could actually earn some money with his art. At the time, and it was the early 2000's, he met his future wife-to-be Koralie, who's also an accomplished artist herself. She encouraged him he exhibit his work, and after that first exhibition, the moniker SupaKitch was born. One of the viewers, seeing how colorful the pieces were, said it was Kitch. The artist remembers the whole situation and says: "It was funny so i decided to use it''. The ''Supa'' part comes from super-hero, as he's this guy who is normal during the day, but when the night comes, he turns into this SupaKitch and goes into the streets, writing graffiti on the walls. His work was chosen to be exhibited at the latest edition of the group show Who's Your Daddy? by Kolly Gallery in New York, among other artists like Crash, Grotesk, and Flying Förtress. The show will be on display from May 20th till May 22nd, 2016, so if you're in Big Apple, be sure to check it out.
His name was born from a very comical situation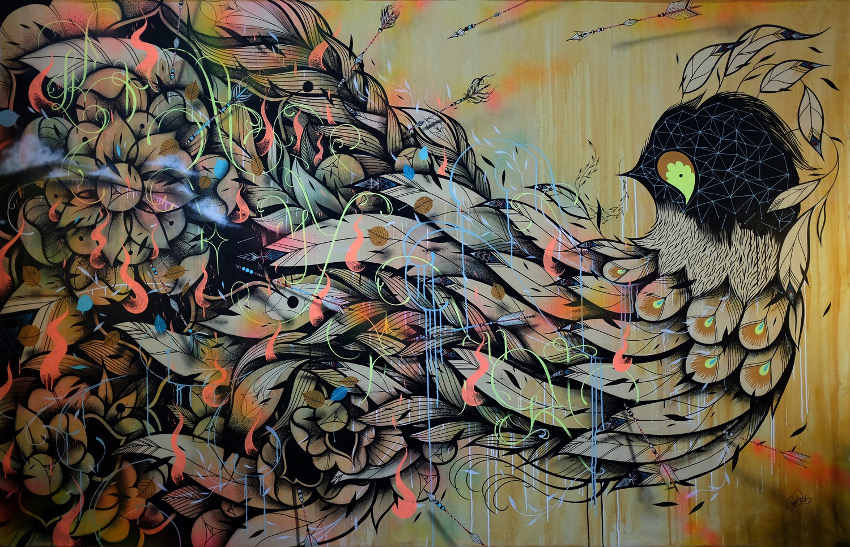 Sneakers, T-shirts and Fashion
It is always important to have a support in life, no matter what you do. SupaKitch found it in his lovely wife Koralie, who gave him the courage to exhibit his work. From there, it's been a one-way road to success, for both of them. They created Metroplastique, a shop where they sell merchandise decorated with their artistic creations. Supa remains active on the streets and also keeps his tattoo practice very much alive.
He is represented by Kolly Gallery and Artsuggest.com.
SupaKitch lives in Paris and works in Paris, Biarritz, Los Angeles and New York.
Featured image: SupaKitch – portrait, image via highsnobiety.com
All images copyright SupaKitch