SuperBlast is a street artist and graphic designer from Germany, who is considered one of the most famous urban artists working in Berlin. His unique graphic reinterpretation of world cultures and religions is truly mesmerizing because the artist has created his own mystic language based on ancient-like, universal symbolism which looks strangely familiar. SuperBlast is not only a successful street artist – he also had many innovative collaborative projects with the big names such as Sony Playstation, Nokia, Converse, and Mercedes-Benz.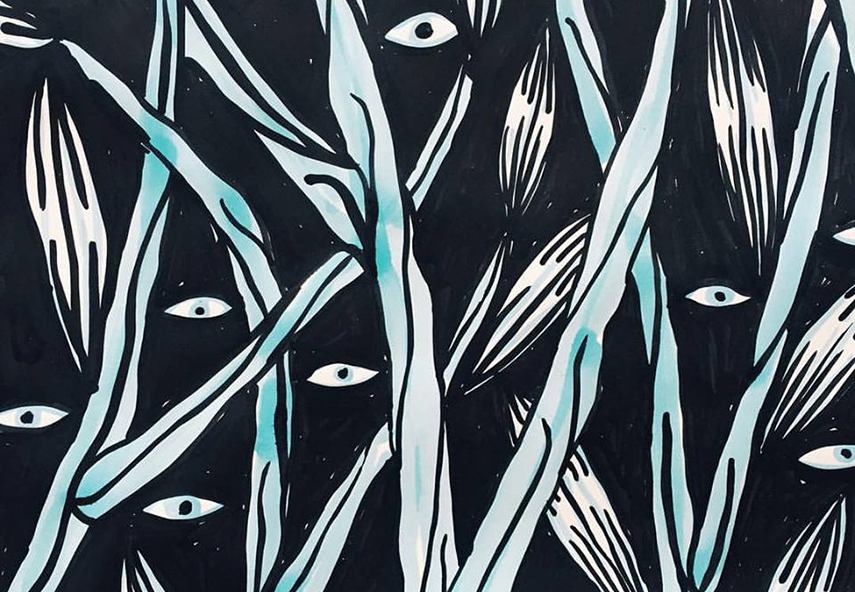 Skull-Faced Icons
SuperBlast was involved with creative output since his earliest childhood because his parents have surrounded him with creativity - from music instruments, woodshop & photo darkroom in the cellar to ceramics spinning machine to all kind of DIY activities. Around the time he was thirteen, the artist discovered graffiti writing and this form of street art really sucked him in. That´s when he really focused on working in a creative field. In the late 90s he got interested in graphic design which was at that time a logical step as it was another field where he could play with typography, colors and forms. When SuperBlast finished his  graphic design studies, he moved straight to Berlin, where developed a very personal and eclectic style. He likes to think of his style as a naive ancient painting influenced by modern elements of Hip Hop, Punk Rock, and skateboard culture. SuperBlast finds his inspiration in various sources - nature, universe, humans, as well as astrophysics, psychology, sociology, anthropology and mythology.
The artist's signature imagery is based on skull-faced icons coated in cyan blue capes. Some of SuperBlast's icons are even enlightened by a golden ground or halo, similarly to the religious imagery found in Christianity. However, SuperBlast's art in not inspired only by traditional Christian icons – his imagery refers to the various ancient pictures of saints in their formal presentation and it combines the symbols found in different cultures and religions, such as the third eye found in Hinduism or the Mexican skull, which is related to the Day of the Dead holiday in Mexico, when people honor their deceased loved ones. It is important to mention that SuperBlast is adding interesting details from skateboarding and graffiti culture to his pieces – for example, he replaces the eyes of his icons by spray can nozzles. His naive, ancient-like craftsmanship is excellent at turning these icons into modern apostles of urban art. Generally speaking, the icons are considered as the representation and comment on the collective subconsciousness and because of this status they are universally powerful.
The artist's best imagery is based on skull-faced icons coated in blue capes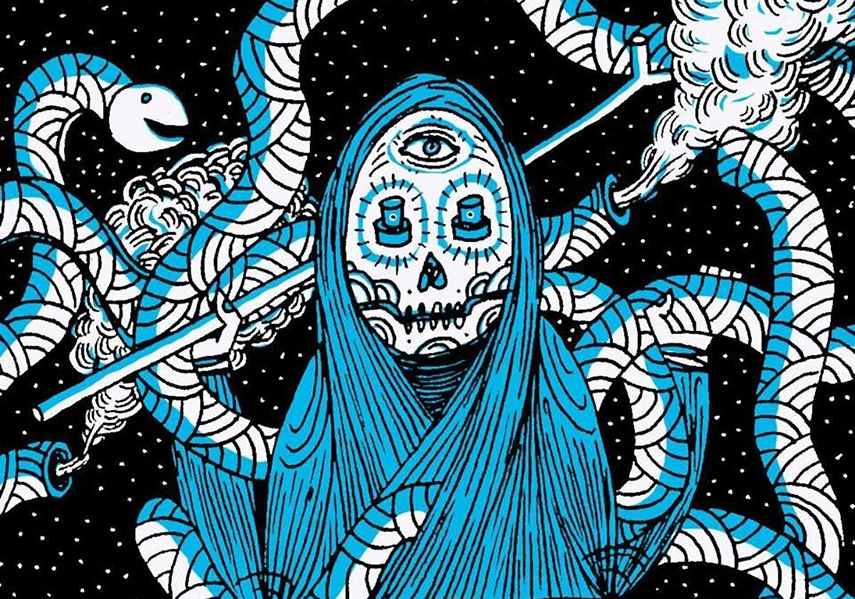 Wide Range of Projects
Ever since SuperBlast's unique art influenced by icon painting, mythology and symbolism became publicly available and popular,  he started to team up with some of the most interesting artists and companies in his field. The strength of his artworks and his knowledge of cultures and lifestyles really contributed to a wide range of projects he participated in. Besides eclectic artistic explorations, he is known for his collaborations with international brands, such as Ecko Unltd, Sony Playstation Portable, Nokia Nseries, Bread & Butter Berlin, Converse and even Mercedes-Benz. SuperBlast's work has been shown in major cities all over the world – in Berlin, Barcelona, Moscow, Buenos Aires, Sao Paulo and New York. In 2008 his book called Neo Utopia - The Art & Work of SuperBlast got released worldwide by Publikat / Gingko Press and it got quite positive reviews. It was listed as a must read/buy, by famous Juxtapoz Magazine.
Ever since SuperBlast's art became publicly available, he started to team up with some of the most interesting artists and companies in his field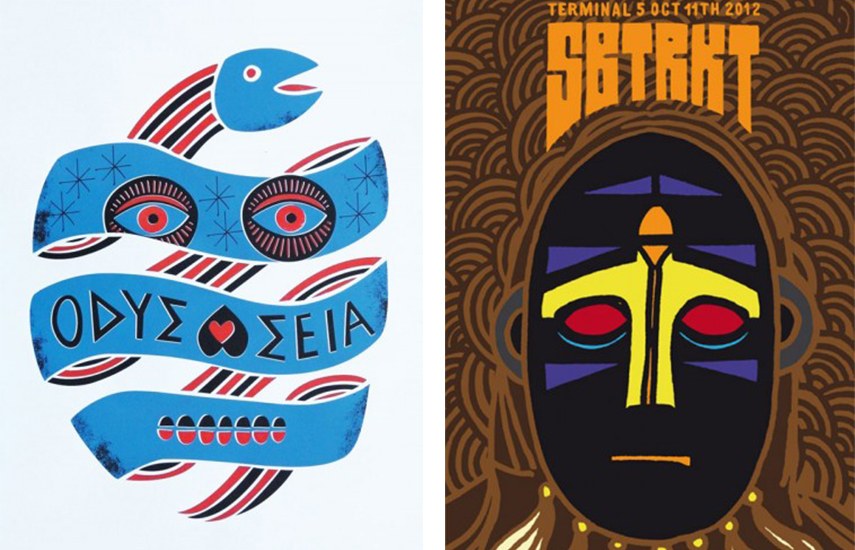 New Solo Exhibit in Berlin, at BEINGHUNTED Gallery
Gallery BEINGHUNTED in Berlin is the host of SuperBlast's first solo exhibition,The Trees Carry The Wind Into The Forest. The opening reception was held on April 28th, 2016. In his most recent pieces, SuperBlast is using the writings of the world-renowned mythologist Joseph Campbell as his precious source of inspiration, because Campbell explores not only mythology, but also the ideas of humanity and the human condition. With his signature approach of  reinterpreting and fusing religious and cultural symbols, SupeBlast is extending the limits of his already well-known world of modern mythology. For this exhibition, he has created a series of bold, eclectic paintings on canvas, paper, and wood. In 2016, the artist has also become a curator for the brand new BEINGHUNTED gallery and a partner of EPC SHT, which is a company involved with architecture, interior design and visual communication. Even though SuperBlast likes to try new things, his main goal is to deepen his personal work.
In his most recent pieces, SuperBlast is using the writings of the world-renowned mythologist Joseph Campbell as his precious source of inspiration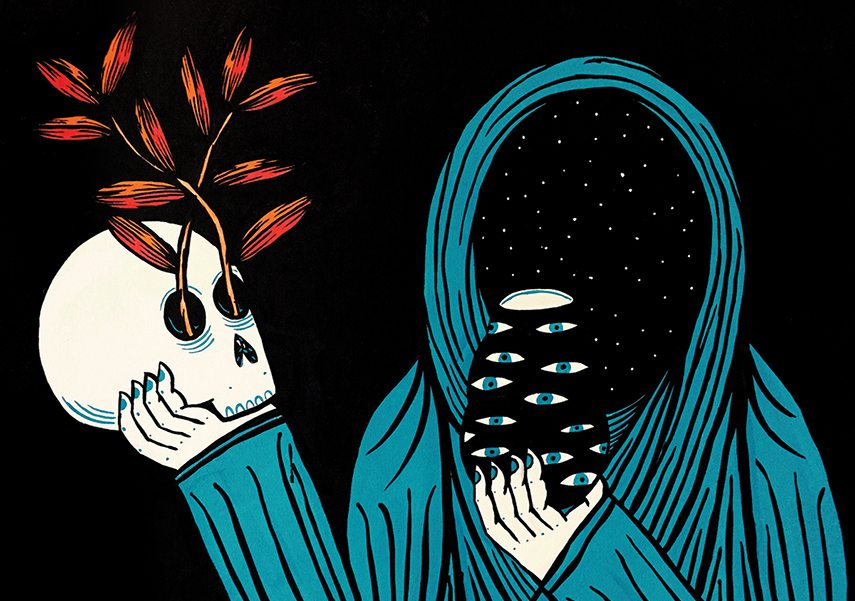 The Power of Modern Mythology
SuperBlast's art is a great example of the hypnotizing power of ancient symbols found in many cultures and religions. His unique way to combine graphic motifs found in Hinduism and Christianity together with the aesthetics of the urban world is truly admirable. The best proof for the power of SuperBlast's modern mythology is his on-going cooperation with the eminent names of the entertainment and technology industries as well as his art shows, held in the galleries all over the United States, Europe, and Brazil.
SuperBlast lives and works in Berlin, Germany.
Featured image: SuperBlast's portrait
All images courtesy of the artist.