Tahiti Pehrson is an American visual artist known for his large-scale, highly detailed hand cut, two and three-dimensional paper sculptures. Born in 1972 in Santa Rosa, California, Pehrson spent his childhood in Calif, the small historic gold rush mining town of Nevada City, two hours northeast of SF. He was raised in a family of artists - his parents are artists, as well as both of his siblings.
Academic Background and Early Career
Tahiti Pehrson grew up doing oil paintings, and did a lot of traveling in search of art after high school on his own, and eventually ended up at the San Francisco Institute of Art. At SFAI, he studied painting and other related subjects, but dropped out of it after a year and a half. After living SFAI, he turned to street art working with graffiti artists PEZ, MIZE and Pneu.
Subsequently, he moved on to experimenting with layering stencils to create three-dimensional pieces. Pehrson began using computer images, searching for patterns until finding those he liked to layer on top of one another, manipulating them in Photoshop and eventually drawing on top of them to produce strata of dimension. These prior pieces are predominantly figurative works inspired by real people and events in Tahiti's life. A practice of stencil-making and street art evolved into highly detailed practice of paper cutting two and three-dimensional pieces.
Horizon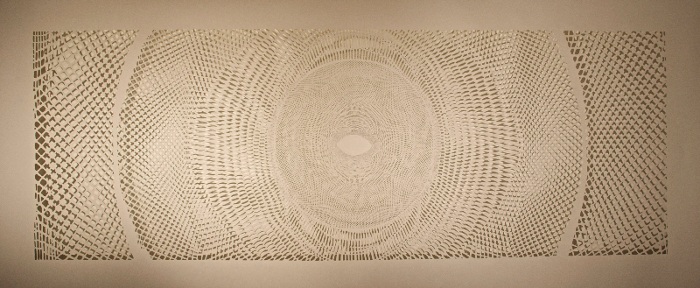 Hand Cut Sculptures and Installations
Tahiti Pehrson has been working with paper as a medium for over fifteen years. Using hundreds of razor blades, he creates, at times, very large-scale and sometimes site-specific installations, as well as smaller pieces of geometrical hand cut Canson or Lenox sheets of paper. He often uses guilloché - a system of very precise, intricate and repetitive patterns which date back to Classical Greek and Roman times, commonly used in engraving and on currency to deter counterfeiting - as a starting pattern, to which he then adds secondary patterns that have a more organic feeling to form additional layers. The precision and perfection of design in Pehrson's artworks regularly leads the viewer to the assumption that his pieces are executed by a laser cutter of sorts. His intricate carvings explore the themes such as fragility and interrelations of physical objects.
Paper Works by Pehrson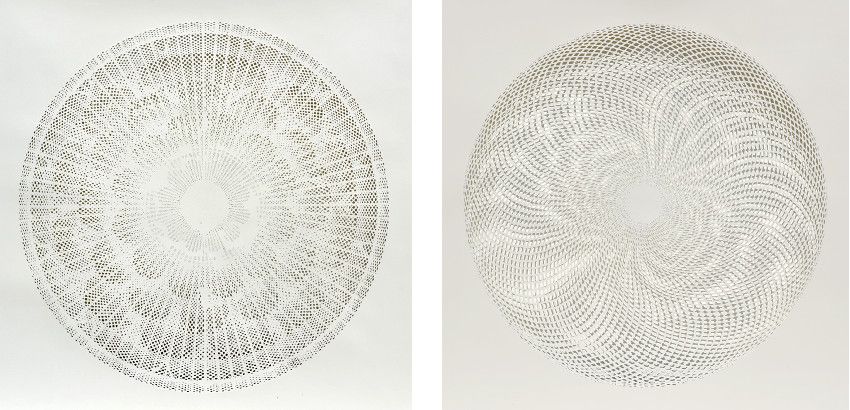 Window Installations: Sea of Love and Variations & Betwixt
In 2012, the San Francisco City Arts Commission contracted Pehrson to create a large-scale installation in a site-specific window. The result was one of the largest pieces Pehrson has ever produced Sea Of Love, a myriad of spirals inspired by symmetry in nature and guilloché patterns created from hundreds of linear feet of hand-cut paper. Unlike his earlier, more figurative and narrative oeuvre, Sea of Love features repetitive geometric patterns referencing those found in astrophysics, mathematics and biology.
Variations & Betwixt is Pehrson's large-scale, three-dimensional window installation presented in 2014 at San Jose Institute of Contemporary Art.
Sea of Love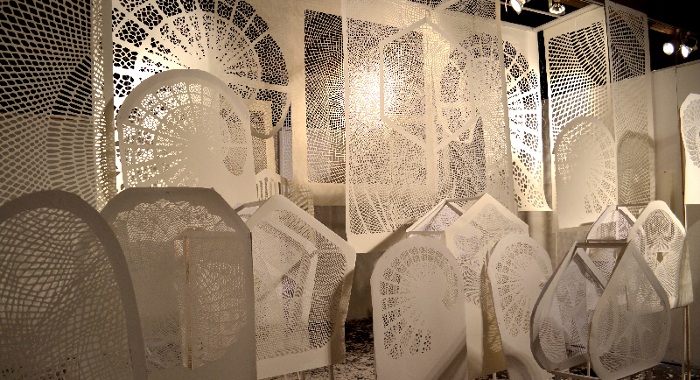 Pareidolia and Other Exhibitions
Tahiti Pehrson's work has been included in numerous individual and collective exhibitions in such galleries as K. Imperial Gallery, San Francisco, CA; TFR Gallery, Leucadia, CA; Salon 91 Gallery, Cape Town, South Africa; Hatch Gallery, Oakland, CA; Together Gallery, Portland, Oregon; Aftermoden Gallery, San Francisco; and Brooklyn Fire proof Inc, New York, among others.
One of his recent solo shows was on display at Joseph Gross Gallery in New York in September 2015. Entitled Pareidolia, the exhibition presented a variety of paper pieces including framed artworks, three-dimensional pieces and a large scale installation. For this show the artist explored the psychological phenomenon of pareidolia – the perception of a visual or auditory pattern where there is none. The title image Pareidolia depicts a natural phenomenon similar to eclipse, saturated with symbolism significance by their human audience.
Pareidolia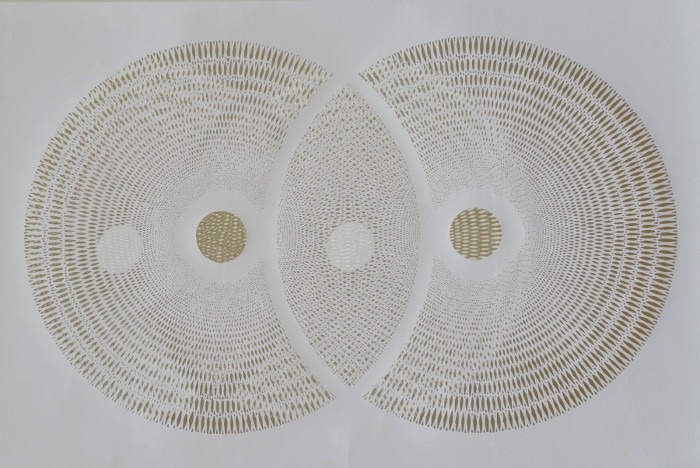 Facebook's Artist in Residency and Gallery Representations
In April 2015 Pehrson's work was acquired by the Facebook Permanent Collection. He spent two weeks at Facebook's Menlo Park headquarters installing his largest work to date. The Facebook Artist in Residency program was founded by the social networking giant to showcase emerging artists.
Installation at Facebook's Menlo Park Headquarters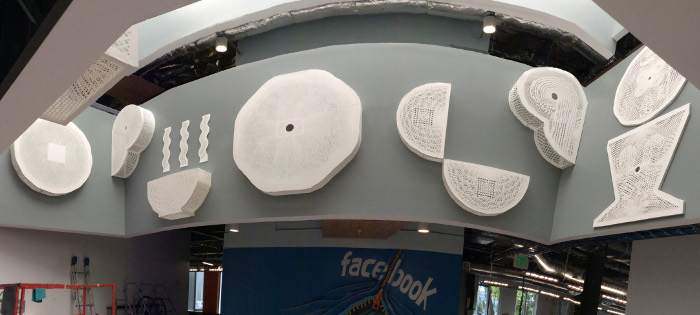 Tahiti Pehrson is based in Nevada City, California.
Images copyright © the artist