There is no light without the dark, no life without death, no yin without the yang. One completes the other, and often the two sides of the coin aren't mutually exclusive. There's a lot of such duality in art as well: ancient and contemporary, East and West, high and low… To have a clear distinction of the line between such realms is one of the basic principles of the Japanese artist Takashi Murakami who learns from both aspects of any given subject and sometimes merges them together in his work. Titled as the Japanese Andy Warhol, he deals with Japanese aesthetics and cultural criticism in his cartoony paintings, bringing together commercial and fine art.
Takashi Murakami deals with Japanese aesthetics and cultural criticism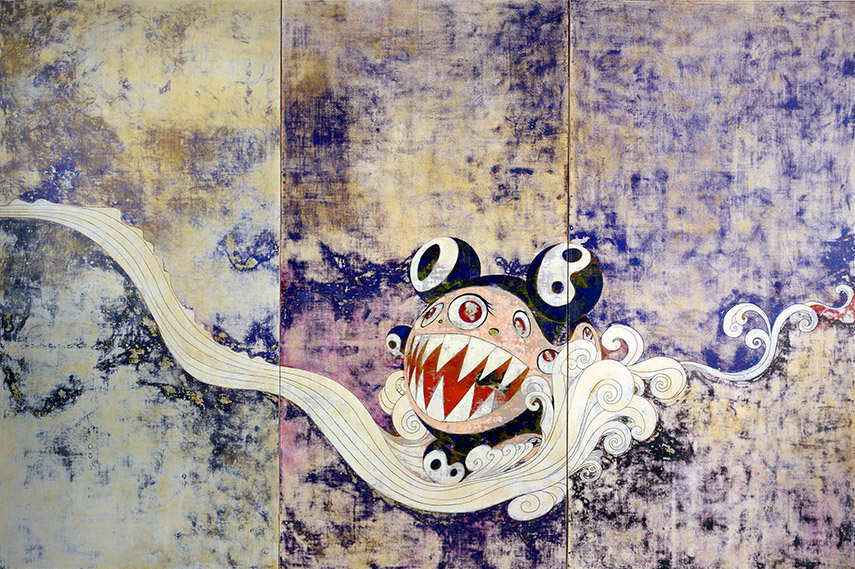 Takashi Murakami: The Japanese Andy Warhol
Comparisons to Andy Warhol have defined the career of Takashi Murakami who has been frequently described, since emerging in the 1990s, as Asia's counterpart of the US pop artist, using much of the same fusion of the commercial and fine art in his colorful pieces.  And, like Warhol, Takashi Murakami also works with teams of assistants to complete large works. The comparison has brought both merits and difficulties to the Japanese artist, and he's learned to accept and embrace the connection with Warhol that was bestowed upon him. He does have a certain amount of reserve and states that "I'm very sad to be compared with Warhol and The Factory, because I have no drugs, you know. We have no drug culture in Japan!"
Takashi Murakami was born and raised in Tokyo, Japan. He attended T.U.A Tokyo University of the Arts (formerly the Tokyo National University of Fine Arts and Music), and although his original plan was to master the skills necessary for becoming an animator, he eventually majored in Nihonga, which is the "traditional" style of Japanese painting that incorporating techniques, subjects, and styles that are native to Japan.
Murakami is titled as the Japanese Andy Warhol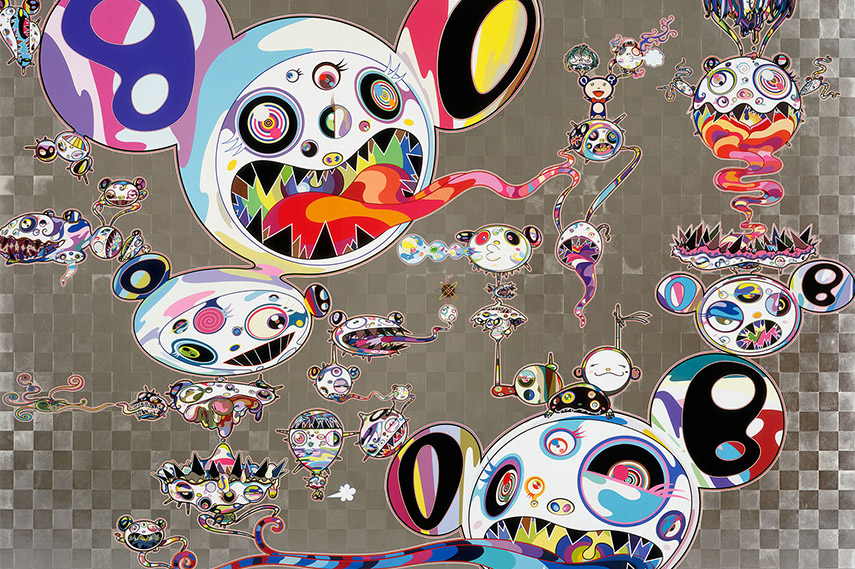 From Nihonga to Otaku
Due to the mass popularity of anime and manga, Japanese styles of animation and comic graphic stories, he became disillusioned with Nihonga and became fixated on Otaku culture, which he felt was more representative of modern-day Japanese life. The University of Tokyo recently introduced an undergraduate course on Otaku culture; Otaku is a Japanese term for people with obsessive interests, most commonly those absorbed by anime and manga. Otaku subculture is at the center of various anime and manga works, documentaries and academic research, and its birth in the 1980s came with the growing popularity of anime and the change occurring in the social perception of Otaku traits.
Takashi Murakami achieved great recognition for Otaku-like designs: building on the Otaku fascination with game and anime characters, his studio has produced larger than life fiberglass figurines that exhibit the fetishism of the cosplay culture, where kids dress up as their favorite characters, and the sexualization of manga images. For example, Hiropon, the pornographic fiberglass creation is an anime-type character with monstrously huge lactating breasts that are spilling out of her bikini. This super-sized fantasy figurine sold at an auction in 2002 for $427,500 and helped transform Takashi Murakami into a globally recognized art-world rock star. "I became an otaku when I was in high school and absorbed many different things from anime, like its erotic and fantasy elements... that very process resulted in that work,", he says, adding that his art is about finding his true self.
Takashi Murakami achieved great recognition for Otaku-like designs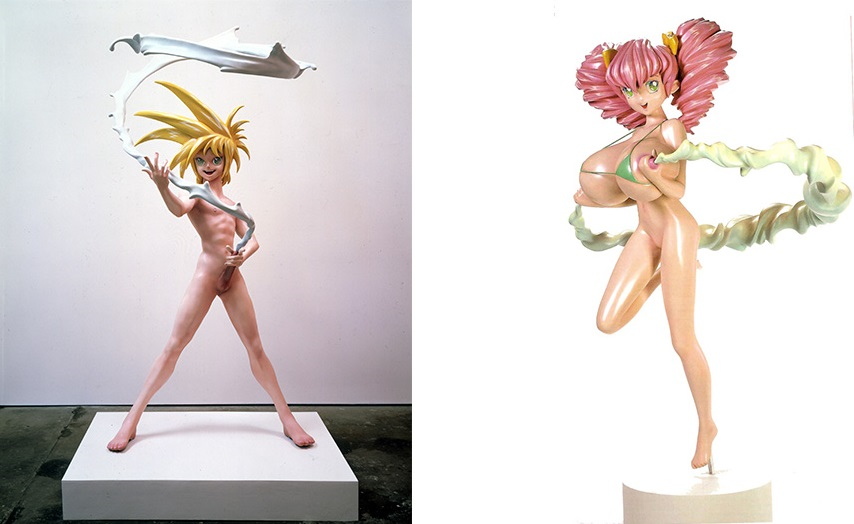 Superflat
In 2000, he developed and exhibited a signature two-dimensional style he called Superflat. This distinctive style employs highly refined traditional Japanese painting techniques to depict a super-charged mix of Pop, animé and Otaku content, displaying both cultural inspirations and aesthetic issues all within the dimension of the narrative. The style is characterized by flat planes of color and graphic images that portray a design obviously originating from anime and manga. The Superflat movement propelled Takashi to fame in the 1990s and eventually caught the eye of the designer Marc Jacobs. In 2002, Jacobs, as creative director of Louis Vuitton, collaborated with Murakami to update the traditional LV logo. The handbag collection became a defining accessory of the decade.
Superflat is also the name of a 2001 art exhibition curated by Takashi Murakami, one that toured West Hollywood, Minneapolis, and Seattle. Superflat is used by Murakami to refer to various flattened forms in Japanese graphic art, animation, pop and fine arts, as well as the "shallow emptiness of Japanese consumer society." With enough audience supporting it, the successful niche marketing made Superflat into an art movement, and though it was designed for Western audiences, it has been embraced by American artists who have created their own version of the phenomenon and called it SoFlo Superflat. Artists whose artwork is regarded as Superflat include Chiho Aoshima, Mahomi Kunikata, Sayuri Michima, Yoshitomo Nara, Aya Takano and Takashi Murakami, among others.
Murakami's definition of Superflat comes in very broad terms which allow for the subject matter to be diverse and encompass a variety of themes. Often, the works explore the consumerism and sexual fetishism that is prevalent in post-war Japan and includes lolicon art which is, in return, parodied by works such as those by Henmaru Machino. The variety comes from an exploration of Otaku sexuality through grotesque and/or distorted images; other works are more concerned with a fear of growing up, and some works focus on the basic form, underlying desires that comprise Otaku and overall post-war Japan. Initially, Murakami's aim was not to make his works as fine-art media but decided instead to focus on the market sustainability of art and promote himself first overseas. This marks the birth of KaiKai Kiki, LLC.
The subject matter of Superflat is diverse and encompasses a variety of themes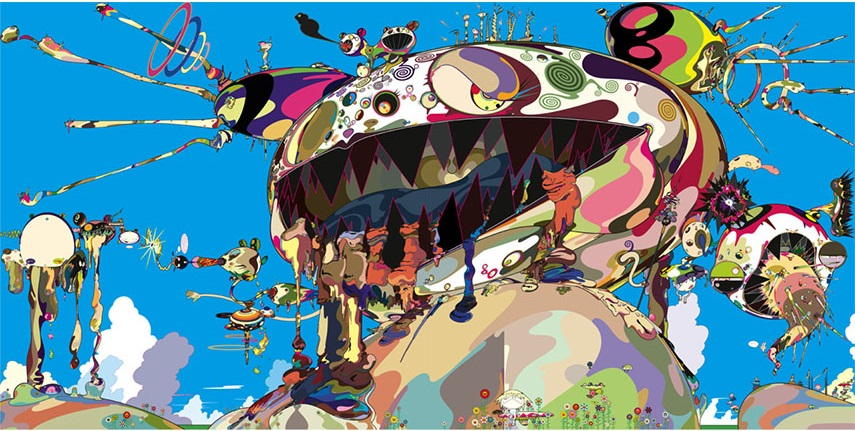 The Empire of Kaikai Kiki
In 1996, Takashi Murakami founded the Hiropon factory in Tokyo which later evolved into Kaikai Kiki, a corporation that deals with art production and art management. The company does more than promote the works of its founder: Kaikai Kiki works as a nurturing environment for new, fresh talent, supporting young, emerging artists. Kaikai Kiki evolved from an art production and promotion company into a collaborative vehicle for like-minded artists. The public exposure and conjoint exhibitions with Murakami have definitely aided the artists that are just beginning their careers, making Kaikai Kiki an ideal and desirable place to start such a path. Although Murakami supervises the work's production, he never actively paints or sculpts the final work.
Striving towards the "God-like" craftsmanship skills of Duchamp, Warhol, and Van Gogh, Murakami imposes certain requirements not only on himself and his training, but on those that seek to become members of Kaikai Kiki. A madness of a sort, one that permeates the reality of these legendary artists that have entered a realm beyond the human capabilities, he seeks to reach this level of visual quality and demands it in the works of others. With a thriving business already set up, the company also does mass production of various products that feature Murakami's signature images: vinyl figurines, plush toys, keychains, t-shirts, posters, and much more.
Takashi Murakami strives towards the craftsmanship skills of Duchamp, Warhol, and Van Gogh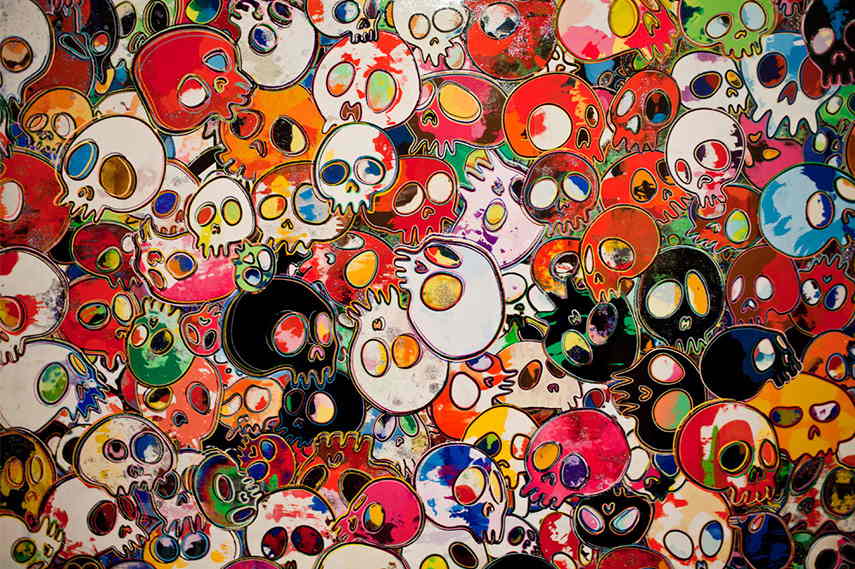 Between East and West
With a strong belief that an artist should realize and study the boundaries between different worlds, he has represented a bridge between many of the oppositions like the high and the low, the ancient and the modern. Through his work, Murakami portrayed these contradictions in East and West, past and present, high art and low culture, all the while maintaining accessibility and interest in his pieces. Using his knowledge of Western art, he integrated the Eastern culture within the Western frame and successfully created a revolution in the world of art. Although he had moved on to the art of animation for its popularity, this portrayal of contradictions between the contemporary Japanese and American societies marked his early sculptural work during the beginning of the 1990s.
Murakami has portrayed the contradictions in East and West, past and present, high art and low culture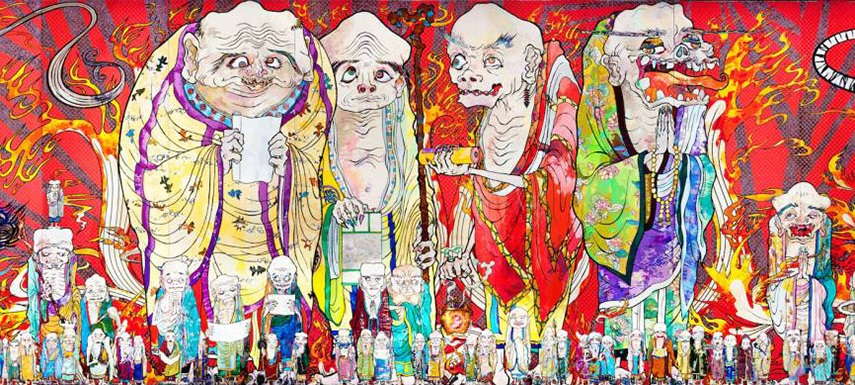 Mr. DOB
In 1993, Takashi Murakami created and alter ego under the name of Mr. DOB, serving as a sort of a self-portrait. Mr. DOB is described to have a circular head with two ears, with the letter D inscribed on his left ear and the letter B on the right ear, with the face being O-shaped, thus inscribing his name in its form. DOB is a contraction of the dada-like phrase, "Dobojite dobojite" standing for "Why? Why?" which derives from the comic book Inakappe Taisho. The character of Mr. DOB was supposed to be iconic, authentically representing the Japanese culture while having a universal appeal. This alter ego of Murakami's is capturing elements of both Japanese and American animation; DOB - who underwent a transformation over time, having his appearances in various pieces becoming darker and more menacing - became a cult hit and presented Takashi Murakami as a name belonging to more than just the gallery circuit.
This alter ego of Murakami's is capturing elements of both Japanese and American animation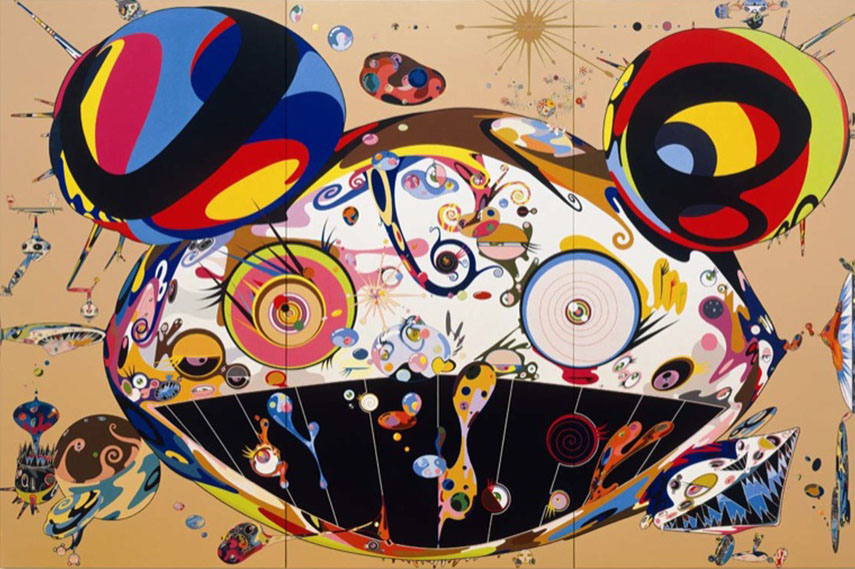 In the Land of the Dead, Stepping on the Tail of a Rainbow
His 2014 psychedelic exhibit In the Land of the Dead, Stepping on the Tail of a Rainbow, held in Gagosian Gallery, borrows freely from the past and displays ancient art and architecture in Murakami's signature opposition, a high-low, cross-cultural aesthetic of Superflat. With its allusions to the 2011 tsunami and Fukushima nuclear meltdown, this exhibition as a whole puts to the forefront the ways in which religion and art try to define inexplicable calamities that occur. Murakami began examining Japanese artworks which were created in the wake of natural disasters throughout Japan's history: "To me, religions are a narrative… Natural catastrophes, earthquakes, are things caused by nature. Such chaos is natural, but we have to make sense of it somehow, and so we had to invent these stories." Following the Great Tohoku Earthquake of 2011, Murakami created a series of works on the subject, many of which were exhibited in this show.
The show's most striking piece, Bakuramon, simulates a legendary gate that once led to the capital city of Heian-kyo (modern-day Kyoto) in the 10th century Japan. Placed at the sight of a viewer turning the corner inside the Gagosian Gallery to enter the show, the gate uses wood and stone, and rises nearly to the rafters. The original gate was known as Rashomon, and it served as the setting for the short story underpinning the famous Akira Kurosawa movie of the same name. The version that Murakami made evokes an entrance to another world, as it displays a skull that grins through the gate, marked by the bright colors distinct for the Otaku society. Rashomon was destroyed twice by storms, and it served as dumping grounds for bodies during the famine of the 12th century. In the Land of the Dead, Stepping on the Tail of a Rainbow presented also gargantuan canvases leafed in gold and platinum: Murakami's work is driven by his vision of an authentic Japanese identity rising phoenix-like from the authenticity of anime and manga. In other words, he harbors nationalistic sentiments uncomfortably close to those that propelled Japan into World War II.
Bakuramon simulates a legendary gate that once led to the capital city of Heian-kyo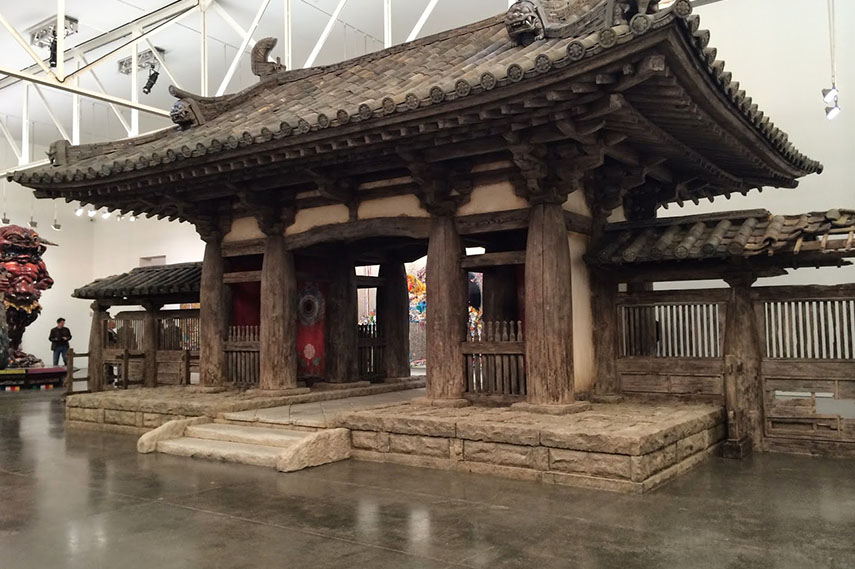 Takashi Murakami and Messi for Unicef
In 2015, portraits of the Barcelona striker Lionel Messi by Takashi Murakami have been commissioned as part of the "1 in 11" campaign, a collaboration between Unicef, FC Barcelona Foundation and Reach Out To Asia to extend educational opportunities to marginalized children in Bangladesh, Indonesia and Nepal. The artworks were auctioned at Sotheby's in London with the goal to raise funds for the charity. Messi, a three-time winner of the Golden Boot award and a Unicef goodwill ambassador, is a figurehead for "1 in 11" and is leading the efforts to raise awareness and money for the charity. Murakami said the Messi portrait, in which the footballer's image is superimposed on the artist's signature comic-book-style flowered background, was part of his ongoing series of portraits of cultural figures of our era.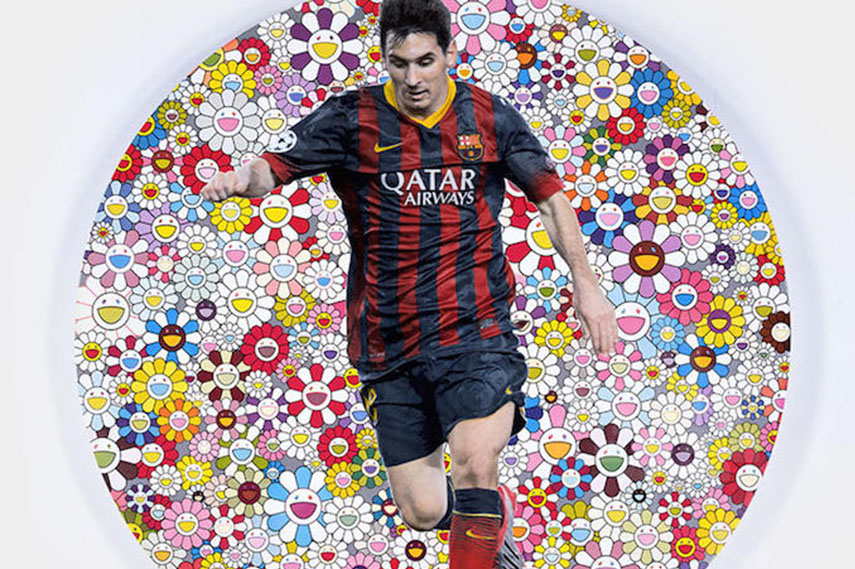 Jellyfish Eyes
Jellyfish Eyes is a debut feature film by Takashi Murakami, a loving homage to Japanese popular culture. It is the first in a trilogy of feature films directed and produced by Takashi Murakami, debuted in April of 2013 at Los Angeles County Museum of Art, and it has screened at museums and cinemas throughout the world. Jellyfish Eyes is a story about a young child who discovers himself through an unusual friendship. The live-action feature-film of Takashi Murakami brings the acclaimed visual artist's trademark aesthetic to a live-action world; elementary-school years may not have looked like this, but all that imagination and moments of wonder feel familiar all the same.
A Leading Figure in Contemporary Art World
Takashi Murakami's art is some of the most wanted in the world at the start of the 21st century, and for a good reason: he broke the barriers imposed by cultures, demonstrating how his distinctly Japanese works can find a place in any international domain. An intriguing person as much as an artist, the TIME's one of the 100 most influential people in the world from 2008 breeds lotus plants, small guppies, and beetles in his spare time. With his mind set on reaching the level of the legends of art history, Murakami strives forward in his work and leads young talents on the path of success with him.
Takashi Murakami lives and works in Tokyo.
Featured image: Takashi Murakami - Mr. Dob (Original) *, 2016. Vinyl, ABS Resin. 9 3/10 × 10 4/5 × 7 9/10 in. 23.5 × 27.5 × 20 cm. This is part of a limited edition set. Photo courtesy Perrotin
All images used for illustrative purposes only