Moses & Taps is a world renowned German graffiti art duo who made a name for themselves through conceptual artwork in different public places. They are also known as Moses & TapsTM, Erni & BertTM, TopsprayerTM and AliasTM. The ever-changing pseudonym of the collective helps conceal the true identities of its members while still defying the unwritten laws of graffiti: anonymity.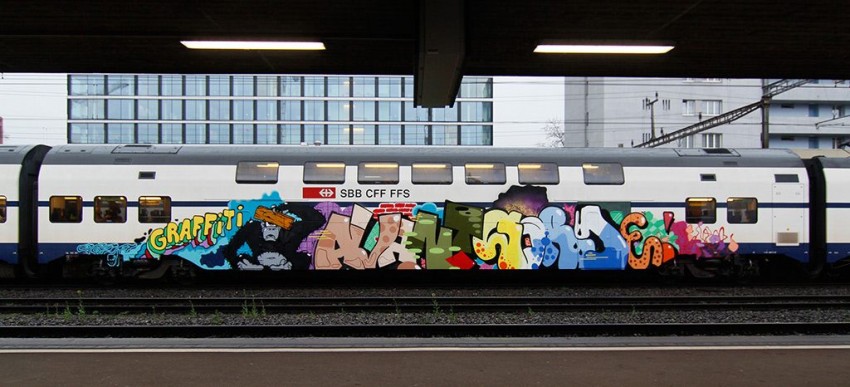 Moses & Taps Beginnings
Moses & TapsTM, without knowing each other, began their artistic career in the mid-1990s focusing on spray paint and trains. To them the art of graffiti has been a freedom of expression that breaks away from accepted social conventions in both technique and subject matter. They have been making large-scaled pieces that stay as reflections of their individual psyches. The artists met in 2007 and created the artist collective TopsprayerTM right after. Over the years they have become the graffiti world's most notorious sprayers with more than several thousand graffiti-adorned train cars all over Europe. Moses and Taps are noted for their conceptual artwork on extreme supports, contemporary vandalism and their strong corporative branding.
Moses and Taps are notorious for their graffiti-adorned train cars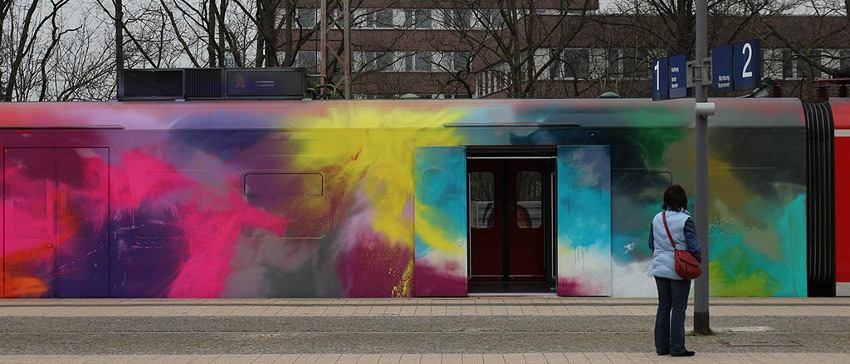 International Top Sprayer: Moses & TapsTM
The prolific work by duo, which included painting a thousand trains in a thousand days, reached a broader audience through their book International Top Sprayer: Moses & TapsTM published in 2011. Documenting their cut from taboos, the book became one of the most read graffiti books worldwide to date. Their second book Same, SameTM focuses on Moses & TapsTM throw ups and their surroundings. Currently the couple of urban art guerrilla creative is focusing on their project Moses Alias Taps, in which they give rise to a third artistic personality AliasTM.

Exhibitions
Since the first solo show by Moses & Taps – held at Ruttkowski;68 gallery in the city of Cologne, Germany in 2013 – their work has been included in several individual and collective exhibitions. In December the same year they participated at two-day urban art exhibition organized by Galeria Autonomica and hosted by the City Museum of Munich. Beyond being leaders of a generation of graffiti writers, they are also active in the fields of graphic design, visual arts, advertising, fashion and more.
Moses & Taps are based in Germany.
Featured image: Moses & Taps - graffiti
All images copyright The Grifters