Recognized as one of Britain's most successful post-war abstract artists, Sir Terry Frost RA was known for his passionate use of circles and lines in his work, as well as for his association with the St Ives School. Abstract and joyful, his paintings - notorious for their exuberance and strong color - reflect the inspiration he found in the Cornish light, glittering seas and watery reflections. Amongst painting, the artist also experimented with collage and construction, sculpture, etching, linocut, woodcut, drypoint, etching, and jewelry design.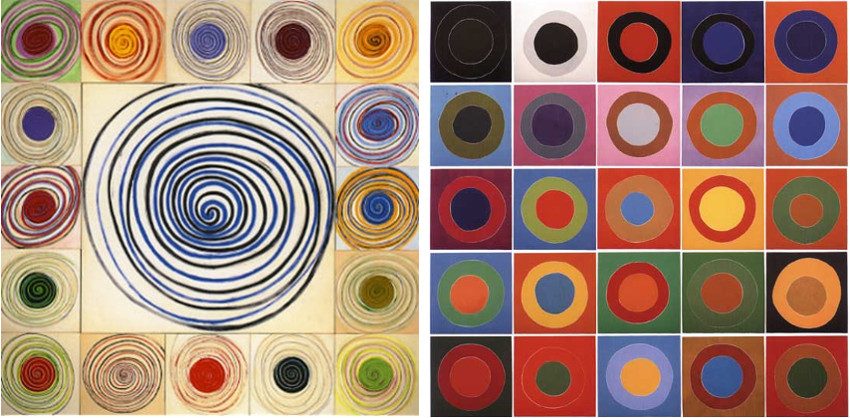 Prisoner of War
Born Terence Ernest Manitou Frost, on October 13, 1915, into a working class family in Leamington Spa, Warwickshire, England, Terry Frost grew up in a house on Rugby Road and was brought up by his grandmother. The artist attended the Central School on Leicester Street and did many different jobs in the town before World War II began in 1939, and he was mobilized. He served in France, Palestine, Lebanon and, with the Commandos, in Sudan and Crete. During the invasion of Crete in 1941, Sir Terry Frost was captured and became a prisoner of war. As a prisoner at Stalag 383 in Bavaria, Germany, he met a Burma-born British artist Adrian Heath who encouraged Frost in his artistic pursuits, so he began to draw and paint under Heath's guidance. With no art supplies, the young artist had to improvise so he could practice painting - he used oil from cans of sardines to make paint, horse hair to make brushes, and a pillowcase suited as a canvas.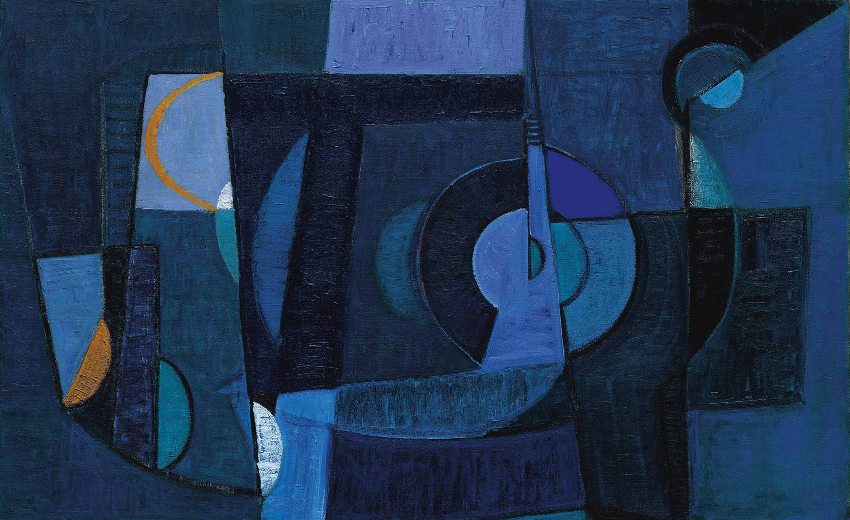 St Ives Artist Colony
After his eventual release at the end of the war, Terry returned to Leamington where he married Kathleen Clarke and went on to study at the St Ives School or Art, followed by Camberwell School of Arts and Crafts (now known as Camberwell College of Arts), under William Coldstream and Victor Pasmore. Coldstream promoted figurative painting and a rootedness in representation, whilst Pasmore was by then moving from representational approaches to an exploration of abstraction. Despite his early work being figurative, under the guidance of Victor Pasmore and under the influence of the St Ives established artists including Ben Nicholson, Barbara Hepworth, and Peter Lanyon, Sir Terry Frost shifted to abstraction, producing more three-dimensional work, experimenting with collage and constructions. By 1949, Frost had turned entirely to abstraction. The same year, Sir Terry Frost painted Madrigal which is recorded as his first successful abstract painting, based on the poem Madrigal by Wystan Hugh Auden. In 1951, Frost worked as Barbara Hepworth's assistant on Contrapuntal Forms (1951) for the Festival of Britain.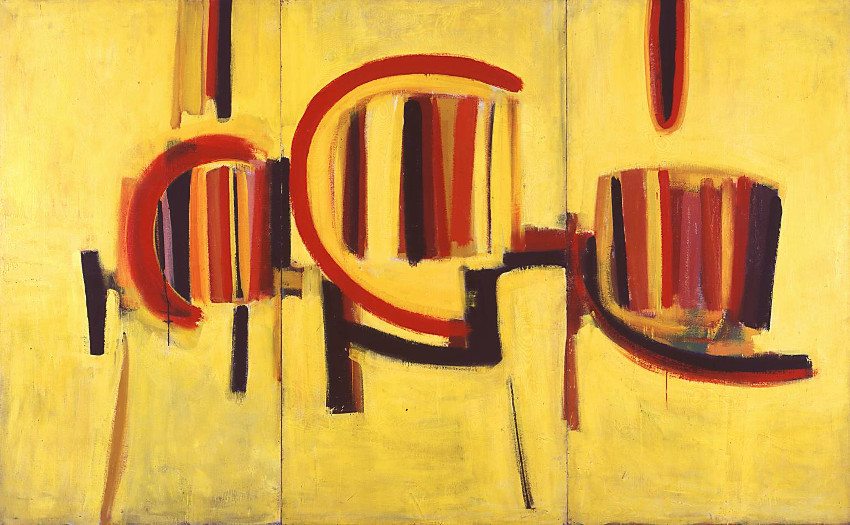 Walk Along the Quay
During the 1950's, Frost's colours brightened, his paint thickened, and his forms evolved into endless variations of abstracted boat and harbour shapes. Many of his paintings developed in the early 1950s were inspired by scenes from his walks along the quay in St Ives where he lived, resulting in the series Walk Along the Quay which established Frost as a major figure in Post-War British abstraction. Walk Along the Quay confirmed Frost's thesis that the interplay of colour and shape could realise an event or image more successfully than imitation.
Walk Along the Quay series established Sir Terry Frost as a major figure in Post-War British abstraction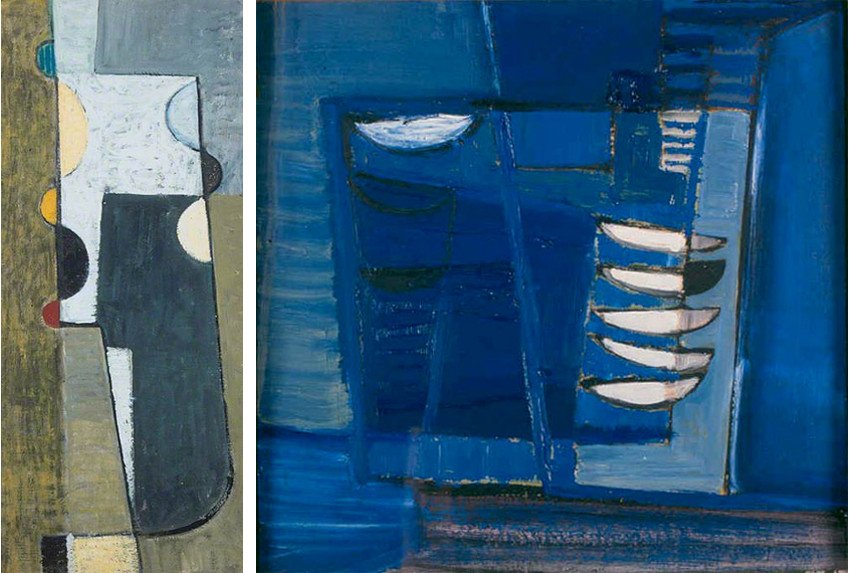 Terry Frost and Leeds
Sir Terry Frost began teaching at Bath Academy of Art in 1952 and had his first solo exhibition in London at the Leicester Galleries the same year. In 1956, he moved to Yorkshire as Gregory Fellow at Leeds University, where many of Frost's works were inspired by his professed desire to create an "abstract image-equivalence" for his experiences. The same year, he was inspired by the Tate's show of the American Abstract Expressionists. The city of Leeds and the Yorkshire landscape - particularly the imposing forms of the Dales - had the key role in informing the artist's work, ideas, and creative development. His large-scale paintings such as Blue Winter (1956) and Orange and Black, Leeds (1957) were created in response to the Yorkshire Dales. In 1960, Frost had his first international one-man in New York at the Barbara Schaefer Gallery and during this time, he met some of the leading American Abstract Expressionists.
Red, Black and White
In Sir Terry Frost's famous piece Red, Black and White (1967) - inspired by the Yorkshire moors - the two semi-circles were painted with the canvas on the floor and Frost standing over it, painting away from his body. He also painted on wood and - influenced by the Russian Constructivists - used collage in works such as SS99 (1962-1963). In the following years, Frost began teaching at Reading University where he later became Professor of Painting. In 1974, Sir Terry Frost moved permanently to Newlyn in Cornwall where his love of the region provided a rich source of inspiration for much of his work - the sun, moon, water, boats and the female form are recurring motifs abstracted into sensuous circles and curves.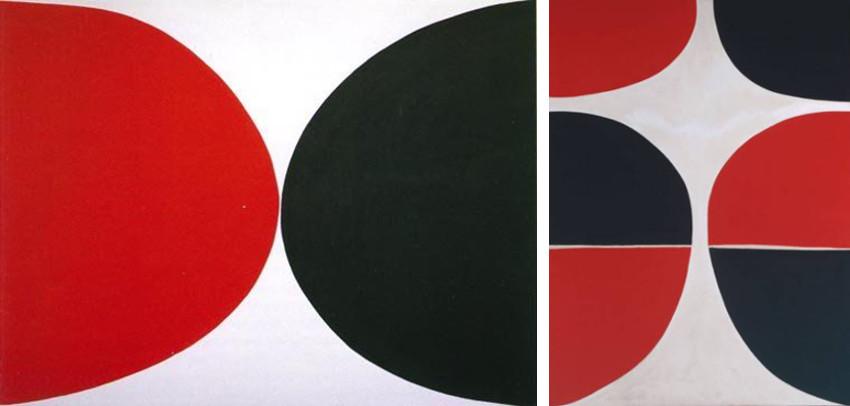 Terry Frost: Six Decades
During Frost's sixty years long career his work has been included in numerous individual and collective exhibitions worldwide, including in Paris, London, New York, Manchester, and Zurich. A major retrospective of his work, Terry Frost: Six Decades, was held at the Royal Academy of Arts in London in 2000. His work is held in many notable collections throughout the world including British Museum, London; Tate Gallery, London; National Gallery of Canada; National Gallery of New South Wales, Australia; and Victoria and Albert Museum, London, among others. A selection of the artist's most significant paintings, collages, and sculptural forms from public and private collections across the UK was included at Sir Terry Frost 1915-2003, solo show at Newlyn Art Gallery and The Exchange in Penzance from October 10, 2015, to January 9, 2016. The retrospective was curated by Tate St Ives.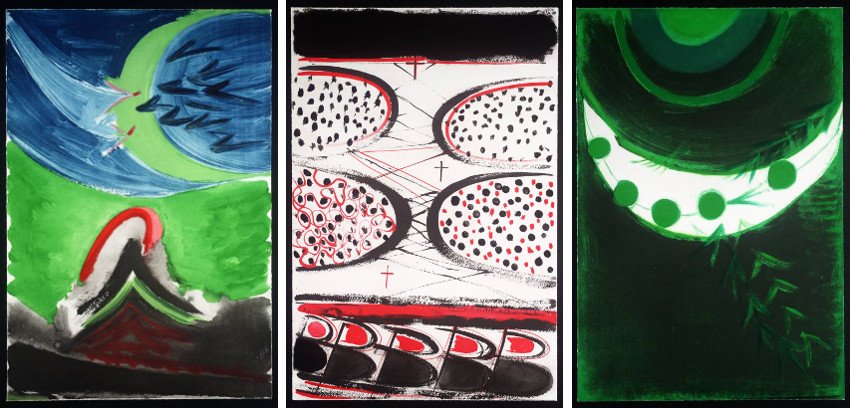 Master of Form and Color
After Sir Terry Frost, his wife, Kathleen, and their five sons and one daughter, finally settled in Newlyn in 1974, he continued to create a range of paintings, prints, ceramics, sculpture and designs for jewelry until the end of his life. He died on September 1, 2003, aged 87. Seeking to draw essential forms and colors from the landscape around him, he created numerous abstract pieces demonstrating his confidence and mastery of form and color. Sir Terry Frost was awarded the John Moore's Prize in 1965, elected an Academician by the Royal Academy (RA) in 1992, and knighted in 1998.
All images © Estate of Terry Frost