Thanawat Promsuk is a Thai contemporary artist best known for his original digital prints on canvas with yarn.
Promsuk's Artistic Education and Awards
Promsuk was born in Pattani, Thailand. He was raised in the Southern part of Thailand where there is constant political violence and turmoil, and that kind of surrounding made him focus on his own creativity and expression. Having an outstanding artistic skill, Thanawat Promsuk was easily accepted in Thailand's most prominent art institution, Silpakorn University.
Promsuk received his B.F.A majoring in Fine Art Prints in 2011 followed by M.F.A in 2014. During that time, Promsuk earned himself several awards and recognitions from local and national art competition platforms including Second prize in The National Exhibition of Art in 2014, Special Prize from Toshiba's Annual Art Contest in 2012, Prof. Silp Bhirasi's Gold Prize in Contemporary Art Competition by Young Artists in 2011. That same year, Thanawat Promsuk also received Honor Prize from Siam Cement Group's Young Thai Artist Award, Honor Award from Toshiba's Annual Art Contest, and his work was selected to exhibit at the 3rd Bangkok Triennale Printing and Drawing Exhibition.
9PRINTS - Master Degree Thesis Exhibition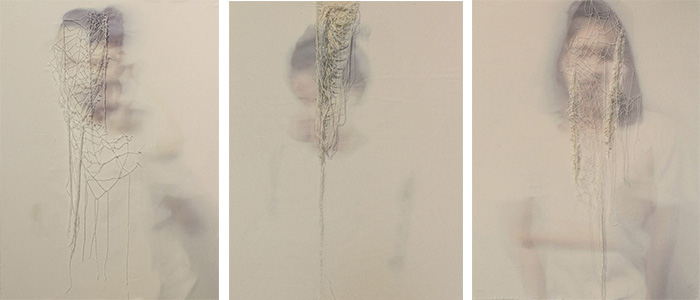 In 2014, Thanawat Promsuk held his Master Degree Thesis exhibition at Krungthai Gallery in Bankgkok, titled 9PRINTS. On this Master show, he presented 9 of his works, each one titled Love combination aspect, in his unique and now very recognizable technique with yarn.
Promsuk's Interlaced at Art Stage Singapore
In 2015, Thanawat Promsuk presented his work on a prestigious Art Stage Singapore, the leading Asian art fair that is connecting the world and the best of Asian contemporary art. This flagship cultural event tends a deep understanding of Asia's dynamic visual arts scene, and presents the diversity of contemporary art rising from the region of Southeast Asia, China, India, the Middle East, Australia and New Zealand. No wonder that a rising star of Thai contemporary art, Promsuk, showcased his awarding winning art just there.
Promsuk's exhibition at Art Stage Singapore titled Interlaced was run by the idea of personal connection between individuals through visionary language. Various faded images of either the artist's self portrait or persons who occupied meaningful space in his mind were the key visual for this exhibition. Thanawat Promsuk skillfully merged a process with subject matter and by doing that, he allowed his audience to experience how the condition of the material could impact an image's meaning.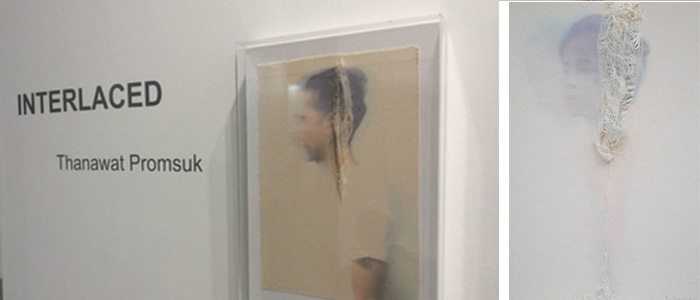 Through his presented works, Promsuk tried to communicate perception of personal feeling as well as the connection between two people, and he did it by using uncommon technique of weaved canvas and woven yarns. This artist explored physical properties of canvas as woven fabric and as print substrate. Acknowledging flatness as integral part of the artwork, the artist digitally printed faded images on the flat canvas. On some pieces, he incorporated entwined yarns on the subject's upper part of the body while on other, he deliberately took fiber strands off the canvas making the image is visible. Both of those effects had a function to imply significance to the meaning of each work.
Love Interlaced with La Lanta Fine Art
After his return from Art Stage Singapore, this rising star of Thai contemporary art presented his awarding winning art to Bangkok art lovers by opening the same exhibition with La Lanta Fine Art Gallery, only this time titled Love Interlaced.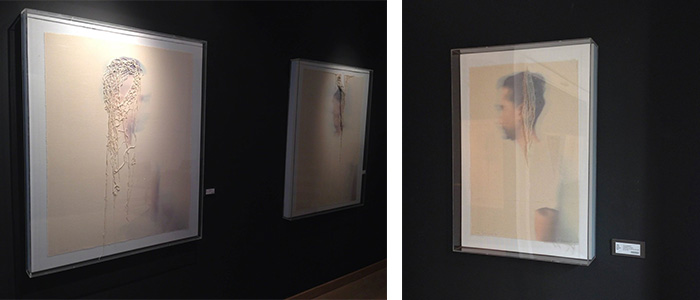 Blending digital images, distressed canvases and woven yarns, this debut exhibition explored the origin of personal connections - how they are made and how they progress in time. Promsuk 's small sized work aimed to demonstrate the fibers' organic quality with emphasis on the physical state of the materials; such as irregular shred or ripped effect, as well as the interlacing of yarns and canvas. His large scale work juxtaposes interconnecting elements of digitally printed portrait with woven yarns within a vast space, symbolizing a memory of a person within one's mind.
Thanawat Promsuk lives in Bangkok, Thailand.