Jay Turner aka The Lie is an American fine artist turned street aficionado and the co-owner of Chicago suburb Arlington Height's Paper Crown Gallery.
Paper Crown Gallery
Jay Turner was born in a Chicago Suburbs in the 80's. After graduating from The Illinois Institute of Art – Schaumburg with a degree in Game Art & Design, he started working on building his career as a package designer and illustrator for about three years. During that time, Turner worked for large brands – he illustrated the gum on the Hubba Bubba wrappers in Russia, for example.
After bouncing around between jobs, Jay decided to submerse himself in the Chicago Street Art scene by opening in 2011 Paper Crown Gallery in Arlington Heights with a friend. Paper Crown is an art gallery that focuses on work inspired by street art as well as offering other services relating to the creative world - Contemporary, Urban, & Street Art – Artwork, Toys, Supplies & More! In his gallery, one can check out original and affordable artwork by independent artists, shop one-of-a-kind merchandise, take classes, see shows, and even sip vine while painting…
The Lie's Paper Crown Gallery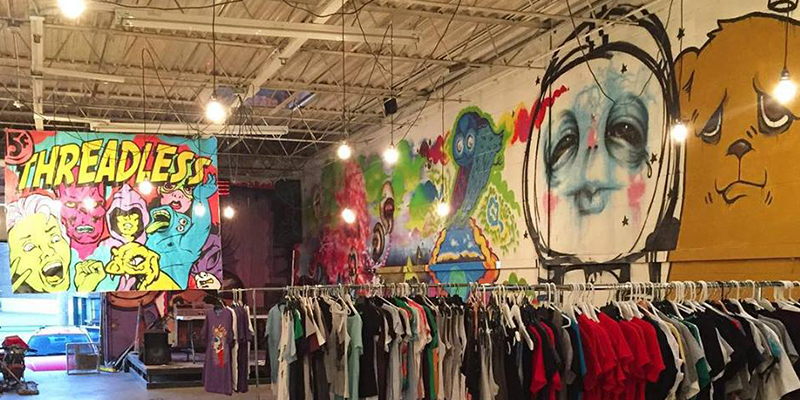 Fine Artist Jay Discovers a Spray Paint!
Before opening, he became curious about the spray paint and urban art - Jay was mixing his traditional painting experience with new spray paint skills, developing quite a unique style.
His favorite quote by Albert Camus says about everything there is to know about his understanding of life and art:
"In the midst of winter, I found there was, within me, an invincible summer. And that makes me happy. For it says that no matter how hard the world pushes against me, within me, there's something stronger – something better, pushing right back."
As he admits himself, Jay was the guy who was excellent at drawing but wouldn't really show any of his work to people. That is why starting the gallery has another important role in this artist's life: Paper Crown really pushed him to the next level, encouraging him to share his artwork with the world. Luckily for art lovers! Soon, he was introduced to spray paint, which changed the way he created art.
"I could do things bigger and faster while exploring colors and techniques. Now every time I see someone with incredible work, it pushes me to be better."
The Name – The Lie
Today, Jay bounces around with different mediums when he paints on canvas or other materials, but he mostly uses spray paint for anything with color - if it's smaller in size, he will use acrylic paint for the whites and blacks and sometimes he even shades with charcoal, or using tattoo ink for small details.
The origin of his artistic name, The Lie, can be found in three stories: the first one is that he has always received comments that his work is "creepy" or along that nature – but privately, he is a complete opposite of that, Jay just makes creepy artwork.
"I needed a name under which I could house all this creepy art while keeping the commission work, portraits, birds, and other "normal" artwork under Jay Turner."
Second reason is that he actually never lies - often getting himself into trouble for not doing so and for being too honest.
"I figured that since my artwork is the opposite of me; why not make the name opposite too."
Third: he says that there will always be people out there trying to tell others what to do, like those who tell him to make more "happy looking" artwork.
"Advertisements are in your face telling you what is the best drink, vacation spot, food, how to be sexy… it's all a big lie. Be who you want."
The story of 4D and Doom
In The Lie's artwork one thing is obvious: a presence of a girl that that "represents who You are". As the author explains, she is all the good in you.
"Normally seen sporting her war attire, complete with gloss black helmet and make-up, she is at war against the challenges in your life."
Another element in The Lie's art is a 4D Lightning Bolt, and it represents the girl's army, with different animals depicted in paintings showing their rank and stature in her army. So, birds represent the small, every day attacks or triumphs in life. Hyenas are assassins that are used in great battles.
"You hold them heavy in your heart, and in return they sacrifice everything for you. Those moments in your life that took everything you had to overcome, but took a piece of you with them."
A third element is a Doom: it is the army of the struggles, sadness, guilt, pain, etc. as we are at war with the challenges of our lives until we die. Much like the 4D army, different animals hold different meanings: for example, the panther stands for the devastating things that come out of nowhere.
Flex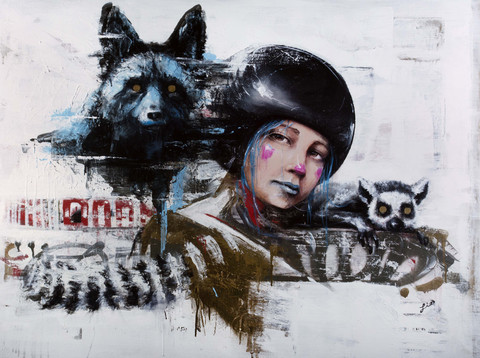 Chicago Truborn
In 2014, The Lie held his first solo show in Chicago with Chicago Truborn - an all encompassing grassroots movement celebrating all of what this city has to offer.
This solo show featured a number of original pieces on canvas and a limited number of matching prints. A $5 from every sold print at the show was donated to the Family of Jay's fellow artist, Brooks Blair Golden, who passed away just before the opening.
This artist is represented by Vertical gallery.
Jay Turner aka The Lie lives in Algonquin, Illinois.
All images copyright © the artist