A pioneer of Romanticist painting in France, Théodore Géricault was a painter whose works were mainly concerned with portraying contemporary controversial themes that were relevant to the present time. His works were often political in nature, confronting such issues as poverty, state injustice, the Spanish Inquisition and slavery. A painting that established Théodore Géricault as a leading artist of his time was the iconic masterpiece titled The Raft of the Medusa – this hallmark piece, with its brooding skies and macabre realism, almost instantly became the centerpiece of the first self-proclaimed artistic movement, Romanticism[1].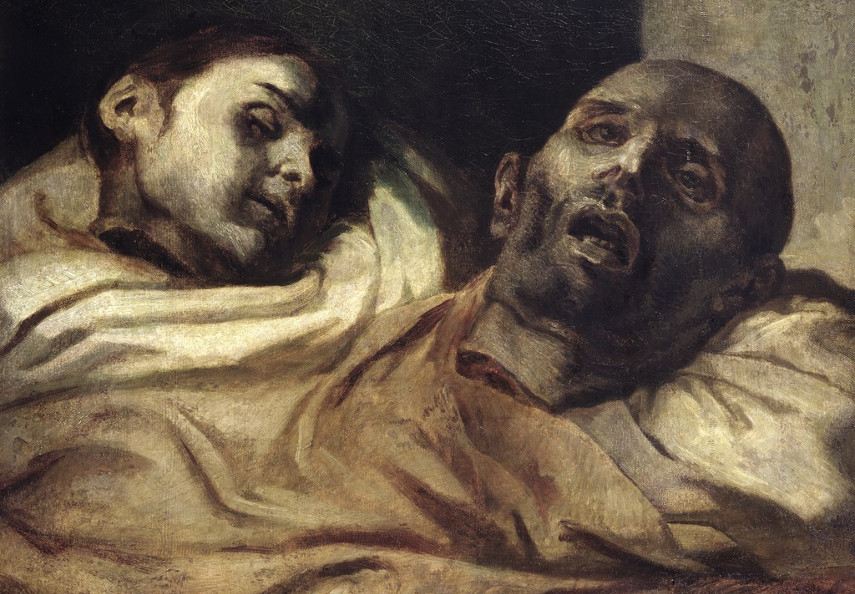 Emancipation from Neoclassicism
Théodore Géricault was born in a pleasant middle-class enclave of Rouen, France, to wealthy parents that made sure their son was spoon-fed with artistic inclinations from a very early age. In the year of 1808, Théodore began his first apprenticeship with Carle Vernet, an often overlooked Neoclassical painter who shared the same fascination with horses as his young pupil. It was in this surrounding that Géricault was taught about Neoclassical terms and notions, being told to follow in the same footsteps. However, the young artist soon realized that he was interested in a style of painting that was much less rigid and contrived than the one Vernet was fond of.
Although Theodore Gericault was introduced to Neoclassical theories and visuals early on, he quickly decided to emancipate himself from the strict clutches of the instructed rules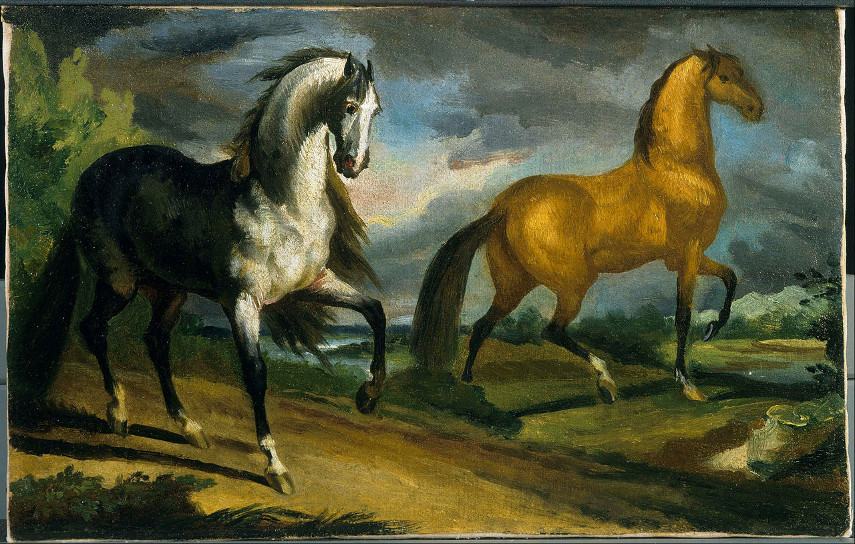 Seeking Something Innovative and Unconventional
In order to place himself in a position to learn the things he wanted, Théodore was forced to switch studios in which he was tutored. He turned to Pierre-Narcisse Guérin, an artist who was radically more opened to fresh ideas and experimentation with painting then the case was with Carle Vernet[2]. It was in this studio that Théodore met Eugéne Delacroix, another young fiery Frenchman hungry for new creative fronts. The two would quickly forge a lasting friendship and mutual admiration, eventually going on to found the artistic movement known as Romanticism. Right from the very beginning of his sovereign career, paintings done by Géricault were recognizable by the individuality they possessed. Through his subject matter, techniques and stylistic quirks, the young and talented artist painted like no other contemporary artist. Generally, and this is the case for both his portraits and larger compositions, Géricault preferred a warm palette, heavy on the vermillion, ochre, light red, peach, black and contrasting cream - all in all, he was fond of hues that allowed him to highlight colored spots.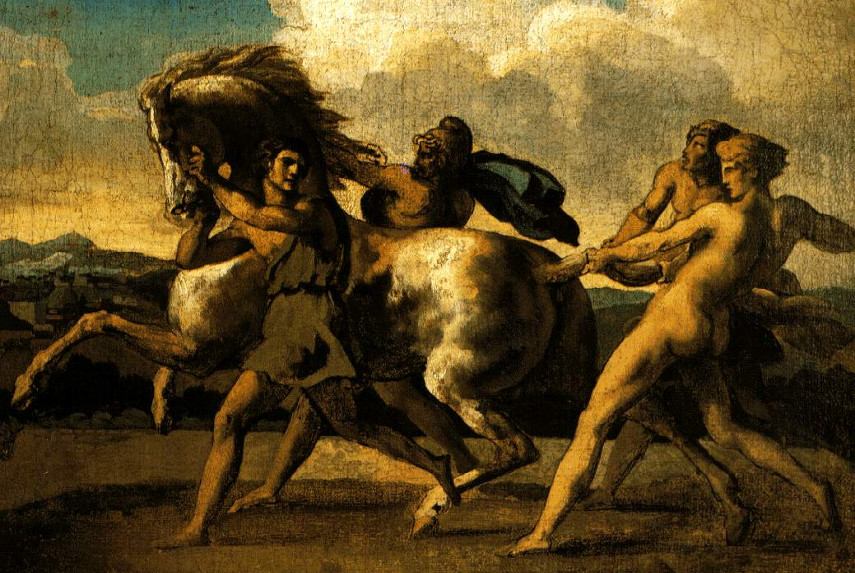 Reading Into The Raft of the Medusa
Traditionally, up until this time period in French art history, artists would sketch a full composition in its entirety onto the canvas and then paint over this sketch bit by bit. This was another aspect that separated Theodore from all the other painters - rather than using this pattern, Géricault focused on an individual part of the composition, such as one figure. He would sketch this portion of the overall composition and then paint it fully before moving onto the next section of the canvas. This gave each body or section of the composition the appearance of being its own miniature composition, lending an unparalleled physicality to each figure. After a relatively short stint fighting for Napoleon as a French Musketeer, Géricault became involved in politics, an event which led to the creation of what is considered his Romantic masterpiece, The Raft of the Medusa, painted in 1818. This highly shocking piece depicts a tragic event in French history - the shipwreck of the French vessel Medusa in 1816, a tragic event that was at the heart of controversy at the time. Based solely on the strength of this painting and his numerous lithographs[3], Géricault toured around England from between the years of 1820 and 1822, gaining widespread fame and fortune along the way.
Besides being one of the greatest paintings of its time, The Raft of the Medusa was the central piece of the first self-proclaimed art movement, Romanticism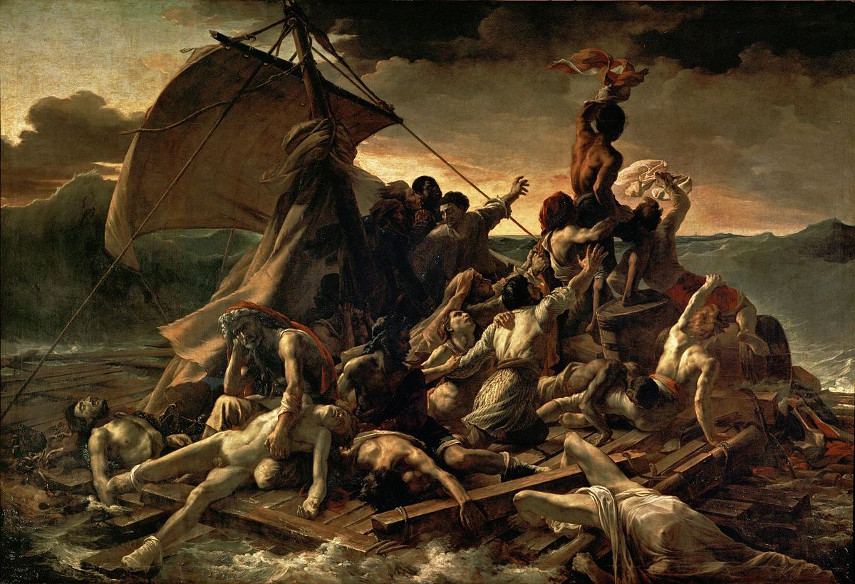 Later Years of Théodore Géricault
Upon his return to France, Géricault executed a well-received series of ten paintings depicting various types of insanity[4]. He traveled to the Paris asylum of Salpetriere and painted movingly accurate portraits of the inmates held there. Hair-raising and brimming with realistic visuals as well as underlined by an obvious uncompromising note, this project is still one of the most shocking ones in the entire art history. Unfortunately, this was to be the last of his series. Théodore Géricault died at the young age of 32 from a riding accident and tuberculosis that followed soon after. As fate would have it, he was abruptly taken from the world in the prime of his career. Logically, he did not leave behind a large body of work. What he did leave, however, was impressive in its variety and what ties all of his work together is an interest in the present tense, rather than the depiction of historical events or classical themes that characterized Neoclassicism such as horse races, shipwrecks and portraits of the mentally ill.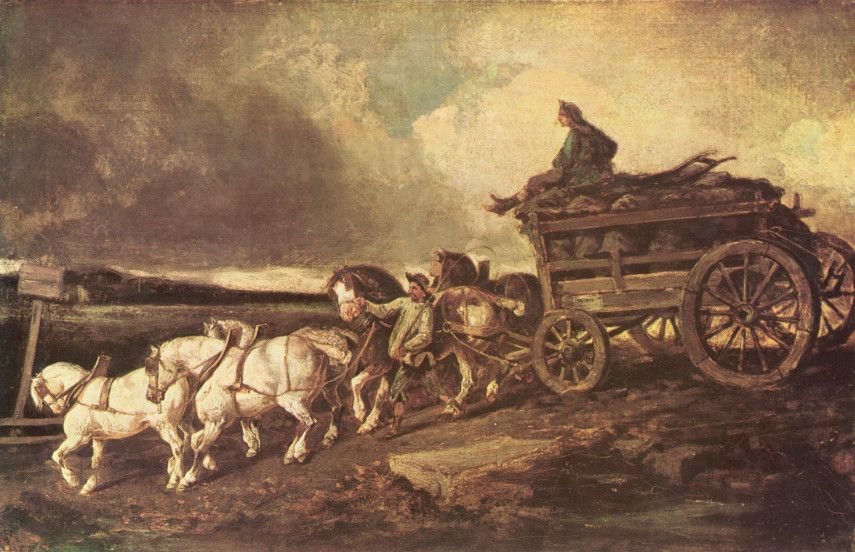 The Impact of Theodore Gericault
Although he died young, Théodore Géricault's candid representations, bold themes and remarkable talent influenced many of his contemporaries, including the legendary aforementioned Eugène Delacroix who, interestingly enough, served as one of the models for the Raft of the Medusa. Géricault was celebrated by younger generations of artists as well - they were inspired by his skill, audacity and the ability to cause nationwide awareness with nothing but his artistic craft. In many ways, this model became the prime example of what a modern artist's role in the world should be and Théodore's standard is still often referenced to this day by contemporary authors hoping to establish themselves as creative revolutionaries.
References:
Eitner, T., Géricault : His Life and Work, Orbis Publishing; First Edition, 1982
Athanassoglou-Kallmyer, N., Theodore Gericault, Phaidon Press; Ill edition, 2010
Wedekind, G., Hollein, M., Vanackere, L., Théodore Géricault: Images of Life and Death, Hirmer Publishers, 2013
Snell, R., Portraits of the Insane: Theodore Gericault and the Birth of the Subject of Psychotherapy, Karnac Books, 2016
Featured image: Théodore Géricault - The Wreck (detail) - Image via pinterest.com
All images used for illustrative purposes only.