Thomas Baumgärtel, also known under the pseudonym Banana Sprayer is a German street art pioneer, performance, and installation artist. He is more than just a painter in a classical sense, as his creativity includes drawings, photo-collagens, prints, and over-spraying of the old objects. The core element of his art is the banana, which he puts on walls, but also on canvases and paper. Changes or fluctuations are only possible around the main motif, kinda metamorphosis, but Thomas's hallmark is always present in some way. There are other project's on which the artist is working that have none, or very little connection with his trademark, and include less colorful acrylics, spray-grams, and spraying of his 'Golden Pieces'.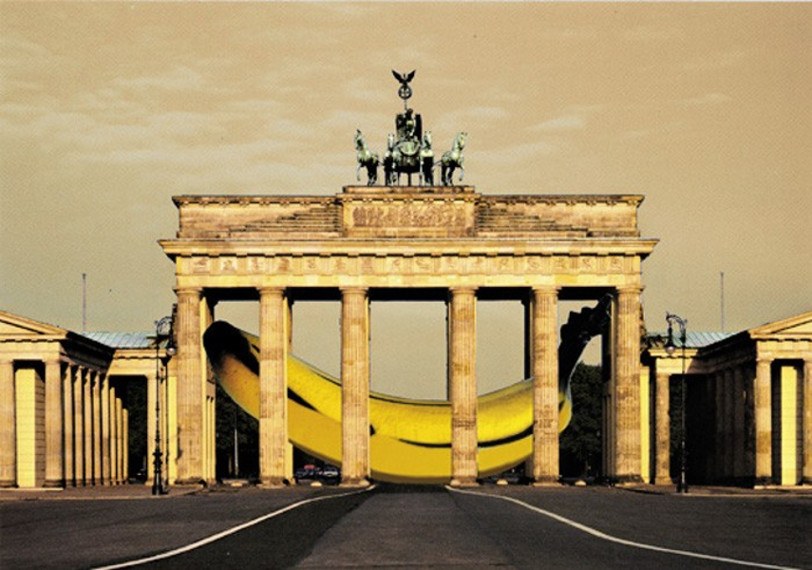 Thomas Baumgärtel Big Entrance on the Scene
The artist was born in 1960 in Rheinberg/Niederrhein, Germany. Thomas Baumgärtel studied Liberal Arts from 1985 to 1990 at the FH Köln-Cologne University of Applied Sciences, and later in1995 he graduated psychology at the University of Cologne. As he admits, only during the studies of psychology that he learned so much stuff about art. For example, how perception works, and what projection and symbolism trigger in the viewer's eyes. The first use of the banana as a medium or tool was in 1984 when Baumgärtel did his civilian service in a Catholic hospital. He nailed it on the wooden cross that was hanging above each patient bed and caused a mixed reaction, both laughter and indignation. Since 1986 and the first sprayed banana on the front wall of a gallery in Cologne, the German art metropolis, the artist has left his signature on more than 4000 locations around the world.
The first use of the banana as a medium or tool was in 1984





Thomas Baumgärtel – Kings Suite in Hotel Kunstlerheim Luise, Berlin - Photo via uniqhotels.com

Intriguing and Wide-Spectrum Interpretation of Banana
Thomas lets his spray talk instead of him. While patiently researching the effect of his artwork on people from a visual perspective, he found a connection with psychologist's interpretation of the Rorschach Test, where each individual has its own understanding of the object. In so many ways and cases, his work reminds of Andy Warhol's iconic Velvet Underground record cover. The ironic, almost idealistic paintings highlight the surrealism, by discovering new meanings of banana day by day. It is the experience as the spray-painter that convinced him to become an artist. Although his actions were often criticized, and Baumgärtel even had to pay a fine, the desire to express his personal, sometimes political preferences and convictions prevailed.
Thomas lets his spray talk instead of him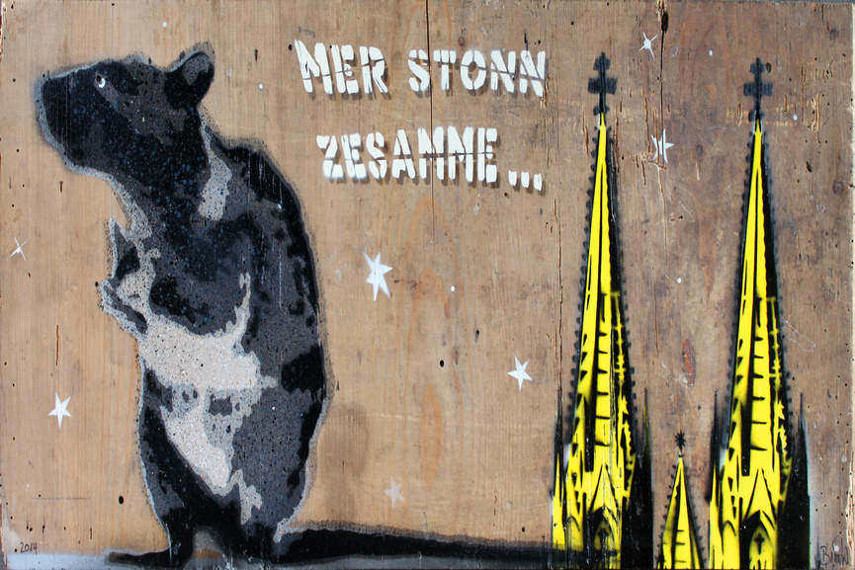 Other Projects and Exhibtions
In 1995 he developed Banana Pointillism, a painting style using small stencils to spray banana on to canvass in yellow and black, and in 1996 he founded a studio collective CAP Cologne. He made a four-ton banana sculpture for the 750th anniversary of the Cologne Cathedral in 1998 and since then he collaborated with M.S. Bastian, Thitz, Herald Klemm, and Roland Spencker on a number of projects. In 2004 and 2005 he began making his series Golden Pieces and acrylics like Portraits, Holocaust, and Landscapes. His work has been a part of many exhibitions in various galleries and museums.
Thomas Baumgärtel lives and works in Cologne, Germany.
Featured image: Thomas Baumgärtel in front of his artwork - photo by Esser, via rundschau-online.de
All images used for illustrative purposes only