Known primarily for his large-scale kinetic and sound-producing works such as the monumental Überorgan, Tim Hawkinson is an American contemporary artist, working in sculpture, painting, photography, drawing, or printmaking. His art is the sort of intense, highly personal and often self-referential work that manages through humor and sheer obsessive force to be both accessible and awe-inspiring. Often a bit grotesque, his works flirt with the sublime often enough that it really is worthy of multiple viewings. It may come as a surprise, considering the pieces at first appear to be cheap jokes. Whether he's making bird skeleton from his own fingernail parings, a latex cast of his body inflated with air, and clocks fashioned from a Coke can, a manila envelope and a toothpaste tube – Tim Hawkinson will prove a revelation to all those interested in contemporary art.[1]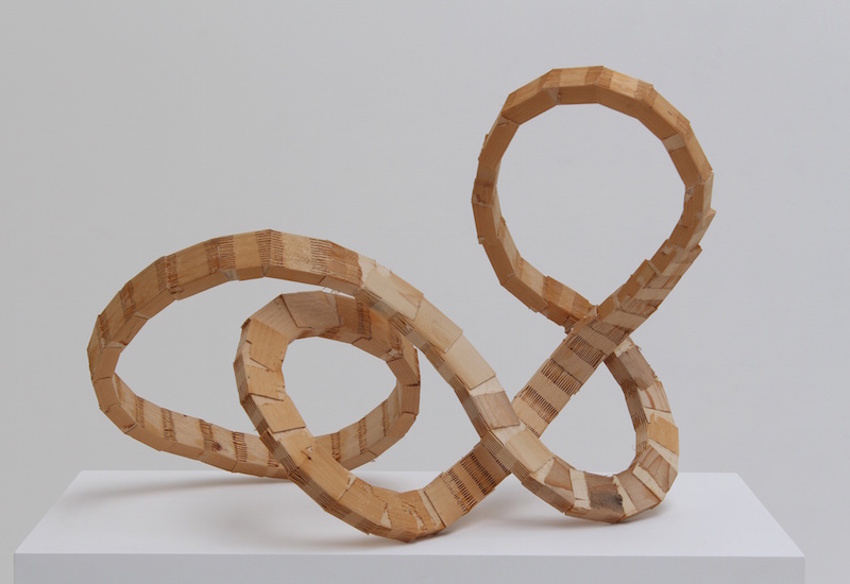 Tim Hawkinson – Biography, Exhibitions, Collections
Born in San Francisco in a middle-class home to parents who were antique dealers, Tim Hawkinson grew up during the rise of post-modern art. He graduated from San Jose State University before earning his MFA from UCLA in 1989. Studying under Charles Ray, who focused on questions of identity with his sculptures and moved from medium to medium in a quest to represent his questions about self and its relation to others, was a major inspiration to the artist. He was particularly intrigued by his mentor's detachment from the comfort of working with a particular medium. Hawkinson's work has been the subject of solo exhibitions at various international venues. One of his most recent shows was titled Counterclockwise (2016) and was held at the Pace Gallery in New York.
In 2005, the Whitney Museum of American Art, New York, and Los Angeles County Museum of Art hosted a major mid-career retrospective of the artist's work. He has also participated in significant group exhibitions, including Fantasy Underfoot: The 47th Biennial Exhibition at the Corcoran Gallery of Art, Washington, D.C. (2003); the Whitney Biennial (2002); and the Venice Biennale (1999). His work is held in numerous prestigious public collections, among them the Contemporary Museum, Honolulu; J. Paul Getty Museum, Los Angeles; Museum of Contemporary Art, Los Angeles; Museum of Contemporary Art, San Diego; and Smithsonian American Art Museum, Washington, D.C. In 2015, he was awarded the John Simon Guggenheim Memorial Foundation Fellowship for Fine Art, which recognizes artists who have demonstrated exceptional creative ability in the arts.
One of his most recent shows was titled Counterclockwise and was held at the Pace Gallery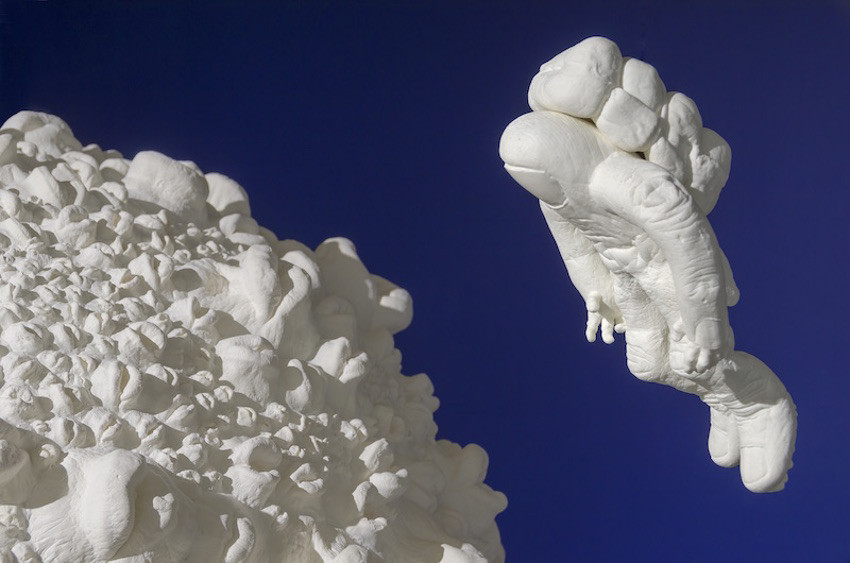 Hawkinson's Art: a Diversity of Media
Encompassing a diverse range of media - including sculpture, installation, painting, photography and collage, his practice is grounded in experimentation, exploration, and maybe more than anything, his art celebrates the process and materiality of the work itself.[2] Speaking of works, the artist takes common, everyday materials out of context, reinterpreting them into new and different forms. His unexpected adaptations prompt new ways of seeing the world around us. In line with his commitment to using readily accessible materials, the artist often returns to his own body as a base in the creation of forms or as a point of reference. In Tagalong (2013), resin imprints of Hawkinson's knuckles, knees, and elbows abstract elements of his body, reimagining them into the plates of a four-foot tall seahorse. Yet, he sometimes goes so far that he no longer recognizes himself in the work. Constantly in pursuit of new processes and working methods, Hawkinson's kinetic sculptures are driven by an unbridled sense of inventiveness and improvisation, with results that are unlikely, playful, witty and mechanically complex. Also intrigued by the sound (as shown in his arguably most famous piece so far – the Überorgan), the artist's sound machines turn banal objects into unpredictable anthropomorphic arrangements, displaying his ingenuity and interest in sensory experiences.
Tim Hawkinson takes common, everyday materials out of context, reinterpreting them into new and different forms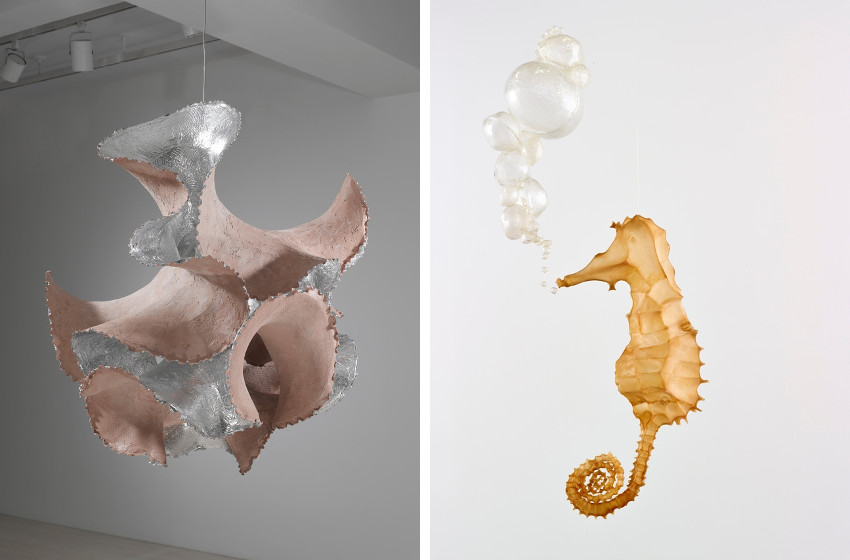 The Art of Identity
Hiding true meaning of his work behind somewhat grotesque appearance but always emphasizing what he finds important, Hawkinson is comparable to the likes of Charles Ray, Tom Friedman and Mike Kelley. Working at a very high level for more than two decades, he is certainly becoming one of the giants of contemporary art. Besides being fascinated with notation and music, it seems that the artist is constantly returning to the ideas of re-imagining of his own body and what it means to make a self-portrait of this new or fictionalized body. The question of identity permeates his oeuvre, as he uses some found materials and reworks things cleverly and beautifully, eventually questioning what his viewers truly see in front of them. In short - conceptual, material, fresh.
Tim Hawkinson lives and works in Los Angeles.
References:
Rinder L., Tim Hawkinson, Whitney Museum (2005)
Erickson S., Tim Hawkinson, nyehaus/foundation 20 21 (2007)
Featured image: Portrait of the artist - photo credits Samantha Nandez, courtesy of BFA and Pace Gallery