Tina La Porta is an American artist working in mixed media, born in Chicago in 1967. She completed her undergraduate studies at Columbia College in Chicago in 1989, and received her Master of Fine Arts degree from School of Visual Arts in New York in 1994.
Circles Of Obsession, 2014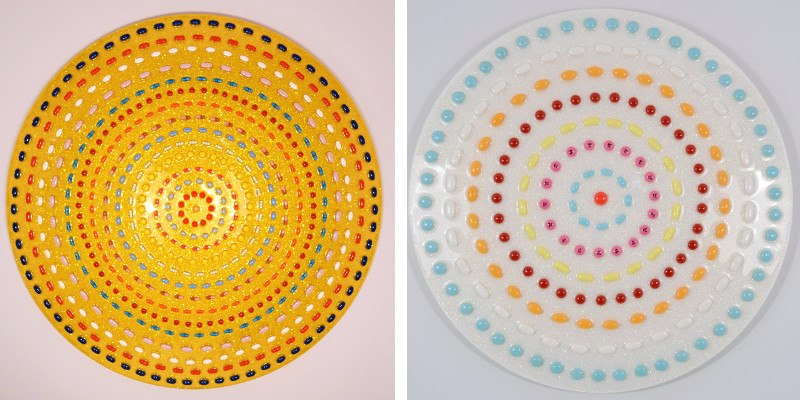 La Porta is known for her works centered around the theme of mental illness. The artist, who was diagnosed with schizophrenia in 2009, struggled for years with this mental illness and the side effects of wrong diagnoses and prescriptions. According to her own estimations, she took thousands of individual pills, while trying to find the cure.
From the edge of darkness, 2013

In her works, she exhibits carefully arranged pills on a resin-coated canvas or casts of her own hands holding various pills, thus displaying her inner life to the public, raising awareness and acceptance of this highly misunderstood condition. Prior to her illness, Tina La Porta focused in her works on misperceptions of the body and social taboos.
Mixed-media artworks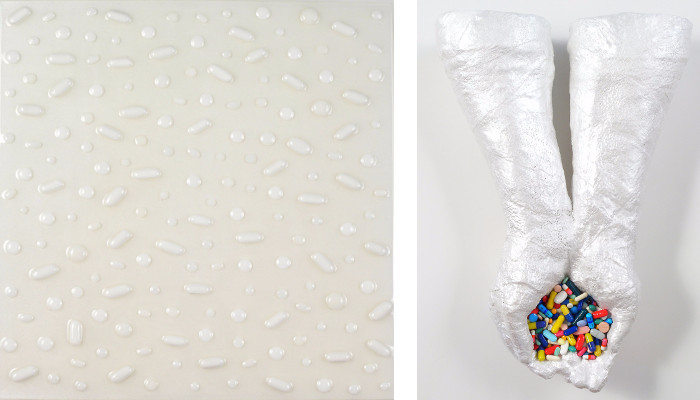 Since 1991 she has had two solo exhibitions and exhibited her works in numerous group shows all around the world, in Paris, New York, Tokyo, Istanbul, Amsterdam, Madrid, Barcelona and many other cities. She lectured and presented her work on several occasions, received commissions to create new art for the museums in New York City, and her work is included in public collections and published in many periodicals.
She is represented exclusively by the Robert Fontaine Gallery.
Tina La Porta lives and works in Miami.
All images copyright © the artist