Todd Carpenter is an American artist, well known for his grayscale paintings where he explores the effect that light and shadow have on our perception and experience. He is also known for his works in photography and kinetic art.
Academic Training
Carpenter is based in Southern California. Growing up, he was surrounded by art – his grandfather was a painter, and his brother is an architect. Unlike many artists today, his education didn't involve arts. He received his BS degree in Psychobiology from the University of California in Los Angeles, and later obtained MS degree in Neuroscience in San Diego. However, his education gave him a unique perspective on art and the impact it has on our brain.
The Effect of Light
Light plays a significant role in Carpenter's paintings. It has the ability to deepen a picture, and transform a two-dimensional surface into three-dimensional figures, making them real and alive. Realism in painting is achieved through a proper portrayal of light and shadows that the depicted objects cast. The slight differences in shading cause our brains to recognize the environment and how the objects are arranged in it. Many artists, Carpenter included, utilize this property of light to achieve a realistic representation of the world around them.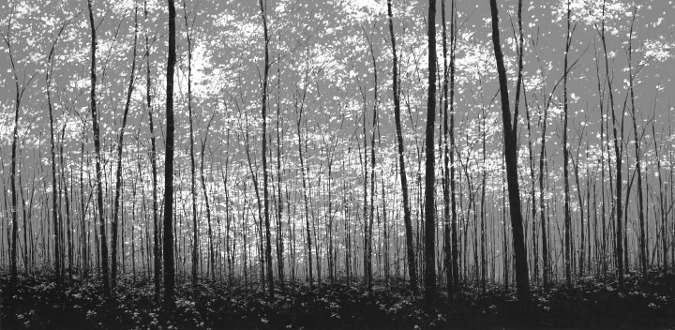 Light has another ability, and it is to provoke emotions. As Carpenter states, the way we perceive light is possibly connected to our primitive instincts. In the past, it used to indicate danger or safety, and it is believed that these associations with light prevailed to this day, thus evoking certain positive or negative emotions. Carpenter's work stems from this assumption; when certain lighting conditions are transferred onto a surface, they could have an identical effect on the viewers.
This is the reason why Todd Carpenter's paintings are in grayscale. It is the tone, not the hue that influences our understanding and perception of the three-dimensional space around us.
Landscapes: Painting and Photography
Carpenter usually paints landscapes. Whether it is the murky and gloomy urban areas of Los Angeles, or the dark edges of a forest, Carpenter manages to perfectly freeze the moment and give some realness to his landscapes. Even though his trees are dark, they seem to pop out with their withered, textured trunks and complex winding of bare branches. In his landscapes of the city, a constant battle between the natural and man-made is evident.
Carpenter's photographs are taken with the same premise as his paintings are created. He again plays with light and shadows. Most stunning photographs are taken either early in the morning or late in the evening, when shadows are the longest.
Exhibitions
With over 30 group exhibitions, and numerous solo shows, Carpenter has exhibited around the United States, as well as Seoul and Hong Kong. In 2012 his Grey exhibition, organized by and held at Launch LA Gallery, caught the attention of the public. His latest show Carbon, in 2015, was organized at KP Projects in LA. The chemical element, after which the show was named, is the basic element of ecosystems on our planet. But that same element has the potential to destroy those same ecosystems. It is also the element's essence of the black pigment that is used for Carpenter's paintings.
Carpenter is represented by KP Projects and Launch LA Galleries.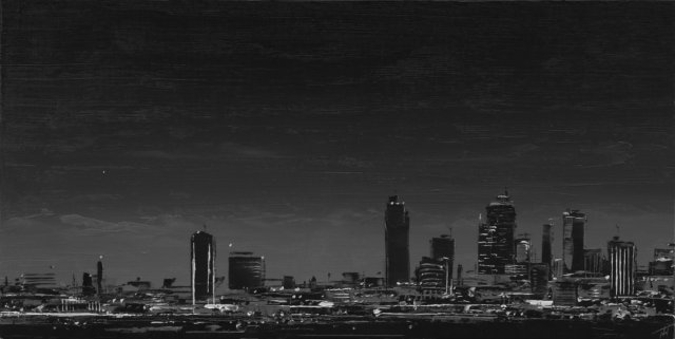 Until recently, Carpenter taught Neuroscience at the San Diego New School of Architecture and Design, and now he teaches Photography at the same institution.
Todd Carpenter resides and works in Los Angeles and San Diego, California.