Tom Lohner, an energetic Austrian artist famous for his imaginative depiction of celebrities, believes that the single most important ingredient in any artistic process is passion. Where passion pulls - follow. Never question this - it may be the only chance in your life to be truly alive, the artist claims. He also believes that artists are blessed with the ability to perceive the world in a different way. Instead of a rusty piece of metal or a pile of old junk, artists tend to see silvery hues, earthy browns and sunny golds. When it comes to his own art, Lohner considers it a mighty mix of Walt Disney's and Tim Burton's characters along with Tarantino's movie style. The additional magic ingredient that binds everything together is the powerful post-industrial music.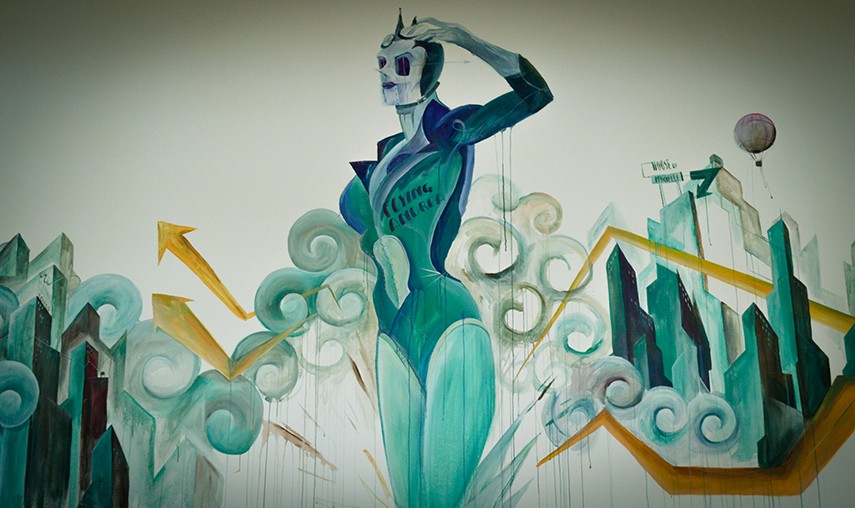 Growing Up Between Austria and the United States
Young Tom knew from the very start, meaning his earliest childhood, that he wanted to pursue his passion and dedicate himself to visual arts. His educational path was quite exciting and colorful – the artist has spent his childhood between a small town in Austria and Gainesville in Florida, then he moved to Graz to enroll in high school, but he also attended a part of his high school course as an exchange student in Monterrey, California. After the graduation in 2002, he moved back to Graz, where he obtained a degree in graphic design from the Ortwein Design College. Between 2003 and 2004, the artist also worked with disabled people at the Odilien Institut in Graz, in the Creative Department. Thanks to his international experiences, Lohner has gained a precious insight into the world of art, but also lifestyle in general, on both sides of the Atlantic.
The artist has spent his childhood between a small town in Austria and Gainesville in Florida, expanding his artistic view thanks to international experiences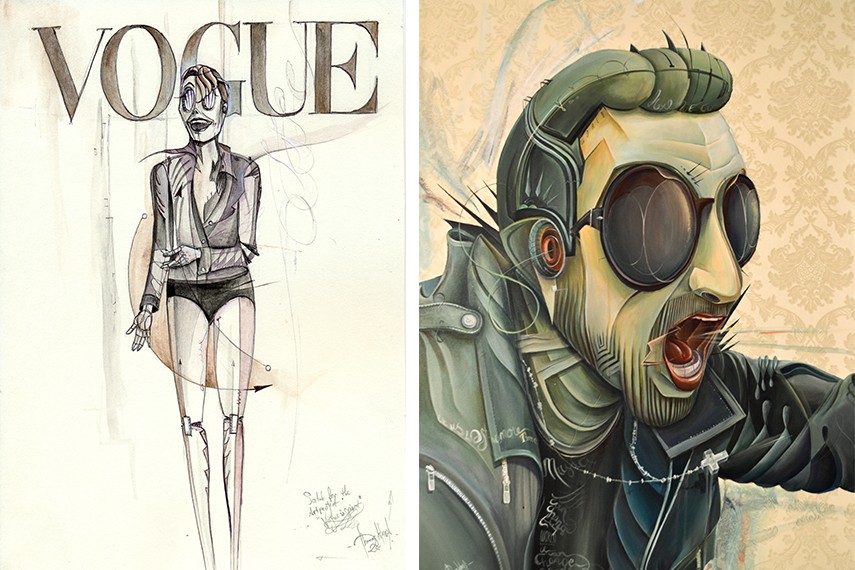 LosLohBros Collective and Career Highlights
In 2008, Tom Lohner has co-founded a design & art collective called LosLohBros, together with his brother Andy. Both brothers were really diligent and passionate artists, which resulted in a number of successful exhibitions. Eventually, both of them have moved to London in March 2010, so they could grow as artists and create artworks which meet the highest standards of design and illustration. Soon after moving to London, Lohner received an amazing offer for the position of art director at London-based TV-production agency CC-Lab. This agency is known for the collaboration with high-end clients and music stars, such as the Rolling Stones, David Bowie, Prodigy, Fatboy Slim, Smashing Pumpkins and Maroon5. After he accepted this brilliant offer, Lohner started working long but great hours. Despite the fact that he was becoming increasingly, the creator never stopped working on his own projects. He kept true to his art and continued organizing numerous international exhibitions. His work was showcased in the finest galleries in Vienna, in giant art shows in the United States, but also in pop-up galleries in Japan.

Soon after moving to London, the artist received an amazing offer for the position of art director at London-based video production agency CC-Lab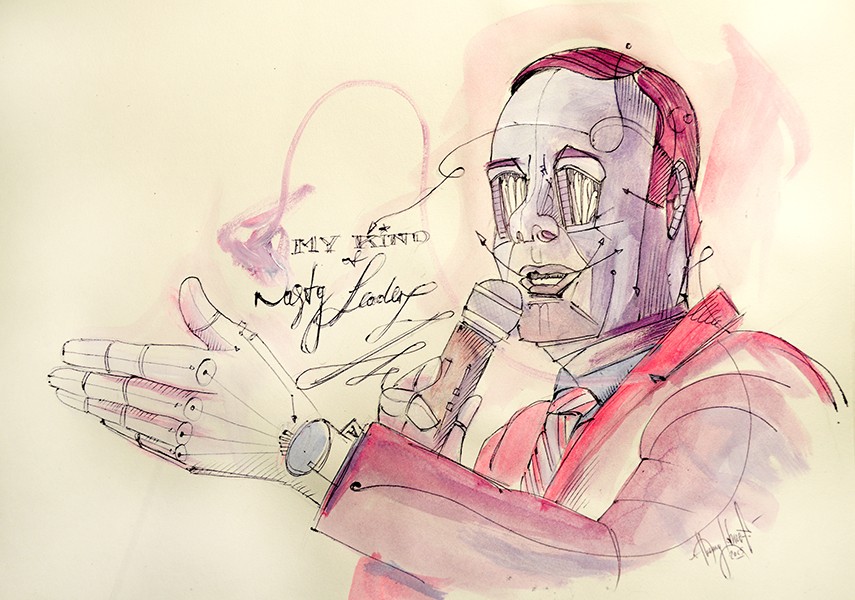 Ghost Series, Little Dead Riding Hood and Celebrity Portraits
Since 2015, Tom Lohner is a proud self-employed artist, with his own management and an assistant. His most recent project from 2016 is commissioned by the cult Hard Rock Cafe and it features a series of 10 celebrities getting transformed into animals. Some of the big names portrayed by Lohner include Marilyn Manson, Lady Gaga, Bono of U2, Gwen Stefani, Kevin Spacey and many more. Lohner's painting style is a refreshing combination of the traditional medium of acrylic colors and futuristic aesthetics, achieved by a certain cyberpunk and post-apocalyptic twist. The artist uses a lot of neon colors, such as electric blues and violets, paired with appealing geometrical patterns, which are basically made to be worn by movie stars. His other important artwork series are Ghost as well as Little Dead Riding Hood and Forever Sleeping Beauty. All of these pieces have a certain Tim Burton touch and they would make a perfect cover for gothic or horror tales.
The artist's most recent project from 2016 features a series of 10 music and movie celebrities getting transformed into animals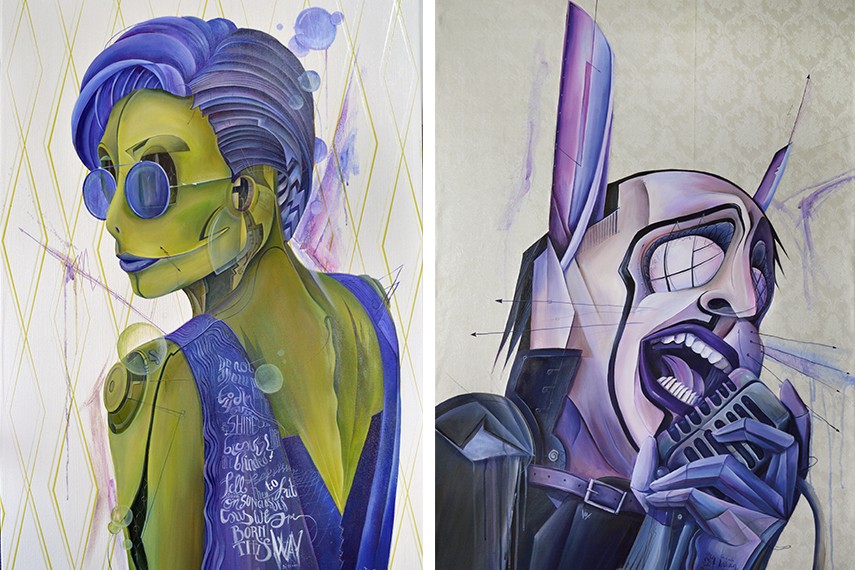 Hard Rock Performative Action
At the begging of this year, Hard Rock Cafe franchise decided to host the exhibition of Lohner's latest works titled Art Of Hard Rock. As a matter of fact, on the night of the opening the artist conducted the performance of live painting in order to enhance the whole experience to the audience. The selection included ten paintings of rock stars transforming into animals; Lady Gaga is depicted in a moment of transforming into frog, while Alice Cooper shifted to cobra. The artist's intention was to express his own perception of celebrities in regards to their inner energy and character. The curiosity is that event whole was organized by Rolling Stones management and is thought to tour through Hard Rock Cafe's in Germany, Italy and Austria.
The show was a complete success and gained huge media attention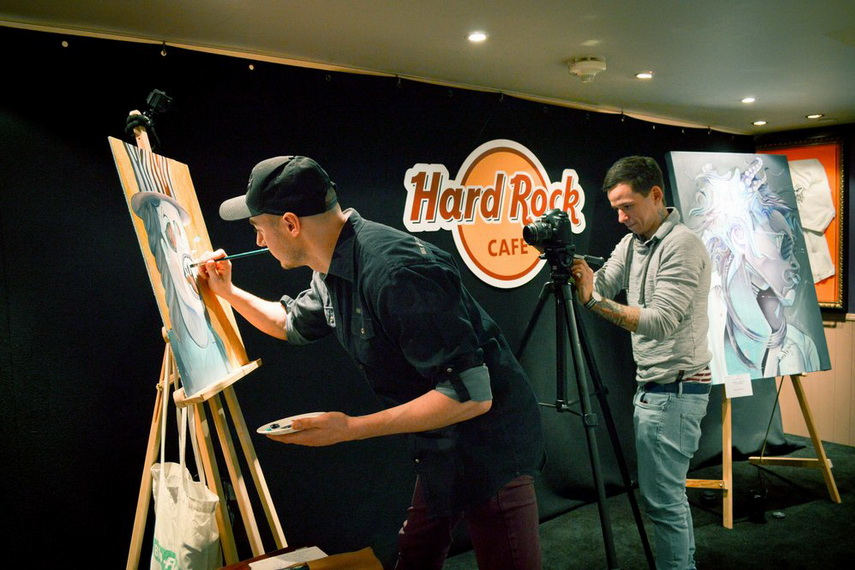 American Rock Enthusiast Residing in Europe
Tom Lohner's love for the rock culture, as well as his appreciation of the more recent post-industrial music and aesthetics, is more than evident in his work, which is dedicated to some of the most popular rockers and actors. With his charming sense of humor, he likes to call himself a US sunshine rocker coming from the old fashioned, historical Austria. His colorful and extremely imaginative work is capable of transforming the well-known faces of celebrities into entirely different landscapes of colors and shapes and because of this playful approach along with the technical excellence, his work has been appreciated and showcased internationally in more than 50 solo and group exhibitions.
Tom Lohner lives and works in London, UK.
Featured image: The Artist's Portrait
All images courtesy of the artist.