Thought the homoerotic images have been present in the visual arts throughout the history, the concept gained its real popularity with the work of gay Finland artist Touko Laaksonen. Best known by his pseudonym, Tom of Finland, this creative is notorious for his controversial, fetishistic representations of men. His oeuvre spread to countries worldwide and has had an enormous influence on gay identity. In a career which encompassed more than forty years of making art, Tom of Finland's output came to include over 3500 illustrations, mostly featuring homoerotic archetypes such as lumberjacks, sailors, bikers, police and men dressed in leather. Laaksonen's famous Kake comics featured gay men as happy, healthy, and normal people in order to change the negative myths and stereotypes about gay people which often depict them as unhappy and self-loathing individuals.
Early Years
Born in 1920 in Kaarina, a small town located in the Southwest Finland, Touko grew up with an appreciation for art, music, and literature in a middle-class family. Both his parents were grammar school teachers, so the family lived in the school building. In 1939 Touko Laaksonen left his hometown to attend art school and study advertising in Helsinki. There he created his first homoerotic drawings for his own personal enjoyment, but he destroyed all of them before joining the Finnish Army in 1940 in its fight against the Soviet invasion. His early illustrations were based on images of masculine laborers he had seen growing up. Having served as a second lieutenant, Touko Laaksonen became fascinated by men in uniform and began to portray an idealized male form in his works. In 1945, Laaksonen left the Army after the war and returned to his studies in art and advertising. Touko's artwork of this period compared to later works is considered more romantic and softer with gentle-featured shapes and forms. His subjects, however, even in his earliest pieces dating from the first half of the 1940s are ecstatic, gushing, and ejaculating.
Tom of Finland
After WWII, Laaksonen continued to draw his fantasies and, urged by close friends, submitted some of his own illustrations to the American bodybuilding magazine Physique Pictorial. Because of the conservative social climate in 1957, he signed them "Tom", but the magazine editor credited the work to "Tom of Finland," which then became Laaksonen's popular handle. His images were an immediate success. The post-World War II era saw the rise of the biker culture which provided postwar gay men with a stylized masculinity that included rebelliousness and danger instead of dominant gay stereotypes which presented gay men as effeminate. The artist was influenced by images of bikers as well as artwork of a gay American artist George Quaintance, among others. Laaksonen's illustrations of bikers and leathermen capitalized on the leather and denim outfits which distinguished those subjects from mainstream sexual cultures.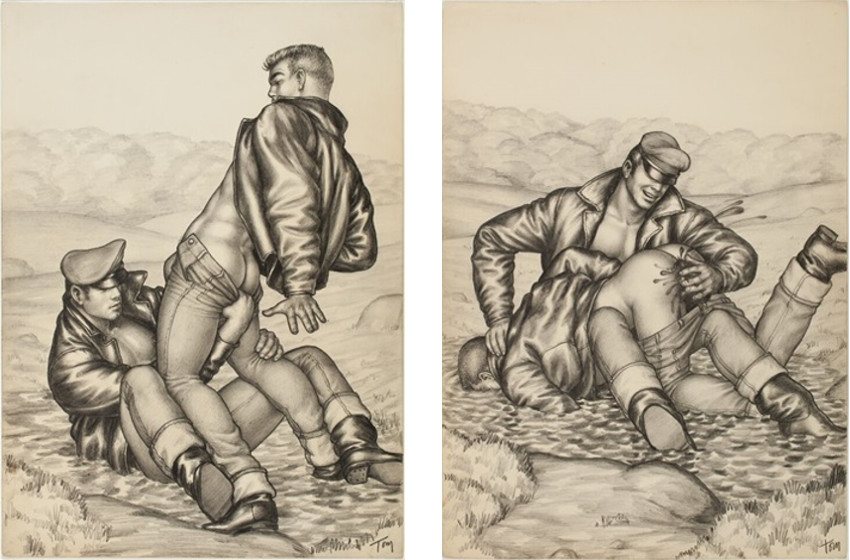 United States Censorship Laws
In the 1950s and 1960s, the United States censorship laws that prohibited a depiction of homosexual pornography relatively influenced the style and context of Laakonen's own work; by this time, however, Laaksonen rendering private commissions, which provided him with the creative freedom to produce more explicit - but unpublished - works. His published works from this period often featured images of handsome, muscular young men in athletic poses often shown demonstrating exercises. The turning point was the 1962 case of MANual Enterprises v. Day when the United States Supreme Court ruled that magazines consisting largely of photographs of nude or near-nude male models are not obscene. It opened the US mail to nude male pornographic magazines, especially those catering to homosexuals. Tom of Finland reacted by publishing more explicit drawings and stylized his subjects' fantastical aspects with overemphasized physical aspects, especially their genitals and muscles.
Gay Drawings
Tom of Finland applied his love of machismo with his natural artistic talent to make homoerotic images that glorify the idealized male form. Towards the mid-1970s, he began to emphasize photorealistic aspects of his style. Many of his artworks are based on photographs, but none are exact reproductions of them. The artist combined photorealistic attention to detail with his wild sexual fantasies to produce a remarkable body of work. One of the most famous examples of this period is the 1975 drawing in which a naked man floating in space and literally fucks the beach-ball-size Earth.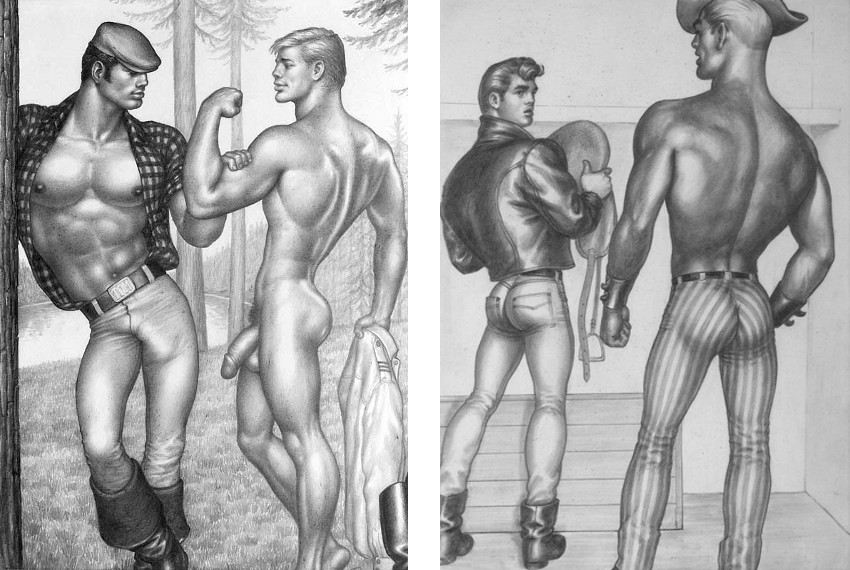 Tom of Finland Foundation
With his friend Durk Dehner, Laaksonen co-founded the Tom of Finland Company in 1979. Five years later the two friends co-founded Tom of Finland Foundation as a nonprofit organization and educational archive which preserves, restores and promotes the legacy of the iconic gay artist and his fellow erotic artists. It is supported by donations from the public, fundraising events, dues from its membership programs and commercial applications of Tom's art. The Permanent Collection houses more than 1,500 original works by Tom and another 2,000 works by numerous of other artists, and the archives, with well over 100,000 images, documents, and records, together comprise the world's largest repository of erotic art. In 1995, Tom of Finland Clothing Company presented a fashion line inspired by Laaksonen's drawings. In September 2015, Tom of Finland Foundation collaborated with ONE® condoms to help foster conversations about safer sex.
Video Biography and Stamps
In 1991, the America film distributor Zeitgeist Films released a video biography, titled Daddy and the Muscle Academy: The Life and Art of Tom of Finland which included interviews with Tom himself, commentary from his "leather men," numerous of original drawings and steamy fantasy scenes inspired by his art. The documentary was shown on Finnish national TV and won a Jussi Award – the annual film awards for the best achievements within Finnish cinema – in 1992 and was shown at many international film festivals. In September 2014, Itella Posti released a set of stamps in Finland to honor Tom of Finland. Designed by Finnish graphic artist Timo Berry, the set contains three 1st class adhesive stamps. The two drawing that appears on the stamp sheet are both untitled and date in the late 70's.
In 2014, Itella Posti released a set of stamps in Finland to honor Tom of Finland

The First New York Exhibition
Since his first exhibition at The Revolt Press Bookstore in Hamburg, Germany in 1973, Tom of Finland has participated in over a hundred individual and collective shows throughout the globe. In 1978, he had his first show at the United States held at Stompers, a boots store in the West Village, New York. Tom of Finland's first gallery show was held at Feyway Studios in San Francisco. At the same event, he met a gay photographer Robert Mapplethorpe known for his sometimes controversial large-scale, highly stylized black and white photography. Mapplethorpe helped Tom to organize his first major New York show at Robert Samuel Gallery in 1980. Since then his work was on display in numerous individual and collective shows throughout the globe.
The Influence of Tom of Finland
One of the most influential creators of gay images, Tom of Finland died of complications from emphysema in 1991 in Helsinki, Finland. Twenty-five years after his death, the artist remains one of the most acclaimed erotic illustrator of the 20th century, gay or otherwise. His paintings and drawings depicting extremely muscular, strong cops and enormously endowed bikers have been tremendously influential on the generations of gay men who discovered his oeuvre in homoerotic magazines, and later, in such books as Tom of Finland XXL (2009), and The Art of Pleasure(1998).
Tom of Finland is represented by David Kordansky Gallery, Los Angeles, CA.
Featured image: Tom of Finland - Untitled (detail) - Sailors Series
All images used for illustrative purposes only; copyright © Tom of Finland Estate