Widely considered as one of the major artists of the New York Pop Art, Tom Wesselmann was an American artist best known for his stylized female nudes which were the definite focal points of his career as a painter. Due to his enormous contributions to the aforementioned Pop art, it comes as no surprise that Wesselmann's name is often found alongside Roy Lichtenstein and Andy Warhol. However, it should be stated right away that, just like the case was with Jim Dine, Wesselmann disagreed with the label of a Pop artist on a conceptual level. Tom, in an effort to reject Abstract Expressionism, made collages and assemblages that incorporated everyday objects and advertising ephemera. Although his field of art making is extremely broad and diverse, Wesselmann is arguably best known for his Great American Nude works produced during the 1960s - this highly sexualised series featured flat figures in an intense palette of red, white, blue and other patriotic colors often associated with the United States of America.
From a Cartoonist to a Painter
Wesselmann was born and raised in the city of Cincinnati. After what was a very happy childhood, he spent two years at the Hiram College in Ohio before transferring to major in Psychology at the University of Cincinnati. Since he was drafted into service by the US Army in 1952, Tom had a lot of spare time on his hand from the moment he was stationed stateside. It was during this time that he made his first cartoons and became interested in pursuing a career in illustrating. After returning home, Wesselmann began to study drawing at the Art Academy of Cincinnati and achieved some initial success, like selling his first cartoon strips to the magazines 1000 Jokes and True. Tom soon came to live in NYC and after a visit to the MoMA, he was inspired by the Robert Motherwell painting Elegy. This fascination drove Wesselmann to reject the ideas of action painting, but it also transformed him into a painter instead of a cartoonist. In the meantime, Wesselmann became one of the founding members of the Judson Gallery alongside a few friends who had just arrived in New York[1]. Tom's series Great American Nude, begun during the year of 1961, first brought him to the attention of the art world. This series was extremely patriotic in nature as the artist focused on the use of American red, white and blue. Images also incorporated other representational depictions of patriotic themes such as American landscape photos and portraits of founding fathers. The pictures from the Great American Nude were mostly collaged from magazines and discarded posters, which called for a much larger format than Wesselmann had used previously in his career. These pieces were also the ones to be displayed at Tom's first solo exhibition at the Tanager Gallery. Soon Wesselmann became a vital part of the Pop art scene and started both collaborating and exchanging ideas with the prominent artists of the new movement.
Although he is included among the most influential Pop art painters, Wesselmann himself never truly considered his artworks to be a part of this movement on a conceptual level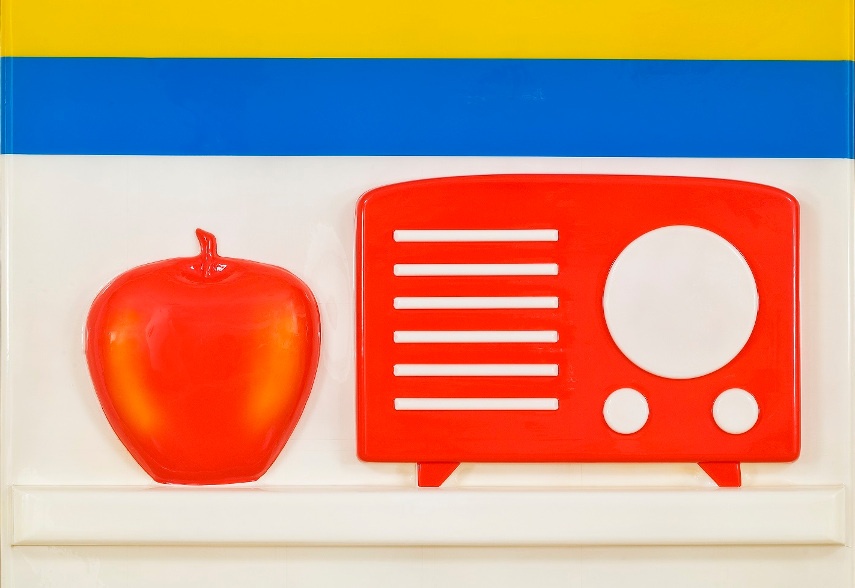 Somewhere Between Pop art and Tom's Visions
After he successfully established himself as one of the leading artists in NYC, Tom began to teach art at a public school in Brooklyn and later at the High School of Art and Design. As was clued at earlier, Wesselmann never liked his inclusion in the wrongly termed Pop Art, pointing out how he made an aesthetic use of everyday objects and not a criticism of them as consumer objects. Tom explained his unsatisfaction by stating the following: I dislike labels in general and 'Pop' in particular, especially because it overemphasizes the material used. There does seem to be a tendency to use similar materials and images, but the different ways they are used denies any kind of group intention. Ultimately, Wesselmann managed to reduce the classical female nude to her most essential components of lips, nips and pubes, underlined by a strong note of sexualism. After the success of the Great American Nude, Tom began working on a series of still lifes, experimenting with the potentials of assemblage. Although he conceptually distanced himself from the Pop art term, Wesselmann maintained his connections with the evolution of the movement, as evidenced by the event The American Supermarket held at the Bianchini Gallery in New York during the year of 1964[2]. Tom continued to experiment with his art for the next five decades, exploring the abilities of collage, limitations of assemblage and general range of his Pop-like concepts. Additionally, Wesselman was a self-confessed fan of country music and sometimes incorporated operating radios, TVs or other sound elements into his standards artworks. He also introduced new ideas on color, proved his ability to construct the composition and displayed the constant tendency towards new materials - all the while maintaining his highly sexual and colorful style. Whilst working on a throw-back series of Sunset Nudes in 2003/4, Wesselmann suddenly had severe complications with his already unstable heart condition. Following a failed surgery, Tom died on December 17, 2004, alone in his hospital bedroom. His life and work were a crucial study of Pop art, although his painting did not have anything to do with the style of Andy Warhol and other representatives of the movement.
Tom had an extremely wide range of practices, but his fame was mostly earned by his element-striped depictions of sexualized themes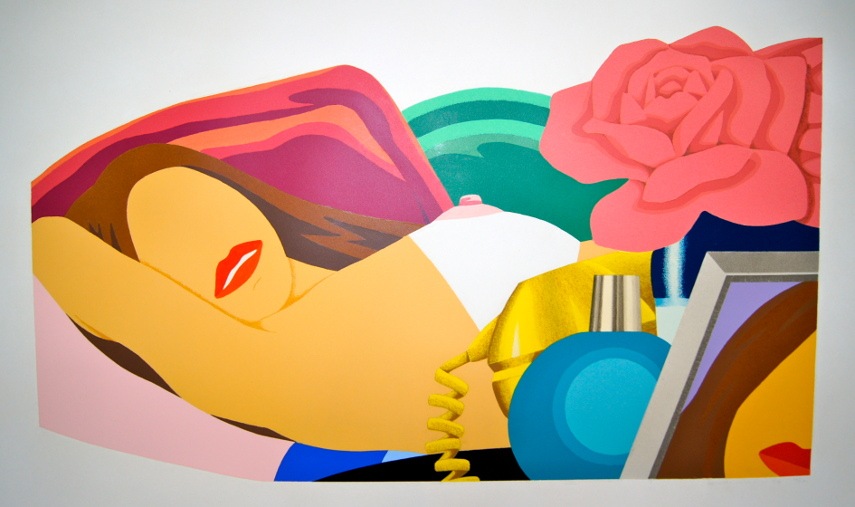 Tom Wesselmann and his Place in Art History
As is usually the case, the years following Wesselmann's death were marked by a sudden and renewed interest in his life and work. Many retrospective shows were held and Tom's contributions to the Pop art evolution were finally brought to full light, despite his regular protest against the membership in this movement. Wesselmann's legacy was secured whilst his Venuses with tan lines, cigarettes dangling from their rocket-red mouths and modern nudes sprawling across furniture in suggestive poses effectively entered art history. Ultimately, after all was said and done, it comes as no surprise that the legendary Jim Dine once stated that Tom may very well be one of America's greatest modern painters to date[3].
This artist is represented by Woodward Gallery New York, Galerie Fluegel-Roncak, Galerie Thalberg Zurich, Puccio Fine Art, and Gregg Shienbaum Fine Art Miami.
References:
Aquin, S., Tom Wesselmann, Prestel Publishing, 2012
Fritz, N., Tom Wesselmann: Pictures on the wall of your heart, Ravensburg, Germany, 2008
Letze, O., Tom Wesselmann, Cantz, 1996
Featured image: Tom Wesselmann - Photo in his studio in March 1969 - Image via gettyimages.com.au
All images used for illustrative purposes only.