We saw it all, so is not that easy today to earn a fame of being a bad boy of the contemporary art scene. However, the Austrian artist TOMAK managed to decorate his artistic CV with precisely this label. He did it quite naturally, simply by being himself - an artistic figure, a staged persona, and a brand. This Viennese artist even invented a word of his own to explain his state of mind – and the word is ANTIST and a message to all of his fellow artists is Be an Artist – Be an ANTIST. Being an ANTIST involves mirroring reality, the way it is while ridiculing human at any occasion, mocking him for his constant hunger for money and power.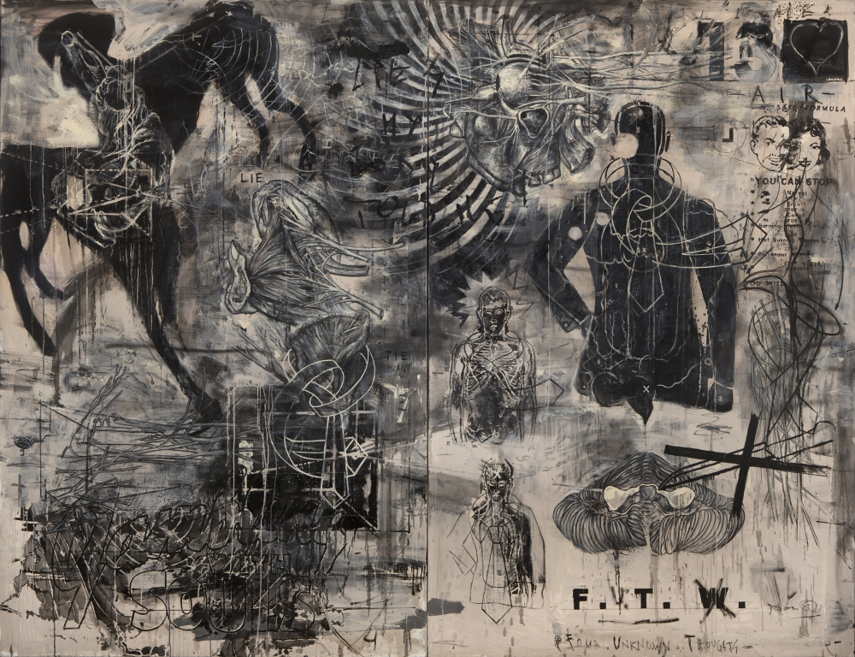 TOMAK and his Strong Opinion on Today's Art
Even though from time to time TOMAK's name experiences some kind of metamorphoses, by turning into PHANTOMAK or AUTOMAK, the artist is clear on one thing: TOMAK is always TOMAK. It's just that different projects and different scenes influence this fact but he gladly goes along, playing with the name. When asked about today's art, TOMAK never hesitates to deplore the state of it, irritated by the fact that nowadays' art serves merely to shock and the artists just don't have enough bravery and initiative to change it. As an illustrative example of what is demanded of one artist, TOMAK gives the example of Michelangelo who told the pope to jog on and to stuff his contract. TOMAK holds no grudge because of the fact that Father and Master of All the Arts changed his mind after being offered with another two bags of money. For TOMAK, it's enough that he stood up for himself and his art, and that is the attitude he seeks in young artists. But he just can't seem to find it, and he became certain that what art scene needs to perk up a bit, is a whole new generation of artists – even better, the army of artists that will unmercifully amputate design from art, bringing it to its original purpose and duty, and that's definitely not just to shock and now and then shake the surface. This philosophy is what TOMAK bases his art on. As he said: I do art to do things against these pretty things.
The busts he made of himself serve him for his sculptural work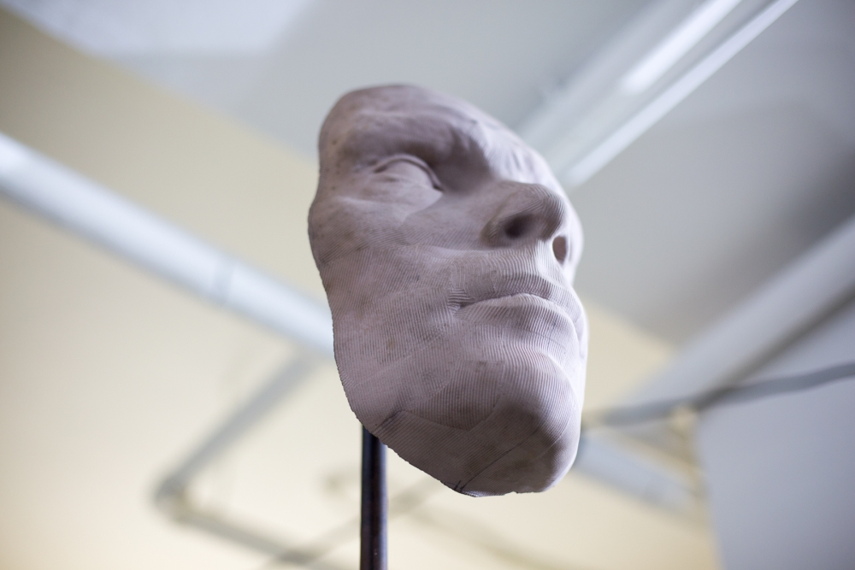 TOMAK's Artistic Crusade and Books as his Artistic Cronicles
In his crusade, TOMAK creates in a wide range of media: sculpture, collage, painting, and drawing. The writing he adds to it is crucial to understand the message he is trying to send. As the text usually describes what TOMAK is going through in that specific phase of his life – both artistic and personal, the reading in his work is convenient for the book, so TOMAK published quite a few. When he heard that Daniel Richter prefers to read books and listen to music than to sully his hands by painting, TOMAK immediately recommended him to read some right books, like his for example. This artist is very agile in publishing books, as he sees it as some kind of the artistic creations' chronicle. The writing in TOMAK's work can be traced back to the impact the Gerhard Rühm's Vienna Group had on him, their text-based work with added drawings lingered in this artist's mind for so long, that he finally found the way to incorporate it into his creations. Almost all of TOMAK's work is planted in some real, existing image. For example, the busts he made of himself serve him for his sculptural work. So in fact, when he was burning one of its heads, or when he cut another one into pieces, he was actually doing it all to himself, his image. And while transforming his figure in so many ways, by caricaturing it – he was actually creating a more aesthetic approach to the very subject he examined.
Gerhard Rühm's Vienna Group inspired him to incorporate writing into his art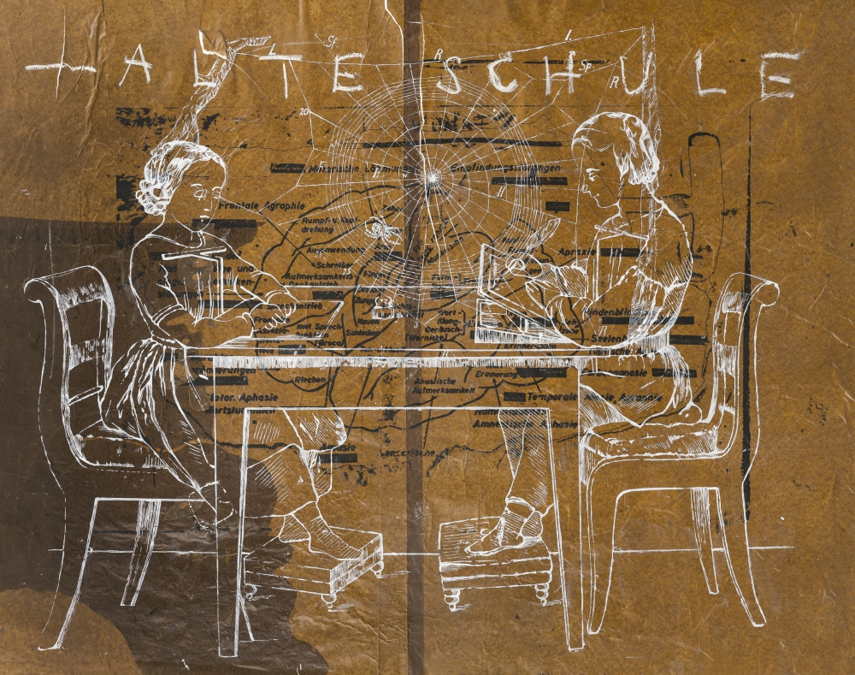 ANTIST
TOMAK is like two faced god Janus when it comes to his graphics and paintings – while the first ones are mostly done in somewhat frenzied-driven approach, expressing his pure furor directly in the content - his paintings seem to tell a quite different story. The viewer can relate to the artist's feeling of freedom and serenity. Just like after the storm, when sea is almost unnaturally calm and the air is emitting nothing but silence – TOMAK's drawing is the storm and when its compressed information explodes, it releases the content to the far-reaching canvas.
One of TOMAK's numerous project is the one that bears the invented word for a title: ANTIST. This project is done in a collaboration with Austrian artist Lukas Pusch. The base of a project is a specific philosophy that this word stands for (ANTISTic and not ARTISTic) and a center of it is a magazine THE ANTIST, produced and published by the artistic duo. Some of the contributors to the first issue were Ines Doujak and many underground artists from Berlin and Russia. Of course, TOMAK also wrote for the magazine and Lukas is editor-in-chief.
TOMAK is like two faced god Janus when it comes to his graphics and paintings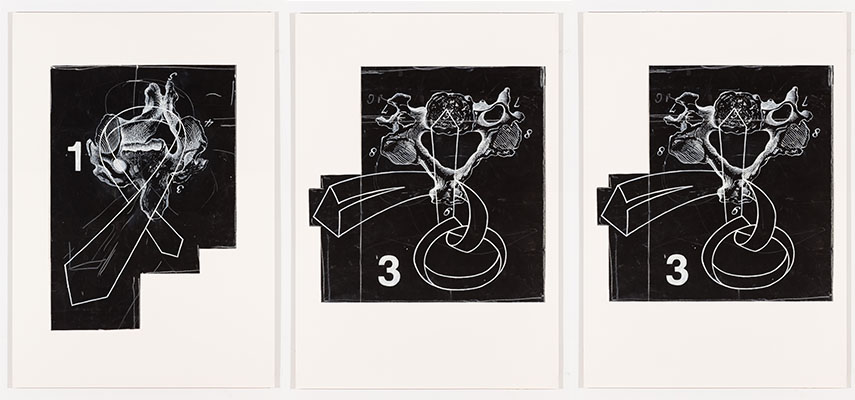 Artistic torts vs. TOMAK's Malpractice
TOMAK is already well known as a bad boy of the Austrian art scene, but his fame precedes him worldwide. The projects like Malpractice from 2015. made possible for him to spread the work, and furthermore – to spread his visionary ideology. Hopefully, he will be heard. And seen. Until then, his attitude won't change. TOMAK still claims that he can't afford to buy art as he is saving up for an Aston Martin. Obviously, first thing comes first – and that says a lot about the brave new art world.
TOMAK lives and works in Vienna.
This artist is represented by LisaBird Contemporary.
Featured image: portrait of TOMAK
All images copyright of the artist
.