Tony Bevan is a British painter who makes thought-provoking art, using strong psychological symbols to express his opinion on social issues. His paintings represent the contemporary view of cultural heritage and how it's incorporated in everyday living. There are elements of modern architecture, street art, and popular entertainment culture, but also literature and moving pictures. What distinguishes him in a special way is his special, restricted palette, that only contains limited shades of a certain color. Also, his tools. He often draws with charcoal and acrylic on canvas. It is usually red color with its variations to warmer and colder tones, and black, white and gray.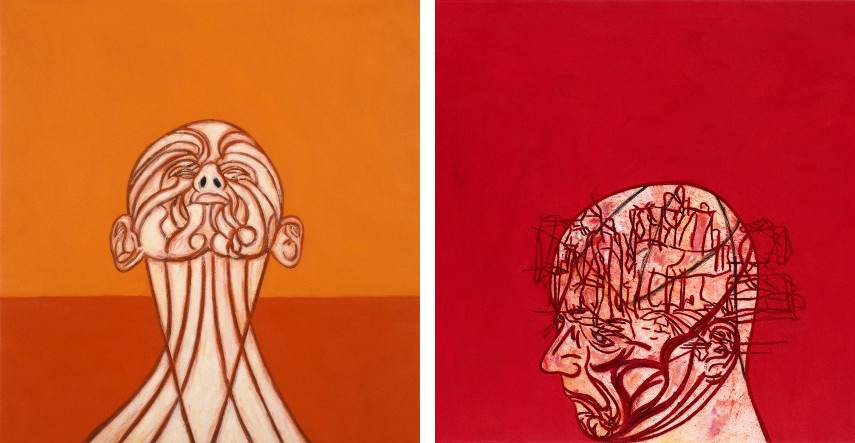 Biography and Education
The artist was born in a town of Bradford, in Yorkshire county of the United Kingdom. He was certain that the career in art is suitable for him, and he decided to study at the Bradford School of Art. When he graduated in 1971, he enrolled at the Goldsmiths' College. His education helped his to shape himself as an artist, and during his studies, he was on a constant search to find his inner voice. After the college, he decided to go to the Royal Academy of Arts in London, where he was selected as Academic in 2007. The first exhibitions and public showing happened in the 1980's.
Among the contemporary artists Bevan stands out with his color palette and tools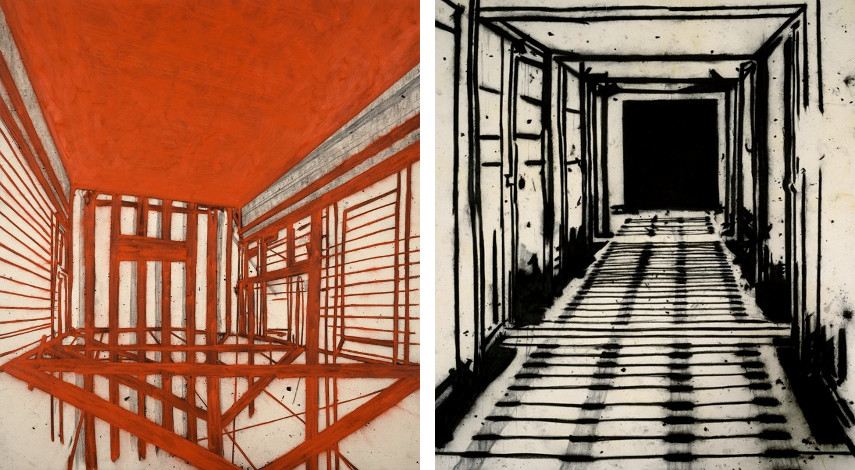 Portraied Heads as Comments to Contemporary Lifestyle
The portraits he makes are unconventional, abstract and filled with peculiar emotional intensity. They are convincing, though, in their mission to share Bevan's piece of mind. He paints red colored head, with intertwining lines inside, that represent all the thoughts, principles and views artist has. Paintings serve as a continuous study of the mind and human nature. Along with heads, he makes wonderful depictions of doors, corridors and entrances. These works are more architectural than psychological, but all the disciplines coherently work the theme: that there are so many intangible occurrences in out mind, that sometimes we need to open a special door to enter the mystery world of the self.
Artist uses his profile as a model for many portraits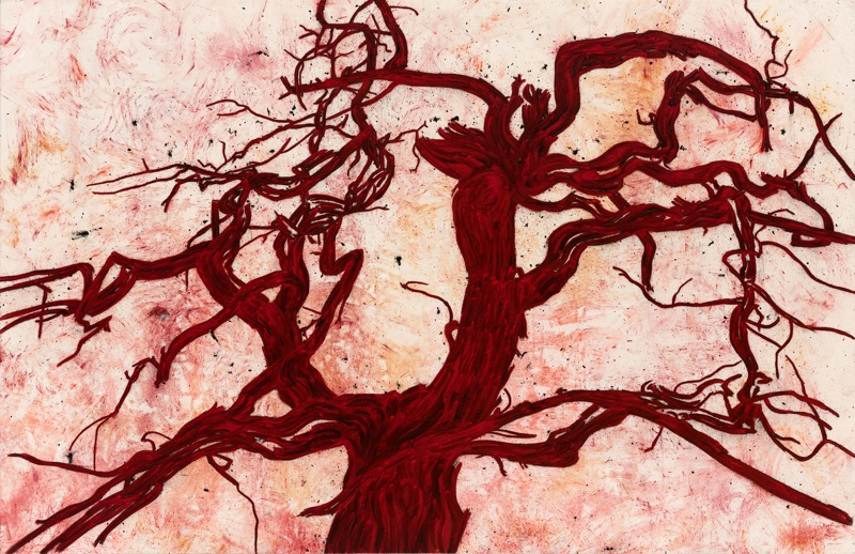 Tree Artworks
In 2014 Tony Bevan made Trees and Archives collection, a series that features various distorted images of trees. The lines he used, mimic the shape of human body, giving the trees a certain type of limbs. All in all, they are living beings, but the colors Bevan used, red, black and violet, give them a less formal look. They are symbolic limbs of the men, having the same color as human flesh, the trees signify human nature, rooted in the subconsciousness and growing to reach the sky.
Tony Bevan lives and works in London.
Featured image: Tony Bevan - Portrait of the artist in his studio (Detail), photo credits RoyalAcademy.org.uk
All images courtesy of the artist