To be honored by the Most Excellent Order of the British Empire, the order of chivalry given by the monarchy, requires some pretty outstanding achievements in the fields of art and science. Let's just put it this way – it is far, far away from being an easy task. Well, for a British artist Tracey Emin, obtaining the Dame Grand Cross title came as a result of many years spent in exploring and contemplating her troubled childhood and teenage years. She managed to create numerous series of provocative and controversial art pieces, from paintings and textiles to sculpture and video.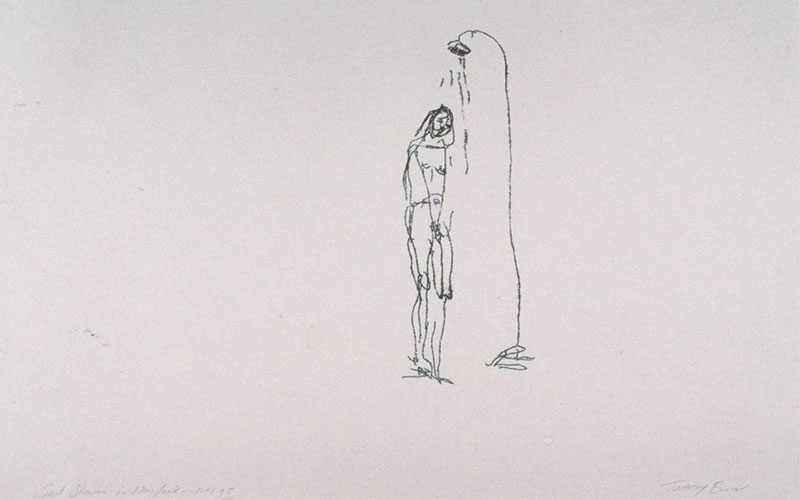 The Most Intimate Life Details embodied in Art
Tracey Emin, a Member of Royal Academy was born in Croydon, at the time a part of Surrey. A family on her mother's side was of the Romanichal descent. Romnichals, Rumnichals or Rumneys is a Romani sub-group arrived in England in the 16th century. Their origins go all the way to India, specifically Rajasthan, from where they started migrating westwards in the 11th century. Tracey was brought up in Margate, a seaside town in the district of Thanet in Kent. Her father was a Turkish Cypriot, an ethnic Turk originating from Cyprus, who was married to another woman, dividing his time between the two families he created. He was running his own Hotel International in Margate, but his business failed, leaving both of his families to struggle and overcome a severe decline in their standard of living. This was the event that left a huge impact on Tracey's growing up, and featured in many of her works.
Emin enrolled the fashion course at the Medway College of Design in 1980. There she met Billy Childish, her boyfriend to be, who persuaded her to join The Medway Poets, a British punk-based performance art group in Medway, North Kent. Next few years, Tracey spent working as an administrator for Hangman Books, specialized in Children's poetry, until she decided to pursue a career in art. In 1989, she graduated from Maidstone College of Art. Next year, Emin moved to London to study at the Royal College of Art, obtaining an MA in painting. In the future, Tracey couldn't find any nice words to describe this period of time, marking it as a very negative experience. She emerged herself into the troubled worlds of Munch and Schiele, creating one of her own as well. Later, when she already studied modern philosophy at Birkbeck, University of London, Tracey burned all of her paintings done by then, in hope to somehow seal forever that dark period in her life.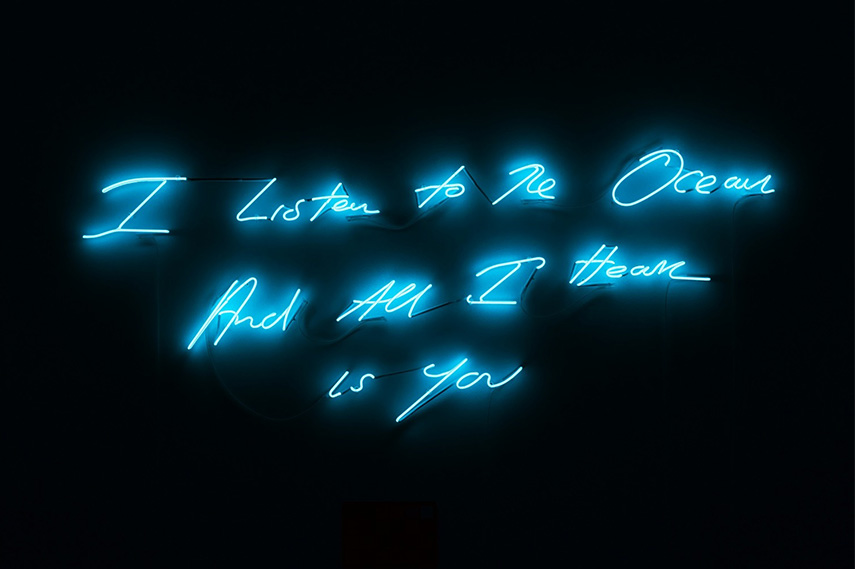 The Shop
With her close friend and a fellow artist, Sarah Lucas, Emin established The Shop, at the London's East End, where they even had a fish pond and a David Hockney altarpiece called Our David. The shop worked every Tuesday to Friday during the day, and Saturdays from 11 pm to a late Sunday afternoon – the pubs on Saturday were closing around 11, so go figure why… The Shop owners Emin and Sarah shared the same bawdy humor and energy, so the Bethnal Green days were just filled with parties. The best one, or should we say the epic one, was at the closing, on Tracey's 30th birthday. The theme was She's Just About Old Enough to Do Whatever She Wants! The Shop was a place where Tracey Emin met her future art dealer - Jay Jopling, a man who established the original White Cube in 1993, in London's West End – a place of Emin's first solo show titled My Major Retrospective was held in 1994. The autobiographical exhibit consisted of photographs, pictures of earlier paintings and other personal objects, including a pack of cigarettes her uncle was holding when he was killed in a car crash. A loud public display of her intimate life details very quickly became Emin's trademark.
Tracey met her future art dealer, Jay Joplin, in The Shop, a place to be during the 90s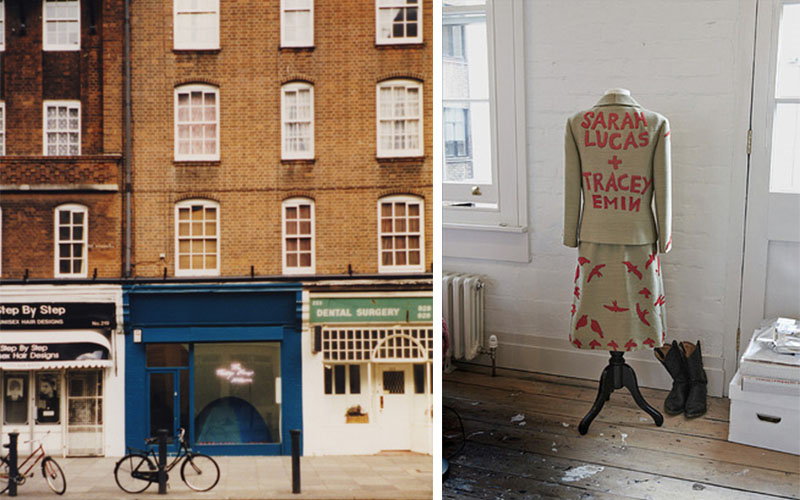 Everyone I Have Ever Slept With
In 1995, Tracey Emin created her piece Everyone I Have Ever Slept With 1963–1995, also titled The Tent, from obvious reason - the entire work was conceptualized as a tent with 102 names applied. Names of all the people Tracey has been sleeping with, at a stated period of time. When we say sleeping, we don't mean it in a sexual way only. There is also a name of her grandmother for example, with whom she slept in the same bed holding her hand. Tracey enumerated every person she exchanged any trace of intimacy and love with.
Emin refused to sell this piece directly to Charles Saatchi, as she was disgusted with his advertising work for Margaret Thatcher, accused him of nothing less but crimes against humanity. However, her contempt did not stop Saatchi from buying it on the secondary market at a premium price of £40,000, that is £28,000 more than Emin's original price! Everyone I Have Ever Slept With achieved an iconic status but unfortunately, was destroyed in the 2004 Momart London warehouse fire. Of course, Tracey Emin refused to recreate it.
Tracey's tent with 102 names applied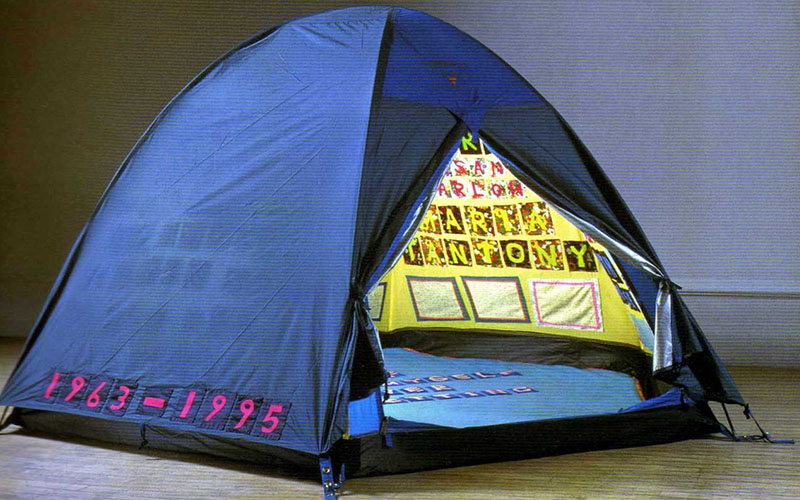 Don't you understand? I want to be free.
In 1997, Emin, still relatively unknown at the time, made headlines when she appeared intoxicated in a television interview, in which she spoke about recipients of the esteemed Turner Prize. Emin was shortlisted for the prize two years later. She later said that she wasn't even aware she was on television, 18 years after a spectacular performance in a TV debate. As Waldemar Januszczak and Roger Scruton tried to argue about conceptual art, Emin declared, among other nuggets: Don't you understand? I want to be free. Get this fucking mike off!
Tracey Emin: Always Faithful to her Dreams!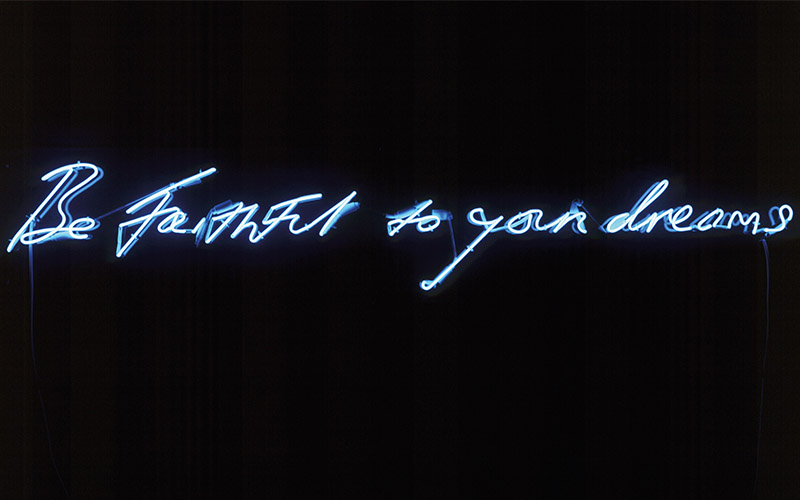 Young British Artists
Young British Artists (YBAs) is pretty much a loose group of artists who started exhibiting together in 1988, when Damien Hirst curated an exhibition of his friends and contemporaries titled it Freeze, at Surrey Docks. They became notorious for their spontaneous openness to materials and processes, some shock tactics and entrepreneurial attitude. Most of them attended Goldsmiths College in London. Group's name Young British Artists derives from shows of that name organized at the Saatchi Gallery from 1992 onwards. Tracey belongs to the second wave of Young British Artists that came in 1992. The exhibitions like New Contemporaries, New British Summertime, and Minky Manky, launched a second group that included Douglas Gordon, Christine Borland, Fiona Banner, Tacita Dean, Georgina Starr and Jane and Louise Wilson.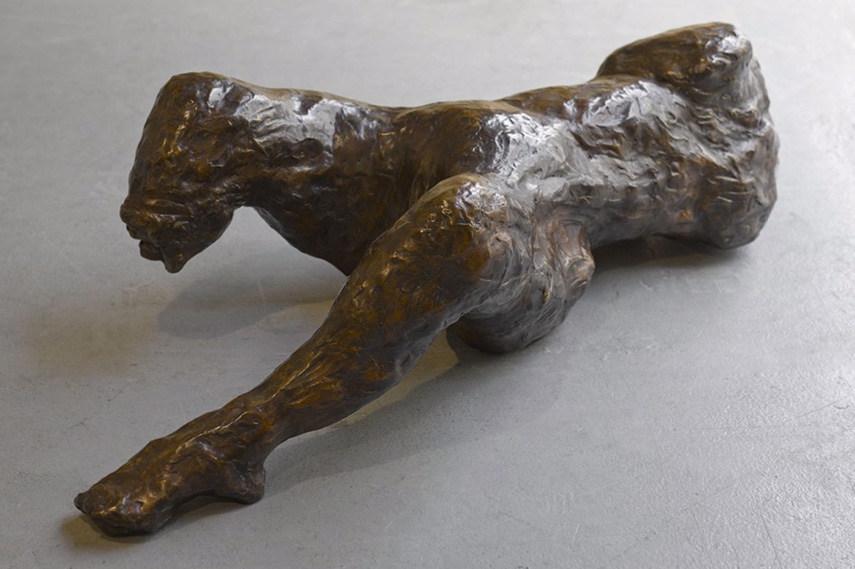 My Bed: Tracey Emin
In 2014, Tracey Emin's best known work, her 1998 monument to the heartache of a relationship breakdown, My Bed, has gone on display at Tate Britain for the first time in 15 years. The Bed that the artist today describes as a portrait of a young womanwas bought for £2.54m at Christie's, by the German businessman and collector Count Christian Duerckheim. This art lover loaned Emin's art piece to the Tate for a decade at least. Duerckheim explained what drove him to buy My Bed - it is a metaphor for life, where troubles begin and logics die, he said. This work lives on as a work that defined the turbulent British art of the 90s. Having in mind that the famous Hirst's shark shriveled and Rachel Whiteread's House was demolished, the future generations will get to look at Tracey's Bed when exploring British art at the end of the 20th century.
The artwork attracted considerable attention and media furor at the time. Regardless its contribution to the honesty in art, sheets stained with bodily secretions and the bed surrounded by some extremely personal things, like used condoms or panties with menstrual period stains, the work didn't gain the understanding of a mainstream public and press. The bed was presented in the state that Emin claimed it had been when she had not got up from it for more than few days, due to suicidal depression brought on by relationship difficulties.In 1999, using Japanese tourists as their cover, two Chinese artists, Cai Yuan and Jian Jun Xi (who work together under the name Mad For Real), bounded half-naked on to Tracey Emin's My Bed at the Tate Gallery, had a slightly half-hearted pillow fight and then shouted something unfathomable in Mandarin. Unfortunately, Xi and Chai were unable to perform the "critical sex" they had hinted at. Earlier both men had said they felt a sexual act was necessary to fully respond to Tracey's piece.
The artist's bed as a portrait of a young woman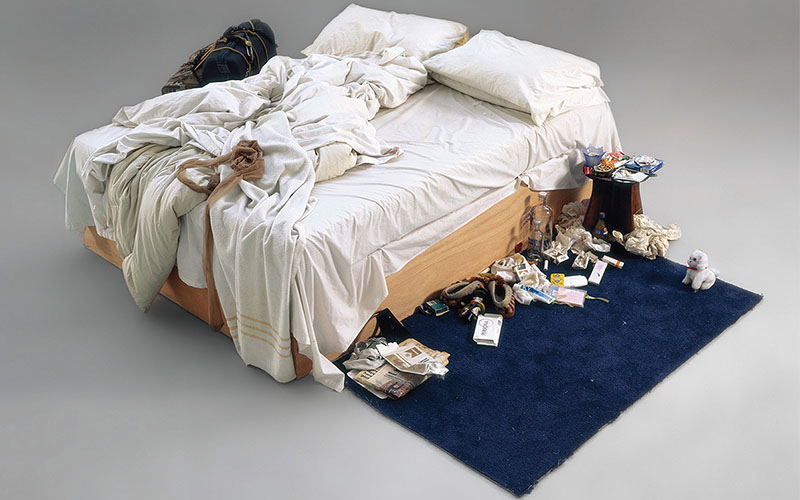 From Temple of Diana to Turner Prize
That same year, she organized a themed exhibition titled Temple Of Diana, which featured a series of drawings based on the life of Princess Diana. The Temple of Diana was located, appropriately enough, in Knightsbridge, where the People's Princess lived and shopped. The genesis of the piece was in the holy temples of India where the curator of the show, Neal Brown, was greeted by Indians on several occasions with a single fervently whispered word - Diana. Tracey created a series of eight lithographs whose titles seem to tell a story: They wanted you to be destroyed; Single- handed; Hard Luck, Diana; Landmines; Oh, Diana; That stupid dress they made you wear; Death of a Princess; Looking for a postcard of Diana. To produce each lithograph, Emin used a sheet of glass, a sheet of paper and an etching tool to scrawl text and accompanying imagery. She had to write backward so that the text ends up the correct way around, looking a bit awkward and naive. In 1999, Emin had her first solo exhibition in the United States at Lehmann Maupin Gallery, entitled Every Part of Me's Bleeding. Later that year, she was a Turner Prize nominee where she exhibited My Bed .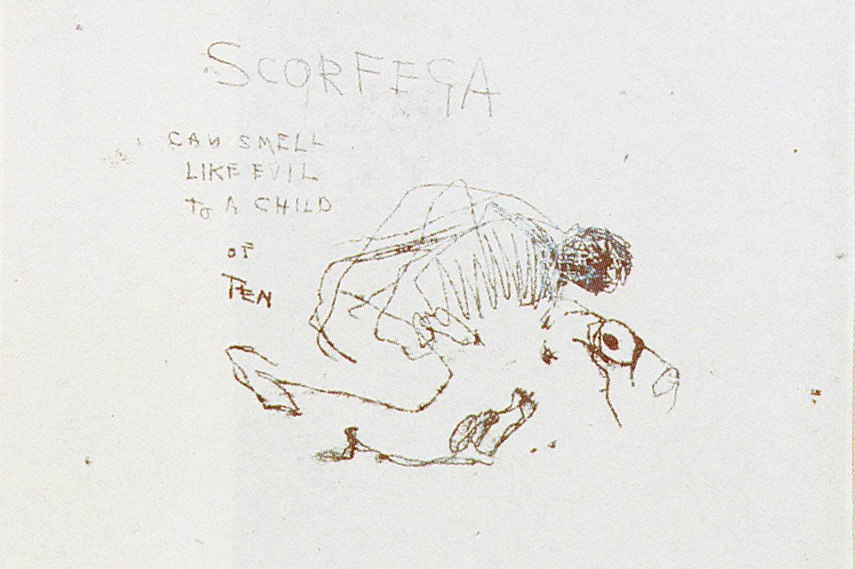 Emin's Ready-Mades and her Confessional Art
Tracey Emin is an exquisite storyteller, she manages to engage the viewer with her candid exploration of both personal and universal emotions. Through her so-called confessional art, Tracey reveals some of the most intimate life details, showing an impressive ability to connect her work and personal life, sharing the intimacy with the viewer. Her ready-mades are always hand-made – starting with her tent, to her wooden fairground structures reminiscent of Emin´s seaside childhood. Behind all that conceptualism she's is, let us not forget, a trained figurative artist who studied painting at the Royal College of Art: she hated it but learned a lot about painting, as she later claimed.
Tracey Emin's art is one of disclosure - inspired by her personal life events, she creates pieces that are ranging from painting, drawing, video and installation, to photography, needlework and sculpture. Emin's dreams, humiliations, failures or successes are presented with brutal honesty and without a trace of romanticizing, they are both tragic and humorous. Her often sexually provocative attitude firmly locates her oeuvre within the tradition of feminist discourse. By re-inventing conventional handicraft techniques, so-called women's work, and introducing it to the world of contemporary art, her art resonates with the feminist tenets of the 'personal as political'. In 2011, her largest major solo exhibition, Love is What You Want, was held at the Hayward Gallery in London. The exhibition surveyed paintings, drawings, textiles, sculptures and videos that Emin had produced throughout her career.
Tracey reveals some of the most intimate life details through her work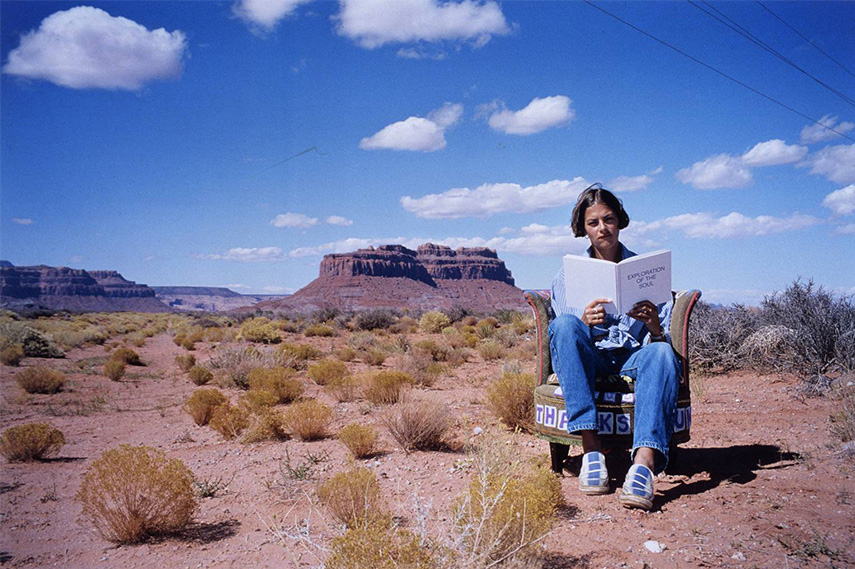 Tracey Emin and Egon Schiele: Cheek to Cheek
In 2015, a comprehensive exhibition presenting more than 80 works by this artist was held at the Leopold Museum in Vienna. The show titled Where I Want to Go linked Emin's work and that of Egon Schiele, her inspiration from the beginning of the career. It was the exhibition of her oeuvre, done in many different mediums, included paintings, gouaches, videos, neon installations, bronze sculptures, and photographs, as well as wood, metal, and textile pieces. Emin herself chose a series of paintings and drawings by the Austrian expressionist to hang beside her works, giving visitors the opportunity to explore the parallels between the two artists. As Tracey said, this exhibition was a dream come true, as Schiele was her own personal hero ever since she first heard of him, when she was 15. To have his works hanged by the side of hers was something she never hoped for.
Schiele was Tracey's hero ever since she was 15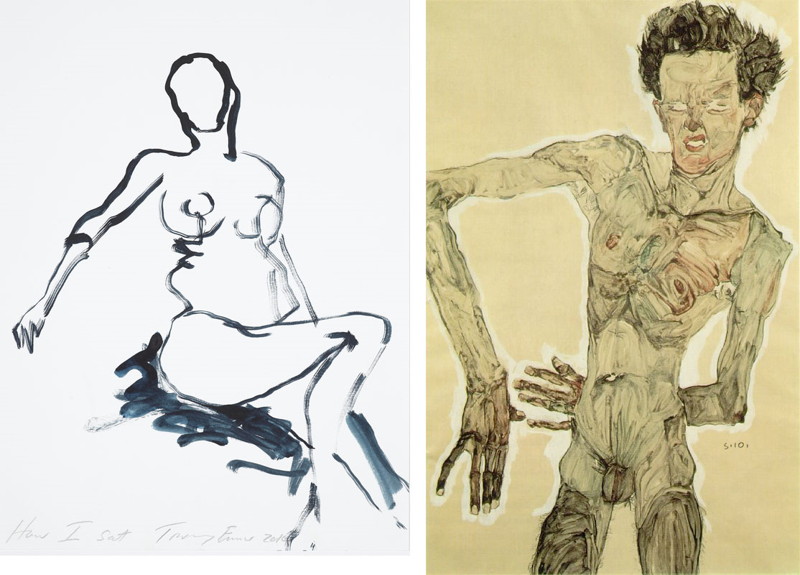 The Correct Degree of Rumpled Disarray
Emin released few autobiographical films, focusing on her troubled childhood and teenage years. She's written several books, as well – a most popular one was her 2005 memoir titled Strangeland. In 2007, Emin was inducted into the Royal Academy of Arts in London, and in 2011, she was appointed as a professor of drawing.
In her 2015 interview, she described the process of preparing My Bed to once again go on display at Tate Britain, when she had to climb again beneath its sheets in order to restore the correct degree of rumpled disarray – Tracey said that the fabric had stiffened over time and that was exactly how she felt about this work. The bed's potential to shock maybe has drained a bit during the 16 years since it was shortlisted for the Turner prize but, her ability to surprise the public over and over again did not, new work just keeps coming.
Phallus often appeared in Roman art and Celtic magic as a protective charm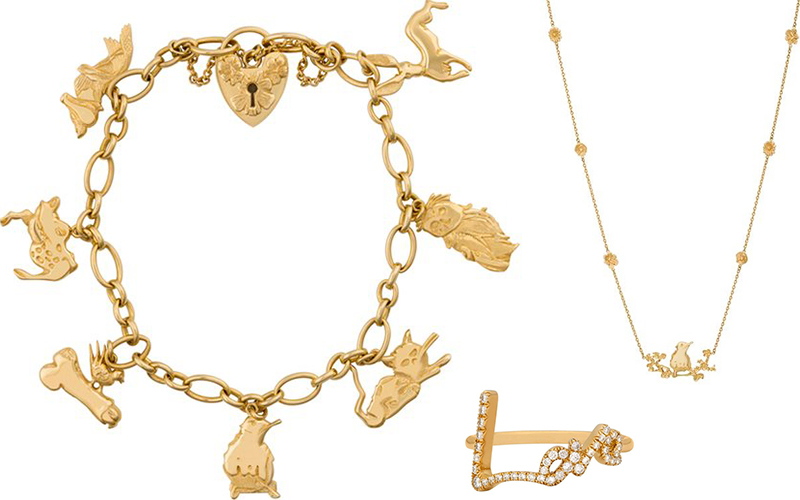 A Tiny 18-carat Gold Penis
One of her more recent projects is a line of jewelry designed with Stephen Webster. As always, her unique touch can be found in all its glory in these tiny works of art and its exquisite forms. Even as a jewelry designer, Emin couldn't (or wouldn't) skip this opportunity to shock: a tiny 18-carat gold penis hanging from the charm bracelet was quite enough. Other ornaments include a frog, a hare, and a cat. But, let us not be quick to judge: phallus often appeared in Roman art and Celtic magic as a protective charm. But, then again, could she create something that won't raise a few eyebrows? Probably not. In 2008, Tracey Emin established an International Shop, the online boutique selling limited edition prints, books and everyday objects designed and created by her. There is one saying that goes pretty well with this YBA-generation enfant terrible. It is in Romani language, the one her family on the mother's side used to speak: Mo dir Devel si Kushko, t'a nai o Beng basavo kek odolen kai kamela. Meaning: God is good, and the Devil is not so bad to those whom he likes.
Tracey Emin lives in Spitalfields, East London.
Featured images copyright © Rune Hellestad/Corbis via The Guardian