There is a fine line between fine and street art and many who dared walk it haven't been able to find the proper balance. Tristan Eaton, an American artist, is one of few who have earned respect from the streets, but also recognition from the contemporary art world. Whether it's designing toys, creating large-scale murals or painting, he has mastered it all. After creating the Creative Agency Thunderdog Studios, he also conquered the spheres of advertising and commercialism. Most recently, however, he's shifted his focus towards more personal work, creating a series of works dedicated to the people he deems important and influential.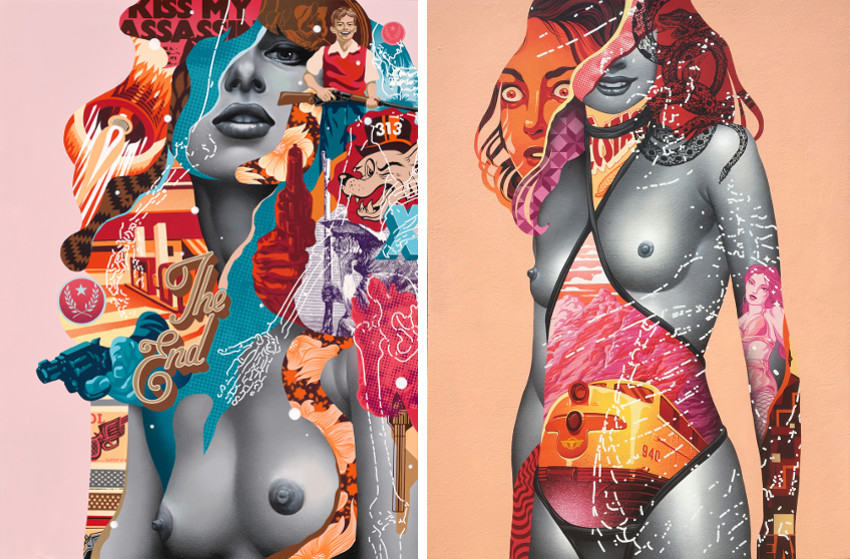 Beginnings and Public Reception
Born in Los Angeles, Eaton also lived in London from '85 to '93, in Michigan from '93 to '98, and in New York from '98 to 2012, before completing the circle and moving back to his hometown. First two moves were family oriented, and the artist, along with his four-year-older brother, used them in order to surf through global culture. He got into comics and graffiti while he lived in London, but after moving to Michigan he was starving a lot because there wasn't much access to the activities he was most interested in. Things got better once he obtained a driver's license and could finally go to downtown Detroit, which felt like a playground, open to everyone and without any laws. He did two years at Art School there and took a year off to work. A decent living came solely from doing printing for radio stations, DJs, night clubs and various bands. After moving to New York in 1998, he attempted to complete his studies, doing a year at the School of Visual Arts before dropping once again to work. His Detroit achievements were giving him high expectations and he thought he could repeat that kind of success. Next four years were hellish, but then he began to make his breakthrough. As a designer for Kidrobot, Eaton became one of the leading characters in the Designer Toy scene. These toys are created in limited editions and are based on the pieces of significant Graffiti Artists or inspired by Hip Hop culture in general.[1] The public response was amazing, and the artist felt privileged that so many people had his designs at their homes. "But it's an honor to be able to communicate with people visually in such a personal way. Over time those toys become personal to them and a part of their lives too."
He was one of the leading characters in the Designer Toys scene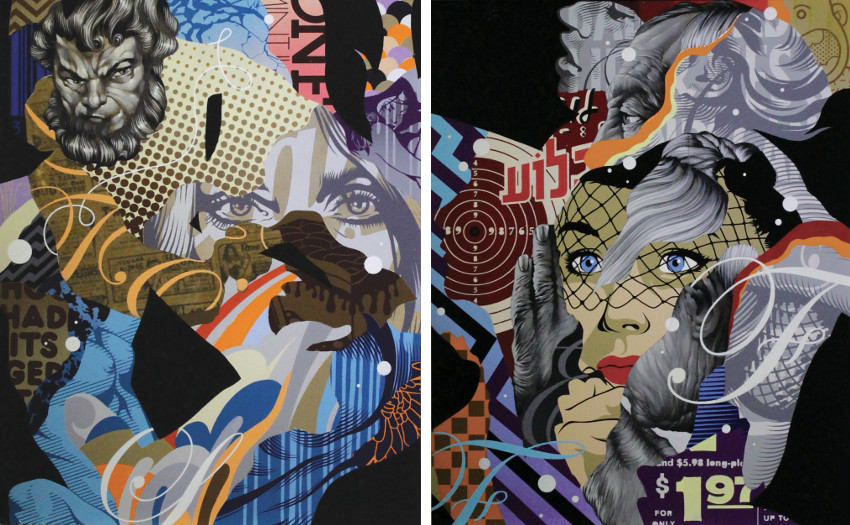 Commercial and Outdoor Projects
As he was exiting Kidrobot, Eaton created Thunderdog Studios with Superdeux and Lucas Filth Irwin. Not satisfied with just designing, he wanted to continue to explore his skills and talents in a variety of creative outlets. The company was focused on everything from Illustration and Toy Design, but also Animation and Graphic Design. Interested in more working freedom, he started pursuing and developing bigger creative projects of his own creation. Kidrobot was a client of theirs, so Eaton could continue his creative and overall extremely successful relationship with Paul Budnitz, the owner of Kidrobot. In the end, Thunderdog had done editorial illustrations for magazines such as Rolling Stone and FADER, and worked with everyone from Nike, Disney, to the President of the USA Barack Obama.
In terms of street projects, Eaton was never a "letters" guy, but rather preferred drawing characters and figures. He thinks of some of the old-school writers as his older brothers. Dr. Revolt introduced him to the members of the RTW crew, such as Quik and Zephyr. NYC Lase introduced him to Stash, Tats Cru, Espo, Futura, and Eaton also got to meet Seen, Maze, and Haze. Murals are especially important to him. In something that seems as a hectic history, a mural is a zen form, as he is focused on one thing all day long.[2] Without using any stencils or tape, and working only freehand, he pays an homage to traditional graffiti and the old-fashioned way of doing things. These public projects are the most important to Eaton since they have the ability "to inspire and transform our communities".
Simple tools and freehand - it's an homage to traditional graffiti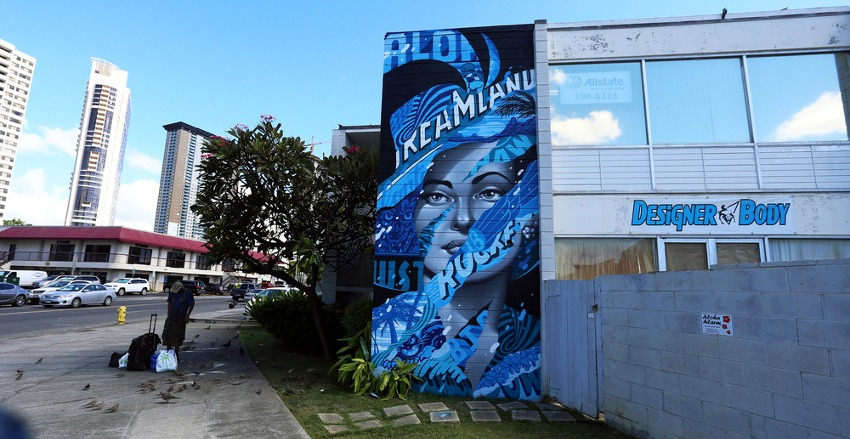 The Legacy
In Legacy, his most personal and introspective series up to date[3], this creative individual deals with the idea of Legacy through exploration of various ways to pay homage to those who came before him and influenced his life. There is a common challenge shared by all the humans living on this planet – how to describe our loved ones to people that never knew them? The personal legacy of those inspirational individuals must be passed to the children but to the whole world as well. We, as a species, have this ancient tradition of sharing our stories, and by doing that, we have developed bonds that bring us closer to each other. "The people that came before me made me who I am, and I intend to pass along their stories and strengths by creating this 'time-capsule' that honors their legacy and preserves their stories for generations to come." Through conducting a personal audio interview with special people in his life, Eaton finds inspiration for each and every painting in this series. The artist hopes to continue the tradition in honor of his father Elton Randy Eaton, who used to record people's life stories and capture their portraits in photography.
Legacy is undoubtedly his most personal project so far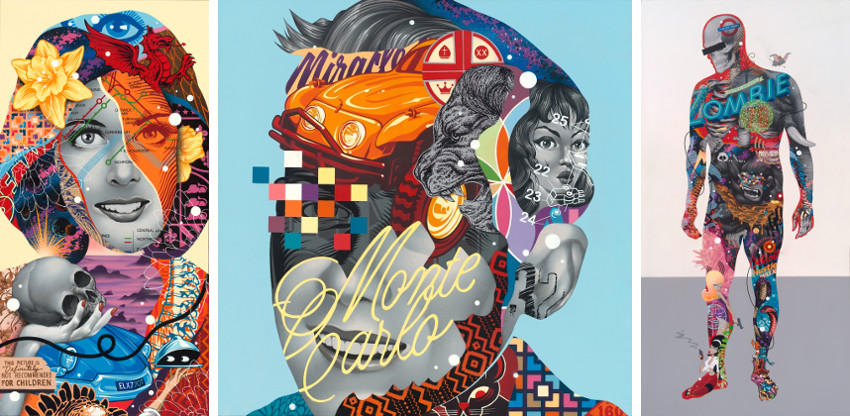 Going Personal
Since 2012, there have been some major changes in both his life and his career. After moving back to Los Angeles, Eaton shut down his studio and other projects in order to focus completely on his fine art. The courage for this decision came from the gut.[4] He undoubtedly enjoyed the working challenges of big rebranding campaigns but knew deep down it wasn't what he wanted to do ultimately. Eventually, he became tired and didn't care as much as he did before, so he quickly closed up shop. This move forced Eaton to consolidate a lot of visual aesthetics that he's been working with over years. All of them are equal and different at the same time, so he had to find a way to force them together. Resulting in a collage of all of these mixed together, this particular style feels very liberating. Eaton is quite aware of the need to pay attention to who you really are, as it inevitably leads to honesty about your work.
Tristan Eaton lives and works in Los Angeles.
Sources:
Bond M., Frank R. Tristan Eaton, Graffiti Artist, Illustrator & Toy Designer, Gothamist [August 30,2016]
Rigney S. Tristan Eaton joins Hit the Bricks festival with Newcastle mural, Newcastle Herald [August 30,2016]
Anonymous. Legacy, Subliminal Projects [August 30,2016]
Cruz R. The Life and Times of Tristan Eaton, The Hundreds [August 30,2016]
tristaneaton.com
Feature image: Tristan Eaton working on a mural - photo credits Jonas Maon, image copyright POW! WOW!
All other images courtesy of the artist