It takes a long time, perhaps even a lifetime, to understand Ulay, said Marina Abramović about her long-term life and art partner. Ulay, a German-born performance artist and photographer, was best known for his collaboration with Abramović as well as his Polaroid works from the early 70s and various photographic experiments from the 90s. Ulay's artistic trajectory has yielded an unusual oeuvre of primitive Polaroid photography and conceptually oriented approaches which include both performance and body art. The artist has received a lot of international exposure due to the radical and innovative nature of his performance which addresses a wide array of human feelings and needs.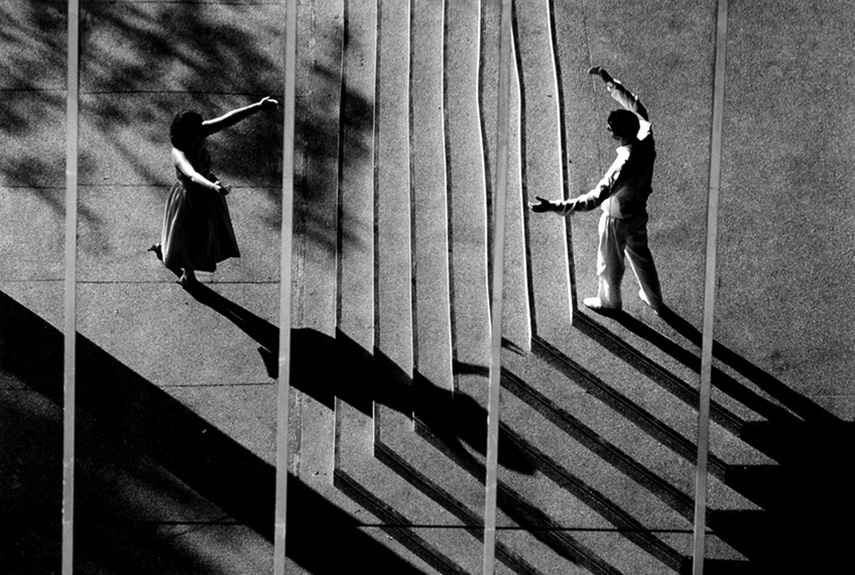 Cosmopolitan Free Thinker Attracted by the Provo Movement
Frank Uwe Laysiepen, best known under his artistic pseudonym Ulay, was born in 1943 in Solingen, Germany. Ulay was a formally trained photographer, with extensive experience in Polaroid photography, which was his departure point in the world of life. In the early 1970s, as a young man interested in counter-culture movements, Ulay decided to move from Germany to Amsterdam because he was curious about the anarchistic principles of the Provo movement. This movement was a Dutch counterculture current active in the mid-1960s and it was focused on provoking violent responses from authorities by using non-violent bait. It wasn't until the moving to Amsterdam that Ulay has truly and deeply dedicated himself to photography. Analogue polaroid photography became his favorite medium and the topic of immersive self-examinations his signature style. His early series such as Auto-Polaroids, Photo-Aphorisms, Renais and Polagrams, explore the human condition and also the way our bodily experience can be turned into an artistic one. Ulay's art avoided any aestheticization and it revolved around the raw intensity of emotions experienced in front of the camera.
Analogue polaroid photographs became Ulay's favorite tools of self-expression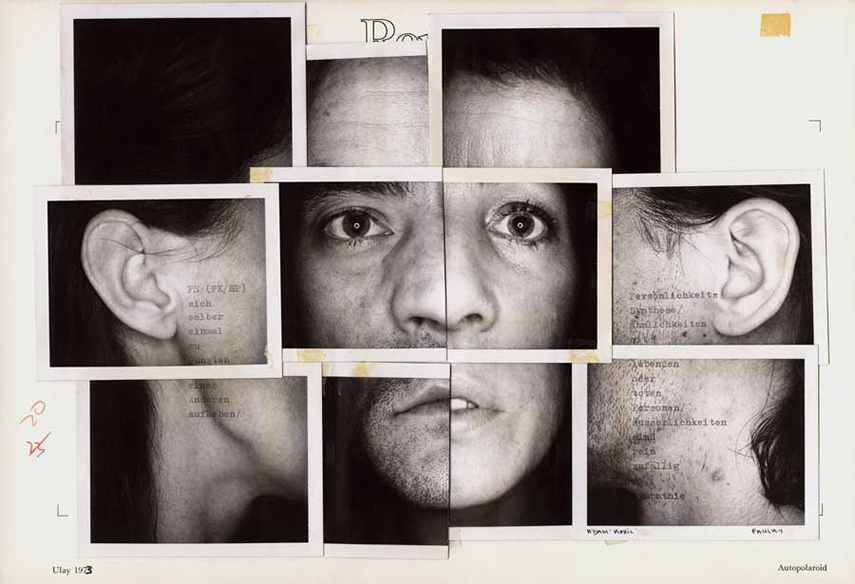 From Polaroid Photographs to Great Performance
In the early era of his career, from 1968-1976, Ulay was investigating the notions of identity and the body not only on personal but also on a more universal, communal level. Around the same time, he became interested in intimate creations and performative photography, which is the main topic of his Fototot series from 1976. In the later stages of his photographic career, performative tendencies became much stronger and Ulay has embraced the medium of performance and actions, while photography became a discipline of secondary importance. This radical change in style became evident in his series There Is a Criminal Touch to Art, from 1976. When it comes to Ulay's autobiographical collages from 1974, called the Renais sense series, they are innovative in the sense that they infused a certain postmodern expression into the concept of the split-self and androgyny. No matter the fact that the Dutch social system in the 70s was was very liberal and permissive in terms of gender, the explicit visual representation of androgyny and generally speaking constructed gender was deemed controversial or even repulsive. In many works from the same Renais sense series, the transgender identity is merged with the idea of androgyny and all these pieces address the similar human feelings and needs - the desire to reach some kind of unity or completeness, to retrieve the lost self. Various erotic experiences helped Ulay understand that the moment of erotic fusion liberates the subject of the regular bonds with the self and his series S'He is built around this concept of the pair that becomes a unity. Ulay's another series from 1976 called Fototot (Photo Death) has a different objective – it aims at unveiling the illusion of photographic objectivity. In many ways, Fototot series emphasizes Ulay's strong commitment to objectivity, which he remained loyal to throughout his artistic career.
In the later stages of Ulay's photographic career, his performative tendencies became much stronger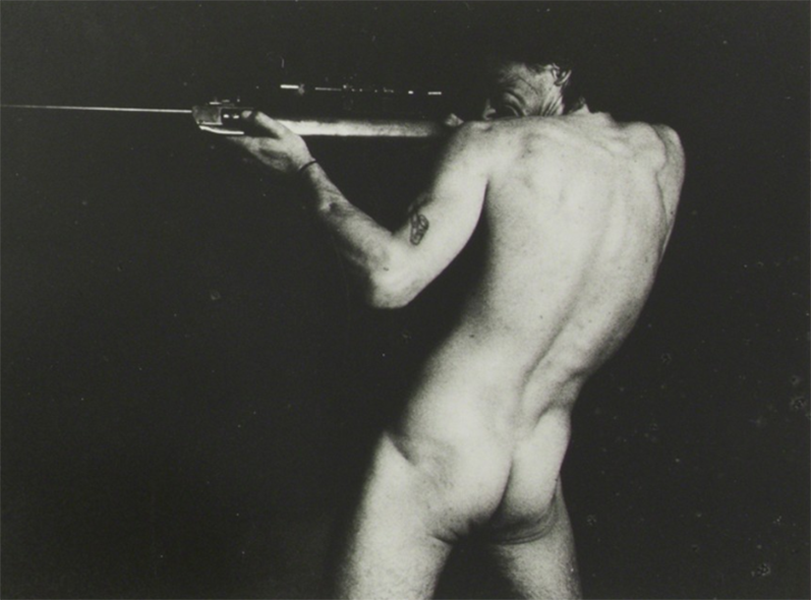 Collaboration with Marina Abramović
From 1976 to 1988, Ulay has collaborated with Abramović, another widely renown performance artist originally from Belgrade in ex-Yugoslavia. Two of them were partners in both life and career and their numerous collaborative works are considered some of the most groundbreaking performances ever done. Marina and Ulay were focused on the exploration of masculine and feminine traits and their roles, along with the pushing of physical limits of the body, which can be seen in their famous Relation Works from 1976, where they ran into each other continuously for an hour. Another important works from the same period are Breathing in/Breathing out, in which the two of them connected their mouths and took in each other's breaths until lost their consciousness due to carbon dioxide, or Imponderabilia from 1977, where Marina and Ulay stood completely nude in a doorway of the gallery so that visitors must squeeze between them in order to enter. Their AAA AAA from 1978 and Rest Energy from 1980 also have received a lot of public exposure. In 1988, after several years of quite tense and explosive relationship, Abramović and Ulay decided to make a spectacular spiritual journey that would make a suitable end of their mystical and powerful relationship. In a fearless and daring performative piece called The Great Wall Walk, they walked the Great Wall of China starting from the two opposite ends and meeting in the middle. After the break with Marina in 1988, Ulay decided to focus on photography again, but this time, he investigated the position of marginalized individuals in modern society. The best examples of this new direction of his career are Berlin Afterimages, from 1994-1995. Ulay's solo work, as well as his collaborative pieces with Marina Abramović, have been featured in numberless collections of major museums and galleries all over the world and even until recently, in 2016, the artist regularly organized both solo and group exhibitions. His most important shows took place at the eminent institutions such as Stedejlik Museum in Amsterdam, Centre Pompidou in Paris and MOMA in New York. Ulay has lived for more than four decades in Amsterdam but he also participated in a few challenging, long-term artistic projects in India, Australia, and China. In addition to this, he also worked as a professor of performance and new media at the Staatliche Hochschule für Gestaltung, Karlsruhe in Germany.
Abramović and Ulay were focused on the exploration of masculine and feminine traits and their roles, along with the pushing of physical limits of the body through art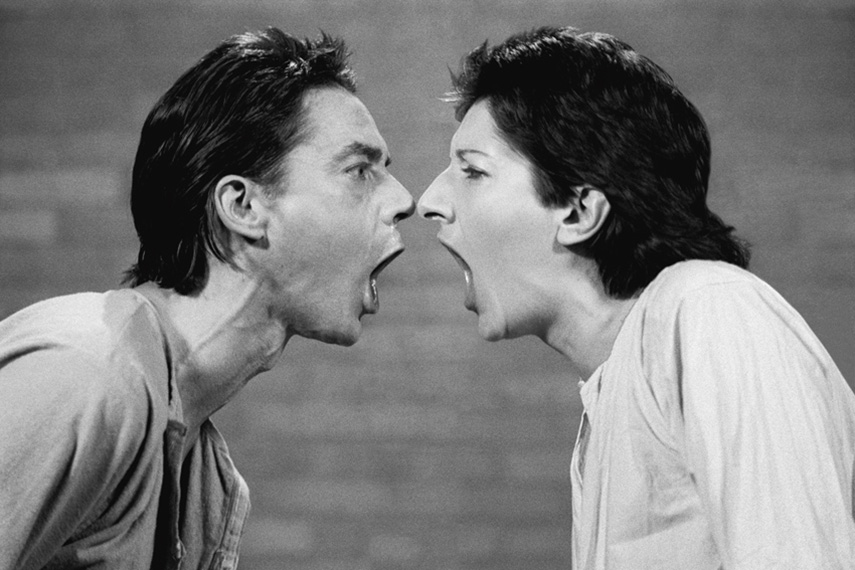 Introducing New Topics : Popular Pieces from the 90s onwards
In the early 90s, Ulay has produced a very consistent body of work, since he was working on his own again. The pieces from this period include Polaroid photos of studio performances, travel photography as well as several photo experiments called Photograms and Polagrams. After the completion of these works, Ulay abandoned the self-identity issues and started concentrating on different projects, which explore the realm of new social and technological advances. His piece entitled The Delusion. An Event about Art and Psychiatry, held in the summer of 2002 in the Netherlands, is an example of the artist's participatory approach, while his Cursive and Radicals from 2000 and Johnny – The Ontological in the Photographic Image from 2004 are a revival of Ulay's previous efforts of rendering reality as an extremely objective way. The same principle is used in his WE Emerge from 2004, made in collaboration with AoRTa center in the Republic of Moldova. When it comes to his more recent projects from 2013, 2014 and 2015 they revolve around Ulay's concerns about water consumption and various environmental issues. Also, it is important to mention that in 2016 Ulay made a new performance , entitled The Invisible Opponent, which was held at the Musee d'art et d'histoire of Geneva, 39 years after his first performance there, with Marina Abramović, in 1977.
In 2016, Ulay made a new performance project entitled The Invisible Opponent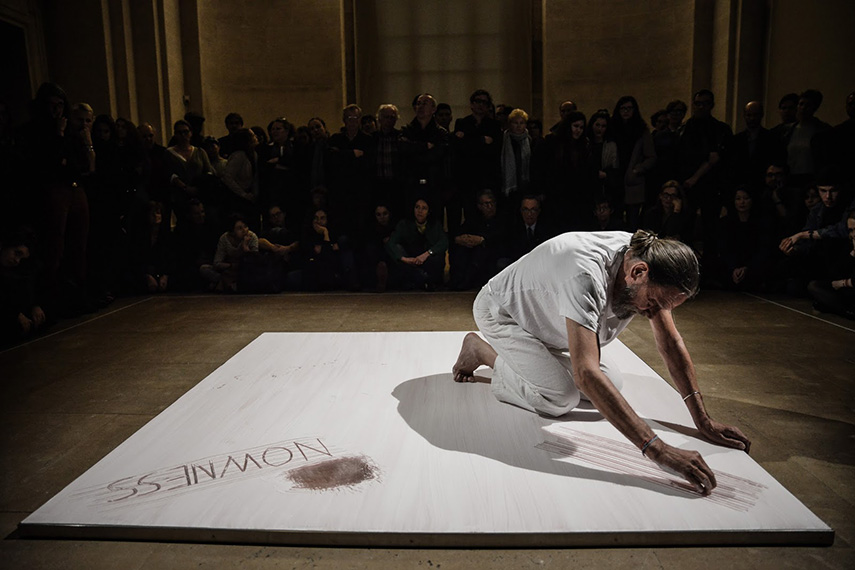 Video Works and Movies : Project Cancer
In 2009, Ulay moved from Amsterdam to Ljubljana in Slovenia. Around the same time, his plan to make a video or precisely speaking a movie on his career way already on its way, but since he was diagnosed with cancer, all the talks and plans related to this movie had to be changed. The earliest movie scenes were recorded in November 2011 at the Ljubljana Institute of Oncology, where the artist had to undergo various chemotherapy treatments. Luckily, these treatments were successful and Ulay's health improved. Since he started feeling better, he decided to travel and visit his friends around the world in a so-called farewell trip. The camera has followed him to Berlin, where we attended the premiere of Marina Abramović's film, then he headed to New York City and back to Europe, to his beloved Amsterdam. Ulay considered his illness, cancer, as one of the most challenging projects of his life and this was the reason he entitled the movie Project Cancer. The film was directed by Damjan Kozole and released in 2013. It has its own Facebook page and website, where the technical details are available.
The artist planned to make a video work on his career, but since he was diagnosed with cancer, he had to change the initial idea
Exploring the Limits of Human Body and Mind
Through his bold collaborations with Marina Abramović addressing the gender roles as well as his experimental Polaroid photography and other solo works geared towards the issue of self-analysis, Ulay has explored the very limits of the human body and mind starting back in the early 70s. By doing so, he has become one of the pioneers and founding fathers of performance and body art, which are nowadays considered some of the most important non-traditional artistic disciplines. Ulay's innovative approach is appreciated for its mysteriously alluring, almost hypnotizing atmosphere able to stir emotions of the most diverse people.
Ulay died in Ljubljana on March 2nd, 2020, after a battle with lymphatic cancer.
Ulay lived and worked between Amsterdam, Netherlands and Ljubljana, Slovenia.
Featured image: Ulay's Portrait - Photo Credits Emre Yunusoğlu