Van Ray is a German street artist, one of the most famous members of a young German artists' guard who have taken their first steps on the artistic road. His art, mostly characterized as street or urban art, makes use of various stencil techniques on vintage materials.
Van Ray: from profane graffiti to a "fancyroom"
Van Ray's career began with public graffiti at the end of the 90s when he started using his art to communicate with the general public and to demonstrate social criticism. His works were based on various techniques (including stencils, stickers, paste-ups, and sculptures) and meant to express his view of Western society. He started as a teen, by doing profane graffiti. During the day, he used to perpetuate his work on the walls of the former slaughterhouse. Eventually, Van Ray wanted to use the graffiti as a means of communication. The mid-2000s he took art classes because he had realized that his craftsmanship armor - like drawing and painting - was missing. For him, art is a craft that you can definitely learn.
Van Ray was born in 1984 in Düsseldorf, and he grew up under the influence of the Parisian "Pochoir Movement" during the 80s. As a result of this early force of this kind of art, which prevalent implicates art as an expression of social criticism in public, he began to express his own view of society with the help of graffiti. Due to personal maturation and developed abilities to deal with ubiquitous social and political problems of the Western society, Van Ray broadened his artistic on-hand skills by redeveloping methods like using stencils, stickers, paste-ups and sculptures. This incremental development is also reflected in his public work.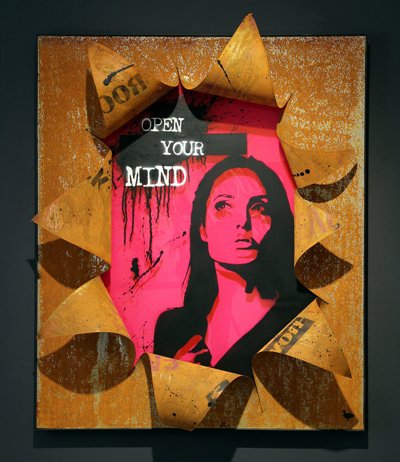 As a result of a personal wrap in 2007, accompanied by a movement to Cologne, Van Ray took this opportunity to establish the artist collaboration "fancyroom" which could be seen as an elaborate try to create a symbiosis of design and street art. The results were used by several textile manufactures as part of their products. Van Ray started simultaneously to offer general public access to mainly printed work by exhibitions. The collaboration dissolved in 2010.
Van Ray's duck signature symbol
Nowadays, Van Ray's work reflect a fusion of street art, pop art and qualified nonsense, retaining the basic elements of his distinctive artistic style without losing sight of his intended social criticism. His work is characterized by its detailed stencils on mostly rusty vintage materials such as iron sheets, vending machines and enamel signs or wooden slats. On the relationship between art and protest, Van Ray commented:
"Rebellion does not derive from the use of a certain technique, but rather from the color of your tie."
His works are all signed with the "duck signature symbol".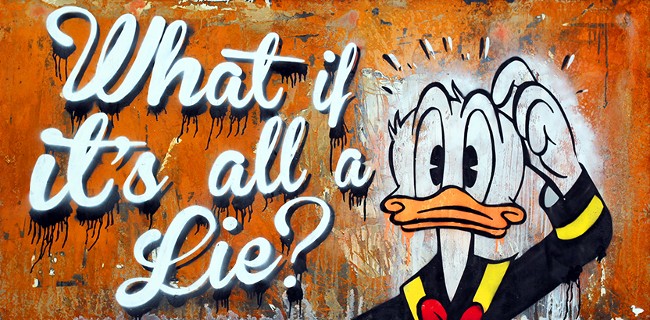 These arrangements can be contemplated in galleries from Cologne over Rome to Shanghai. He is represented by 30works Galerie in Köln, and Galerie Hegemann in München, Germany.
Van Ray currently lives and works in Cologne, Germany.