Primarily known for her large-scale, conceptual living paintings which heavily influenced the development of the modern performance art, Vanessa Beecroft is an Italian artist who, besides her performance-based work, also dabbles in the fields of painting and photography. Her creations are regularly composed of completely nude or semi-clothed women, making the art of this author quite provocative and therefore rather attractive to the audience. Among other occurrences from her life, much of this artist's ideas and concepts can be somehow linked to Vanessa's personal struggle with an eating disorder that troubled her for years - Beecroft consistently investigates such issues of body image and femininity in order to get to the bottom of her own fears and desires. Additionally, Vanessa also aims to expose the specific and intricate relationship between the viewer and the viewed subject. She often subverts the conventional art viewing experience by emphasizing both the connections and the stark contrasts between the living women and the seemingly alive sculptures.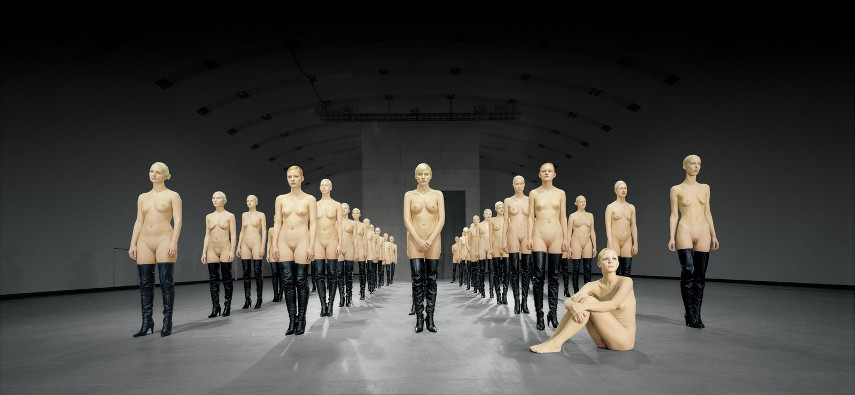 Finding Her Own Expression
Vanessa Beecroft was born on the 25th of April during the year of 1969, in the city of Genoa, Italy. She spent her college days studying at the renowned Civico Liceo Artistico Nicolò Barabino in her home city. Although she did not fit in too good with the creative norms of her school, the Civico Liceo Artistico Nicolò Barabino experience did provide Vanessa with a lot of fundamental understanding of how to utilize and manipulate the artistic expression - something that served her very well in the long run[1]. Therefore, the college classes were of great use to the young author who set out to conquer the national and international scenes from the moment she was done with the educational stage of her life. Ever since the beginning of her professional artistic practices, Beecroft wanted to simultaneously tackle both the conceptual matters and aesthetic concerns. As it was explained earlier in this text, her performance art is usually large scale and involving live female models which are often nude. Following in the footsteps of some great avant-garde authors of the 20th century, Vanessa makes sure that video recordings and photographs are made during her shows[2]. This practice, which was utilized from the very start of Beecroft's career to some extent, is utilized to provide the documentation of the performances, as well as to represent separate works of art to be appreciated in their own right.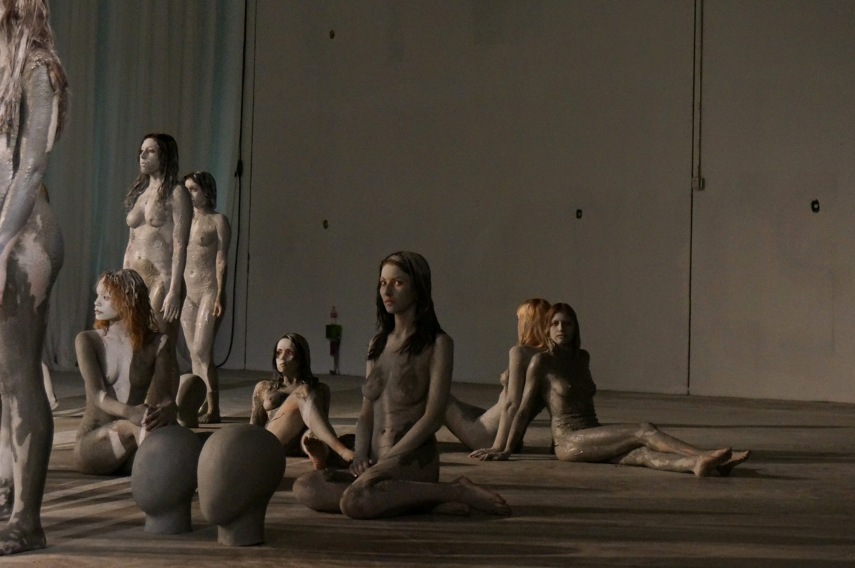 The Way Vanessa Beecroft Approaches Performance Art
Before Vanessa Beecroft commits to actually introducing models to her performances which are the final touch of her method, she first needs to create the ephemeral composition in which the figures will be placed. In their very core, these kinds of pieces are intended to be existential encounters between the models and the audience, providing all sides with a conceptual clash and exposing their expectations of one another. Every single artwork Vanessa completes is intended to be performed at a sole specific location, not to be repeated at any other place or time. Furthermore, everything she creates is underlined by some sort of outside reference of political, historical or social nature - these features are often connected to the very location at which the pieces are to be performed. When the entirety of the artwork is finally completed, Beecroft has provided us with a deceptively spontaneous performance that provokes questions and is not afraid to challenge the issues of identity, politics and voyeurism by exploiting the contemporary relationships between the viewer, the model and the context. Naturally, such a complicated technique of expression will always lead to a variety of different interpretations, all accompanied by their own set of descriptions - Vanessa's pieces have been defined and explained by using the words such as art, fashion, brilliant, terrible, evocative, provocative, disturbing, sexist and empowering.
Vanessa Beecroft's performance work has the deceptive ability to appear relatively simple in its execution, when in reality, this can not be further from the truth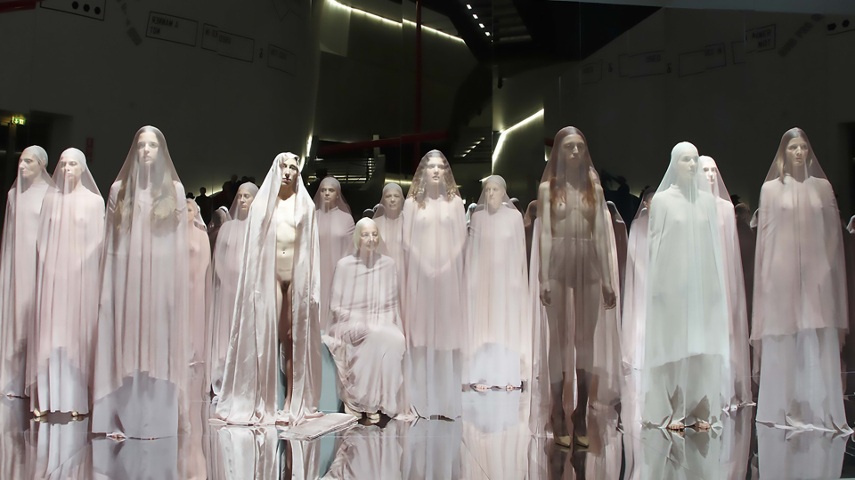 Using the Models
As it was explained earlier in this text, the main and the most crucial aspect of Beecroft's creations are the live figures, just as the case was with many other noteworthy authors of the performance medium in the past. However, unlike the art's greats such as Marina Abramovic and Joseph Beuys, Vanessa prefers to take a step back and not handle her own body as the focal point. By doing so, she is able to achieve more control over her pieces, effectively influencing its course down the wanted paths. Back to the female models - these women, regardless of how many of them are there, are all unified through details such as their hair color or identical shoes, making them appear as each other's replicas. Upon the completion of the piece, all of its models will stand motionless and regimented in a space while viewers watch them. These figures are the focal point and the core of Beecroft's pieces as they also provide her with the main characteristic that brands her work with the aforementioned living paintings description. The models present the contemporary versions of the complex figurative compositions made by the art history greats from the Italian Renaissance onwards. Although this was one of the main features of Vanessa's performances from her student days, her more mature expression is a bit more theatrical as she prefers putting the accent on period clothing instead of nudity and some of her performances included food or featured men in military attire[3]. It's truly fascinating to observe how her style and self-set rules have changed over the years as Vannesa matured and evolved both as an author and a person.
Although Vanessa Beecroft's work is primarily known for her use of female nude models, her work has also featured other figures as well, such as this composition that presents military man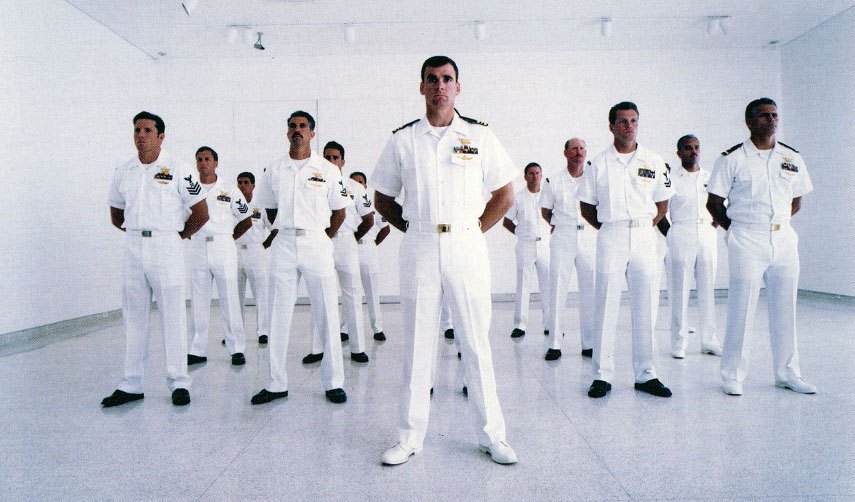 Vanessa Beecroft's Most Notable Performances
Beecroft's first exhibition that launched her name and made it echo throughout Italy was called VB01 and was held in Milan during the year of 1993. In it, she presented a series of drawings along with the past eight years of her Food Diary. After the incredible success of VB01, Vanessa crossed the Atlantic the following year and exhibited in the New York City for the first time[4]. This show was housed by the Andrea Rosen Gallery, but it eventually moved to P.S.1 in Long Island City where it received the name of VB08. As we suppose it's obvious, the pattern of titling her exhibitions is quite clear as her initials are followed by a numerical counter in the chronological order her shows are taking place.[5] VB39 in 1999 and VB42 in 2000 were both milestones for Beecroft - these exhibitions explored the possibilities of fully male performances with the U.S. Navy in San Diego and with the U.S. Silent Service at the Intrepid in New York, respectively[6]. The year of 2005 is also crucial for this artist's career. During that period, she featured one hundred women standing still in Berlin's Neue Nationalgalerie for three hours (VB55) and staged a performance on the occasion of the opening of the Louis Vuitton store on the Champs-Élysées in Paris. Although strongly feministic in her expression, Beecroft has been under fire from many feminist artist groups like the Toxic Titties for her work. One of her more recent noteworthy performances, VB65, took place at PAC in Milan during the March of 2009. It featured the Last Supper of African immigrants, legal and illegal, dressed in suits, eating chicken without cutlery. Many of Vanessa's shows took place at prestigious and notable art institutions, including the likes of Venice Biennale, Solomon R. Guggenheim Museum in New York, Museum of Contemporary Art in Sydney, Gagosian Gallery in London, Vienna Kunsthalle, etc.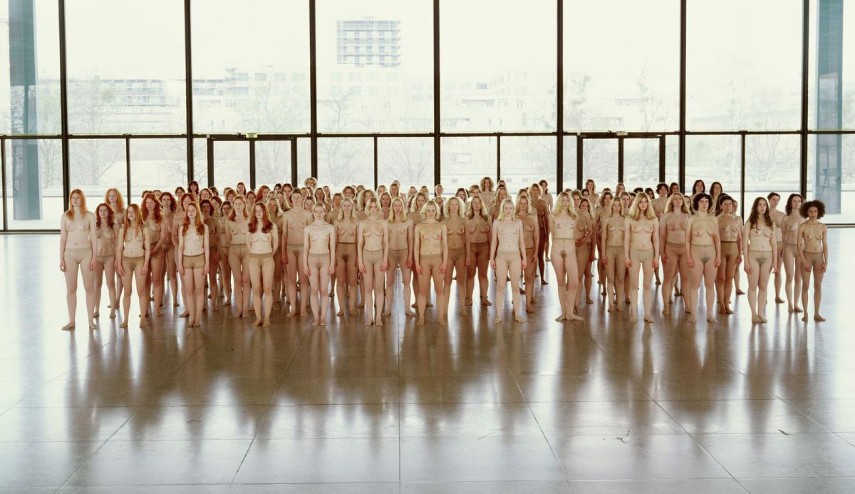 Both Frightening and Charming
The way Vanessa Beecroft incorporated female models in her performances is truly unique and one of a kind as these characters are simultaneously static and dynamic, existing somewhere between the conventional concepts of figure and object. Additionally, her extremely well-choreographed performance artworks make perfect utility of these models, ultimately examining what constitutes the perfect body in the eyes of the contemporary culture and society. By doing so, this Los Angeles-based author is able not only to get to the bottom of her own fears and struggles but also expose the viewer's dreads as well, putting the audience to the test in order to see just how much they find themselves within Beecroft's creations. Such a notion combined with the strong feministic and provocative note basically makes sure Vanessa's art is always attractive to the wider public. Considering she is already deemed to be an icon of performance art, we do not see her popularity slipping off the top anytime soon.
This artist is represented by Kunzt.gallery.
Vanessa Beecroft lives and works in Los Angeles, United States.
References:
Kampwerth, K., Vanessa Beecroft, Hatje Cantz Verlag, 2004
Kellein, T., Vanessa Beecroft: Photographs, Films, Drawings, Hatje Cantz Publishers, 2004
Beecroft, V., Vanessa Beecroft: Performances 1993-2003, Skira, 2004
Beecroft, V., VB 08-36: Vanessa Beecroft Performances, Hatje Cantz Publishers, 2000
Polier, A., Deitch, J., Lisi, R.,Vanessa Beecroft: VB LV, Charta, 2007
Bonami, F., Frisa, M. L., Vb53, Charta/Fondazione Pitti Immagine Discovery, 2005
Featured image: Vanessa Beecroft - The artist in front of her work - Image via vogue.it
All images used for illustrative purposes only.