Various & Gould is a German artistic duo best known for their mural depiction of serious themes like migration, (sexual) identity, death and financial crisis, doing it in a playful, intuitive way.
The Berlin based artist duo Various & Gould works in close collaboration since 2005. After studying at the Berlin-Weissensee School of Art, the artists graduated under the tutelage of Prof Alex Jordan in 2010. Various & Gould are known for constantly reinventing themselves. Their creation is based on the simple but striking formula 1+1=3.
1+1=3
The Berlin based artist duo Various & Gould works in close collaboration since 2005. After studying at the Berlin-Weissensee School of Art, the artists graduated under the tutelage of Prof Alex Jordan in 2010. Various & Gould are known for constantly reinventing themselves. Their creation is based on the simple but striking formula 1+1=3.
Whilst methods of screen-printing and collage are their specialty, their art can also emerge in a public performance or an installation as they like crossing borders and do not stick to a certain medium. Mutual passions including their love of paper, enthusiasm for accidental beauty in everyday life and art in urban space form the core of their artistic practice.
Various & Gould often deal with socially prominent themes such as work, migration, (sexual) identity, death, religion or the financial crisis in a playful, intuitive manner. Influenced by (political) poster graphics, Dada and Pop Art, vivid colors combined with typography and encrypted messages are the characteristics of their work.
Face Time
This most recent series presents character studies in the form of collaged heads. Looking for fictional individuals the artist duo assembles varied facial parts inventing new characters along the lines of an identikit picture catalogue. Only at second glance the particular facial elements can be detected and become gradually visible.
With their Dadaist patchwork identities Various & Gould subvert common beauty ideals and celebrate human diversity. Even if their characters are fictional and bear no name they appear more realistic and authentic than many of the glossy beauty faces represented in the daily news. By transferring the series into the public space, the common media representation of humans are declared war on.
"For those of you familiar with the mix-n-match limbs, torsos, and heads that V&G have used previously, you can see that the innovative experimenters have evolved their collage style to something new. It's exactly the same, but completely different. " - Jaime Rojo & Steven P. Harrington, Brooklyn Street Art, NYC, 2015.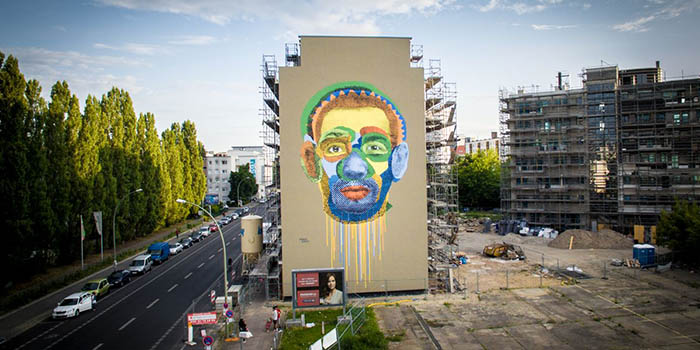 Broken Window
The series refers to the "Broken Windows Theory" by the social scientists Wilson and Kelling (1982) saying that a broken window of an abandoned building acts as the trigger for the general increase in crime in the neighborhood. The theory set the foundation for the "zero tolerance" strategy which led to increased police presence and rigorous prosecution of petty offences.
For the series artists were invited to smash a window with a chosen object in several tosses - the shape of the shattered pane was then utilized as a template. Through the use of semi-transparent spray paint and the hole in the glass, the superposition of abstract color fields on the screen is formed. The destructive act of demolition is converted into a constructive work and a metaphor for the general emergence of creative processes in the urban context.
"When I was a teenager I used to throw stones to the windows of empty trains, when they were passing by. They were empty trains nobody was traveling there. But I remember that for a certain reason. Of course it was related with the cheap life that I was having. I was feeling some kind of relief and it was taking pain away from me through the act of destroying a window. Vandalism in the pure form." - From the project's guided interview with Alaniz, Berlin, 2014
WANTED WITCHES - WITCHES WANTED
This portrait series comprises 13 known, living and nonconformist people who cross borders and act as pioneers on controversial social issues. The idea that these people might have been persecuted and burned as witches in earlier times is a mere speculation. The fact that they still have to fight for their ideas, freedom, dignity or even their lives, is the sad truth.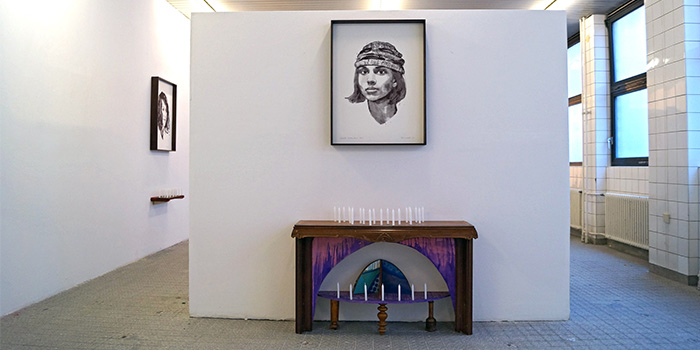 For the portraits a particular ink was used allowing– as if by witchcraft – the ignition of matches on the actual artworks. By using these matches and candles the observers are encouraged to get involved with the image. The series is presented in an interactive form both in the gallery and as a public street installation called "WitchHunt".
"A riveting interactive witch hunt, complete with matches, candles, smart phones and QR codes, has just begun on the streets of Berlin [...] You know many of the 13 'witches', as they are people from modern times who have suffered fates of being accused and depicted as evil." - Steven P. Harrington, Brooklyn Street Art, NYC, 2013
Sankt Nimmerlein
This screen-print series consisting of 10 Holy Helpers is named after the fictional patron Sankt Nimmerlein (translated to Saint Neverever) and is based on the traditional depiction of Christian saints. Each print deals with a particular relevant social issue such as climate change, globalization or the financial crisis. Due to the high complexity and ambivalence of these topics, they require being discussed and considered from different point of views.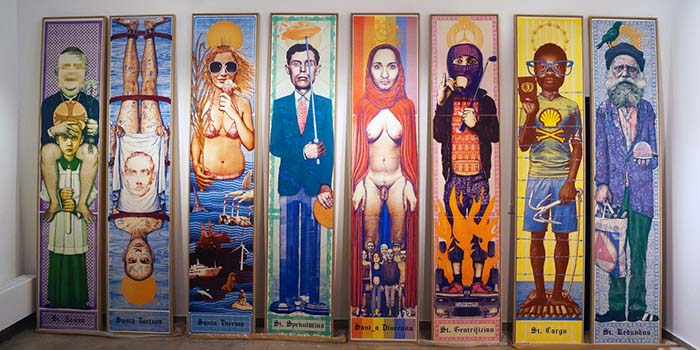 "Inspired by the representation of Christian saints, with a great sense of humor and passion for detail they impersonate the great conflicts of the 21st century [...]. Hence, Saint Gentrifician is appointed to a contemporary hood saint - a patron for squatters, demonstrators, masked man/woman, graffiti sprayer, urban sociologist, cyclist and pedestrian." Alain Bieber, art - das Kunstmagazin, 2010
Rabotniki
The ongoing series consists of figurative screen-print collages inspired by the spirit of Dada and Surrealism. The name derives from the Russian word for workers, raising questions such as: What is work? Or where do I find work?
Physical work becomes increasingly invisible and more difficult to grasp or comprehend. The Rabotniki figures also seem as they have fallen out of time, appearing alienated but nevertheless proud and confident. Whatever the Rabotniki are working on, they do it with heart, sweat and soul.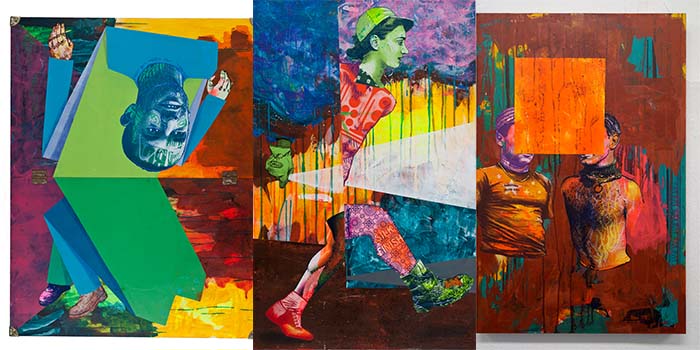 "A world where workers trade body parts [...] moving in tandem while performing their repetitive tasks in a choreographed 'workers waltz'. Using found objects, work related symbols and their refined silkscreen techniques, the line between work and play becomes blurred inside the imaginative minds of Various & Gould." - Rae McGrath, Brooklynite Gallery, NYC, 2010
Identikit
This project discusses the topic of immigration, identities and clichés. Identities are highly complex and always diverse whereas clichés are the embodiment of simplification. In view of immigration, more and more people have patchwork identities which are often encountered with prejudices by others.
To visualize this issue Various & Gould have produced portraits of well-known German, French and American personalities with migration background. Based on a technique known from children's books, faces and words are horizontally cut into strips enabling to rearrange them in endless variations. There are so many options - some make sense, some do not and a few invoke images confronting the viewer with own stereotypes.
"By montaging various, also gender-connoted, details of portraits and text fragments [...] in a silk-screening process, they contradict superficial identitarian notions of the construction of the subject. Some details offer possibilities for identification; others do not, leading to an interrogation of phantasms of identification." - Sønke Gau & Katharina Schlieben, Katalog "Help! – Soziale Appelle im Plakat", Museum für Gestaltung Zürich, 2009.
The duo is represented by 30works Gallery.
Various & Gould live in Berlin.
All images copyright © Various & Gould