Vesod is an Italian street artist, a member of the SCO crew - an artistic partnership based in Turin in indulging music and drawing.
The Fusion of Mathematics and Italian Futurism
Vesod Brero was born in Turin, Italy. After earning a degree in Mathematics, he chose the artistic career over numbers. Vesod has been a writer since 1998, working in Italy and abroad, and participating in the most important industry events, such as the Picturin Festival and the Meeting of Styles, presenting his personal painting language which drew inspiration from both renaissance art and futurism.
During his early age, he was deeply influenced by his father, an Italian surrealist painter Dovillo Braro. Ever since he can remember, Vesod was fascinated by the early 20th century Italian movement Futurism. As a mathematician, the artist concentrates on harmonizing the proportions in the dynamics of his pieces. So, his work is characterized by high contrast figures full of staggered motion and bright geometric abstractions - while approaching the canvas combining different media, such as spray and oil (he also likes to use a variety of mixed media including oil, acrylic, spray-paint and plastic). The notion of perceiving time as continuum is fundamental for Vesod's work. The ingenuity of his expression, however, is that he investigates the dimension of time through three dimensional spaces, by "freezing" time into crystallized fractures.
Vesod's Geometric Forms
Vesod is very skillful in giving the illusion to his work of being three-dimensional, by mixing anatomic drawings, geometric forms and game of transparency. However, these paintings refer to some famous masterpieces of Italian renaissance such as The Creation of Adam by Michelangelo.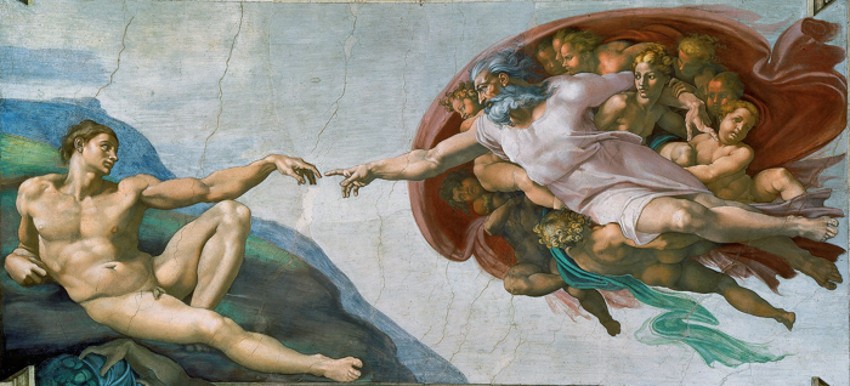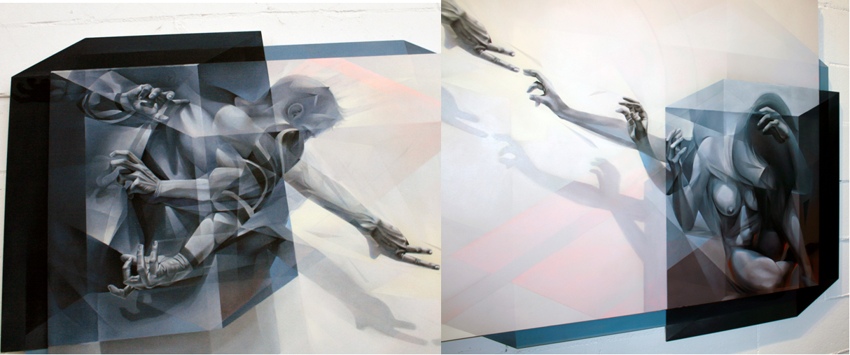 When asked if he can be classified as a muralist, street artist, or painter, the artist stated:
"First of all I consider myself an artist, because I pay attention to the art movement in general. I don't know if painting on a wall makes me a street artist or a muralist."
Vesod's first solo show was held in 2011 under the title Dystopia. Next year, in 2012, he participated in an exhibition titled Beyond the city walls in 2012, at the Castello Orsini Soriano del Cimino. This show is famous for collecting the works of the best contemporary artists of international street art.
As street art continues to establish its place in the fine art world, artists like Vesod, who started his art career as a graffiti artist in the late 90s, exemplify the benefits of that transition and help further validate the art form. Vesod is now a professional artist with work exhibited in street art festivals and galleries internationally.
Remix Every Second with Morten Anderson
In 2014, Cave Gallery in Venice hosted an impressive body of work from Danish artist Morten Andersen and Vesod in an exhibition titled Remix Every Second. The Italian avant-garde movement which sparked into existence more than a century ago, defined the paths of many surrealist and futuristic painters. And although futurism in its primal form detested "all that was old", concentrating its focus on technology, youth and violence, it cannot be said that artists influenced by this movement did not take part in understanding the nature of the past times. It was the concept of time and human progress which became the inspiring subject for the artistic expression of many individuals during the 20th and the 21st century.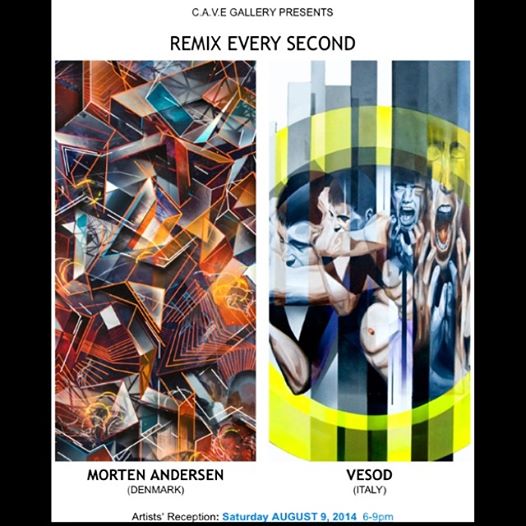 The idea of this show was to confront the viewer with an explosion of color and form from both artists. Famous geometric figurative work of Vesod was equally matched in intensity from Morten Andersen. These two artists have been pushing creative boundaries, developing a unique, futuristic style that is rapidly gaining worldwide attention. Both of them are harmonizing classical painting techniques with the freestyle of graffiti art - that twist in geometric works in this show reflected the rhythmic tension and constant state of flux of today's universe.
2Friuli 1976: Vesod, Sepe, Corn79 and Tone
In 2015, Vesod painted in Gemona, Italy a large collaboration mural together with Sepe, Corn79 and Tone in Gemona. The piece was was titled 2Friuli 1976 and it is made in memory of huge earthquake that has completely destroyed the town in that year.

This mural shows an epicenter of an earthquake from which the artist painted their vision of disaster following it by mixing their unique and different styles. The aim was to stay within limited color palette and that resulted in a coherent mural that vividly shows the range of effect caused by such large disaster.
Vesod Brero lives and works in Venaria Reale, Turin, Italy.
Images © Vesod