Vhils is the pseudonym of a Portuguese street artist Alexandre Farto, one of the most skilled and talented young artists on the urban art scene today. This internationally acclaimed innovator creates technically skilled portraits on the streets around the world - however, instead of only adding paint or other common street art materials onto surfaces, Vhils also carves, drills, scratches, rips and blasts his images out of architectural walls. Although he became famous thanks to these fascinating chiseled facade portraits[1], Alexandre Farto has been interacting visually with the urban environments since his days as a graffiti writer in the early 2000s.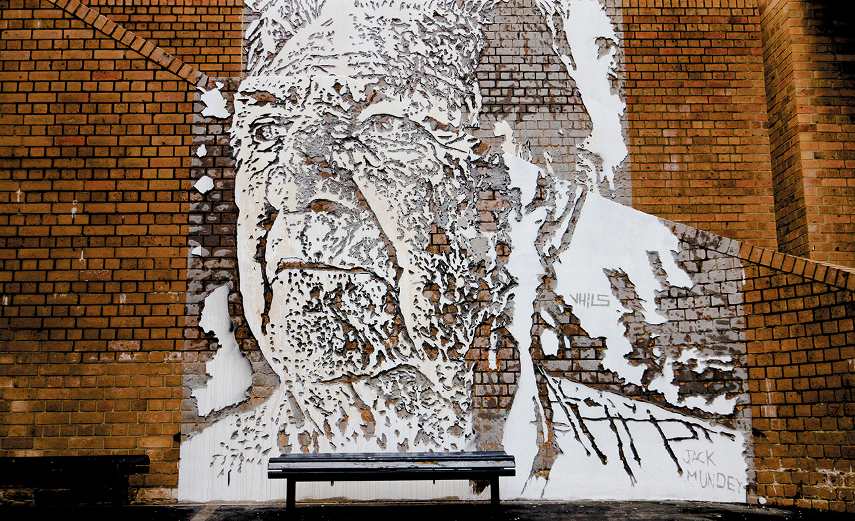 The Beginning: Train-Bombing Lisbon's Suburban Lines
Alexandre Farto was born in Portugal and grew up on the outskirts of Lisbon, in an area that had been deeply affected by the Carnation Revolution in 1974. Constantly drawing as a child, Farto moved on to graffiti at a mere age of ten. Tagging became a way to fill time, something to do on the way to school, a byproduct of friendship. When he was 13, he became obsessed with train-bombing Lisbon's suburban lines. He wound up skipping a lot of school in that pursuit and he soon joined the 2S/3D and LEG crews, gaining some graffiti street cred. His experience of the contrast between utopian socialist dreams and the stark reality of a developing capitalist society in the 1980s provides us with the background to the pieces he created by dissecting poster ads and carving into or excavating walls with tools such as etching acid, bleach, rotary hammer drills and other processes, to reveal their layers. Vhils quickly expanded to train lines outside of Lisbon, beyond Portugal, and finally across all of Europe.
Alexandre Farto started developing his personal style and technique as a graffiti artist on the streets of his Portuguese homeland at the tender age of just 13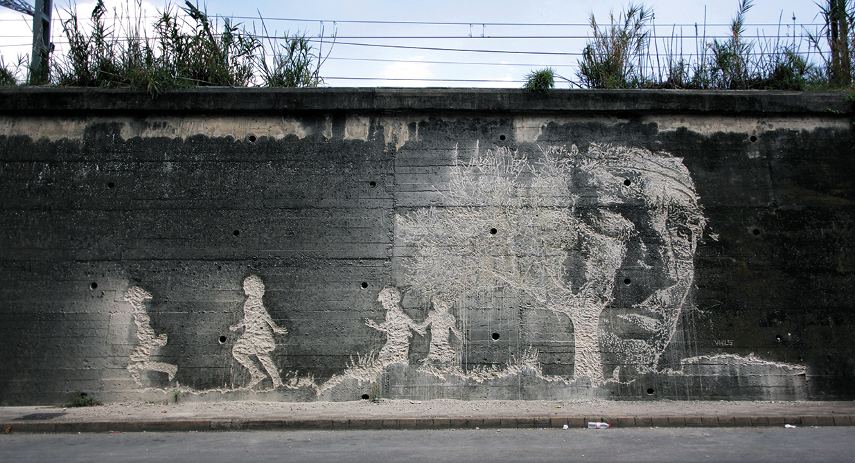 Alexandre Farto AKA Vhils
Like any other local street artist at the time, amalgamating an audience and staging his work in new ways became the focus of Farto's work. Furthermore, he realized that focusing in on the process of destruction to create something more interesting is only feasible by manipulating what currently exists.[2] Alexandre studied at the University of the Arts - Central St Martins College of Art and Design. As a London graduate, Alexandre Farto is fully aware of the influence that this city's history has had on his artistic pursuits. He felt compelled to communicate the essence and transition London's streets have lived through and to channel these elements through his own work. Once he began exhibiting his pieces, Alexandre chose to maintain the initial tag next to his real name. Going by the same alias of Vhils (for me, these were the best and fastest letters to write at the time), his work has obtained plenty of interest in the year of 2008 when a face carved into a wall appeared alongside a picture by street artist Banksy in London, at the Cans Festival. A photograph of him creating the work appeared on the front page of The Times. However, his groundbreaking carving technique was first presented to the public a year before, at the VSP group show in Lisbon where it had been hailed as one of the most compelling approaches to street art in recent years.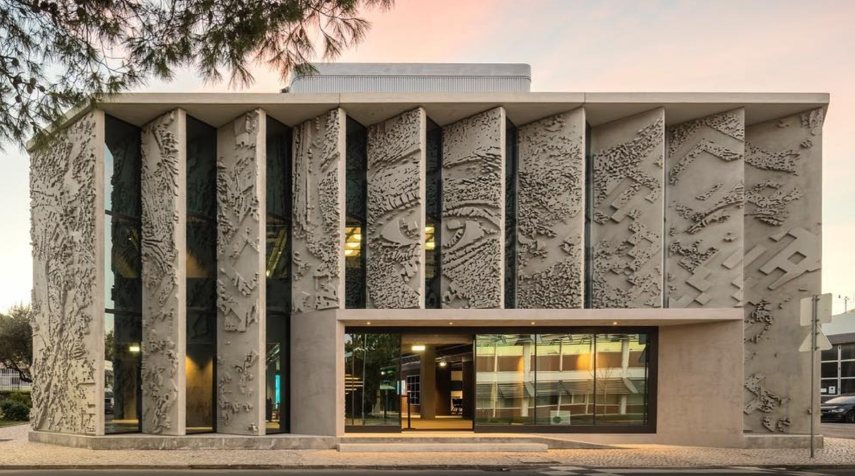 The Art of a Deconstructed Wall
Vhils' name is now internationally very recognized. His trademark is the forming of dramatic, oversized portraits made by carving directly into outdoor walls, a process that often involves industrial methods such as drilling and controlled explosions. Using construction tools, he exposes and confronts the architectural surfaces as they narrate the story of the graphic and of the city itself. Etching acid and bleach, he begins to depict the canvas to be de-constructed. Then, with the use of hammers, chisels and rotary hammer drills, Vhils sculpts the stenciled pieces to create texture, dimension and layers. The majority of Farto's subjects are anonymous and formerly unremarkable urban citizens: I like the idea of turning ordinary, common people into icons, to contrast this with the need people seem to have to create icons in the first place. Instead of creating icons out of people who have changed history, like what Andy Warhol was doing with Mao and others, I take an ordinary person and try and make people think about the ordinary citizens who struggle every day to make a living in contemporary society.[3] The use of John and Jane Doe is Vhils' response to the picture-perfect models presented by advertising is a way to humanize a cityscape by giving it a face of the ordinary. One of the few exceptions to this rule is his 2012 mural made in Vivey (on the north shore of Lake Geneva, near Lausanne, Switzerland), interpreting Renee Burri's famous photograph of a latter-day Che Guevara, made for the Festival Images.
The focal part of Vhils' portfolio consists of chillingly beautiful portraits of unknown faces that represent anonymous and formerly unremarkable urban citizens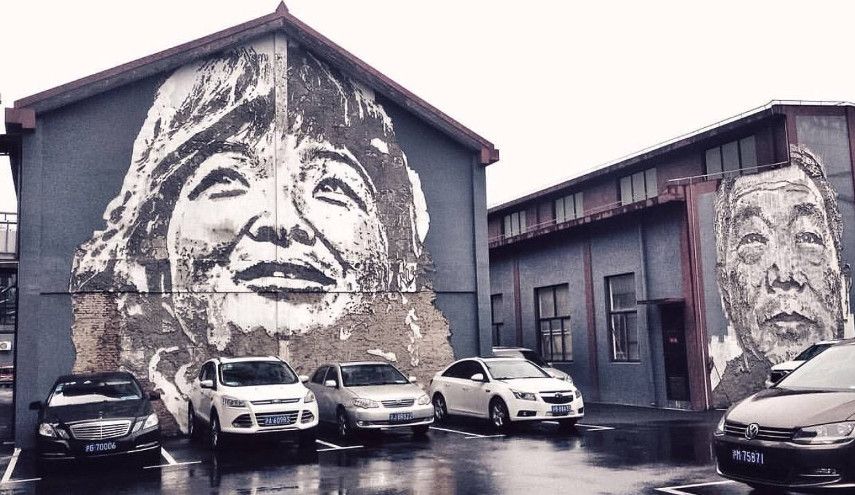 Vhils' Act as a Creative Force
As for the artistic process, Farto generally first sketches out each piece in spray-paint, before beginning the painstaking process of chipping, sawing, and drilling away at the wall to various depths. He will often add additional color or shading to the newly exposed portions of the wall, creating a visual interplay between the untouched surface, originally painted figure and layers of underlying material: I like to use destructive means to create artwork that is meaningful and poetic, mostly portraits that can humanize the often oppressive public space that we find in our cities. You can think of stenciling that creates a symbolic window that helps reveal what lies hidden beneath the surface of things. It is a work of subtraction and exposure. The very nature of his approach allows for discovering the unexpected as he removes layers of a wall or a poster. He insists that not knowing what patterns and images await him below the surface is a key to his concept. The bottom line for Vhils is the method: an act of destruction as a creative force. His artistic philosophy follows the conversation begun by expressionists and abstract artists, where the technique and its result become inseparable. He attempts to create by removing; it is a conscious construction by way of destruction, whether shredding through billboard posters or drilling into a wall.
With nothing less than archeological meticulousness, Vhils penetrates through countless layers of posters, dirt and plaster to set free the portraits hidden in urban spaces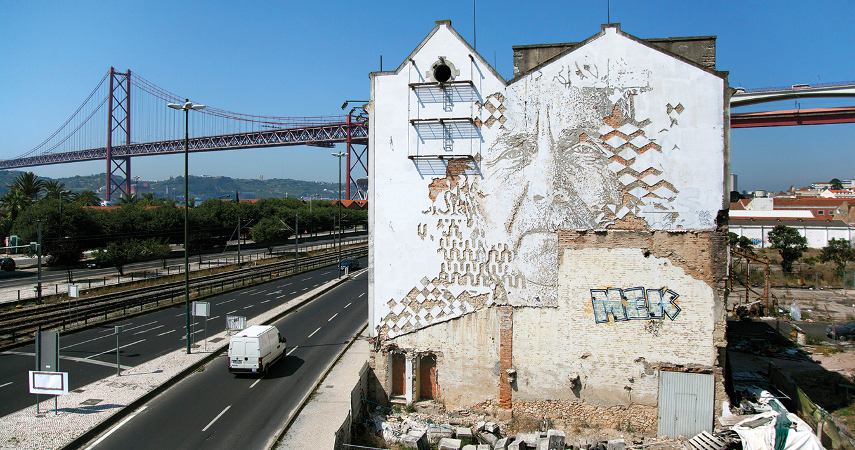 Keeping the Focus Where It Belongs
Farto's work has been described as brutal and complex, yet imbued with a simplicity that speaks to the core of human emotions, expressing the struggle between the aspirations of the individual and the demanding, saturated environment of the urban spaces he lives in, highlighting and exposing the dimension that lies behind the current model of development and the material aspirations it encompasses – unsustainable, yet inebriating. In addition to his unmistakably identifiable street pieces[4], Vhils also has a few series of semi-traditional portraits done by tearing away portions of billboards and posters, as well as in metal and wood, similar to the famed decollage technique of Jacques Villegle. Such a successful transition from the streets to a gallery space is truly a rarity in the urban art world where such a radical change is often too overwhelming for authors.
This artist is represented by Vera Cortês Gallery, Lazarides London, Magda Danysz Shanghai and Magda Danysz Paris.
Alexandre Farto Vhils lives and works in Lisbon and Hong Kong.
References:
Anonymous, Selected works, I Support Street Art [July, 27, 2017]
Moore, M., Entropy, Editions Gallimard, 2014
Moore, M., About Vhils Biography, Official website of the artist [July, 27, 2017]
Moore, M., Vhils, Gestalten, 2011
Featured image: Vhils - Photo of the artist at work - Image via stick2target.com
All images courtesy of Vhils.