Victor Castillo is a Chilean painter, born in 1973 in Santiago. He is known for his eerie artworks inspired by animation, vintage comics and popular media. His works depict greed and corruption of the contemporary society.
Early Life and Career
Castillo's interest in drawing started when he was five years old. He was inspired by television, science fiction movies, and the covers of albums his family listened to, such as The Wall by Pink Floyd. Victor went to art school, was disillusioned with his studies, so after leaving school he joined an independent experimental art group in his hometown of Santiago, and spent the time making video installations and mixed media sculpture works.
In 2004, he moved to Barcelona in Spain, and established his signature style of paintings. He went to Madrid and visited the Prado Museum, where he saw Francisco de Goya's Black Paintings, which had an important influence on his painting and resulted in incorporation of classical painting aspects into his work. He also started working with Igaupop Gallery in Barcelona, and exhibiting internationally.
Monstrous Characters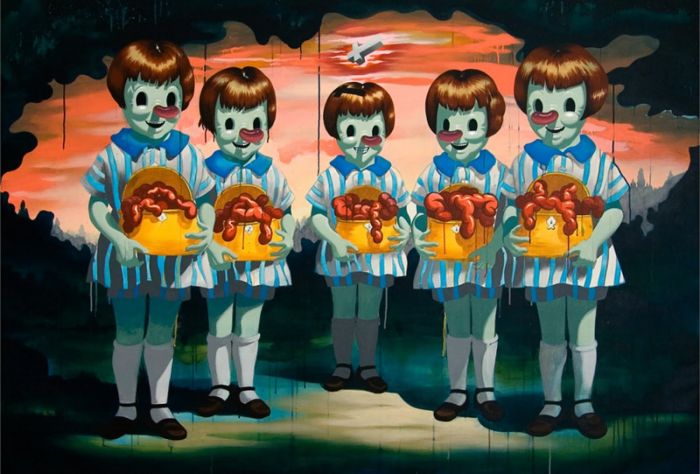 Work
Castillo's strange and sometimes disturbing, pop-surrealistic works are full of dark humor and political narratives, and seem simultaneously contemporary and old fashioned. The artist does not only use the narrative tools that can be found both in painting and comics. Frequent themes include chaos, abuse of power, destruction, consumerism, consumption, greed and violence. He depicts ignorance by depicting children with blank eyes, enslaved to money and power. Sometimes they wear masks like clowns, but their eyes are strangely absent. His characters are insincere and corrupt, even when they smile. The images resemble nightmares in which monstrous, vile children live without any supervision. Seemingly innocent, children display ferocity and savagery which can be found in everyday life, through overindulgence, vanity and power games. The painter claims, that although his art seems dark, alienating and grotesque, he is not a dark person. The artist's main influences include the art of Francisco de Goya, pop surrealists like Mary Ryden, Manuel Ocampo and Gary Baseman; cartoons such as The Simpsons and Ren and Stimpy.
The dark and socially-engaged art of Victor Castillo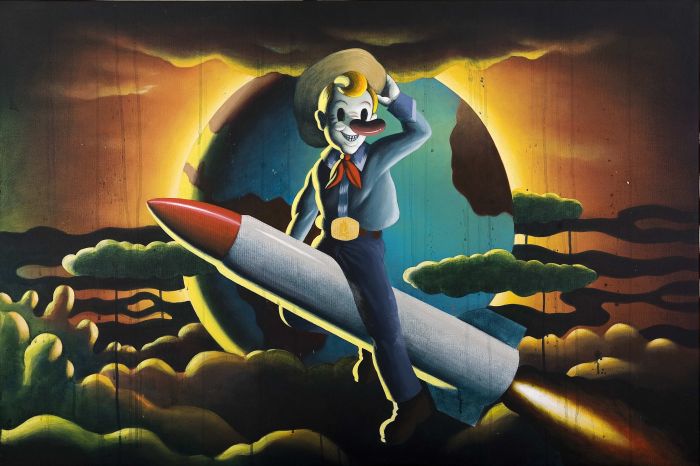 Jungle
Jungle, the series exhibited at Jonathan Levine Gallery in New York in 2012, is inspired by the scenes of global protests and violence, and living in the world where the "law of the jungle" is in effect. It depicts the chaotic world where all structures have lost its power. His acrylic paintings on canvas and drawings on paper present the social and economic crisis, where cartoon-like figures, dramatic lightning and classical landscapes explore the theme of corrupted innocence. The images with spooky, hollow-eyed and masked children represent survival, vanity and greed.
The series Pure Pleasure is a departure from the boldy-colored paintings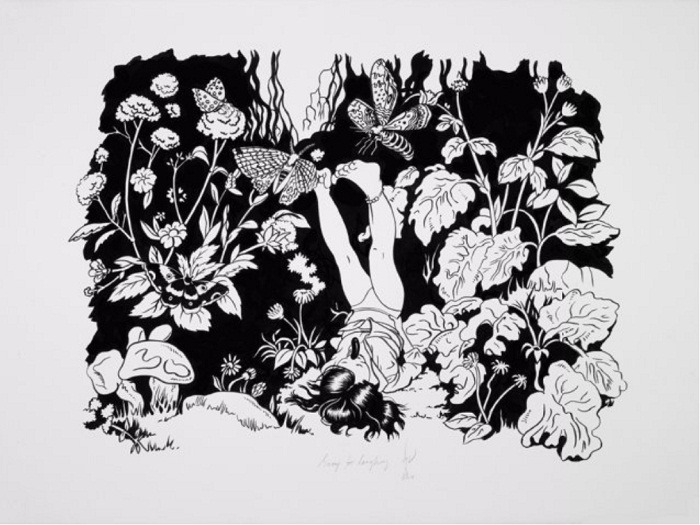 Exhibitions
Victor Castillo has exhibited his works locally and internationally in numerous galleries. The countries where he had exhibitions include Spain, the United States, United Kingdom, Germany, Denmark, France, Italy, China, Belgium, Argentina, China, Colombia, Brazil and of course, his home country. His large scale indoor murals adorn the walls of the Museum of Modern Art in Chile, the National Museum of Fine Arts in Chile, and the Center for Contemporary Culture Barcelona in Spain.
His art has been featured in many newspapers, publications and magazines.
Gallery Representation
Castillo is represented by Jonathan Levine Gallery in New York, United States; Merry Karnowsky in Los Angeles, United States; and Helium Cowboy in Hamburg, Germany.
Victor Castillo lives and works in Los Angeles, California.
All images copyright © the artist