Vincent Abadie Hafez also known as Zepha is a French contemporary artist whose work is strongly inspired by traditional and contemporary Arabic calligraphy. He is widely known for his highly ornamental and completely stunning artworks. Famous for employing a wide variety of mediums and techniques, he tries to bring entirely separate worlds together in his work, to merge the ancient with the new, to bring the East closer to the West.
Urban Jealousy for Art Azoï

Born in Paris in 1977, he became active in the graffiti and street art scene working under the pseudonym Zepha in the late 1980s. His long-lasting, continuous and engaged involvement in the graffiti movement has allowed him to work in depth on the subversion and stylization of the Latin alphabet.
He has developed his own unique style on the edge between the graffiti and calligraphy and a world in which cross the craftsmanship of ancient civilizations, the movement Figuration, Abstraction lyrical and street art. Brave and open mind, his artistic production evolves by borrowing diverse ways most of the time through not beaten paths at the crossroads of two worlds, ancient and modern. Contrasts and complementarity are his driving force, visible in every aspect of his work, from the choice of medium or technique (he dabbles in street art, while also painting on canvas, his works include calligraphy, murals, etching and engraving...) to the themes of his pieces, in which he tries to bring peace to the chaos of opposing ideas.
The gesture intrinsic to the aerosol technique and the energy of calligraphic gestures led him to live creativity as a process, not only as a goal. Zepha's art is accessible to all, and poses questions fundamental to every human – he reminds us of our beginnings, questions the consequences of our actions, both as individuals and on a global scale, and rebels against over-urbanization.
Street Art Invasion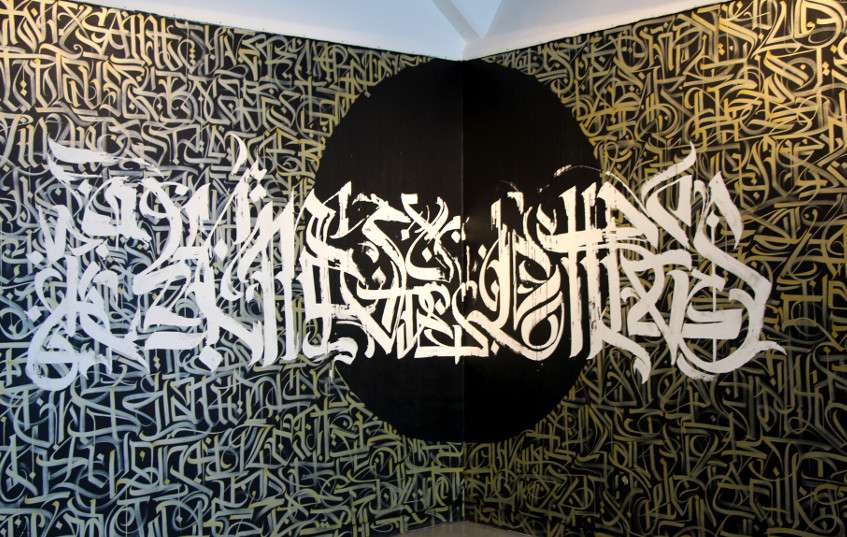 His work has been featured in Arabic Graffiti, a book by Don Stone Karl and Pascal Zoghbi, which presents the beautiful fusion of traditional Arabic calligraphy styles and modern graffiti techniques. Amongst Zepha, the book includes the artwork and thoughts of Hassan Massoudy, eL Seed, L'ATLAS, Typism, and many more.
Vincent Abadie Hafez has participated in many exhibitions and art festival worldwide, including in France, Germany, Morocco, Spain, Liban, Switzerland, Qatar and Tunisia.
In May 2015, his art was included in group show Concrete Alphabets at 886 Geary Gallery in San Francisco.
He is represented by BC Gallery in Berlin, Germany and David Bloch Gallery in Marrakech, Morocco.
Palimpsest Series - Mixed Medias on Canvas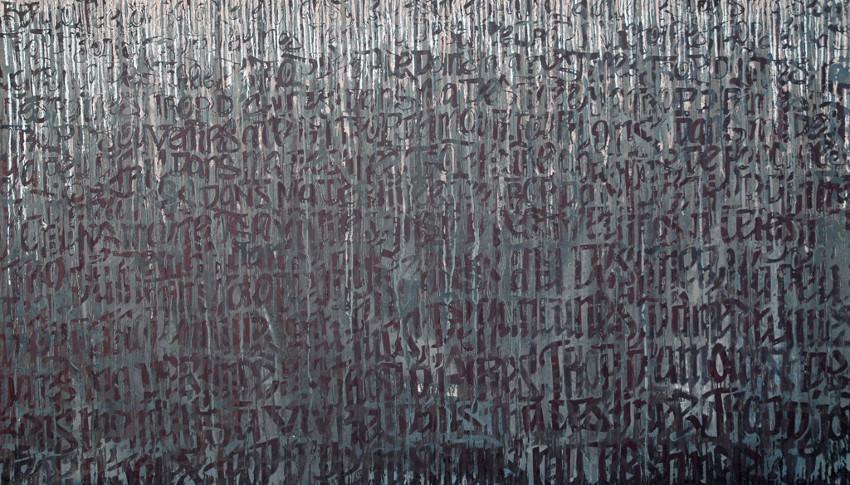 Vincent Abadie Hafez lives and works in Toulouse, France.
All Images Courtesy © Vincent Abadie Hafez