With the use of dramatically staged cinematic lightning, Vincent Peters' photographs reflect the sensibility of film noir classics, representing the famous faces in different and original setting. His models seem like Hollywood divas from 50's and 60's resembling their poses and gestures that depict the glamour and extravagance of the moment. Deprived of detail, his distinctive images rely on light that, as the artist thinks, "defines everything". It changes a person, its character, and sensuality, emphasizing the beauty and hiding the all necessary things. Attractiveness and the sex appeal are always present as the result of his choice of models like Monica Bellucci, Laetitia Casta, Jessica, Biel, Charlize Theron, Cindy Crawford and Scarlett Johansson.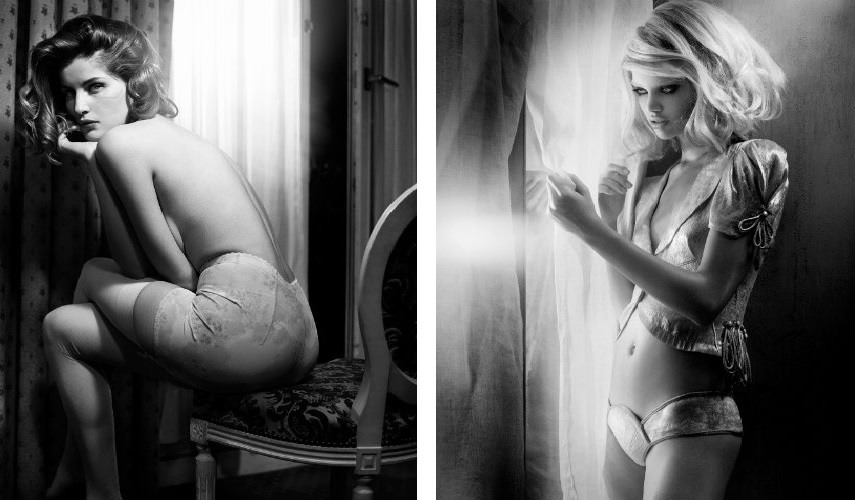 Traveling Thailand: For the First Time Interested in Photography
Peters was born in 1969, in Bremen, Germany. His photographic beginnings are tied to his travel through Thailand during the 1980's when he made magnificent photographs that were published by GEO Magazine. The crucial step was the move to New York where he found the job as an assistant photographer that encouraged him to follow his own creative vision, shifting the focus from commercial to fine art photography. Since 1990 his work is fully committed to the fashion and celebrity, but through the lens of traditional, analogue photography, with the use of a medium format camera, usually the Mamiya RZ.
Iconic Portraits of Movie Stars
Photographing internationally known stars who have already been photographed and filmed millions of times, Peters still manages to create iconic portraits, original and recognizable. Instead of prominent poses and grandiose surroundings, he puts an accent on the small gestures and subtle settings, avoiding the disappearance of his subject into the scene by making their faces the essence of the image. His delicate and sophisticated lightning have the most impact in his black and white works, giving them astonishing cinematic quality.
Working for the Prominent Names in the World of Fashion
Admiring the New York school of the 70's, Peters uses staged lightning, creating the distinctive images whose appearance resembles the film stills. With the sensitive and gracious aesthetic, his heroes and heroines show unique charisma through their poses captured from the romantic old movies. His work has been exhibited throughout Europe and published in several portfolios in fine art periodicals. Numerous renowned international magazines proudly present Peters' photographs on their pages such as Italian, French, British, German, Spanish and Japanese Vogue, Elle, British, Italian and Spanish GQ, Arena, Dazed and Confused and The Face. He works for Celine, Dunhill, Hermes, Diesel, Philips, Nike, Armani, Miu Miu, Yves Saint Laurent, Louis Vuitton, Lancome, Dior and many others.
Vincent Peters lives and works between Paris and New York.