Viola Frey was an American artist particularly famous for her prolific body of work – colorful, larger-than-life sculptures representing men and women. Apart from being a sculptor, she was also a painter, and a professor at California College of the arts. She was based in San Francisco Bay Area, where she produced a majority of her artwork, and gained an international reputation as one of the greatest contributors to modern art.
Background and Training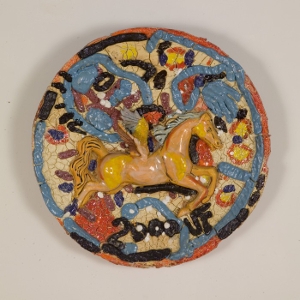 Viola Frey was born in 1933, in Lodi California, where she grew up. Since she was a girl, she had shown a great interest in art. Her talent soon became evident – when she was 11, she was entered in a Sacramento Library drawing show for her replica of a Henri Matisse drawing, a Fauvism artist she highly praised.
Her academic training began at California College of Arts and Crafts, where she studied painting and ceramics with such artists as Richard Diebenkorn and Vernon Coykendall (also known as Corky). Frey obtained her BFA degree there in 1956, and moved on to Tulane University, New Orleans to continue her education, from which she graduated in 1958, receiving her MFA degree. She there studied under the mentorship of abstract expressionist Mark Rothko and sculptor George Ricky. Wanting to focus on ceramics, she moved to New York, and started working at Clay Art Center in Port Chester with ceramicist Katherine Choy. The center was one of the first places where artists could explore ceramics and all its potential. Today, Frey is among the artists like Robert Arneson and Peter Voulkos, who are considered responsible for pushing the traditional boundaries of ceramic sculpture.
Monumental Sculptures – Monumental Artist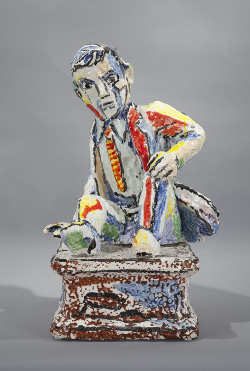 Upon her return to San Francisco in 1960, Frey started producing her famous assemblages and large tondo plates, which immediately put her in the forefront in world of modern art. Some of her work indeed is autobiographical, but Frey also investigated the history of art and cultural iconography, but her main focus was the issue of gender equality. However, it wasn't until 1970s that she began producing her unique massive sculptures. That was the year when she moved to Oakland and opened her studio. Assembled from many separate pieces and amounting to nine feet, Frey's sculptures represent men in suits and ties, and women old-fashioned brightly colored dresses. She also depicted women holding a globe, thus empowering them. The men with confused faces are sometimes standing or falling.
Even though Frey created huge, larger-than-life sculptures, she was also interested in smaller ones. The numerous ceramic figurines she collected became inspiration for her work. Some of the figurines became a part of her assemblage pieces, while others provided imagery for her works on paper.
Frey's appreciation of human body and figure wasn't reflected solely through her sculptures – she also produced a remarkable number of paintings and pastel drawings, which have been extensively exhibited.
Frey's Tenure and Achievements
In 1965, Viola Frey became a member of the faculty at the California College of Arts and Crafts, an institution that helped shape her exceptional creative talent. She was teaching there until 1999, and was the head of the Ceramics Program. She was then awarded the status of professor emerita, and the Viola Frey Chair in Fine Arts was founded in 2003. Frey also received the Award of Honor in Sculpture from the San Francisco Arts Commission.
Along with Squeak Carwarth, Frey co-founded the Artists' Legacy Foundation. The organization promotes and cherishes the artists' legacy, as well as supports and provides grants and awards for distinguished painters and sculptors.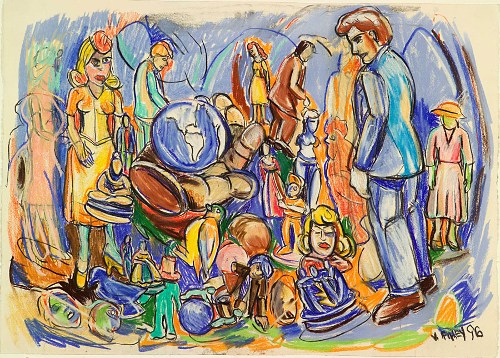 Frey's work has been extensively exhibited in numerous museums and galleries, including Smithsonian Institution in Washington, DC, Whitney Museum of American Art in New York, and San Francisco Museum and Oakland Museum in California. Bigger, Better, More: The Art of Viola Frey was a 2009 posthumous exhibition held in Racine Art Museum in Wisconsin, and traveled to the Museum of Arts and Design in 2010. Her works are also a part of various collections, both public and private.
Frey is represented by Nancy Hoffman Gallery.
Viola Frey lived and worked in Oakland, California, until her death in 2004.
Featured image: Viola Frey portrait, 1981 - Image source Creative Arts League Sacramento website
Other images copyright © the artist