American photographer Vivian Maier was known both for her reclusive, nonmaterialistic nature and her huge legacy that counts over 100,000 captured moments. Maier has recorded many peculiarities of the urban American life in the second part of the 20th century, but she has also traveled abroad many times, documenting the flavors of exotic countries in Asia and Africa. In addition to her career in street photography, Maier had many hobbies, such as collecting art books, newspaper clippings, and home films. Her body of works wasn't discovered until 2007, but nowadays her work is considered one of the marvels of street photography, similarly to the work of Henri Cartier-Bresson and Berenice Abbott.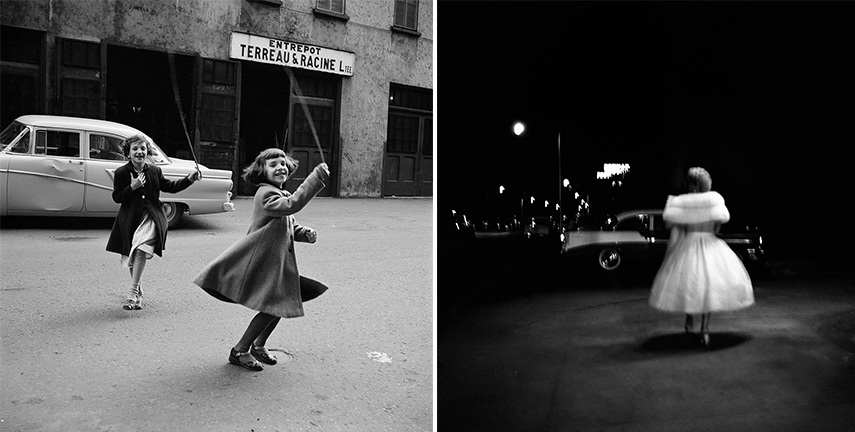 Early Life
Maier is an American of French and Austro-Hungarian origin. Even though she was born New York City, she has spent most of her childhood in Europe. She was traveling frequently between Europe and the United States before settling down in New York City in 1951. Maier has probably picked up photography thanks to Jeanne Bertrain, a portrait photographer who was the head of a household where Maier used to live as a child. After she has arrived in NYC, Maier has got a splendid opportunity to brush up her skills on the busy streets. However, in 1956, Maier has moved again, this time to Chicago. She has spent most of her adult life there, working as a caregiver for children. During her free time, she would dedicate herself to photography, but she used to hide her pictures from the others - they were her personal treasure. Photography became her passion and it is known that she left behind a huge body of work, consisting of over 100,000 negatives. She also had a knack for making documentary films and audio recordings. Vivian Maier was a free spirit but a proud soul as well, and she wasn't overly interested in making money until she became quite poor. Literally, her life was saved by the decision to become a caregiver. She has regularly taken care of three children who remembered her as their second mother and later on they helped the impoverished Maier related to her basic financial needs.
Vivian Maier has left behind a huge body of work, consisting of over 100,000 negatives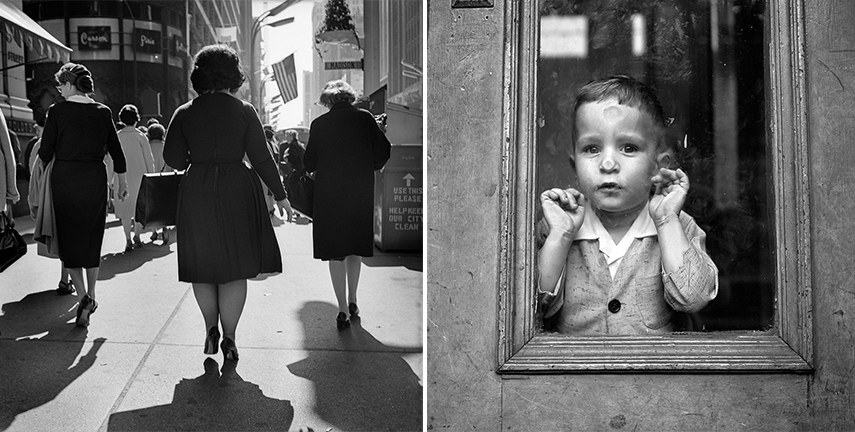 Navigation through Maier's Later Career
In 1956, Maier moved to Chicago, where her life became more secure. She had her own darkroom, where she could develop her rolls of black and white film. However, the financial difficulties arose for Maier as soon as the children she was taking care of became adults. She couldn't keep the luxury of a darkroom and she stopped developing her film. She was still shooting a lot of photos, but her undeveloped rolls started to pile up. In the 70s, Maier decided to switch to color photography and she was using prevalently Leica IIIc with Kodak Ektachrome 35mm film. The color has introduced some different elements to Maier's pictures and they became more abstract. Instead of her well-known street scenes, Maier started shooting found objects, contents of garbage cans, newspapers, and even graffiti occasionally. Sadly, in the 1980s, the artist has faced news financial difficulties and she stopped producing color photographs. Again, the rolls of her Ektachrome film began to pile up. In the late 1990s, Maier stopped taking photos altogether and she put her camera and other belongings in storage. She was virtually homelessness at the time, but thanks to the family she used to work for, she has received some help and started to live in a small studio. The photographs she kept in storage were unknown to the public until 2007. A year later, in 2008, Maier had an accident in wich she injured her head in downtown Chicago. Even though the injury wasn't overly serious and Maier was expected to recover, her health suddenly got worse and she died in April of 2009, leaving behind a large legacy of undeveloped rolls of film.
The color has introduced some different elements to Maier's pictures and they became more abstract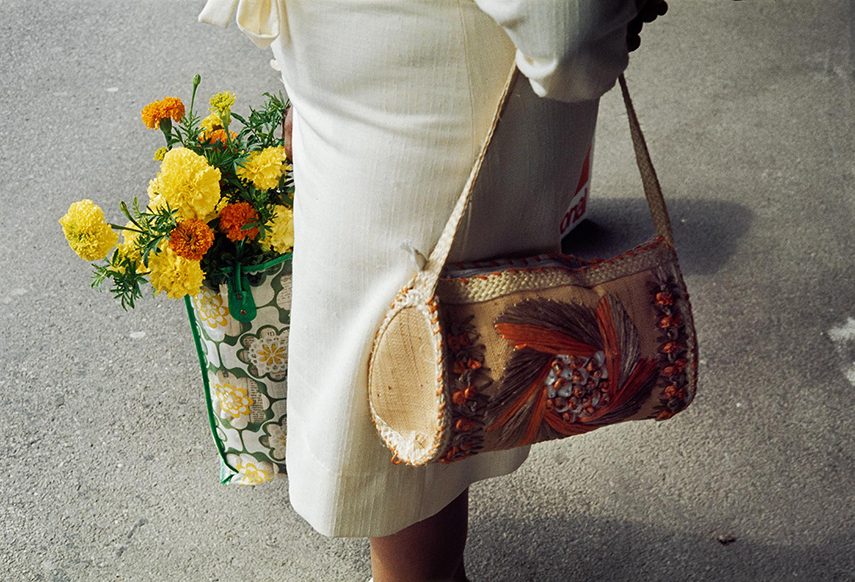 Vivian Maier's Personality and Travel Experiences
Maier was a free spirit and she followed her curiosities wherever they led her. In the 1950s, she was on numerous trips around the globe, oddly thing for a caregiver to do. She visited South America, Middle East and Asia, and even Caribbean Islands. She always traveled alone, gravitated toward lives of the less fortunate in society. Her travels and interest in the exotic world caused her to seek out the unusual phenomena in her own environment as well. She was eager to document sadness and confusion of various immigrants, screenings of less known movies, but also important world issues, such as the people of Chicago welcoming home the Apollo Crew. Among her friends, Maier was known as a quite eccentric and heavily opinionated person, very intellectual and extremely private. She also her own way when it comes to fashion – she used to wear floppy hats and long dresses and she used to walk in a decisive way, almost like a powerful man. Even though she was obsessively taking street photos, she has never shown her works to anyone. She was a truly enigmatic person, unapologetically original.
Maier has visited South America, Middle East and Asia, and even Caribbean Islands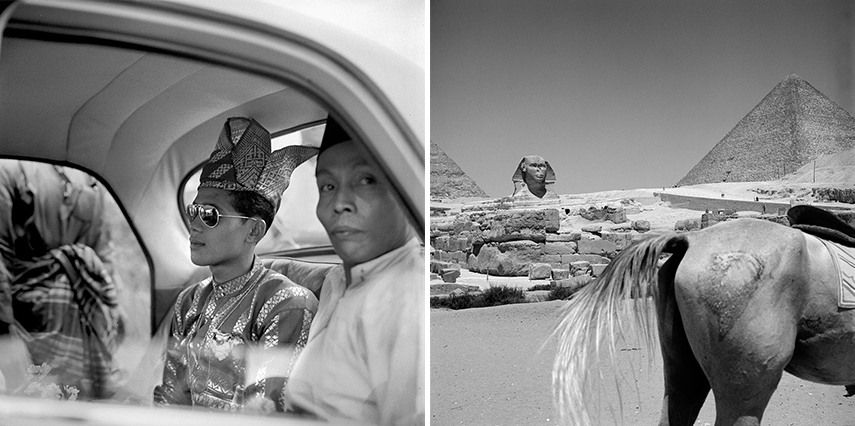 Photographic Style: B&W versus Color Film
Since the Maier hasn't developed the majority of her films and all the commercially available prints of her photographs are done by a third party, we don't have a full grasp of her ideas. Only through analyzing those rare prints Maier has made while she owned a darkroom we can understand more about her entire artistic world. Also, it is known that Maier herself has given many instructions to the photo labs on how to print and crop her works and what kind of paper and finish on the paper to apply. In the late 40s, Maier was using a simple Kodak Brownie box camera with just one shutter speed option and no aperture and focus control. The screen was tiny and it was hard to make more complex artistic ideas come true. In 1952, after she returned to the United States, Maier has bought a different, better camera. It was a Rolleiflex camera and with this model she had much more freedom and ability to control the options. It wasn't until the seventies that she started using a new camera again, which was a Leica model.
In the late 40s, Maier was using a simple Kodak Brownie box camera with just one shutter speed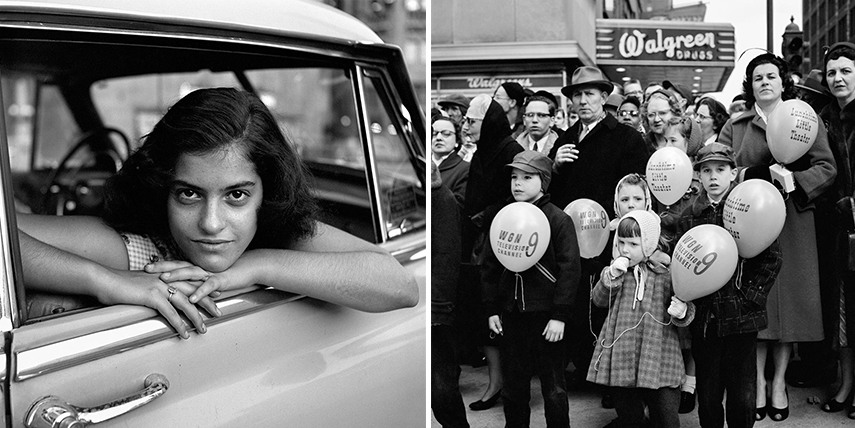 Recognition and Documentary
In 2007, due to financial issues, Maier couldn't afford to keep her storage space anymore. As a result of this issues, her entire work consisting of numberless negatives, audio recordings, and 8mm film was auctioned. When it comes to her photos, there were three collectors who bought her pieces - John Maloof, Ron Slattery, and Randy Prow. The artist's photographs were published in 2008 on the Internet, but they haven't received much feedback. John Maloof had purchased the largest part of the photographer's work because he was interested in the history of Portage Park, which is a neighborhood in Chicago. Maloof didn't know much about Maier until he discovered her death notice in Chicago Tribune in 2009. After he linked his blog to the Maier's photos on Flickr, the photographer's work became viral and finally received a lot of attention. In 2010, Chicago art collector Jeffrey Goldstein bought a portion of the Maier work from one of the original buyers and he obtained 17,500 negatives, 2,000 prints, and even 30 homemade movies. In 2014, he decided to sell his collection to Stephen Bulger Gallery in Toronto. When it comes to Maloof, who owns around 90% of Maier's entire work and also some of her cameras and paperwork. Ever since the discovery, Maier's work has received a lot of attention and it has appeared in numerous solo and group exhibitions in important galleries and museums. Also, there are several books and two documentaries dedicated to the life story of Vivian Maier. Finding Vivian Maier documentary was made by Maloof and a producer Charlie Siskel and it aims to shed some light on the mysterious photographer and her habits and lifestyle. Maloof and Siskel represented the personal history of Maier and her life in between New York City, Chicago, and France. Maier was a wanderer and self-taught photographer with an amazing ability to capture the very soul of people from all walks of life. Her artful and comic eye calls to mind the photography of Berenice Abbott and Weegee. Thanks to Maloof's efforts, and later on galleries and museums who presented her work, Maier is nowadays considered one of the best and most original street photographers. Yet, the story of her life is still quite mysterious due to the reclusive nature of the photographer. A lot of limited, yet precious information came from the families Maier used to work for, who remember her as a really unusual nanny.
Finding Vivian Maier documentary was made by John Maloof and a producer Charlie Siskel
Mysterious Yet Incredibly Prolific Photographer
Vivian Maier's work speaks a lot about the world of street photography in the second part of the 20th century and similarly to the pieces of Cartier-Bresson and Abbott, her work displays a lot of natural spontaneity. Her portrayal of Chicago and New York City as well as some exotic countries is rather refreshing because of its powerful straightforwardness. The fact that Maier's personality was very specific contributes even more to the magic of her work. It is not easy to imagine a photographer who never showed any of his pieces to anyone, and this is exactly what Maier has been doing throughout her life. She was, in a way, a solitary genius who found the peace and solace through her persistent work.
Vivian Maier lived between New York, Chicago, and France.
Featured image: Vivian Maier's Self-Portrait
All images copyright of John Maloof Collection.