Engaging the formal repertory of modernism, from constructivism and Bauhaus to Minimal, Conceptual, and Appropriation art, Wade Guyton is an American contemporary painter who, by no means, seems like one. His studio isn't filled with paint cans and tubes, there's no haphazard array of easels, no smell of turpentine. His tool isn't a brush. Instead, he uses an inkjet printer, choosing models suited for large-format prints. Paintings have their motifs designed on a computer, but Guyton puts them on a canvas by using a machine, while he plays with the process, giving his work unique features. This productive interaction of digital and manual has always played the central role in the artist's practice.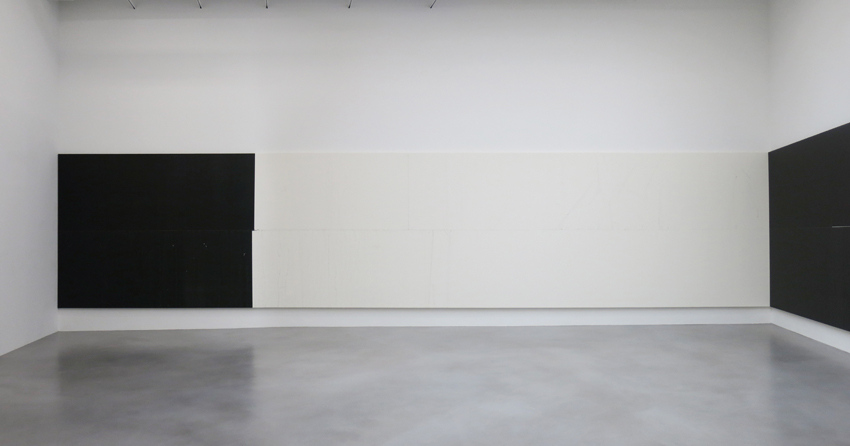 Personal Life and Related Artists
Born in Hammond, Indiana, Guyton grew up in Lake City, Tennessee. His father and stepfather (both deceased) were steelworkers and his mother was a homemaker. He studied at the University of Tennessee, Knoxville, where he completed his BA in 1995. After moving to New York in 1996 and being twice rejected for admission to the Whitney Independent Study Program, the artist attended a Masters program at the Hunter College, which he began in 1996 and left in 1998, never really completing it.[1] During that time, Guyton studied under Robert Morris and got his first job St. Mark's Bookshop in the East Village. His next employment was at Dia:Chelsea, where he worked as a guard almost until the end when he was shortly relocated to Dan Graham's café on the roof. Since the space closed in 2004, he received a severance pay that was sufficient enough for him to continue renting an East Village studio and apartment without having to look for another job. Around that time he began experimenting with printers, a technique that would gradually help him go from being a relatively unknown artist to becoming one of the world's most famous, considered an innovator and a master.
His job at Dia wasn't just financially beneficial. A lot of his fellow artists worked grunt jobs there: Marlo Pascual, Lizzi Bougatsos, Meredyth Sparks, Seth Price, Nate Lowman, Bettina Funcke, Rich Aldrich. They would often get together get together and discuss Hegelian dialectics, Marxism, experimental film, post-capitalist production. As his work was getting wider attention, critics began analyzing it. Along with Kelley Walker, above-mentioned Set Price, and Tauba Auerbach, Guyton was considered as someone who's at the forefront of a generation that has been reconsidering both appropriation and abstract art through the 21st-century lens of technology.[2] Actually, Kelley Walker and Guyton are close friends and have collaborated on many occasions. This collaboration allowed the maximum utilization of Guyton's skill for printer practices and Walker's screen-printing and color techniques. Roberta Smith, a famous art critic, placed Guyton with some younger painters that were countering the structures of late Modernism by revisiting the early Modernist cusp between abstraction and representation, entering the area previously populated with Malevich's robotlike peasants, Jawlensky's masks, Mondrian's flower paintings. An area where the figurative, the geometric, the spatial and the visionary still remain tangled. Mark Grotjahn, Tomma Abts, Sergei Jensen, Eileen Quinlan, Cheyney Thompson, and of course, Wade Guyton, seek paths not taken, tangents not explored.[3]
The artist is very popular and his work in considered as innovative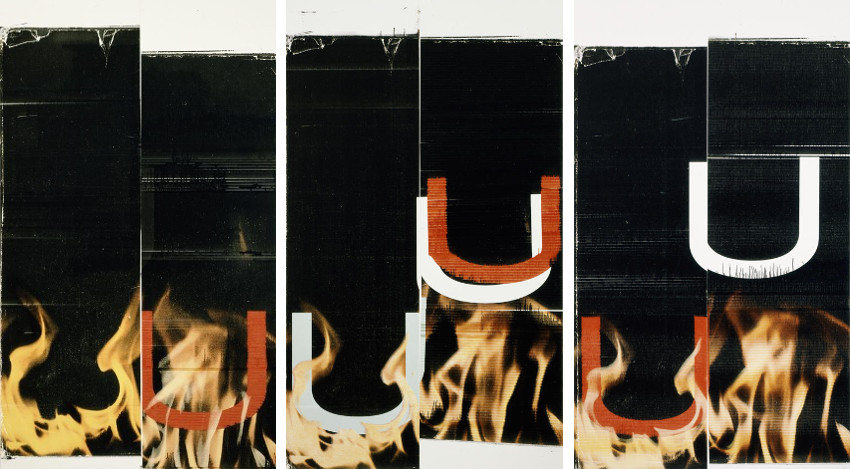 Style
In the 90's, Guyton finally found the patience to make art himself (he always stated that he never really enjoyed drawing or art classes) and started making sculptures. These were made of materials more likely to be found in a Home Depot that in an art supply store. The models came from the distinctly brainy tradition of Minimalism, and the artist always gave them a Do It Yourself kind of a twist, combining elements of lowbrow and highbrow. Around 2003, his early "drawings" were filled with striking black Xs over ripped-out sheets from '60s design books and interior catalogues. The letter X and the color back became his signature motifs. So did the letter U, flames (the black-markered series of Firestarter book covers), circles, lined grids, and Marcel Breuer chairs (he twisted a few into disfigured metal sculptures). At some point, Guyton moved from using paper to using linen, pulling gigantic swathes of fabric through the ink-jet printer while it reads from a computer file. Epson Stylus Pro 9600, Epson Stylus Pro 4000, and Epson UltraChrome are some of the printers he's used over the years. He accepts the source of errors, as he uses a carrier material other than the one for which the machine is conceived, and moves on to manipulate the color supplies, and deliberately jolts and pulls the material while the machine is working, creating smudges, drippings, or distortions and displacements that turn a model designed for serial reproduction into a series of original objects. In 2012, Guyton's exhibition at the Whitney Museum of American History showed his inkjet and digital paintings and other works, providing new glance into is oeuvre.
Known for working in series, Guyton employs the calculated influence of chance, rendering each element of the series unrepeatable, distinctive, and ultimately, unique. The results have pictorial qualities, despite the dominance of mechanical means of production. However, at the same time, the ostensible drive toward serial work cycles negates the claim to originality usually inherent in classical painting. His work is very contemporary in that it directly involves and draws upon the immediately available technological means, a fact that differentiates him from many of other formalists. One of Guyton's signature motifs is a black monochromatic painting. As a consequence of choosing a material not suited for the technique, the brittle ground absorbs the images, signs, and letters he continues to use in his designs much more strongly; the ink is distributed across the fabric instead of sitting directly on the surface, as in the earlier works. One thing has remained constant throughout the years – every single work displays his interventions. There are the traces of movement, the marks left by wheels in the wet ink, intermingled with the scratches and streaks the painting incurred when it was dragged across the floor in order to be fed back into the printer, and various stages of ink getting denser and denser. Even when exhibiting, Guyton seeks uniqueness. For his 2014 show at the Punta della Dogana, he chose to use the space in its horizontal dimension, leaving the walls empty.
The tools he uses to make art differ greatly from what a standard painter would use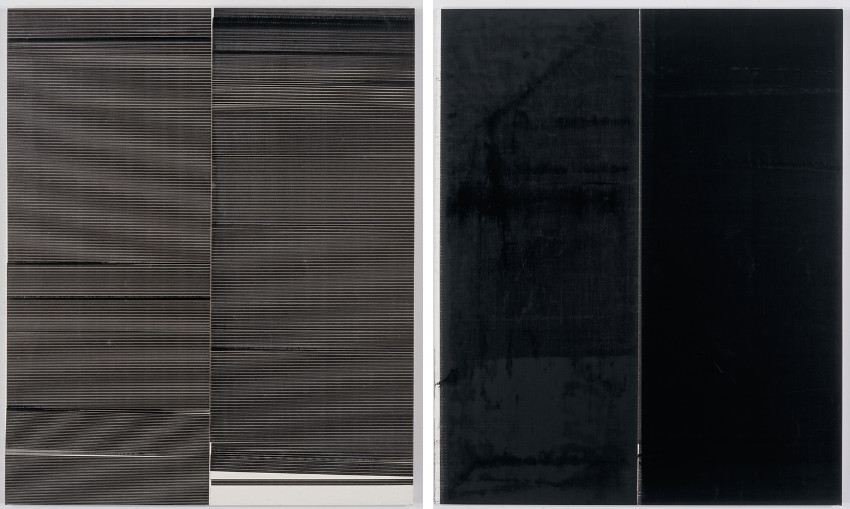 An Incredible Story!
From being a security guard to becoming one of the most famous artists in the world – it is certainly an incredible story! Guyton has become of the leading artists of his generation by messing with limits of a home-office printer, cultivating a sort of technological picturesque. And yet, there is a dimension of his work often overlooked. By availing himself of computer technology but using it in such a way as to elicit its parapraxes, cultivating the irregularities and imperfections that expose its limitations, he humanizes the machine, showing that even something designed to work flawlessly can make mistakes. In a world that heavily relies on machines, this is an unprecedented exploration of technology.
Wade Guyton lives and works in New York.
References:
Armstrong D. Wade Guyton, Interview Magazine [September 30,2016]
Vogel C. Painting, Rebooted, The New York Times [September 30,2016]
Smith R. Art in Review; Mark Grotjahn, The New York Times [September 30,2016]
Featured image: Wade Guyton – portrait – photo credits Karsten Moran, via nytimes.com
All other images courtesy of Friedrich Petzel Gallery