Wang Huangsheng is a prominent artist, scholar and curator, one of the pivotal figures in Chinese contemporary art scene. He works in a wide range of media, from light installations to sculpture, but primarily uses the traditional medium of Chinese ink and pen on canvas or paper. Born in 1956 in Shantou, Guangdong province, Huangsheng earned his MA in Art History from the Nanjing Art Institute in 1990 and his doctorate in 2006.
Huangsheng's childhood
Wang Huangsheng was surrounded by art since an early age. His father Wang Lanruo, a literati painter and calligrapher, passed on skills rooted in tradition. Wang's continuing fascination with Chinese culture began during the Cultural Revolution that took place in the People's Republic of China in the '60s and '70s. At that time, Lanruo was sent to the countryside and young Wang accompanied him. The first step in his artistic career was made there - his father was teaching him the unique language of traditional Chinese poetry, calligraphy and painting. Later, Wang Huangsheng moved to Beijing where he acquainted poets such as Bei Dao and the leading intellectuals of those times. Wang's career has been significantly influenced by that two phases.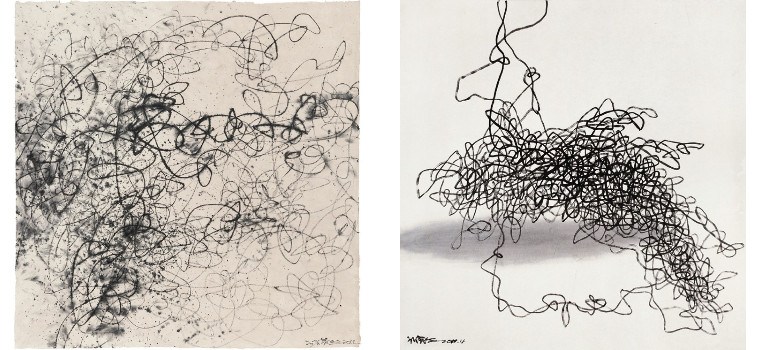 "Shui Mo"
From the middle of 1990s Wang has been constantly working on all kinds of modern arts and especially on ink and wash painting, in Chinese "Shui Mo", and also known as literati painting. Exploring the relations between art languages and knowledge production, individual values and social responsibilities, as well as the one between historical continuity and current living status, Huangsheng's oeuvre is highly introspective with the broadening horizon from the art itself to a wider exterior world.
Moving Visions
One of Wang Huangsheng's most known series of works, titled Moving Visions, discusses the abstract expression of the brush and line of traditional Chinese ink painting as well as the relationship between the spiritual connotation and contemporary visual presentation. Working primarily with a single unbroken line in his Moving Visions series, the artist breaks beyond the fixed conventions of traditional brushstroke painting, returning to the language of "uncivilized" cultures. Roaming line suggests another world free of the boundaries limiting consciousness with discrete definitions. Freed from all restraint of the conscious mind, Wang's brush becomes an instrument to channel the unwinding silken thread of the wider world's immanent consciousness.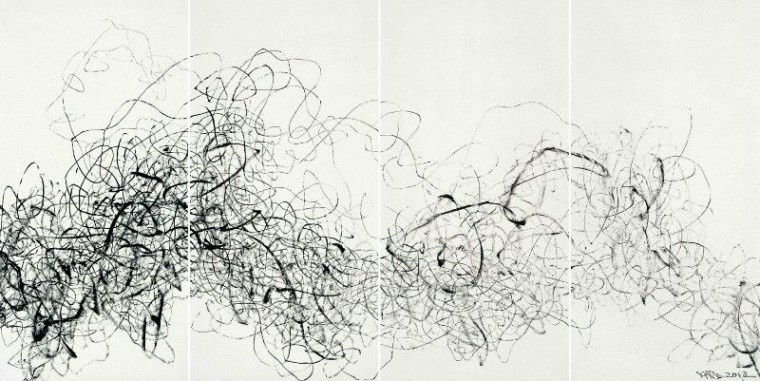 Director of the CAFA
Since July 2009, Wang Huangsheng is the director of a highly significant Chinese art space - Central Academy of Fine Arts (CAFA) Art Museum, Beijing, and he is the former director of the Guangdong Museum of Art. A member of the Expert Committee of the National Contemporary Art Research Institute under the Ministry of Culture, Wang is a professor and doctoral advisor at CAFA, the deputy director of the Specialized Committee of the China National Art Gallery, and an appointed professor at the Guangzhou Academy of Fine Arts, the Nanjing Art Institute, South China Normal University and Minzu University of China.
Art Critic
Since the mid-1990s Huangsheng has hosted and participated in many contemporary art exhibitions and devoted himself to writing art criticism. His dissertations and articles are also frequently published in national and international journals. A chief editor of Art Museum magazine, Wang has published many books including a monograph about Art History, entitled Series of Research regarding Chinese Master painters in Ming and Qing Dynasties: Chen Hongshou, 1995, Wang Huangsheng: Art and Life, 1998, and Daily episodes: Wang Huangsheng's flower series, 2005, to name a few.
Wang Huangsheng: Unbroken Line – Exhibition at October Gallery
Wang Huangsheng's artwork has been included in numerous individual and collective exhibitions in galleries and museum in his native country as well as abroad. One of his latest shows, entitled Wang Huangsheng: Unbroken Line, was held at October Gallery in London, UK, in May 2015. It was his first solo exhibition it the capital of the UK. Wang has also held solo shows at Hong Kong Art Centre, Hong Kong; WiE KULTUR, Berlin; Baozhentang Art Gallery, Guangzhou; Huayi Gallery Art Museum, Guangzhou; PIFO Gallery, Beijing; Sancai Gallery, Guangzhou; Palazzo Michiel Palace, Venice; and Guangdong Art Museum, Guangzhou, among others. He has participated in group exhibitions at National Gallery, Kuala Lumpur, Malaysia; National Art Museum of China, Beijing; and National Gallery, Bangkok, to name a few.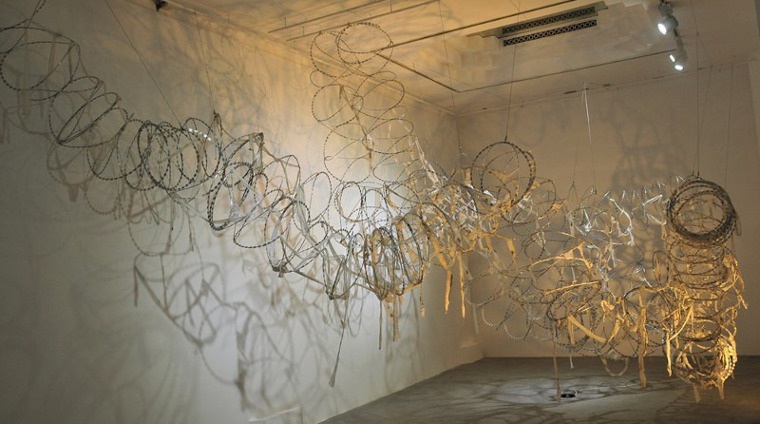 Collection at Guangdong Provincial Museum
Wang's artworks are collected by the China National Museum of Fine Arts, Beijing, Guangdong Museum of Art, Guangdong Provincial Museum and other major Government institutions in China, as well as in many collections abroad including Victoria and Albert Museum, London, UK, and Uffizi Gallery, Florence. Wang Huangsheng was awarded the Knight's Medal by the President of Italy in 2006, and the Order of Arts and Letters (Ordre des Arts et des Lettres) by the French government two years earlier.
Wang Huangsheng lives and works in Beijing, China.