As his name says, Waone Interesni Kazki (Interesting Tales) creates images where spiritual and imaginative meet everyday reality. Inspired by Surrealist painters, Ukrainian folk history, and fairytales, his art is a product of fantasy visualized through the style of contemporary muralism. Working with acrylic on murals and canvases, as well as ink on paper, he thinks that thing that makes his street art unique is its content: concept, idea, and symbolism, three most important elements of the story that artist tells through his art. There is also life, energy, the spirit and soul of the artwork, but as a perfectionist, the artist highlights the importance of the perfect technique. Always trying to do his best he particularly pays attention to the details even if they are too high that nobody can see them from the street. His artistic name Waone is his name due to the hip-hop graffiti tradition. It's phonetically similar to an English pronounce the word ВОВАН (VAVAN), which is diminutive form of the Slavic name Vladimir.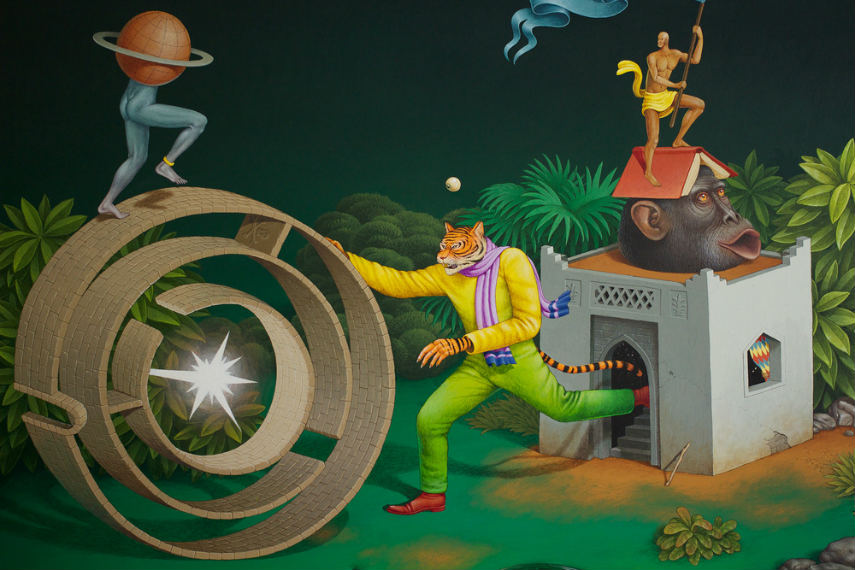 Early Influences and Artistic Beginnings
Being interested in art since the age of 4-5 and growing up beside the father who owned the collection of Ukrainian art and rare orthodox icons, Waone took some drawing and painting lessons but remained without formal education. That was not the obstacle for obviously talented and skillful young man who emerged his knowledge from long-term practice and experience. His early influences came from many art books from family library and tons of soviet magazines with beautiful hand painted illustrations. Starting with graffiti, he was impressed by the street art and its possibilities. Never thinking about motivation to pursue artistic career, after so many years he realized that he was an artist all his life. Being influenced by many things, from children's books and scientific and fairytales illustrations since he was a child, to the hip-hop when he started to paint graffiti. Latin American muralists and Brazilian graffiti inspired him to paint murals without letters. He is now passionate about naturalist and Animalia artists and illustrators from the 19th century, as well as medieval engravings, religion, and spiritual traditions. His creative process begins with the idea that is followed by numerous sketches until the perfect embodiment and, after the making of story, Waone paint it on wall or canvas or draw it on paper with ink.
His art is inspired by medieval engravings, religion, and spiritual traditions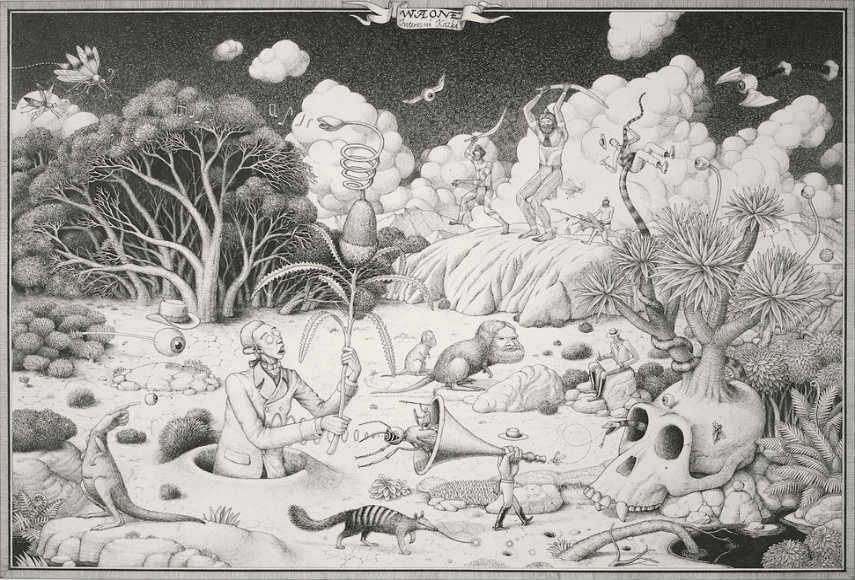 From Graffiti Art to Black and White Murals
Year 2004 was the milestone of his career when he did his first mural without letters. Next year, along with Aleksei Bordusov aka Aec, he established Interesni Kazki, artistic duo that strived to overcome the remains of Soviet propaganda and turn to the West. Exploring the language of fairy tales, they saw their aim as "a symbol of life which could give a fuller viewpoint than pure realism." Processing the themes that evolved meaning of life or internal fight between good and evil, Interesni Kazki's visual stories became serious interpretations that questioned the religion of material wealth and spirituality in Western society. During 2016, two talented muralists decided to set out on their own paths. Similar in their views on art, Waone and Aec were also artists of their own, with many individual characteristics and differences between their visions and approaches. Waone's style came to the surface on his Matter: Changing States, first entirely in the black and white wall painted mural. Unlike his previous works, colorful depictions are replaced by precise lines and shadings, reflecting his remarkable sense of detail. Melting in the sun of South India, he was thinking about stories of local people complaining about the cold snaps in Northern India and lack of rains during the latest monsoon on the South. The artist himself also experienced the coldest winter in Florida ever which all gave him the idea to process the theme of climate change.
Waone Interesni Kazki created his first black and white mural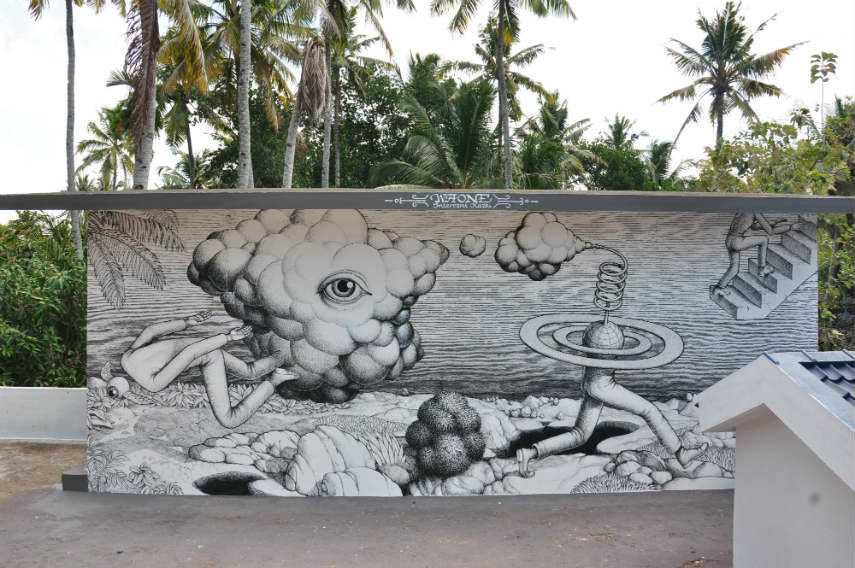 Understandable Visual Forms of Street Art
Planning to paint some walls in Ukraine, it seems that he always has high hopes when it comes to his country. His schedule is booked with mural projects, but in the other places. Believing that the goal of true art is to transform highest divine vibrations into the visual form making it understandable to every man, Waone strives to use this idea in every piece he creates. Although he mentions the Wynwood Walls and Sacred Gravitation exhibition at Jonatan LeVine gallery as two that influenced his artistic career, he claims that his most significant project or artwork is still not done.
The artist lives and works in Kyev, Ukraine.
Featured image: Waone Interesni Kazki, Image via Flickr
All images courtesy of the artist