A true legend of abstraction and art history, Wassily Kandinsky was an influential Russian painter and theorist whose concepts changed the very fundamental essence of art and the way it's perceived. Known for his lyrical style and innovative assumptions on nonfigurative art and it's connections to music and soul, Kandinsky was the creator of the first modern abstract paintings. As you will soon come to see, the road was not an easy one and there were many problems to overcome along the way, but Kandinsky emerged as a respected leader of the abstract art movement in the early 20th century and a person without whom art history would not be quite the same.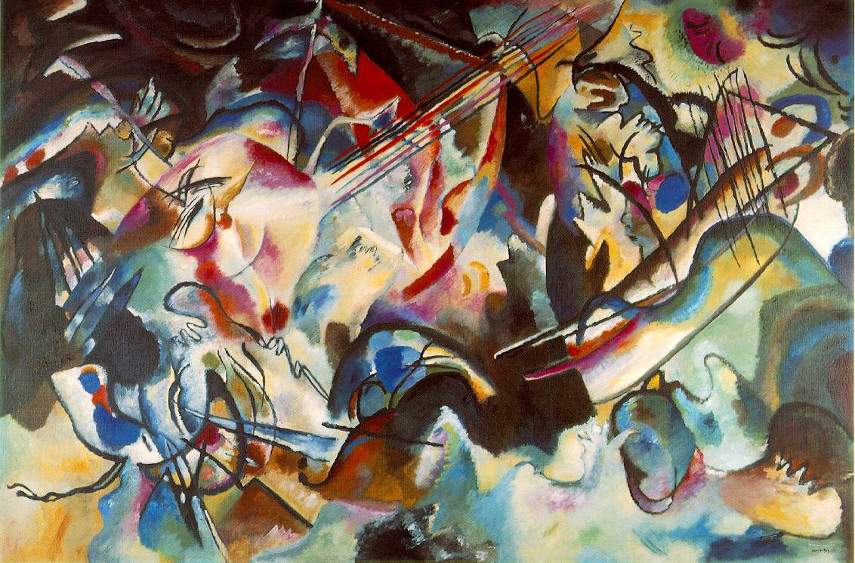 Growing Up In Odessa And Wassily's Early Life
Wassily Wassilyevich Kandinsky was born in Moscow, on the 16th of December, 1866 - just to be noted, this calculation is based on the Gregorian calendar, so do not be surprised if you somewhere stumble upon the information he was born on the December 4th. Wassily's parents were musicians Lidia Ticheeva and Vasily Silvestrovich Kandinsky, although his father mostly provided for the family by selling various exotic kinds of tea. During the earliest years of Kandinsky's' life, the situation in the household was a peaceful and idyllic one, but when Wassily turned the age of five, that all changed as Lidia and Vasily decided to divorce each other. To somehow shelter their child from the messy chaos they've created, parents send young Wassily to Odessa to live with his aunt. Luckily, Kandinsky found life in Odesa quite beautiful - he learned how to play the piano and cello alongside his aunt, plus he studied drawing with a private teacher. It's interesting that even during these early years Kandinsky was already showing signs of his characteristic intimate relationship with art, the same approach that will make his worldwide famous later in his life - his childhood's drawings reveal rather specific color combinations, infused by his perception that each color lives by its mysterious life. Growing up in such an atmosphere installed into young Kandinsky dreams and hopes that one day he could become an artist, but his parents, although miles and miles away, had other ideas for their son's future. It broke his heart, but Wassily followed his family's wishes and started studying law.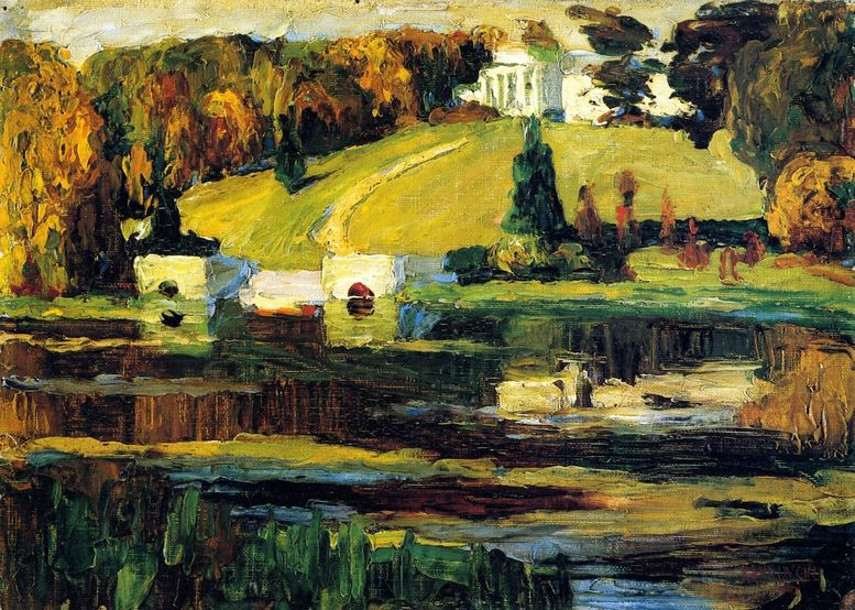 Law Education And Employment
Wassily Kandinsky became a student of the Moscow's University in 1886. Although he never enjoyed what he was learning, that never stopped him from being one of the most promising students of the generation. Kandinsky graduated with flying colors and was given a fieldwork scholarship that had him sent to Vologda province. There the artist studied traditional criminal jurisprudence and modern confrontations between law and religion. By the time he arrived in Vologda, Kandinsky pretty much tucked away all his aspirations and dreams of becoming an artist, instead focusing on advancement in the law world. However, something happened in the province he was sent to - all the folk art and general spirituality of the Vologda people lighted a long-forgotten spark inside Wassily as he suddenly saw all of his artistic tendencies come back stronger than ever. It should be noted that although he was thinking about art constantly, Kandinsky never neglected the responsibilities of a law practitioner and was excellent at his profession although his heart was pulling him in other directions. Kandinsky married his cousin Anna Chimyakina in 1892 and took up a position on the Moscow Faculty of Law, all the while creating drawings and prints in his spare time.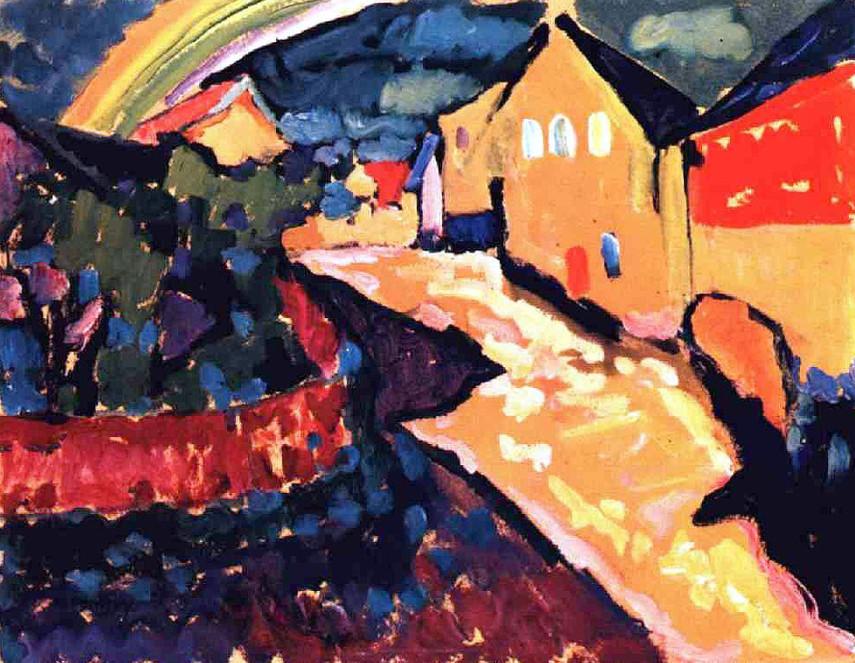 The Sudden Change Of Heart
Two events suddenly affected Kandinsky and subsequently led him to a change in career. The first was the exhibition of French Impressionists in Moscow Wassily saw during the year of 1895 and the other was hearing Wagner's Lohengrin at the Bolshoi Theatre. The Wagner's composition proved to be the final spiritual bang that definitely set of Kandinsky's artistic career, but the influence provided by the Impressionist was without a doubt the most critical moment of the artist's life. After witnessing firsthand the genius work of Claude Monet's Haystacks, Kandinsky fell in love with the beauty of the nonrepresentational art. The artist chose to abandon his law career and move to Munich in order to fully commit himself to a full-time study of art. Wassily was accepted into a prestigious private painting school and later prolonged his education at the Munich Academy of Arts - however, he continued to be mostly self-taught, stubbornly holding on to his childhood ideas of independent colors. Such inner confrontations did not stop him from being one of the top students here as well, just as he was the best law pupil although he never liked what he was learning.
During the early years of his career, Kandinsky experimented with contemporary styles and techniques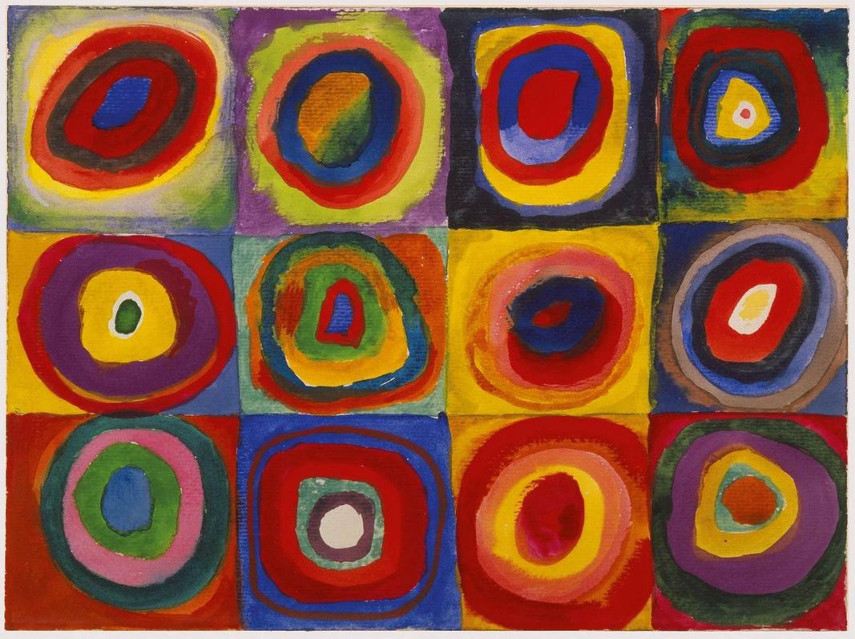 Wassily Kandinsky - The Artist
Much of Wassily's art was based on theories, concepts and ideas, not practice. Before he came to Munich, he did not paint much and was mostly developing theories of how art should behave. The tables turned when he arrived in Germany, as the artist started painting much more than writing and thinking about art. Kandinsky began with conventional themes and art forms, exploring different techniques and styles. The teachers did not approve, but he continued to form theories derived from devoted spiritual study and informed by an intense relationship between music and color. These concepts will prove to be the foundation upon which Kandinsky built his career and establishing his ultimate status as the father of abstract art. In the world of Kandinsky, the color was not used to depict what was observed around us, it was not a simple tool for imitating and re-telling things everybody already knows. It was far from it. Wassily saw color as much more than that, for him it was an expression of emotion rather than a faithful description of nature or subject matter. Soon after graduating - yet again with flying colors and honors - Kandinsky set out in the world and started forming friendships with similar-minded individuals who shared his concepts and who wanted to bring radical changes to the art scene. He frequently exhibited, taught art classes and published his ideas on theories of art, quickly becoming a huge name that shook the very basis of academic teachings and traditional techniques. Kandinsky divorced his wife in 1911 and moved in with the new girlfriend Gabriele Münter - the couple traveled extensively, settling in Bavaria before the outbreak of World War I.
Kandinsky's paintings full of expression and emotion serve as the first examples of full abstraction in art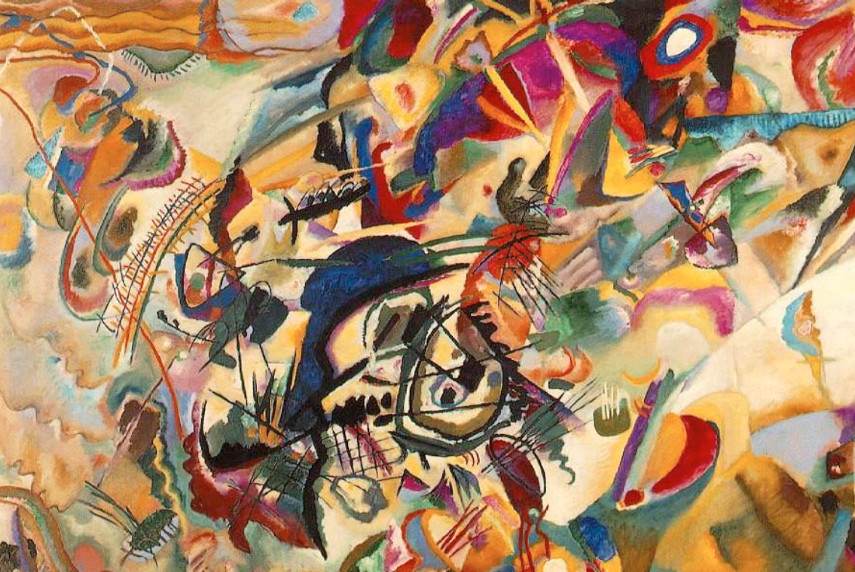 Blue Rider And The First World War
By the time he became a walking legend of modern art, Kandinsky had already formed the New Artists Association in Munich. But another group will prove to be far more important than The Association - during the year of 1911, The Blue Rider group came to be. The organization was founded by a number of Russian emigrants, including Alexej von Jawlensky and Marianne von Werefkin, but also featured native German artists, such as Franz Marc, August Macke and Gabriele Münter. Der Blaue Reiter was an art movement that lasted up until the outbreak of the war in 1914 and was fundamental to Expressionism, simultaneously proving to be the key for abstraction painting. World War I took Kandinsky back to Russia, where his artistic eye was influenced by the constructivist movement, which subsequently saw him turning to hard lines, dots and geometry instead of expressive colors. Making full circles around Europe and returning to Russia was a traumatic experience for Kandinsky, but the real traumas happened when he and his new wife Nina Andreevskaya lost their only son when he was just over three years of age. After that, Wassily was never quite the same as before, which is pretty understandable due to the circumstances of war and losing a son. Kandinsky stayed in Russia after the Revolution and applied his restless and comprehensive energies to the administration of educational and government-run art programs, helping to create Moscow's Institute of Artistic Culture and Museum of Pictorial Culture.
After the outbreak of The First World War, Kandinsky went back to Russia and was heavily influenced by the Constructivism movement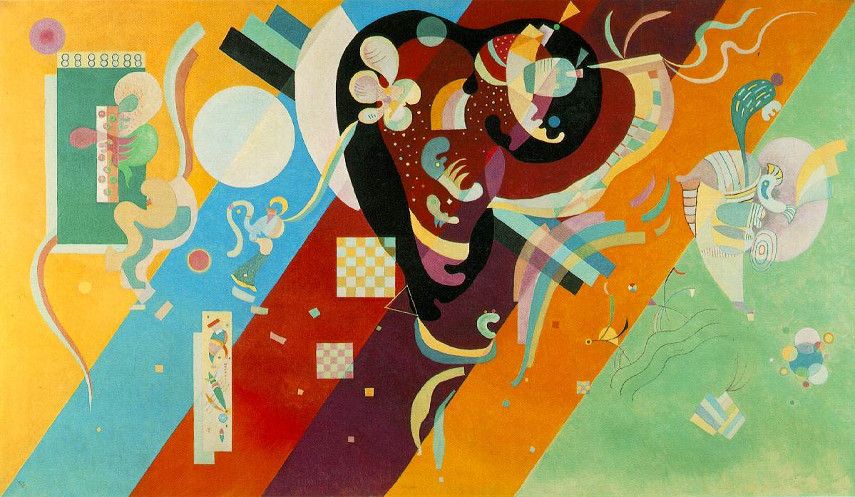 Later Life And Troubles
Kandinsky returned to Germany a few times after the Revolution of his country was brought to an end. Most notably, he taught at the Bauhaus school in Berlin where he was revered as a true legend of modern art. During these mature years, traumatized Kandinsky wrote poems and plays much more than he was painting, but by his own claim, we now know that teaching at the Bauhaus school provided him with the most joy at the time he was not able to find much of it. Unfortunately, during the year of 1933, when the Nazis seized power and complete control over Germany, storm troopers notoriously shut down the Bauhaus school. Subsequently, Wassily Kandinsky was forced to flee and leave Berlin in order to survive. He and Nina had moved to the suburb of Paris in the late 1930s, when Marcel Duchamp had found a little apartment for them to try and outlast the war. In July 1937, he and other artists were featured in the Degenerate Art Exhibition in Munich. It was widely attended and raised one of the last bright german moments prior to the war, but 57 of his works were confiscated by the Nazis and many were lost in the process. It is said that the Second World War was too much for the artist to bear emotionally and he never lived to see the end of the horror that was WWII. Kandinsky died of cerebrovascular disease in Neuilly-sur-Seine, France, on December 13, 1944.
Wassily's mature works were often darker in character, mostly down to the tragedies that occurred around the artist during his later life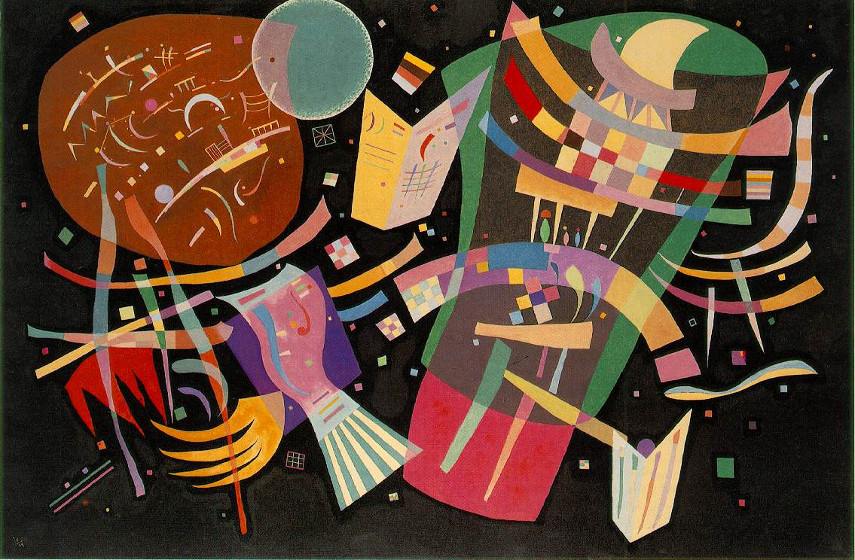 Kandinsky's Work Is Immortal And Crucial
Kandinsky believed that each time period in art puts its own permanent stamp on the expression of the current generations that create at the time - his vivid interpretations of color through musical and spiritual sensibilities certainly altered the artistic landscape at the start of the 20th century. It is hard to think of a few more names in art history that have indebted us in a way Wassily Kandinsky managed to do. When talking about a grand man as is the case here, it's always hard to end the text in a way that will show enough respect for the subject at hand. For Kandinsky, perhaps the most appropriate way to bring the conclusion is to allow Wassily himself to have the final word: The artist must train not only his eye but also his soul.
Featured image: Wassily Kandinsky - Yellow, red, blue. 1925. Oil on canvas. 127 x 200 cm. Georges Pompidou Center, Paris, France
All images used for illustrative purposes only