With his iconic paintings serving as a trademark of American contemporary art, Wayne Thiebaud is a Pop art painter best known for his colorful works depicting commonplace objects like pies, lipsticks, paint cans, ice cream cones, pastries and hot dogs, although he has painted many landscapes and figures in his time as well. Although Wayne is considered to be a key piece of the Pop art, Thiebaud never truly accepted the concepts of this movement, instead sticking to the original combination of his own and Pop's ideas, refusing to evolve alongside other representatives of the movement. This painter based his work on making a parody out of commercialism and consumer society, becoming a true craftsman of advertising, cartoons and marketing illustration.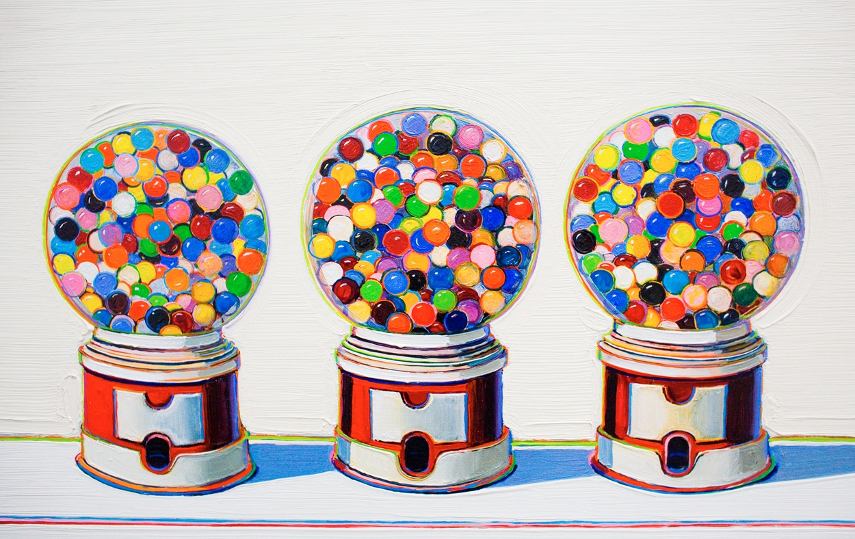 From Disney's Studios to New York City
Wayne Thiebaud was born to Mormon parents in Mesa, Arizona, U.S.A., during the year of 1920. His family moved to Long Beach, California, when he was just a baby. As little Wayne was growing up, he started developing an enormous affection towards comic strips and illustrations inside them, being more fascinated with the way they are drawn than what was the actual content of the comics. Naturally, he wanted to try creating such images himself. Although Thiebaud showed a gift for drawing, fine art training or even a college education seemed like remote possibilities in the depressed economy of the 1930s. Instead, he was forced to work from an early age and drawing really came as a distant second to that. One summer during his high school years, Wayne apprenticed at the Walt Disney Pictures Studio, making the so-called in-betweeners of Goofy, Pinocchio and Jiminy Cricket, earning $14 a week, which was quite an impressive paycheck for a kid back then. This experience will prove to be vital in the long term. Over time, the financial situation started to brighten up, so during the year of 1949, Thiebaud enrolled at San Jose State College. Later on, Wayne transferred to Sacramento State College and earned himself a bachelor's degree in 1951, followed by a master's degree in 1952. During the midst of the fifties, Thiebaud moved to New York City with goals of becoming an artist. The Big Apple offered the young painter a chance to befriend the likes of Willem de Kooning and Franz Kline, which actually proved to be a turning point for Wayne since he was heavily influenced by the way those two treated abstraction in their work.
Although Thiebaud was close to many early Abstract Expressionism painters like de Kooning and Kline, this artist never absorbed the true concepts of this movement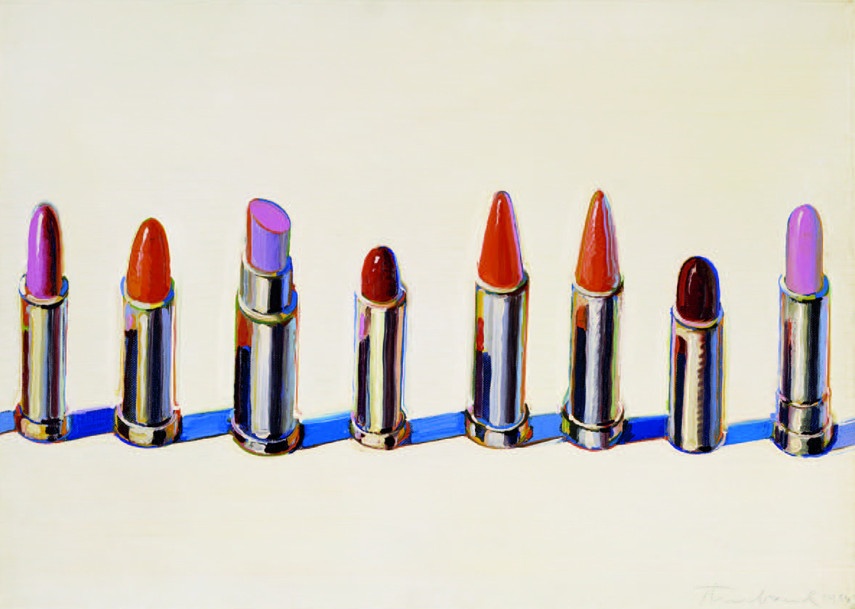 Tirelessly Searching an Early Artistic Identity
Besides Kline and de Kooning, Thiebaud was also inspired by the works of Milton Ernest Rauschenberg and Jasper Johns. Wayne learned a lot in New York City and after it seemed to him there was nothing more the city could offer him, Thiebaud packed his bags and returned to California. He began experimenting with different subject matters and styles, isolating triangles, circles, squares, etc. At one point, he even had an opportunity to open his own gallery space, a chance Wayne jumped right on - the result was the Artists Cooperative gallery, now known as the Artists Contemporary Gallery. Much of the content this gallery displayed came from Thiebaud's connections with the Big Apple, so naturally the exhibitions were quite an attraction to California art fans that would otherwise not have a chance to see pieces of the New York-based artists. In the year of 1960, he had his first solo show in San Francisco at the San Francisco Museum of Modern Art and shows in New York City at the Staempfli and Tanager galleries soon followed. This was the first time Thiebaud was under the elite spotlight of the art scene, but little did he know that his career was about to take a huge step forward in less than a year and a half.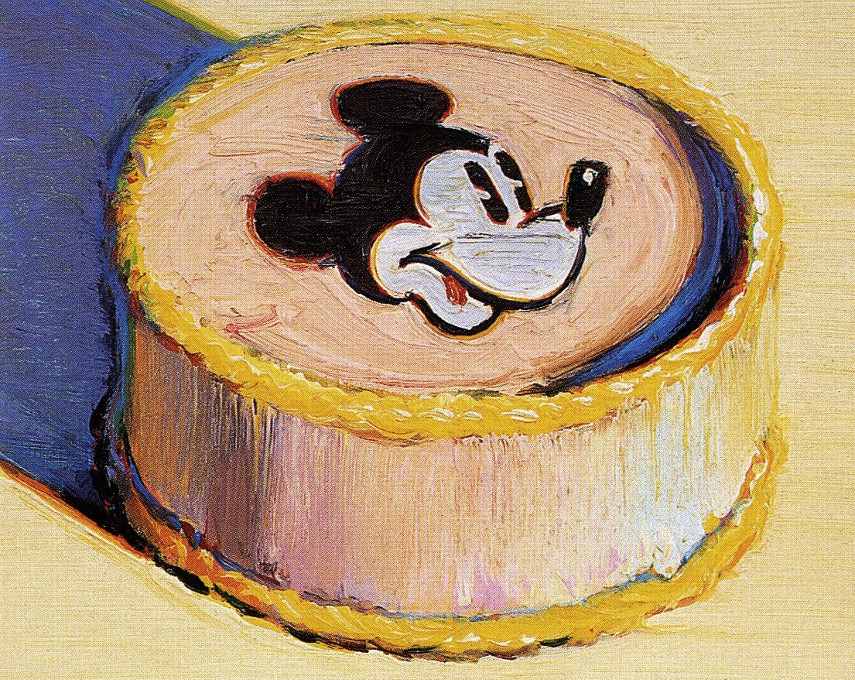 Wayne Thiebaud and Pop Artworks
In 1962, Thiebaud's work was included in the historically important and ground-breaking New Painting of Common Objects, along with Roy Lichtenstein and Andy Warhol. This is considered by many to be the first Pop Art exhibitions in America and the beginning of one of the most impressive modern art movements. Thiebaud was noticed for his still lifes of edible treats and everyday objects in his singular illustrative style. Wayne has been traditionally associated with the Pop art due to his tendency to focus on objects considered to be a part of mass culture. However, since some of his works came to be during the fifties and sixties, these paintings actually predate the works of most pop artists - for that reason, it is often suggested that Thiebaud may have had a crucial influence on the movement instead of simply being a part of it. Technically speaking, Thiebaud relied on heavy pigments and exaggerated colors in order to depict his themes and subjects that were a perfect fit with the early Pop ideas. One of the instantly recognizable giveaways that you are looking at a Wayne Thiebaud painting is the well-defined shadows, characteristic to old advertisements from the fifties and sixties. His paintings of cakes, pies, pastries and toys, characteristically outlined in multiple colors, became an icon of American painting. As was hinted at the beginning, it should be noted that Wayne also painted different fantastic characters, landscapes, streetscapes and cityscapes.
Heavy pigmentation, exaggerated colors and characteristic outline are the best giveaways that you are looking at the true work of Wayne Thiebaud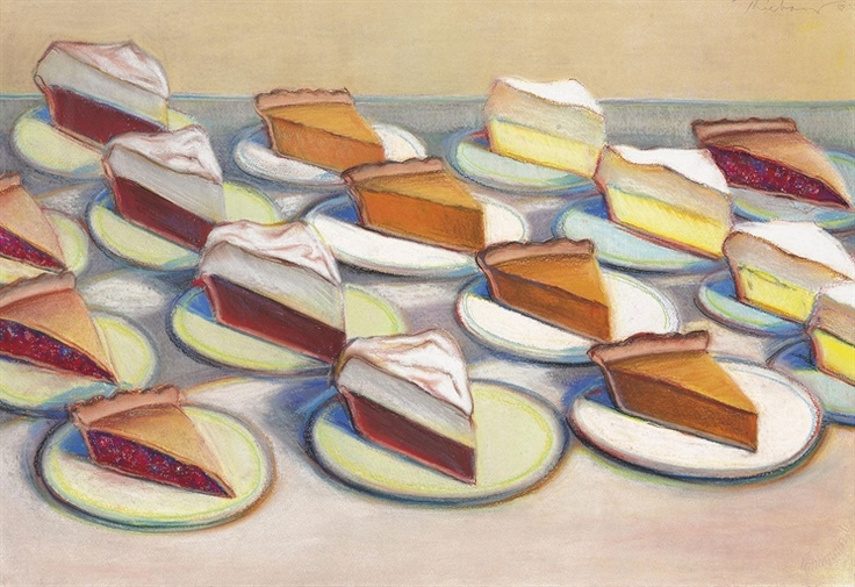 An Under the Radar American Legend
When people hear someone mention Pop Art, they immediately get a little voice inside their heads that whispers the name of Andy Warhol. Without getting into the discussion if this is fair or not, we should rather try and explain why this is the case with Thiebaud as well - Wayne refused to identify himself as a Pop artist, instead preferring to be called a traditional painter of illusionistic form. This combined with the fact Thiebaud never wanted to change the world and it's perception of art ultimately saw this artist take a step back and let other representatives of Pop lead the way. Due to that humbleness and lack of arrogance, Wayne seems to be creating under the radar so to say, but do not be fooled - you are dealing with a real legend of the America's contemporary art.
The artist is represented by kunzt.gallery in Miami, United States.
Wayne Thiebaud lives and works in Los Angeles, United States.
Featured Image: Wayne Thiebaud - Picture of the artist - Image via csus.edu
All images courtesy of Wayne Thiebaud