One of the most talented artists of the contemporary art scene in Greece, WD aka Wild Drawing is an Athens-based Indonesian creative widely known for his photo-realistic murals that often address current economic, political and social issues in local and global terms. Never afraid to speak his mind and express his own opinions, he is passionate about creating bold and thought-provoking pieces that raise awareness about some of the major problems that our world is facing today. Among socially charged work, he also creates murals inspired by nature, comics, graphic novels and Disney characters.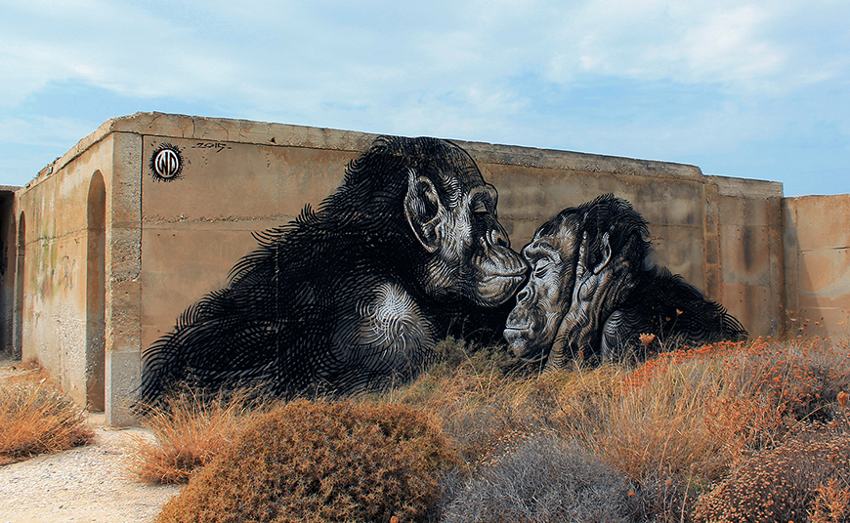 From Bali to Athens
Born in Bali, the most famous island in Indonesia, WD obtained his degrees in Fine Arts and in Applied Arts. Since 2000, when he became part of POJOK crew, he is an active participant on the street. Artist's moniker – WD, which stands for Wild Drawing, is at the same time initial letters of his real name. For the past sixteen years, he has explored various techniques in numerous projects ranging from paste-ups and stencils to installations. Today, he is predominantly focused on his impressive large-scale street art pieces, created with spray cans and a roller technique perfectly integrated into their surroundings. Ten years ago, he moved to Greece and immediately fell in love with Athenian graffiti/street art scene. Today, his beautifully executed larger-than-life characters adorn the walls across this European capital, and beyond.
WD's impressive large-scale murals are created with spray cans and a roller technique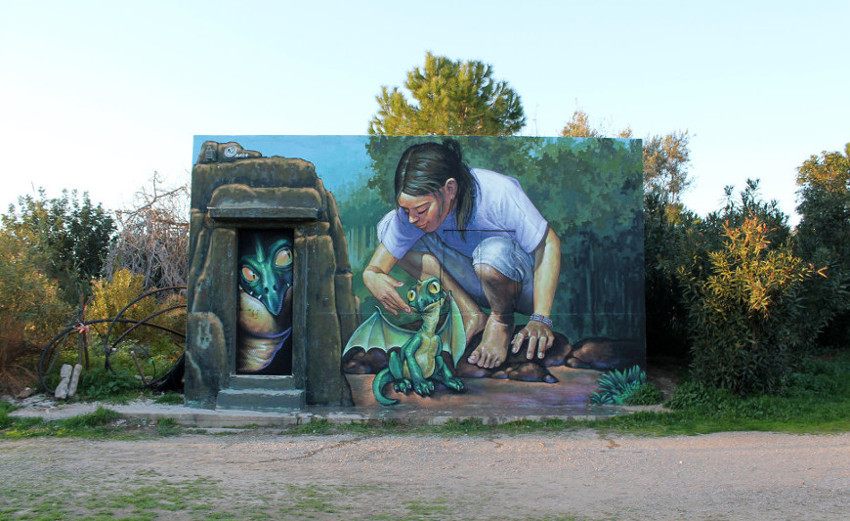 Political and Social Aspect of WD's Graffiti
Although WD never stopped working in the studio, he especially enjoys painting murals on outdoor walls. A political and social aspect of WD's oeuvre is an important part of his perspective as an artist. Through his art, WD shines a light on current world problems, like war, poverty, destruction of environment and racism. For example, his No Land for the Poor mural, painted in Athens in 2015, is dedicated to the poor and homeless in this Southeastern Europe Country and around the globe, as the artist has written in his wall statement. It was initially inspired by the recent Eurozone crisis and the impact and outcome it had on Greek people.
Through his art, WD shines a light on current world problems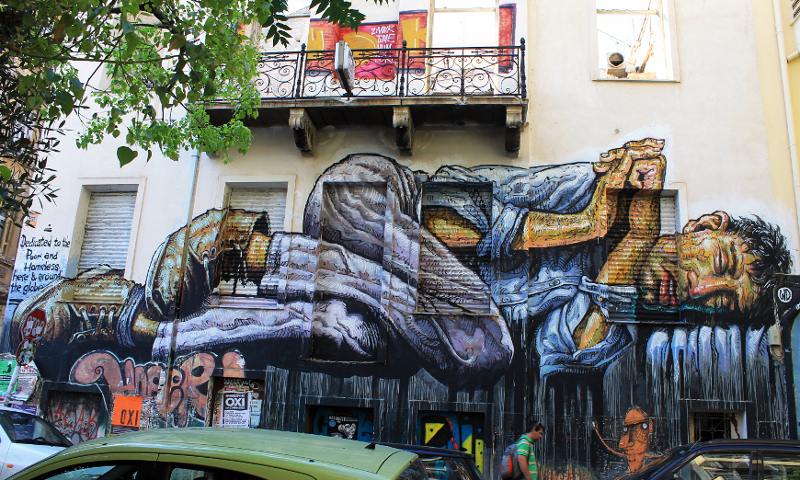 Critique of Capitalist Society
Many of WD's pieces represent a strong, symbolic and meaningful statement of modern-day capitalist society and consumerist lifestyles, like Money Kills mural painted somewhere on the streets of Bali, in 2015. As a base of the artwork, WD used an image captured by Eddie Adams, an American photographer, and photojournalist, best known for his coverage of the Vietnam War. WD merged elements from the Adams's iconic photograph – the picture of police chief General executing a Vietcong prisoner – and the famous image known as Napalm Girl, captured by the Pulitzer Prize-winning AP photojournalist Nick Ut.
Many of WD's pieces represent a strong, symbolic and meaningful statement of modern-day society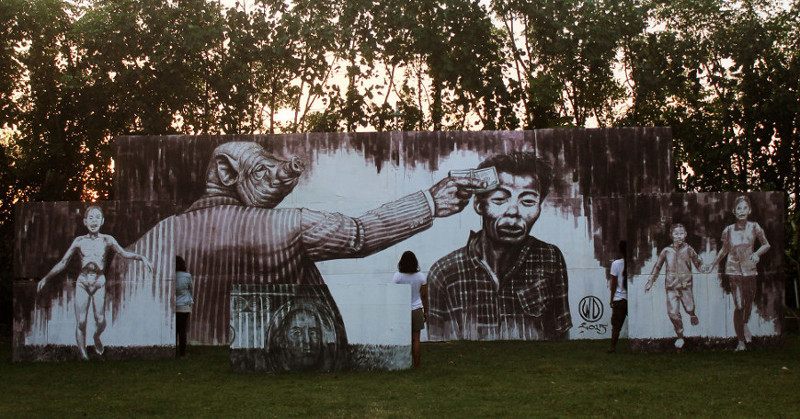 Festivals and Publications
WD aka Wild Drawing has participated in many festivals, solo and group exhibitions leaving his unique mark on the walls in such countries as Greece, France, Germany, the UK, Italy, Malta, Switzerland, Denmark, Sweden, and his native county. WD's studio work has been included in several important street art-themed books, including X-Archia Uncensored by Takis Spiropoulos, published in 2013, Planet Banksy by KET, in 2014, and most recently, Street Craft by Riikka Kuittinen, printed in 2015.
His graffiti can be found across the globe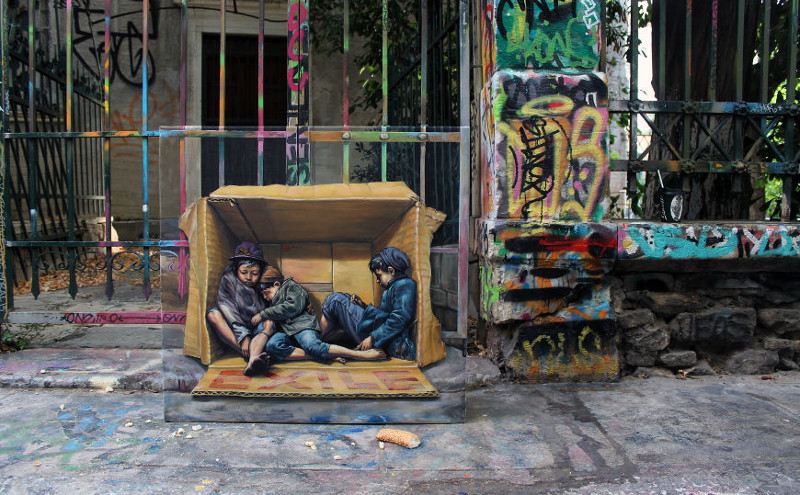 Late Night Tale
One of WD's latest solo shows was held at Sarri12 Gallery, Athens in March 2016. Entitled Late Night Tale, it was inspired by one of the most beloved children's books of all time - Alice in Wonderland by Lewis Carroll. For this exhibition, the artist painted the entire gallery from top to bottom – it took him fourteen days to paint the surface of 350 m². His paintings were then hung in specified spaces blurring the lines between the canvas and wall. All the gallery's walls, floors, windows and the ceiling were transformed to WD's Woundedland, one giant artwork consisting of different motives that narrate a story of human demise and issues like consumerism, war and nature destruction among others.
For Late Night Tale exhibition, the artist painted the entire gallery from top to bottom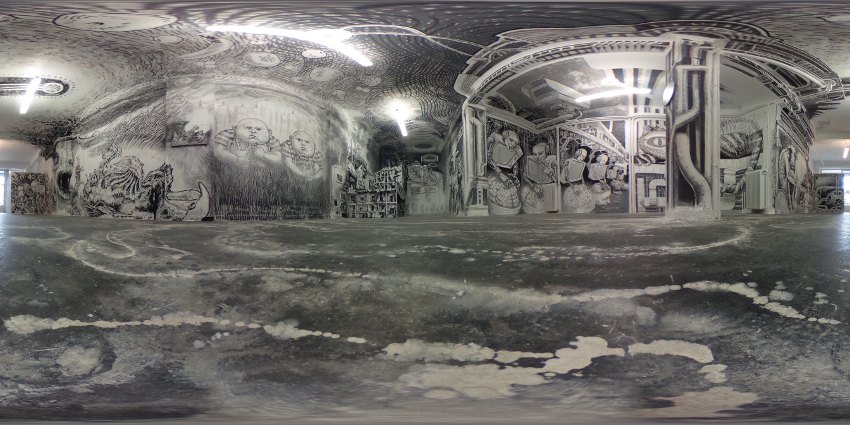 Art that Interacts with Its Surrounding
WD's outstanding pieces appear to blend delightfully into the landscape looking like they were always there. He incorporates the surroundings of his works into the completed pieces, creating his instantly recognizable works that often appear very 3D. Since the first piece he made in Athens, this talented artist has been dominating the walls of the capital and largest city of Greece. From politics to economic to society, WD's work covers a wide range of themes inspiring people to think about the world around them.
WD aka Wild Drawing is based in Athens, Greece.
Featured image: WD - portrait
All images courtesy of the artist ©Wild Drawing