Szendi Werner is an Austrian artist whose masterful control of numerous mediums enables him to create intriguing art that balances between abstract and figurative in a commanding manner. He uses pencil, watercolor, acrylic, oil, gold leaf, stones, as well as mental and spiritual energies for his works - all of these methods and materials make Werner's work diverse, unpredictable and exciting.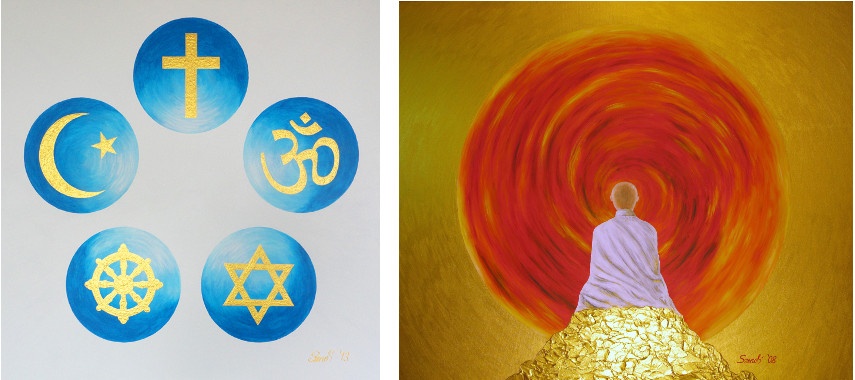 Art's Ability to Influence People
Szendi Werner was born in Guessing, Austria, but he spent most of his childhood and early life in Harmisch, Burgenland. He discovered his artistic talent at the age of 16 - the creation of several sacral paintings for churches familiarized him early on with the techniques of the Old Masters. This allowed him to add a highly valuable experience to the already very well established foundation of his art. After intensive chromatic studies that soon followed, Szendi Werner became enthralled with the opportunities to influence people and bring about specific changes with his art. To this day, this remains the artist's main creative goal as his art is never concerned with just superficial and visual aspects of a painting, always aiming to be a lot deeper and meaningful than that.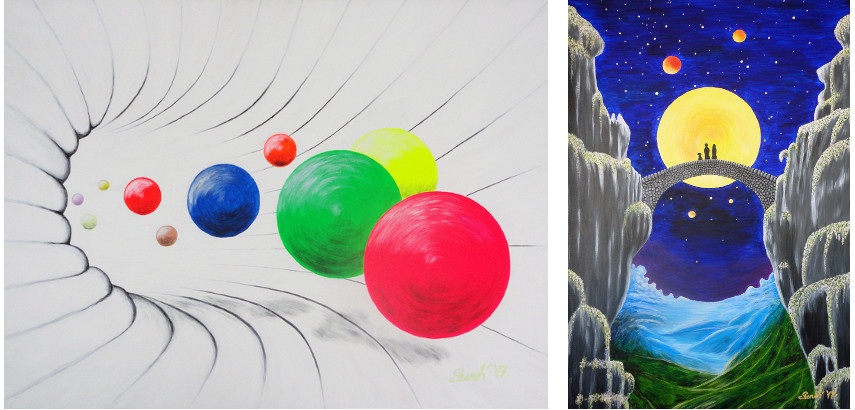 The Technique of Szendi Werner
Szendi Werner's light and shadow technique imparts a unique atmosphere of harmony and peace to the paintings. Spheres and their shape have a special effect for him as Werner gladly introduces them instinctively into his paintings and treats them as magical elements. In his view, the sphere is a symbol of the universe and is cultural at the same time, so Szendi makes sure he uses the most out of this figure. This statement by the artist himself allows us to understand Werner's art even further: In search of the secret of creation, which should deeply touch people's souls, I discovered that I should not confine myself to the level of my five senses. I not only portray what I see with my two eyes, but also what I see through my emotional eye. To create an eternal, remarkable work of art and to be a true creator, I combine with the divinity, taking elements from it and giving these to my works. As for his inspiration, Werner uses the connection with the higher spheres as the main source - before he starts creating, he first gathers himself, meditates and asks for divine blessings to guide his mind and hand.
Although many artists are unaware of the role they can play to further develop humanity, Szendi Werner is quite conscious of how much of an impact his art can have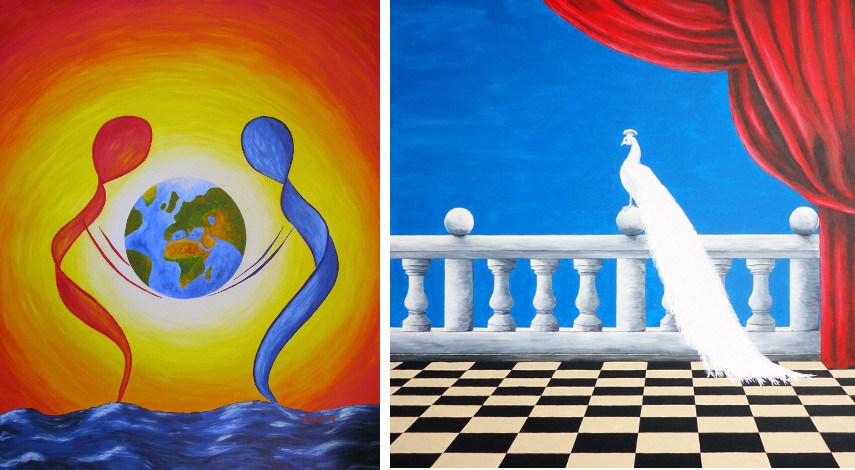 What Makes This Artist Tick
Through his paintings, Szendi Werner wishes to express his deeply-rooted feelings about freedom, peace, love and healing in the world. By using prayer, meditation and contemplation as resources for creative work, this artist channels his inner self into what he creates - after all, as far as Szendi Werner is concerned, the extent to which the artist can attain and express through his work depends mainly on what he is himself.
Werner Szendi lives and works in Vienna and Kritzendorf, Austria.
Featured image: Werner Szendi - Photo of the artist - Image courtesy of Werner Szendi
All images courtesy of the artist.