Gathering and rearranging American iconography and imagery of flags, cowboys, eagles and skulls, Wes Lang creates amusing artworks that refer to his role models such as Philip Guston, Martin Kippenberger, and Cy Twombly. Surrounded by things of his own making, the artist holds on the line from the film The Departed when Jack Nicholson says, "I don't want to be a product of my environment. I want my environment to be a product of me." So, he wears T-shirts that he drew, drinks from the mugs he made and even has the socks he designed and customized Rolex watch on his hand. Creating some kind of visual and literal record of life, his paintings reveal everything, from his past to the future.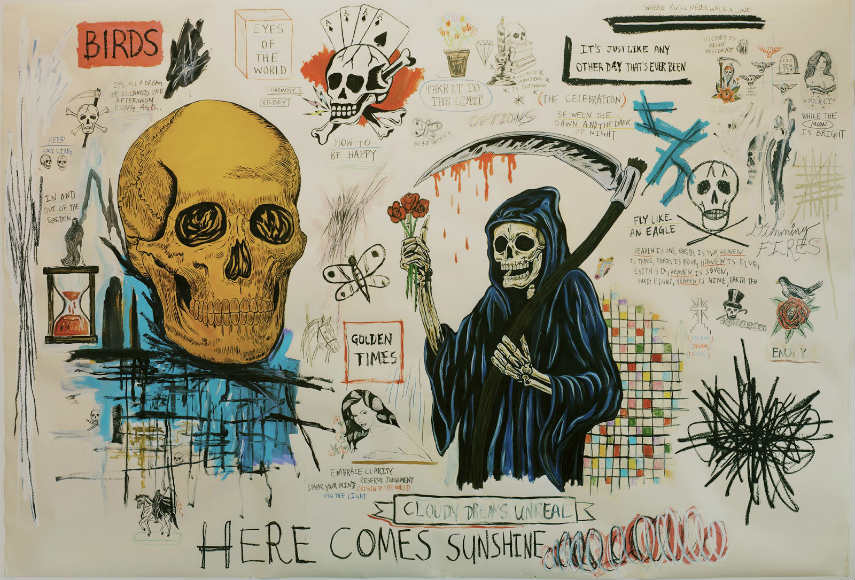 Wes Lang - a Boy Who Drew Star Wars Characters on the Walls
Lang was born in 1972 in Chatham New Jersey where he was growing up obsessed with Snoopy and Star Wars figures. Always having the support of the family, his first bigger artistic expression occurred at the age of six when his mother has allowed him to paint the walls of an entire room with Star Wars characters. Artistically inclined, his mother was an interior designer and his father a jazz critic who has owned a record store, where young Wes Lang worked occasionally. Not much worried by the bad grades at school, Lang knew that he wants to make art and nothing else[1]. His often controversial artworks range from collages and illustrations to paintings, processing the themes of Native Americans, eagles, buffalos and skulls conjoined with clippings from porn magazines and newspapers. They are directly influenced by his first job at a tattoo shop right after the high school, but his later employment at the Guggenheim Museum where he helped install exhibitions encouraged him to begin creating his own artwork. Carefully studying the works of Cy Twombly, Francis Bacon, Jean-Michel Basquiat, and Martin Kippenberger, the artist likes to point out also Damien Hirst as his biggest inspiration whom he dedicated his 18-carat solid gold skull.
After seeing a Francis Bacon exhibition at Tony Shafrazi Gallery in New York, which was also the home for Basquiat and Keith Haring, he was offered a job there and a chance to show his own work. Still, at his 30th birthday, Lang decided to leave Shafrazi to become a full-time artist. Unlike other artists, he has never hidden the influences of his idols, openly borrowing the elements of Philip Guston's or Franz Kline's paintings: "I do that all the time. Unapologetically so. He's dead. There's no more of them. Those experiences in his life and all that stuff was his. But his influences are also mine, from my own experience of life, before I knew who he was."[2] Sensing that he has fallen into New York's monotony, he decided to move to the West Coast, living in the famous Hollywood Chateau Marmont Hotel where he drew on the hotel's stationery paper inspired by its history which resulted in one-night exhibition Sittin' on a Rainbow in 2011 when he showed his characteristic vibrantly colored landscape sketches and portraits of the hotel's past guests. His fascination with the skulls found its expression at the exhibition Skulls and Shit (2006) in Loyal Gallery in Sweden when Lang teamed up with fellow artist Donald Baechler in a common idea of enjoying life while one is still alive. Two artists later released an art book of the same name exploring meditations of the human skulls.
Lang Wes creates often controversial artworks that range from collages and illustrations to paintings, processing the themes of Native Americans, eagles, buffalos and skulls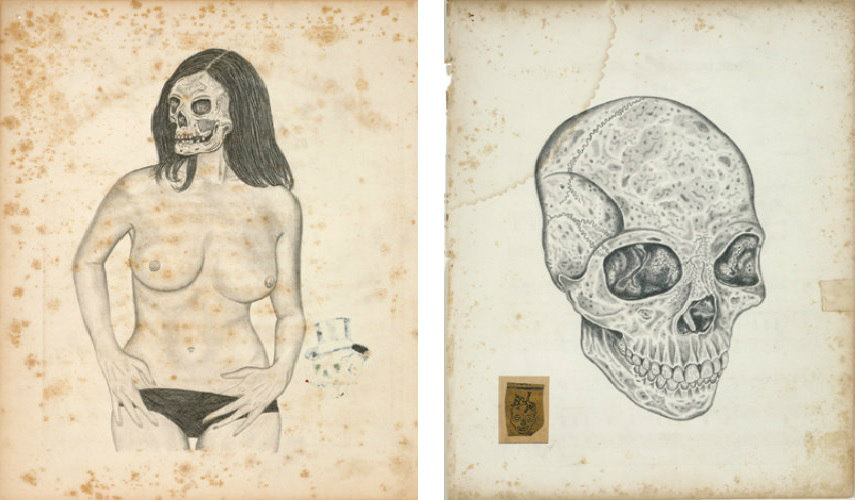 Kanye West, Grateful Dead, and Other Famous Clients
Occasionally taking on commercial projects, such as box set of concert recordings for Grateful Dead, or designs for Rolex, it showed as a prosperous job, considering the fact that Kanye West chose Lang to design the merchandise for his Yeesuz Tour. This collaboration led to the rapper and some of his friends becoming collectors of Lang's work. "It was a real honor when Kanye called. It kind of blew my mind," he says. "But I don't talk about it because it is not important. What is important is the fact that I helped him convey his message to the world. Everything should always be about combining people's creative energies and putting something positive out into the world." Remembering the Grateful Dead concert in 1990, when math teacher took him and a couple friends to the show, as the night that changed his life, it was a great honor to design something for the band. In his manner, the box covers feature a skull in a vividly colored Native American headdress, while each CD features renderings of butterflies, birds, and skeletons. His oeuvre also includes already popular line of clothing named Best Wishes. Carefully choosing his commercial projects, Lang has never been involved in something that could call into question his artistic integrity or compromised his work in a negative context. Still, his engagements for celebrities and famous brands cannot exceed his artistic qualities proved, as example, by his first major museum exhibition The Studio held at the Aros Aarhus Museum in Denmark in 2014 where he showed sixty various pieces from different periods of his career along with the remake of his own studio in the middle of the room space. For his previous solo show held in 2011 at V1 Gallery in Copenhagen, Lang exhibited the various body of work that included references from Bob Dylan to Cy Twombly to the Grateful Dead and Chet Baker. Processing the theme of survival, he displayed some kind of suggestion how to live life, dealing with the good and bad experiences. Although not interested in politics at all, the artist admits that he doesn't read newspapers and never watch informative shows, his work has been the subject of controversies, like at the group exhibition Mail Order Monsters at Deitch Projects in New York in 2007 when Jeffrey Deitch had to remove Lang's paintings a day after the opening because of the claims that were offensive to the black community[3]. Indivisibility of his creative expression and music influences is visible in the four large-scale paintings made as an homage to the famous John Coltrane, named after his 1964 album The Believer, shown at the exhibition at Eighteen Gallery in Copenhagen. His visual representations are paired with the tracks Ascension, Manifestation, Voyage, and My Favorite Things, followed by Egyptian symbols[4].
Kanye West chose Lang to design the merchandise for his Yeesuz World Tour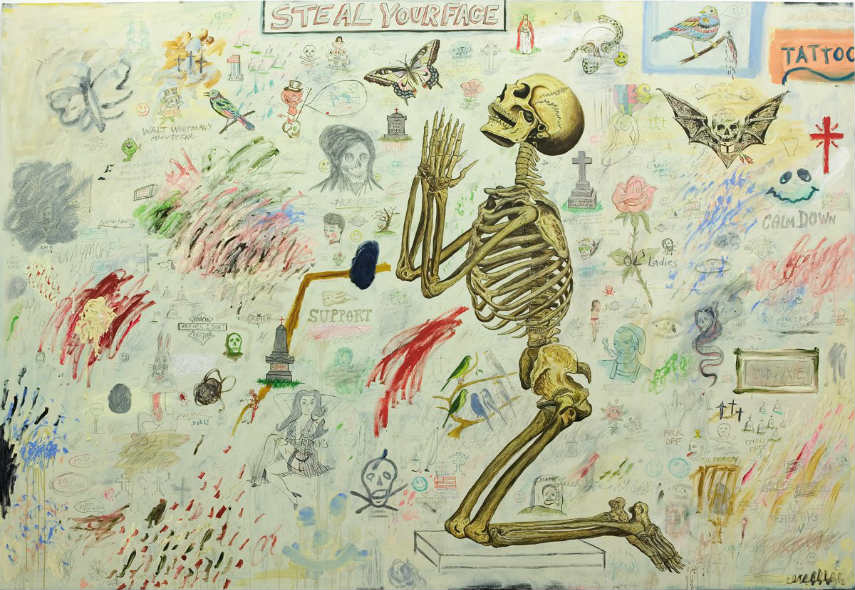 Amusing Images of American History
Using the icons from the visual universe of the American biker culture where the Playboy's pin-up girls, curved motorbikes, and Indians represent the main association to the continent and its history, Wes Lang creates his life story through the borrowed words of his favorite songs. Blending his own personality and manner of life with the fictional and propagated way of American dream he transfers these pictures on artworks, but also on different useful items. Lang's work has been exhibited in numerous solo and group shows in the United States and Europe. Focusing on his art and finding peace of mind, he is still passionate about his creative expression, pushing it every day one step further hoping for the great future.
Wes Lang lives and works in Brooklyn, New York.
Sources:
Featured image: Wes Lang - Artist's portrait, 2016 - Photo by Mark Mahaney