The astonishing body of work of Wilfredo Lam represents complex practice interwoven with both purely artistic topics and philosophical and political aspirations. He was the fertile painter, well connected and recognized on the international scale and such a reputation was followed by the continuity of his painterly practice with several departures to ceramics and sculpture in his late years. The way Lam constructed his oeuvre by drawing inspiration from spiritual traditions of Southern America, socialism and modernist trends of the time, ranked him as one of the most authentic and progressive artist's of the first half of the twentieth century.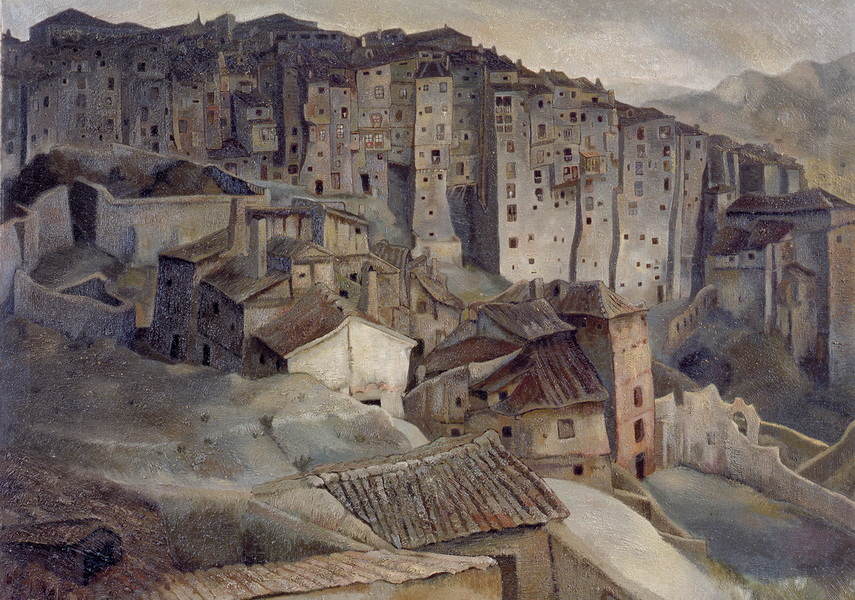 Multiethnic Background
Wifredo Óscar de la Concepción Lam y Castilla or Wifredo Lam was born on December 8, 1902, in a village of Sagua La Grande, in Cuba. Yam Lam, the artist's father, was a Chinese immigrant while his mother Ana Serafina Castilla descended from Congolese slave mother and Cuban mulatto father. That origin made him not only of a mixed race, yet he was exposed to diverse cultural influences in terms of Catholicism and African spiritual practices, which respectively became the central motif of his work. At the age of 14, Lam moved to Havana to study law according to a desire of his family. In parallel, he became involved in a tropical plants course at the Botanical Gardens, and at the Escuela de Bellas Artes studied painting from 1918 to 1923 when suddenly he was fed up with the academy and fled to Madrid.
Avant-garde sensibilty and unusual motifs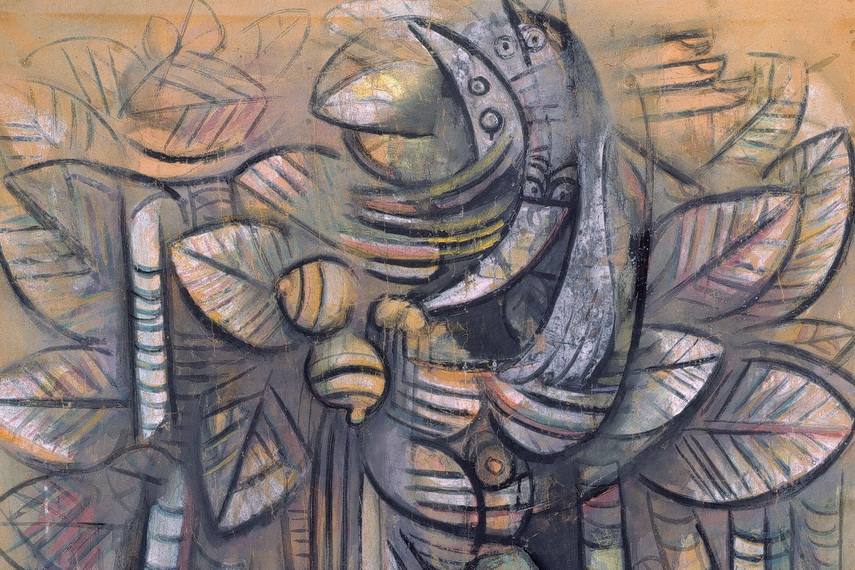 Europe Calling
In Madrid Lam's teacher was the famous artist Fernando Zaragoza, who taught Salvador Dali and was the curator at the Museo del Prado. The artist was a bit torn between academy classes and painters with whom he spends the rest of the time, but that did not in any way disrupted his artistic development. The works of Lam at the time merged from being rich and saturated to being simple, yet decorative. While in Spain Lem got acquainted with Eva Piriz and soon she became his wife, but sadly both she and their young son died in 1931 of tuberculosis, and this event certainly reflected on his work.
Connection with other artists make Lam part of international scene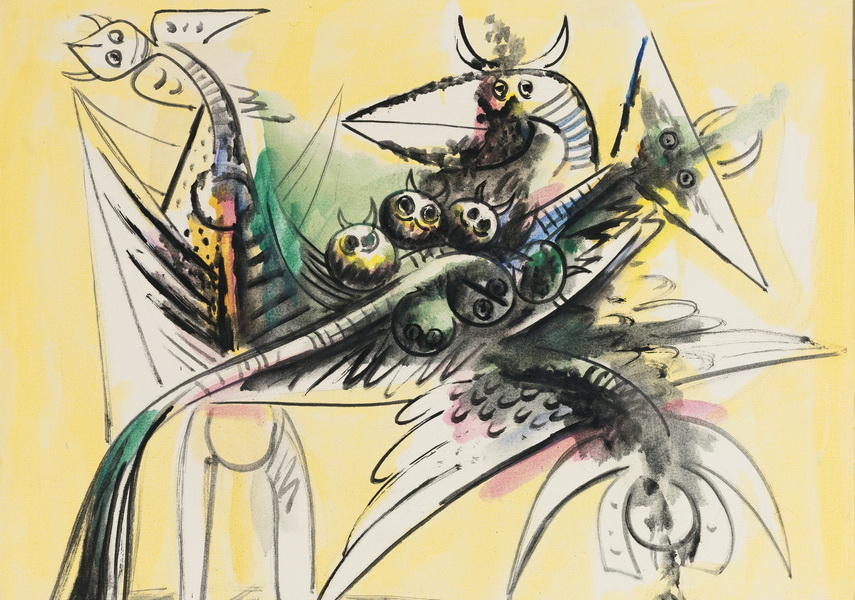 Fist Full of Fascinations and Influences
Wifredo Lam was exposed to various works of art at the Prado Museum, from Hieronymus Bosch to Henri Matisse, as well as latest tendencies embodied in Surrealism. Apparently full of compassion and aware of social inequality which was related to his own background, the artist was quite moved by the hard lives of Spanish peasants and became involved in Spanish Civil War. During that period he produced posters for Republican army but was severely injured and transferred to Barcelona. Out there through some friends, he was introduced with Pablo Picasso. Lam moved to Paris in 1938 and then met Georges Braque, Juan Miro and other relevant artists from that circle.
Thin line between the religion of African spirits and Catholicism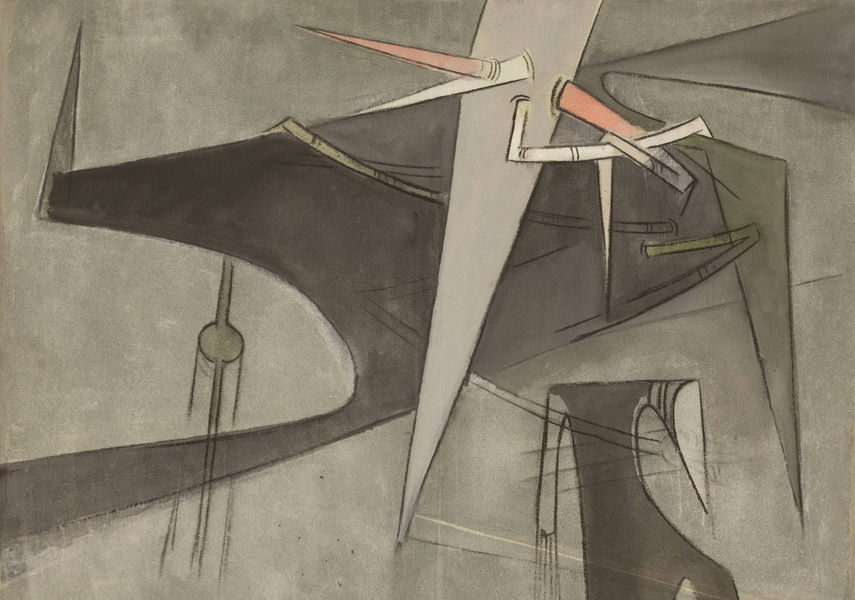 Collaborations And Success of Wifredo Lam Paintings
Shortly after being introduced to art dealer Pierre Loeb, Lam had a chance to prepare his first Paris exhibition in 1939. The influence of Cubism became more and more apparent in his work, and the same year he showed his works together with Picasso in Pels Gallery in New York. After a year, on the very beginning of World War II, Lem left to Marseille due to the German occupation of Paris where he meets Andre Breton and started working with him. It was a publication of Breton's poem Fata Morgana which was edited with Lem's drawings. In 1941 after being prosecuted by vicious Vichy regime a large number of intellectuals boarded the ship to the island of Martinique and they were immediately interned at the Lazaret camp, where they spent over a month. Interestedly, though the situation was rather inconvenient it served as a perfect setting to imprint and modify ideas of Surrealism according to pagan and animist traditions of Africa.
The influence of Breton was quite immense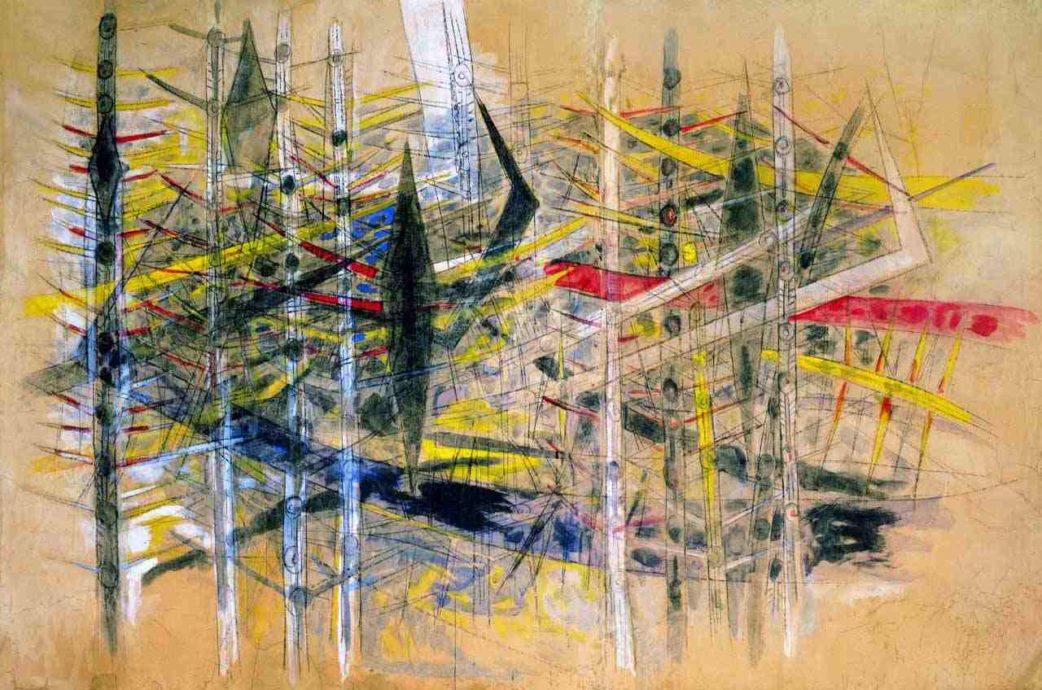 Obtaining Personal Style
Soon afterward, the return to Cuba marked Lam's unique work as a conjecture of several influences besides before mentioned Magic Realism, Cubism, Surrealism there was an imprint of Primitivism which was not surprising since of his culturally diverse background. The tradition of Caribbean and African symbolism accentuated with the references to Santeria, a hybrid religion practiced in the Caribbean, after the return to Cuba became the focal motif of his work. In that period the artist started examining that tradition with a help of Lydia Cabrera, an anthropologist and specialist in the Afro-Cuban culture who was on a task of preserving the heritage of ancestors. From the begging of his career Lam painted still life's, landscapes and figural compositions, but as the series of paintings that he produced from 40's onwards show increasing representations of anthropomorphic figures which due to a course of time became fully hybrids, like goodly creatures shaped out of human, animal and plants parts.[1]
The famous painting is part of MOMA collection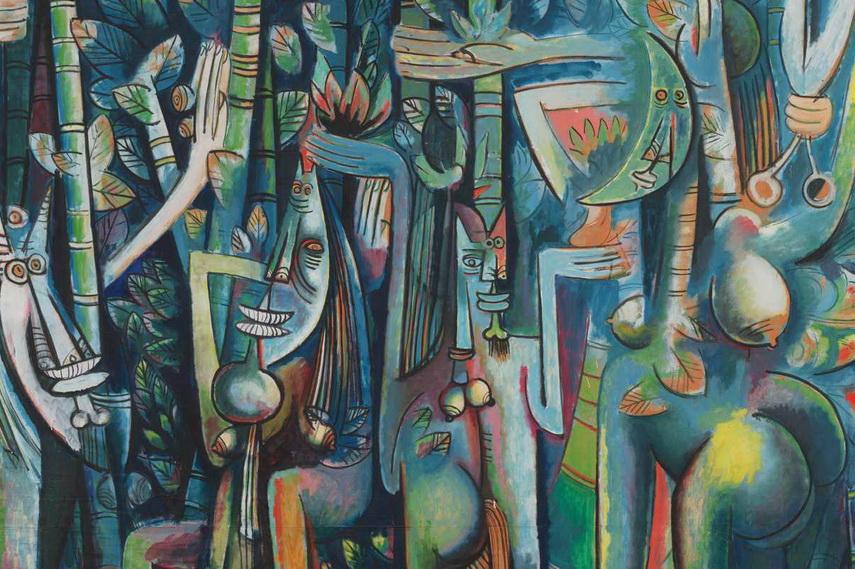 The Jungle
In 1943 Wifredo Lam produced perhaps one of his most respectable works called symbolically The Jungle. This humongous canvas seems to obtain a summary of Lam's intimate thoughts and persuasions. The narrative represents intensity and density of Afro-Cuba religions and, on one side, it seems as if it celebrates the openness of human mind, as well as the dark corners of imagination which can be a direct comment on the global political state of the time. The ambiguity of the composition makes it so exceptional primarily because it exposes the viewer to outstanding execution of artistic practice in aesthetical, social and political context. The curiosity is that the painting was for many years installed on ground floor of the New York's prestige MOMA, next to the coatroom, so there was a controversy regarding the work being marginalized because it did not fit within colonial and exclusive discourse of Western art, which tells much about the reception of the arts of the Others.
Bizzare and hybrid figures are often present on Lam's paintings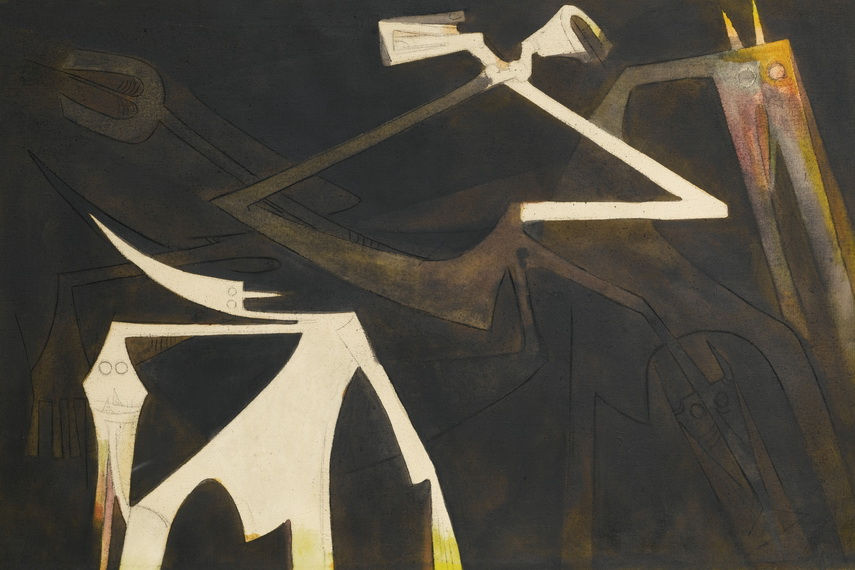 Further Artistic Development
Lam was quite supportive of the changes in his homeland, so decided to exhibit at Havana University in 1955 due to student protests against the authoritarian regime. After the change came the artist remained loyal to communist ideas and his painting El Tercer Mundo (The Third World) was produced for the president Castro's palace. In the 60's Lam moved to Italy with his wife Lou Laurin, a Swedish painter, and their children. That period of his life was followed by a large number of retrospective exhibitions and awards, while the artist decides to work with a media of pottery and sculpture and by the end of 70's Wifredo Lam's reputation became confirmed on the international scale.
Impressive body of work was produced in the period of over seven decades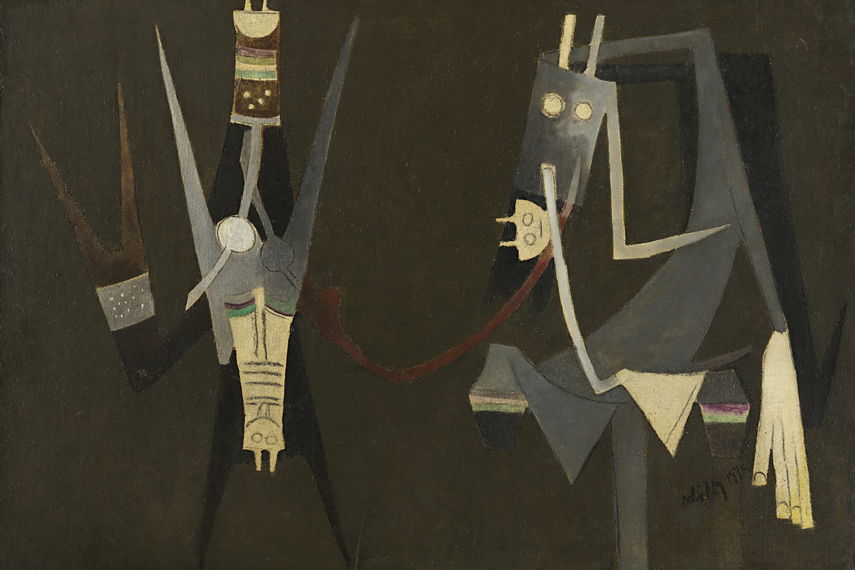 Percieving Social and Political Significance of Wifredo Lam Art
The way he has merged artistic ideas and ideological beliefs with the everlasting need to articulate his own position shows an immense effort to fight the prejudice, stereotypes and discrimination. Therefore, it can be said that his stylistically hybrid practice was based on agenda of emancipation and sensitivity for diversity. Last year Centre Georges Pompidou in Paris hosted a huge retrospective exhibition of his works which then traveled to the Reina Sofia Museum in Spain and the Tate Museum in London afterward and this year the restrospective was held in Tate Museum.[2] Finally, the relevance of showing his work is largely based on Wifredo Lam's efforts to promote and interpret different cultural models and heritage which marks him as perhaps one of the brightest examples of engaged art in the context of Southern America.
Wifredo Lam died on September 11, 1982, in Paris.
Refernces:
Jones.J, (2016): Wifredo Lam review – Cuba's last of the true surrealists, The Guardian, [November 28, 2016]
Nowlan. A.S. (2016), Who was Wifredo Lam?, 1843 Magazine, [November 28, 2016]
Featured image: Portrait of Wifredo Lam in front of his work, courtesy of W Magazine
All other images for illustrative purposes only