Will Barras is an acclaimed British artist, illustrator, and animation director born in Birmingham in 1973. Barras stated his artistic career back in Bristol where he moved from his native town to study graphic design. Shortly afterward, he became interested in street art that eventually led to him becoming one of a fresh crop of young artists working within Bristol's extremely diverse and widely renowned urban art scene.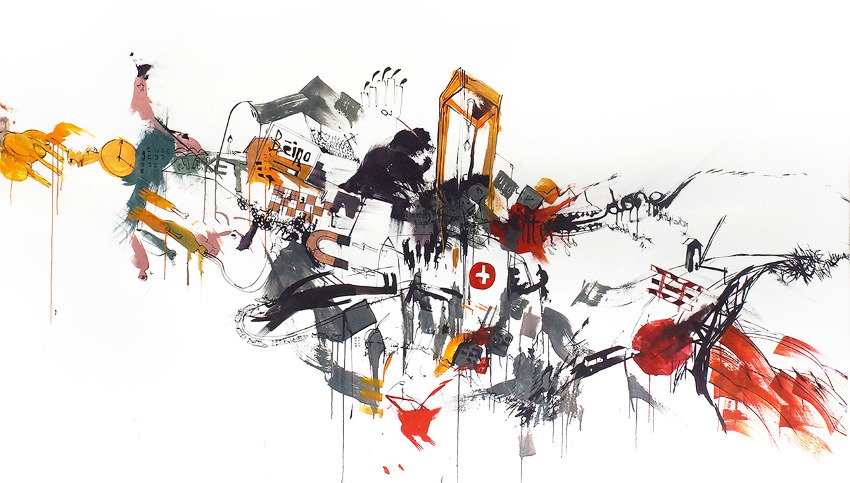 Scrawl Collective
In 1999, Barras appeared in the book Scrawl - dirty graphics and strange characters by Ric Blackshaw, that documented the influence of graffiti, DIY punk ethics, comic books and street art on mainstream visual culture. From this seminal book and it's follow-up Scrawl Too: More Dirt, came Scrawl Collective composed of Will Barras, Mr Jago and Steff Plaetz. With this central trio of Barras, Jago and Plaetz, Scrawl Collective began doing live painting events quickly gaining a reputation for their playful, doodle aesthetic, collaborating with local artists and carving a niche within what was then the very early beginnings of the worldwide street art scene. Becoming a member of the Scrawl collective, opened a lot of doors for Barras and his unique narrative-driven compositions and line work. Will started traveling extensively exhibiting his oeuvre in Asia, all across Europe and the United States.
Barras is known for his unique narrative-driven compositions and line work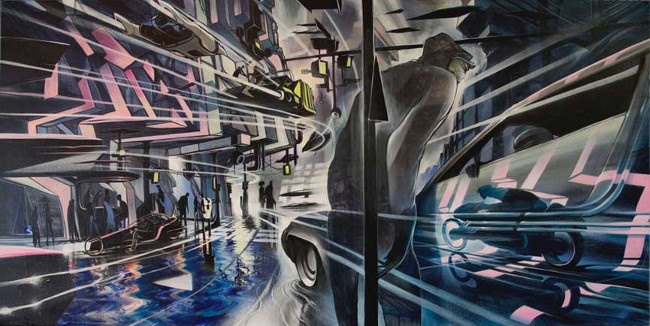 Oeuvre by Will Barras
Though Scrawl slowed down, the artist continued to paint and furthered his technique. His figurative painting on paper or canvas is characterized by his distinctive style - using expressive, bold strokes of paint and fluid lines the artist depicts fragments of stories in which female figures, as well as fast vehicles, play a central role. His impressive brush strokes lend a sense of vast momentum, especially when paired with his amazingly vibrant color palette. Sometimes the backdrop of a piece is dark and looming, with an unexpected injection of luminous tones in places "to make it pop." It is this heightened contrast that makes Barras' pieces explode from the confines of their canvas.
Female figures and fast vehicles often play a central role in his work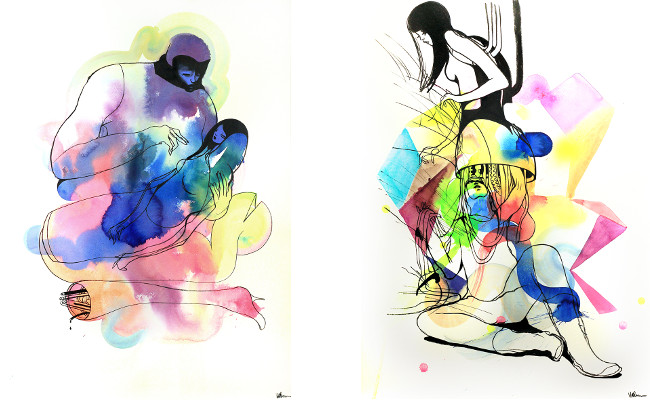 Exhibitions
When Will isn't travelling and painting, he divides himself between commercial works, directing animation, designing graphics for projects that stimulate him and undertaking a very strenuous exhibition and event schedule. His artworks were presented at Dark Retreat, exhibition held at Kallenbach Gallery in Amsterdam in December 2014. The show also featured the pieces by Jon Fox. In August 2015, his works were included in a group show hosted by Die Kunstagentin gallery in Cologne, Germany. Entitled Vivid Bunch Vol# 2 the exhibition featured oeuvre by Barras, Hense and Know Hope. He has participated in many exhibitions worldwide, including at AF Gallery, Cologne, Germany; Stolen Space, London, UK; The Don Gallery, Milan, Italy; Amble Gallery, Philadelphia, USA; Space Junk Gallery, Grenoble, France; and Alice Gallery Brussells, Belgium, among others.
The artist is represented by Die Kunstagentin gallery in Cologne, Germany and Fousion Gallery in Barcelona, Spain.
Will Barras lives and works in London, UK.
Featured image: Will Barras in front of his work
Images courtesy of the artist