Each day, various companies are making millions of dollars by swaying us into buying stuff we don't need. Millions! And all that for things we realize we don't even want after a few hours have passed from the purchase. Being aware of this annoying fault shared by all humans, Will Cotton creates art based on the universal language of consumer culture completely independent from your geographical location. His art does have a deeper meaning - as you will soon come to see - but it's essentially a visual experience that is primarily meant to be enjoyed through sight. All of his pieces are somehow connected to the Cotton's passion and the embodiment of the advertisement evocation of desire - the sweets and candies. This delicious artist works in his Manhatten studio and from there plays around with the fact we are so easily influenced by simple marketing tricks.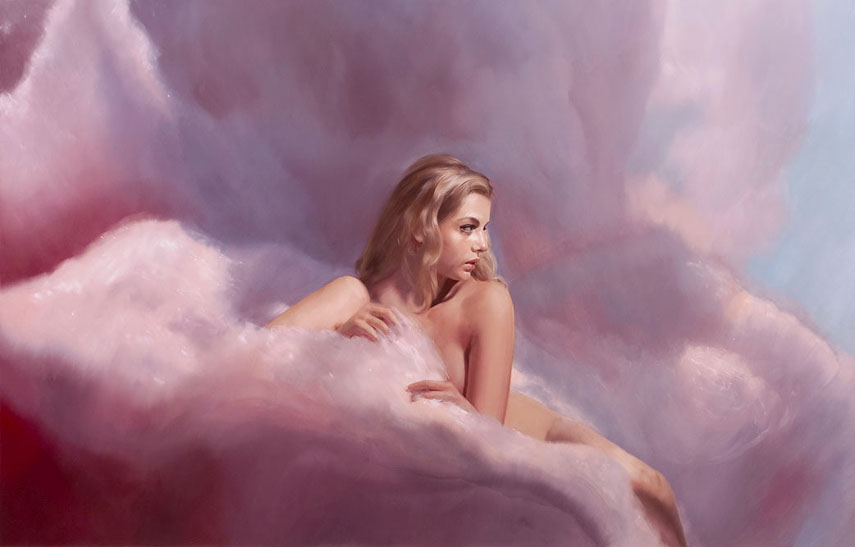 Early Candy Land
Cotton's career began during the 90s when he started depicting elements used in commercials on the televisions and in magazines. He wanted to somehow create visual pieces that aimed at evoking desire, similar to the way marketing business has been working for decades. The artist explained it best himself: My initial impulse to make these paintings really came out of an awareness of the commercial consumer landscape that we live in. Every day we're bombarded with hundreds, if not thousands of messages designed specifically to incite desire within us. It took some time to develop, but eventually Cotton managed to create a personal iconography made out of various sweets and candies. Cotton turned them into metaphors for excitement commercials of all types are able to cause in us. He decided to place these objects of desire in the backgrounds of his pieces, usually in a form of a landscape. During the late 90s, Cotton began creating model pieces made up entirely of pastries, candy and melting ice cream. Talk about a sugar rush. Back then, instead of imagining what he will paint on the canvas, he rather chose to focus on making elaborate maquettes from all sorts of delicious bakery goodies in order to help him visualize what he want to end up in his painting. Some pieces were not even placed inside painted compositions and remained independent pieces, unique sugar sculptures who's single fault was the existence of the expiration date.
Cotton's paintings are uniquely wonderful and delicious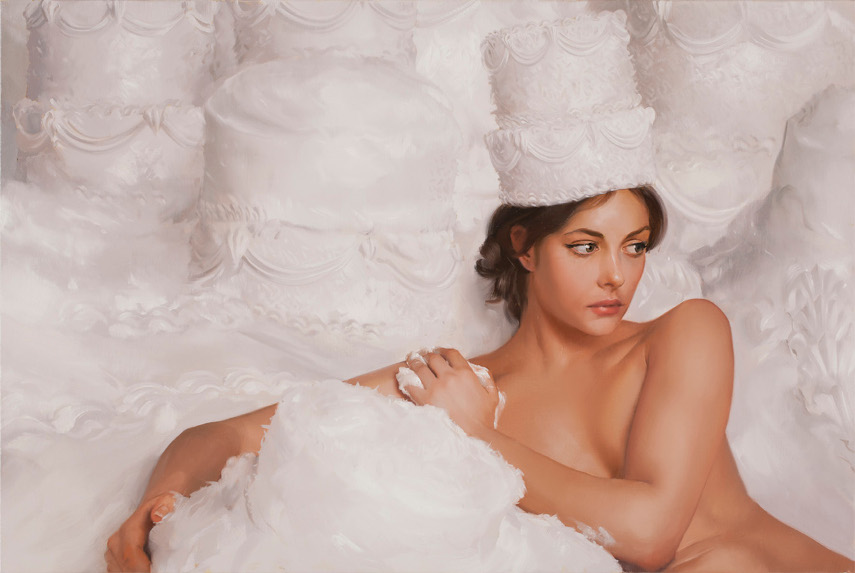 The World Of Pinup Girls And Sweets
From the year 2002, nude or nearly nude models started to appear in Cotton's works. Obviously influenced by his everlasting love for Pop art, the models Cotton began using usually looked like famous pinup girls characteristic for this movement. They were placed inside candy-land scenes and all these girls have a certain quality of indulgence and languor, which attached additional meaning to Will's pieces of desire. By the time he started including models in his work, Cotton already perfected the method of creating delightful scenery out of candies, so the decision to include girls was placed upon a well-established base. The point of combining attractive females with his world of candies and sweets was to finally get all the passions we crave for in one single place, to create a perfect utopia where everything can be fulfilled - meaning ultimately that there can be no desire, as there is no desire without the lack of it. This can all be associated with the idea of the Land of milk and honey, rooted deeply in European literature and art. All of his pieces are appropriately named to suit their delicious characteristics. Cotton has been known to make installation pieces as well, such was the Cotton Candy Dance or the pop-up model for the French bakery at Partners & Spade in Manhattan, New York, which can actually be described as a performance art too. All this only adds to unpredictability to his art - which was already pretty high since his work depicts such things as women floating on clouds of candyfloss, landscapes packed with lollipops, and giant hats made from macarons.
Cotton's art took a turn in 2002 when he started incorporating human subjects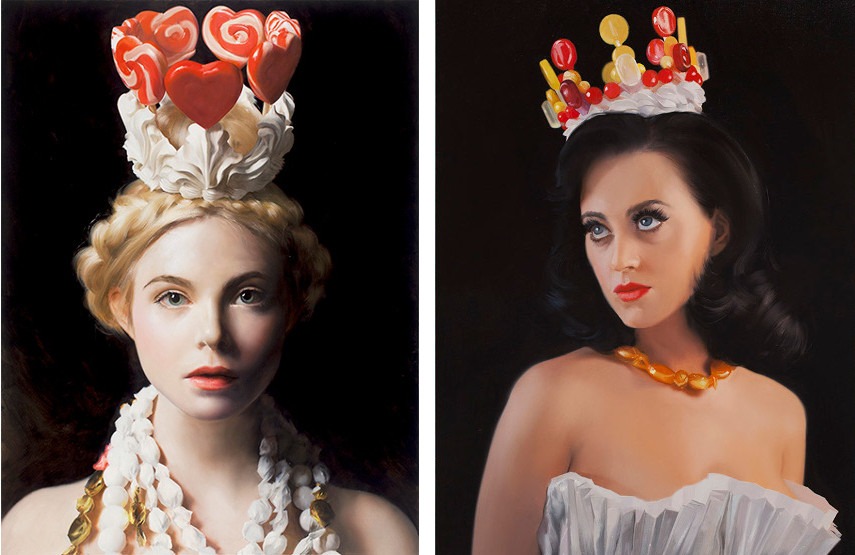 Exploring Cotton's Work Further
Besides his love for the Pop art and the pinup girls, Cotton found much inspiration in traditional art as well - he's a great admirer of Frederic Edwin Church, François Boucher and Fragonard. But at the heart of it all is his insatiable appetite for visual sweets. That is the essence, the fuel for his art. It was this that attracted him to test himself as an artist in the first place, as all the candy Cotton uses are nothing more then comparisons for the commercial consumer environment that surrounds modern people. Some of the artist's most popular paintings include Ice Cream Katy, Katy Sugar Beach, Cotton Candy Katy, Ice Cream Venus, Crown, and Chalet. The highest peak of his career was probably in 2010 when the singer Katy Perry approached Cotton with a request to work as the artistic director for her California Gurls music video. Will was delighted and did a marvelous job designing the props for the set of the music video. However, the focal points of Will Cotton's artwork are without a doubt his paintings. Even if you were to ignore the candy elements in these images - although we are not sure why would you chooses to do such a thing - you would still have an incredibly talented painter.
In 2010, Cotton started working with Katy Perry with intentions of creating a few pieces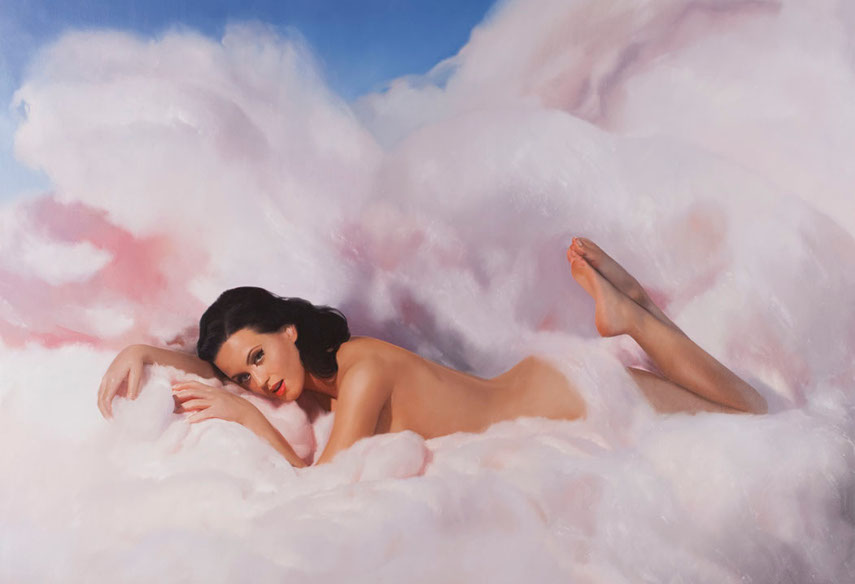 A Sweet Tooth
Each one of us in constantly exposed to hundreds of advertisements every day. We're being bombed from all sides by marketing and some are not even consciously noticeable - which actually makes it even more scary. And all of those commercials have one purpose and one purpose only - to evoke desire and make you spend your hard earned cash on products which in over 90% of cases you don't even need to have. The art of Will Cotton shares one characteristic with these marketing tricks - both of them have that special way of evoking passion from audiences. However, in the case of Cotton, you will not be forced to regret spending money or be unexpectedly bombed by random information. You are just given an opportunity to view and enjoy - if only you were able to taste the landscapes in the backgrounds as well.
Will Cotton lives and works in New York City, US.
Featured Image: Will Cotton - Artist in his studio - Photo Credits Kid In
All Images Photo Credits Will Cotton