William Blayney was an American artist and preacher with an interest in the Book of Revelation and biblical prophecy. His compositions generally include written inscriptions, and he often quoted or paraphrased biblical texts in his complex, message laden paintings.
Religious Art of William Blayney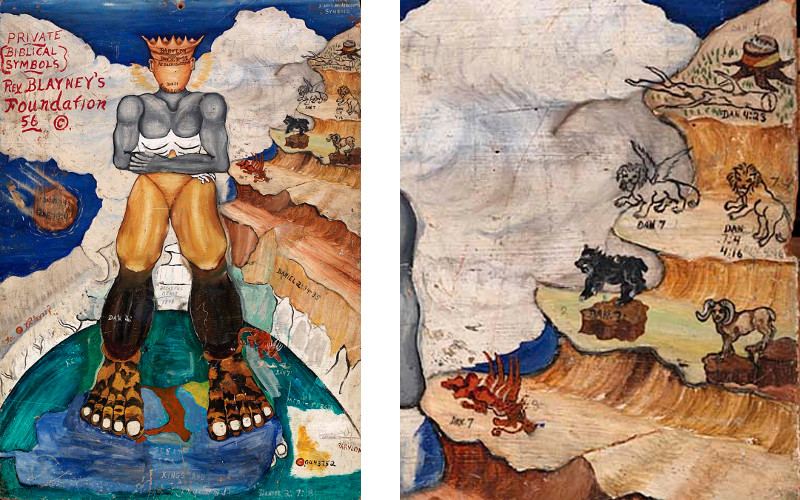 Born in 1918 in Claysville, Pennsylvania, William originally worked as an auto mechanic in Pittsburgh. In the early 1960s, he transformed himself into a self-ordained Baptist minister, travelling around in his camper to spread his art and the Word and giving sermons in the parking lots of shopping malls. During his preaching, Blayney used his paintings as visual aids for the people.
Ministry of Biblical and History Prophecy Symbols, 1970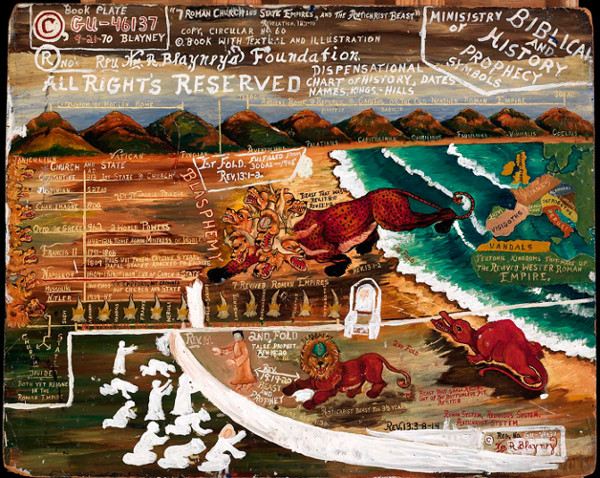 The imagery of the Book of Revelation has been a prolific source of inspiration for American folk artists since the early 19th century, but Blayney's apocalyptic compositions stand out for the sense of drama and urgency that he brings to them. He considered his art and preaching to be the fulfillment of a biblical prophecy.
Some of his works resemble homages to fantastical 16th century Dutch painter Hieronymus Bosch, such as Blayney's Whore on Beast, which depicts a tiara-crowned woman in painted face riding a creature with seven heads under an apocalyptic sky. This particular painting conjures an overwhelming sense of impending doom.
Spiritual Powers in the Nation and Church and State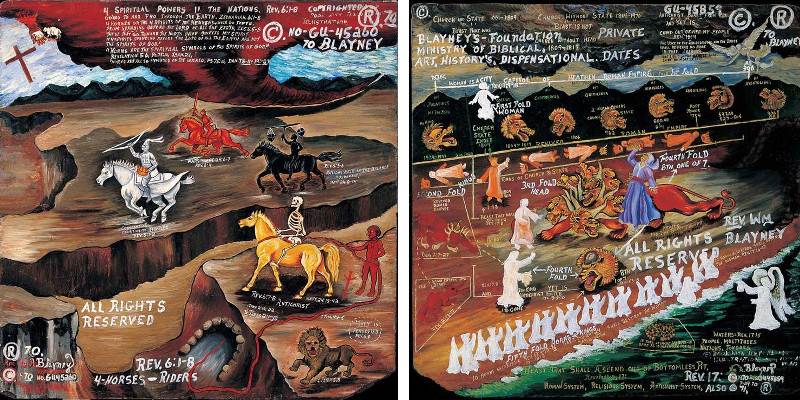 His paintings have been exhibited in several prominent American and European museums such as the Philadelphia Museum, The Newark Museum and the Museum of American Folk Art.
Blayney's works were a part of Opus Hypnagogia: Trippy Outsider Art exhibition, held in 2015 at the Morbid Anatomy Museum. Title of this exhibition, Hypnagogia, comes from a Greek word for the transition from wakefulness to sleep, a state of consciousness in which mental phenomena like lucid dreaming, hallucinations, and sleep paralysis occur.
The artist is represented by Stephen Romano Gallery, located in New York City.
William Blayney died in 1986 in Thomas, Oklahoma.
All images copyright © the artist