An American photographer William Klein is considered one of the most important artists in the medium's history, probably because of his unusual approach which was often called a crash course in what was not to be done in photography. Klein's visual language uses a lot of accidental events, graininess, blur, and distortion. In addition to his career in photography, he is also a movie maker known to openly criticize the new American society as well as foreign policies. His movie called Mr. Freedom is considered one of the most anti-American movies ever made.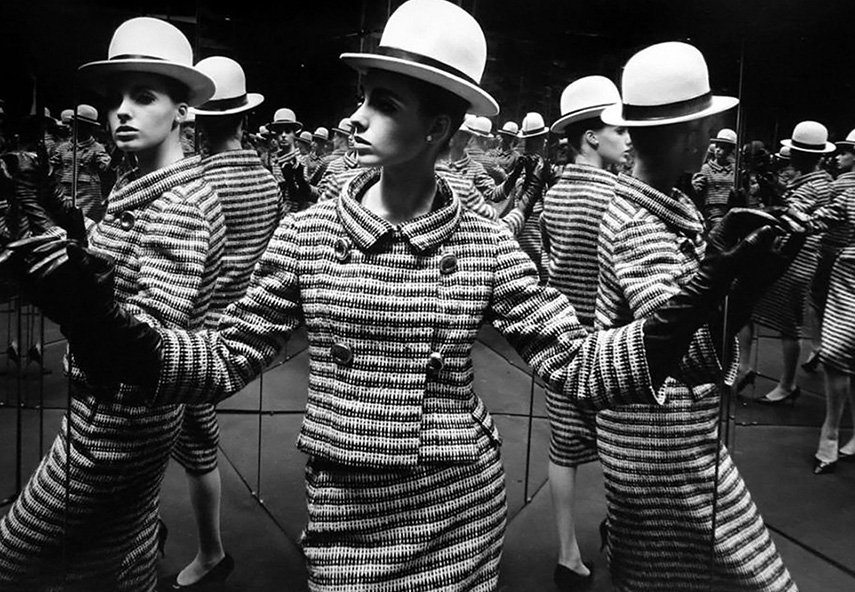 From Abstract Murals to Fashion Photography
Klein was raised in New York, in an impoverished Jewish family. After he graduated from high school, he decided to study sociology at City College of New York. However, after two years spent in the United States Army as a newspaper cartoonist, he decided to officially dedicate himself to painting. Klein attended the Sorbonne in Paris and studied painting with Fernand Léger. While living in Paris, he was working also as a painter, graphic designer, and filmmaker, which already showed his immense talent for the visual arts. Before earning fame as a photographer, Klein was creating abstract murals for French and Italian architects. He began photographing his murals in 1952 and at the time he got curious about photography and movies. He visited New York in 1954 and began to take photos of the city and its expanding urban chaos. Klein was sailing against the wind since the very beginning – in the 50s, he worked in direct opposition to the images of Henri Cartier-Bresson, who was a role model for street photography. From 1955 to 1965, Klein started producing extremely innovative and bizarre fashion photography for Vogue and similar magazines. Alexander Liberman, who was his employer at Vogue, was impressed by his work. In the fashion photographs of the fifties, nothing like Klein had happened before. He went to extremes. He took fashion out of the studio and into the streets, Liberman claimed.
In 1955, Klein started producing extremely bizarre, new fashion photography for Vogue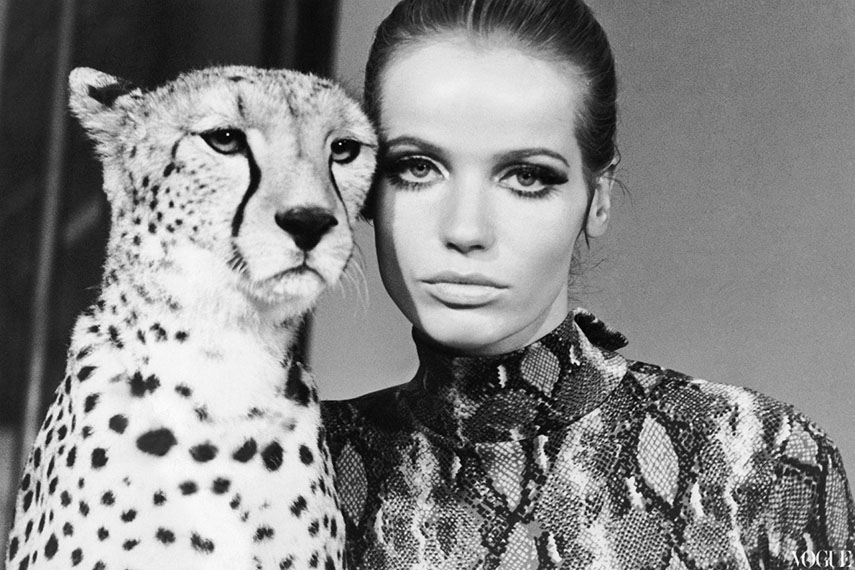 Photo Books and Documentaries
Klein became famous because of his consistent use of wide-angle camera lenses, fast film, and innovative framing and printing processes. His images have a fragmented, chaotic mood and a certain rawness which emphasizes the photographer's presence in the scene. Many of Klein's images are strikingly expressive portraits taken in Rome, Moscow, New York and Tokyo and his influence upon other photographers of the same era was undeniably strong. His most famous photographic books are Gun (1955), The Holy family on Bike (1956), Cineposter (1961), Club Allegro Fortissimo (1990) and Autoportrait (1995). To expand his artistic projects, Klein became engaged in filmmaking in 1958. In 1965, he decided to almost completely abandon photography in order to concentrate on films.The world of fashion was the subject of his first feature film directed in 1966, under the name Who Are You, Polly Maggoo? His most famous works are Cassius the Great, dedicated to Muhammad Ali, and Loin du Vietnam, which is a collaboration with a couple of directors such as Alain Resnais and Jean-Luc Godard. Since the late 60s, Klein has produced over 20 films, many of them being satiric and ironic, making fun of the fashion industry as well as the American culture and life.
Gun from 1955 was one of Klein's most famous photographic books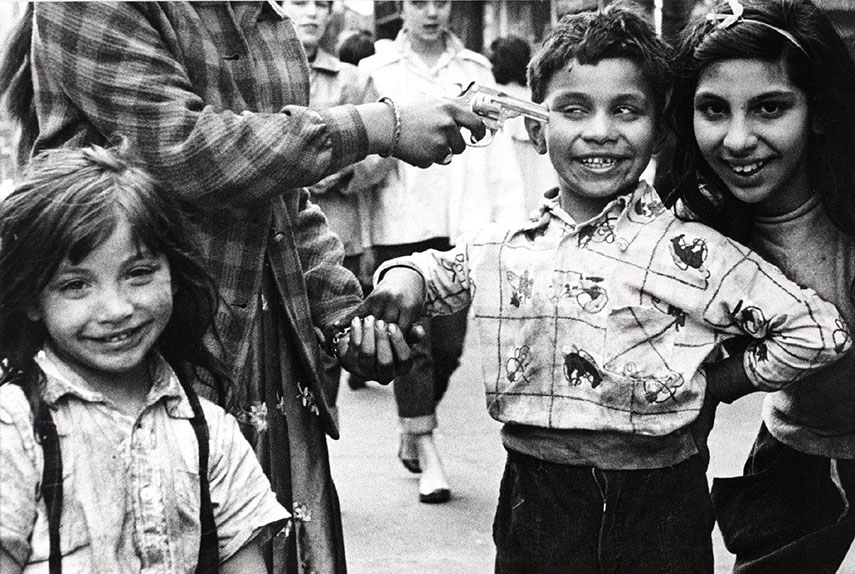 Voted One of the Most Influential Photographers
In 1963, an international jury at Photokina 1963 has chosen Klein as one of the 30 most important photographers. The artist became well-known in Europe upon publication of his powerful photo book called Life Is Good for You in New York , for which he won the Prix Nadar in 1956. Since then, Klein has exhibited all over the world - at Fuji Gallery in Tokyo, Stedelijk Museum in Amsterdam, Photokina in Cologne and The International Center of Photography and the Witkin Gallery in New York City. He was also featured in the Aperture monograph in 1981, which is an enormous success for any photographer. Even though he worked in the realm of movies for a very long time, Klein returned to part-time photography in 1978.
Photokina in Cologne has chosen Klein as one of the 30 most important artists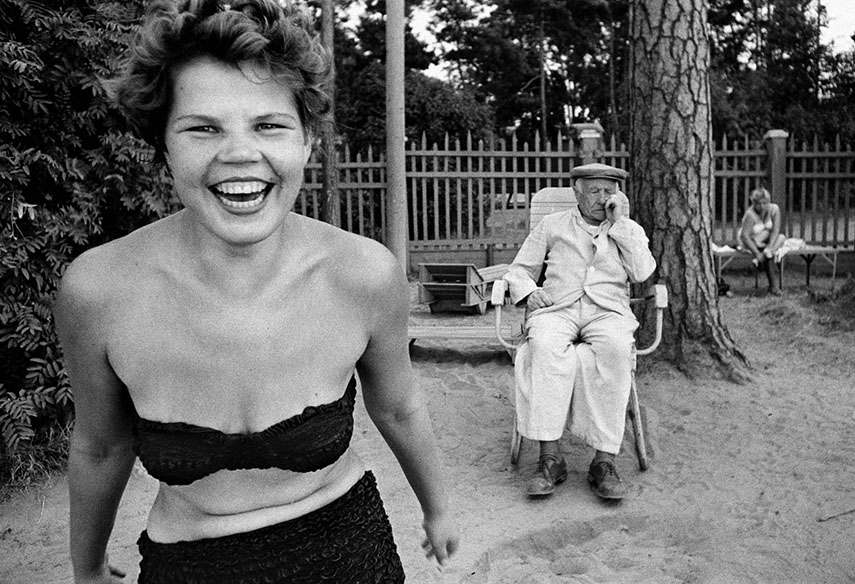 Breaking the Accepted Rules of Street Photography
Even though his work is very different from the traditional street photography of the 50s and 60s, Klein is considered one of the fathers of this genre because his photographs were the most distanced from the common standards of formal quality. His dynamic compositions, innovative use of lenses and bizarre fashion photography left the deep trace in the history of this medium. The same goes for his movie projects, which are bold, satirical and strikingly intelligent.
William Klein lives and works in Paris, France.
Featured image: William Klein's portrait - image via pinterest.com