xxxhibition is a German street artist who works with stencils, paste-ups, stickers and airbrush, leaving his mark on buildings and trains.
xxxhibition: Cologne Street Art Pioneer
xxxhibition began his career as a classical graffiti artist. As one of the pioneers of this art form in Cologne, his roots are easily recognized and his street credibility is thus indisputable.
In addition to traditional graffiti and paste ups, this artist devoted his career to new groundbreaking innovations - by using metal, wood and tiles on plastics and natural resins for his artworks. He also experimented with light in his works like with creating so some spectacular installations.
xxxhibition's Dark Disney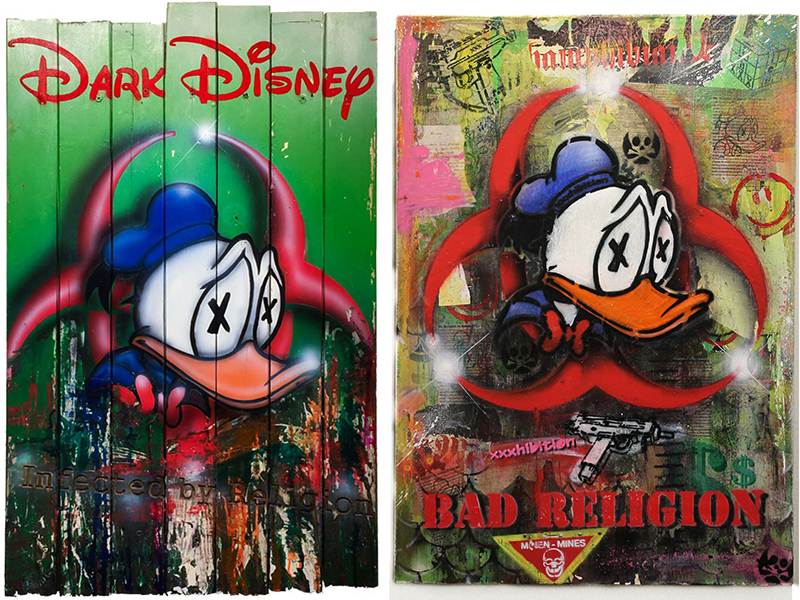 xxxhibition's Drone among Dirty Works
This artist draws attention by serving thought and provoking visual language that he, however, on an often affectionate, almost childish way, combines with innocent sidekicks like cartoon characters and pictures of saints.
Like, for example in his creation titled Drone where he criticizes the use of drones and modern warfare, by trivializing it and transforming it into a naive illustration, taken from any of the children's cartoons.
This piece was shown in 2013 at the exhibition Dirty Works at 30works gallery in Cologne. xxxhibition regularly leaves the street to hang his work in 30works gallery. His provocative interventions on canvas, where the urban art moved to studio and gallery, are delivering the same message as on streets, and although commercial, it stays in line with the essential values of its origins.
This artist is represented by 30WORKS Gallery.
xxxhibition lives and works in Cologne.
All images courtesy of the 30WORKS Gallery