Yang Yongliang is a Chinese contemporary artist, whose incredible mixture of traditional Chinese art and cutting-edge technology yields stunning landscape images that combine the old-school Chinese art and modern day themes. Yang works in painting, photography, video art and installation, sometimes successfully merging his media.
From The New World, 2014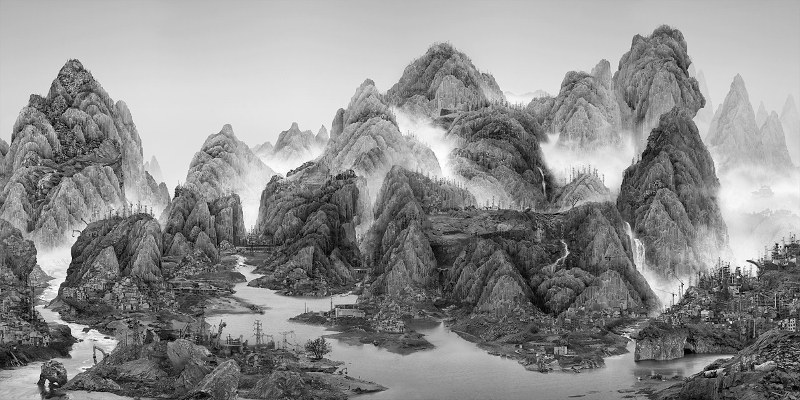 Background and Formative Years
Yongliang was born on July 27, 1980, in Jiading, a suburban district of Shanghai in China. From an early age, Yang showed interest in calligraphy and traditional Chinese painting, also known as shui mo, which he explored and shaped with the help of Yang Yang, a professor at Hong Kong Chinese University. In 1995, Yang finished Shanghai Arts and Crafts Vocational School, and four years later, in 1999, he graduated from China National Academy of Fine Arts in Shanghai, where he majored in Visual Communication. Along with several friends, he established a studio in 2004, and subsequently assumed the position of Art Director of the studio. From 2005 onward, Yang has been striving towards creating new forms of contemporary art by combining photography and video art. Yongliang also worked as a tutor at Shanghai Institute of Visual Arts from 2006 until 2008.
A Bowl of Taipei series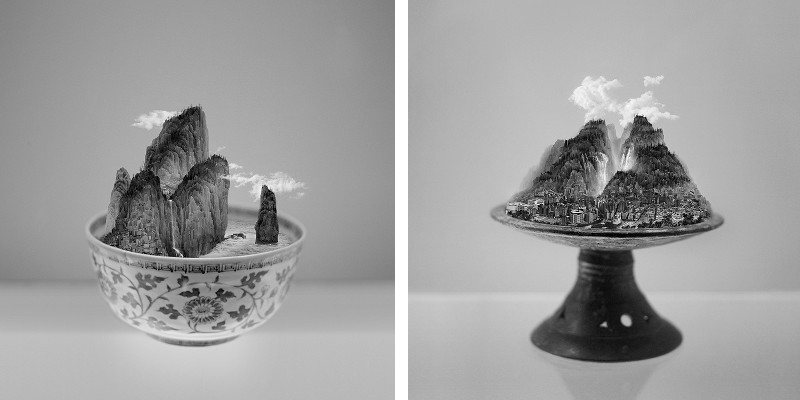 Style and Techniques
Yang Yongliang's images perfectly capture the essence of Chinese Shanshui paintings. But they are only seemingly that. Upon a closer inspection, complex modern cityscapes emerge. By using traditional Chinese ink-wash painting and photography, Yang blurs the fine lines between the conventional and modern. Shanghai, his native city, serves as a major source of inspiration for Yongliang's artworks, as the elements of China's most populous city (such as traffic signs and construction sites) appear in almost every image, revealing current urban culture. Harmony rules Yang's pictures, balancing the conflicting elements such as gentleness and vigor, ugliness and beauty. His work leaves his audience baffled by issues concerning culture and fast-developing society.
Silent Valley series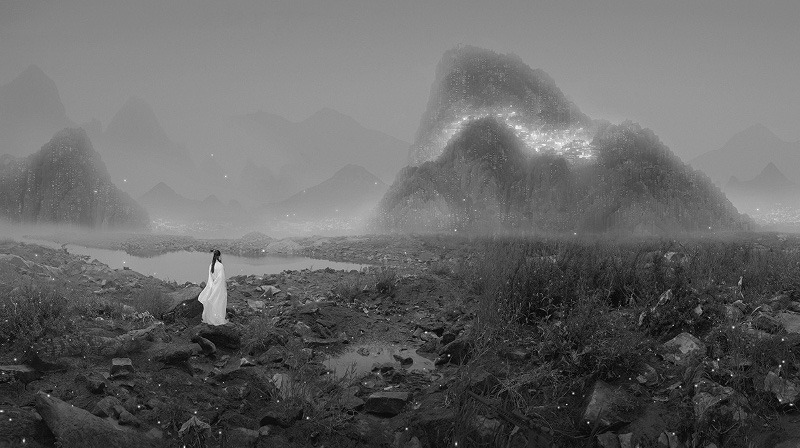 Video Art by Yang Yongliang
Photography to Video
Yongliang manages to bring his photographs to life by converting them to video. He goes around a city, usually a fast-developing one, and snaps photos using a digital camera. His many views of the cityscape are used as the building blocks for his work. The computer is his tool. Yang combines a vast number of his digital photographs and expands them by adding animations to the image. In his Phantom Landscape for example, Yongliang creates mountains from the buildings, rivers from urban waste and the forest from cranes and towers. The piece indeed looks like an intricate mixture of collage and painting, and it captures the Shanshui style. However, everything is composed of manmade objects; not even an inch of the landscape has anything "natural".
Heavenly City
Heavenly City is a series of photographs created in 2008. It shows a cloud of dust rising from a city, which looks like an explosion. From the cloud, a new city emerges, with roads and highways jutting out of the smoke. The series could be the artist's way of acknowledging and dealing with the issues that we face nowadays. It could also be seen as an ominous prediction of an impending doom - the threat that urban development poses.
The Moonlight installation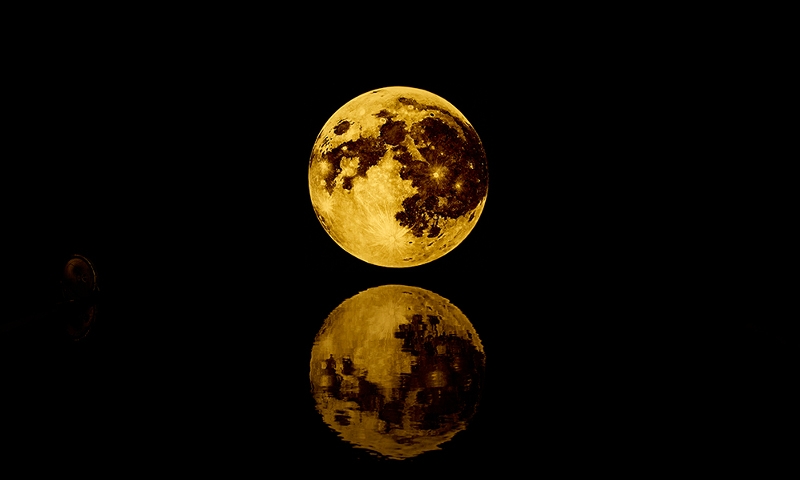 Exhibitions and Awards
Yang Yongliang has received numerous awards for his highly acclaimed artworks, including a Gold World Medal at New York Festivals in 2009, and a Silver Award in 2010 at Clio Awards. His images have been exhibited extensively around the globe. Some of his more notable shows include Wonderland, a 2011 exhibition in Luxembourg, Moonlight, a 2012 solo exhibition that was organized by Magda Danysz Gallery in Shanghai, and most recently Landscapes in 2014, a show held at Magda Danysz as well.
Yang's artworks are a part of many collections, including Nevada Museum of Art, British Museum, and Bibliotheque nationale de France in Paris, to name a few. He is represented by Magda Danysz Gallery.
Yang Yongliang currently resides and works in Shanghai, China.
All images copyright © the artist