Yannick Fournié is a French artist who has established himself as a bold and provocative figurative painter. Both ironic and melancholic, his portraits deal with identity, the ambiguity of a man who wishes to affirm his place in society. From peeled-back portraits to glorified bodies, the artist's world takes viewers into his depiction of social, political or religious icons or just anonymous people.
Yannick Fournié's education
Fournié was born in 1972, in Pau, the South of France. After enrolling at the École des Beaux Arts in Bordeaux, Fournié eventually decided to join the army, where he spend three years. This experience, although emotionally very powerful, only partially fulfilled his expectations. In search of new experiences, he pursued a career in sport. In 2010, Fournié was the owner of a gym in France and wanted to highlight a few artists in an exhibition. Faced with paintings from artists he admired, Yannick realized that he could, by working, awake a talent he had. Aged 38, he sold his gym, and moved to Biarritz, where he rented a workshop and spent 6 months painting and drawing in an excessive way trying to learn and feel again what he gave up 20 years earlier. Since then, the artist has created powerful and imagined worlds fraught with aesthetic magnetism and symbolic meaning.
Cops are…
Yannic's oeuvre ranges from acrylic resin to oil work. He uses hyper realism techniques which sometimes tend towards surrealism. Even though his paintings are realistic, the artist is not trying to reproduce reality, but to generate an emotion through the contrast, the light, and the color or texture. In 2011, he painted his first five paintings from the series Cops are... Questioning authority, the series represented portraits of policemen from different countries.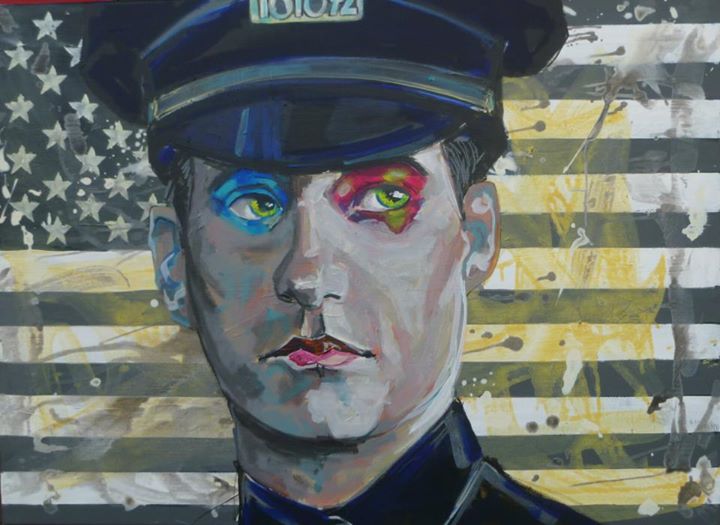 Incognito
One of Yannick Fournié's most known series of works, titled Incognito, feature men and women whose identities are hidden beneath Mexican wrestling masks. An extreme fan of those characters that people identify as superheros, Fournié found inspiration for this series during his stay in a small town in Mexico. A short time after attending a match of Lucha Libre, a form of professional Mexican wrestling, he came across one of the wrestlers, or luchadores, in his everyday clothing, yet still masked, at a local grocery store. Fans flocked around the fighter as he shopped for quotidian items and Fournié saw that the man was regarded as a hero.
Yannick Fournié places the masks on people engaged in everyday tasks, from phone calls to nighttime strolls. He uses those masks as graphic and colored metaphors, they are the representation of the individual in the society.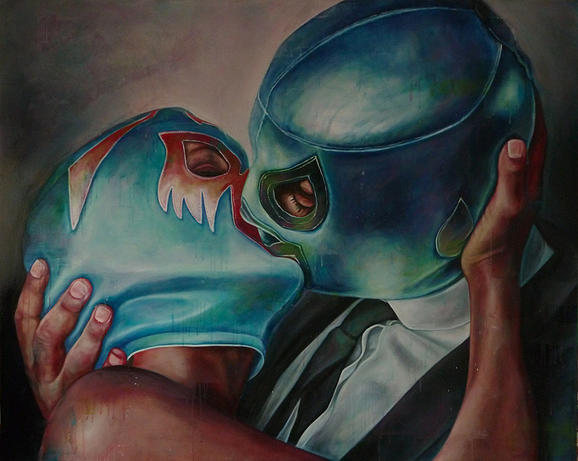 Yannick Fournié's inspiration
Fournié's work touches on themes of power, violence and the dictatorship of the consumer society and media while mixing it up with references of his generation. Yannick is inspired by the work of Jacques Monory, one of the first painters of the French figuration narrative movement in the 1960s, and he also likes the work of Danish film director, screenwriter and producer Nicolas Winding Refn.
Yannick Fournié lives and works in Biarritz, France.