With her portfolio consisting of works from the mediums of painting, sculpture, film and performance, Yayoi Kusama is a famous provocative avant-garde artist from Japan and one of the most prominent figures in her country's contemporary culture. Born in 1929, her career has lasted for decades now and during that time, she established a trademark out of repeating motifs and psychedelic colors that imply on the themes of feminism, obsession, sex, aggression, psychology and powerful self-reflection. Kusama represents an artistic legend that stands as a real leader in the both avant-garde and post avant-garde movements.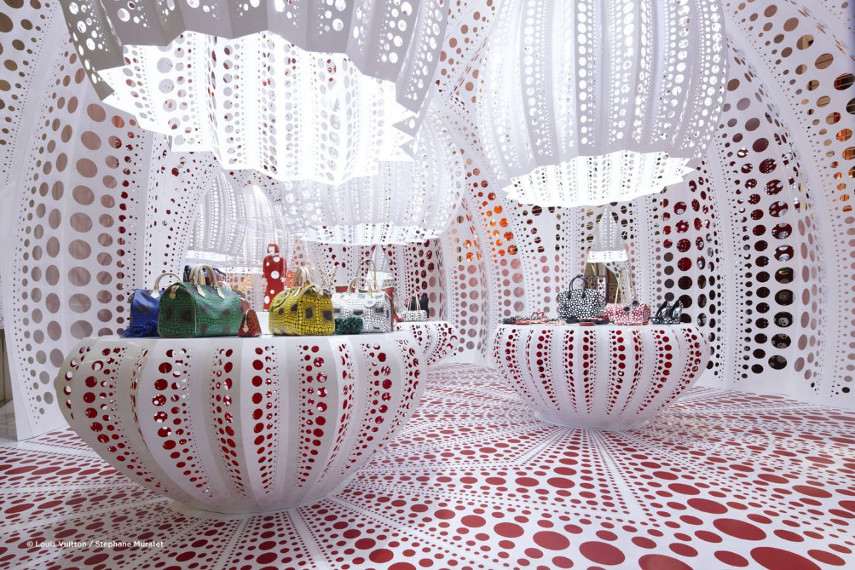 Growing Up In Japan
As was mentioned before, Yayoi Kusama was born in 1929. She grew up in the Matsumoto City, a mountain town on Japan's main island, Honshu, known for its Matsumoto Castle - a 16th-century stronghold nicknamed Crow Castle because of its distinguishing black walls. The young Yayoi started painting at an early age of 10, searching for an emotional channel to help her deal with a hard childhood full of neglect and abuse by her mother. By her own admission, the artist even had hallucinogenic visions during those stressful years. So, in an attempt to somehow deal with the harsh circumstances of life, Kusama began painting the aforementioned visions - the pieces consisted of dots and patterns she as a child saw all around her. It was feared that these apparitions were early signs of a serious mental illness, but as Kusama was growing up the symptoms started to gradually disappear. Ultimately, the visions were defined as an attempt of the mind to deal with neglect and isolation. These fruits of fantasy and the paintings they inspired were the basis for Kusama's profession in the years to come. During the year of 1957, Kusama was inspired by the letter from the famous artist Georgia O'Keefe and decided she would go to the United States with intentions of following in her friend's artistic footsteps.
[caption id="attachment_242255" align="aligncenter" width="855"]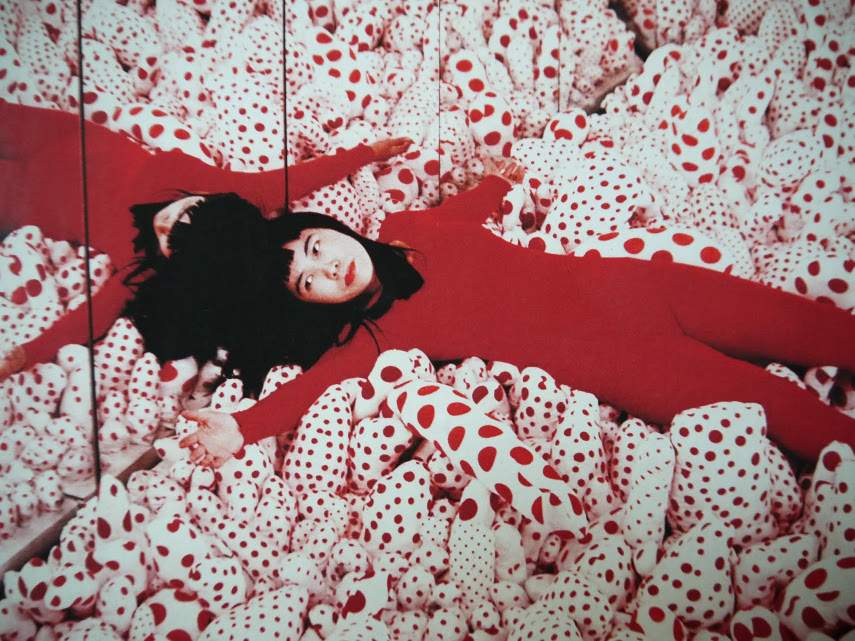 Yayoi Kusama - Accumulation, 1963[/caption]
Welcome To New York City!
Yayoi Kusama arrived in the Big Apple at the age of 27. She already considered herself to be a unique artist, but she was suddenly caught in a society much more dynamic and generally different from Matsumoto City - so even though Yayoi knew she was in the right place it was still a rather stressful experience. She brought to New York that characteristic rejection of traditional art values and after some time managed to become a part of the strong artistic scene at the time when New York was arguably the second city in the world when it came to the avant-garde art, just behind Paris. Over the next decade, she garnered a reputation as a controversial member of the New York art society. She obsessively worked on her series of Infinity Nets, paintings and sculptures featuring meticulous, seemingly endless repetitive motifs. During these first ten years in the Big Apple, Yayoi Kusama also staged elaborate happenings throughout the city - most notably when she broke in the garden of the Museum of Modern Art and performed a happening alongside several of her naked assistance. She organized outlandish performance pieces in prominent spots like Central Park and the Brooklyn Bridge, often designed to protest the Vietnam War - the ultimate enemy of the art at the time.
Seemingly endless repetitive motifs are the trademark of Yayoi Kusama's art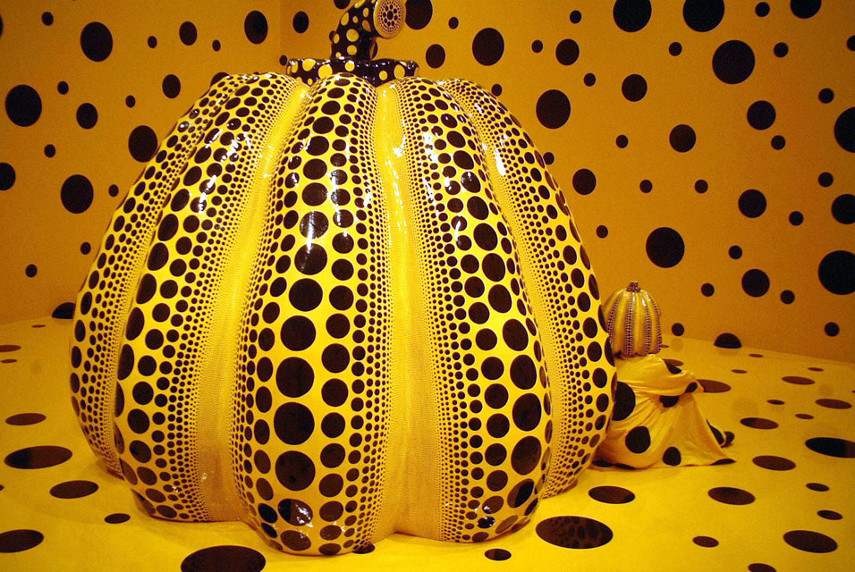 The Hard Times Of The 1970s
When she managed to establish a name of an avant-garde and progressive artist, Yayoi Kusama became one of the prominent female figures of the New York scene. She exhibited her work with the likes of Andy Warhol and Claes Oldenburg, directing the way modern art was going. She was enormously productive but did not profit financially from her work - something that never troubled the artist too much. At the peak of her career, however, Kusama started to feel yet again mentally unstable. Not wanting to stay in an American hospital, Yayoi decided to head back home and seek help in Japan that offered a much calmer place for healing. She spent the early 1970s in a mental institution where she wrote surreal short stories and poems. At one point she started to feel better and returned to the physically more challenging mediums of painting, sculpture and installations - but did not ever leave the hospital grounds. It has been recorded that Kusama created rooms in her ward full of mirrors reflecting her iconic polka dots and Infinity Nets. Nevertheless, she continued to have mental breakdowns and was often suicidal.
[caption id="attachment_242269" align="aligncenter" width="855"]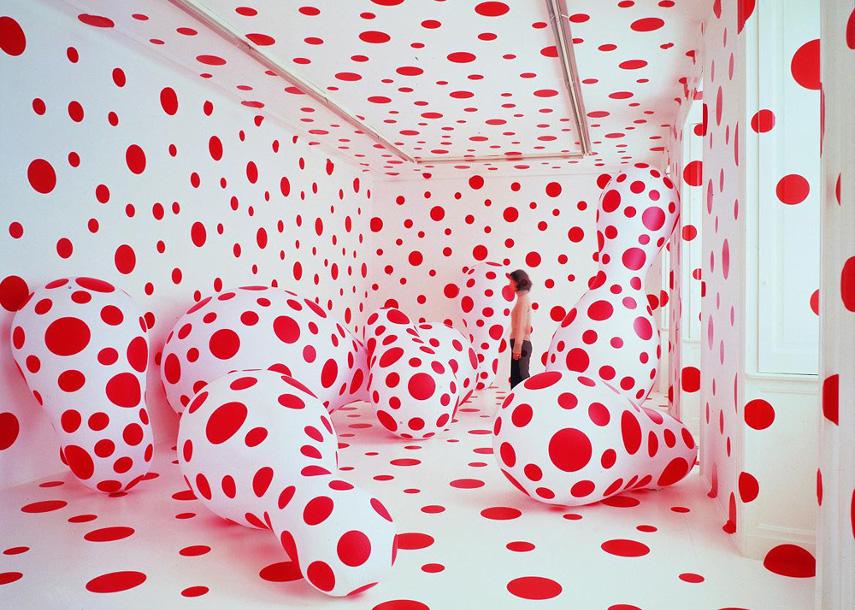 Yayoi Kusama - Polka dots[/caption]
The 1990s And Kusama's Return To The Top
After the artist started to feel better psychologically, she decided it was the right time for her to return to the top of the artistic scene where she belongs. As the public often loves a good comeback story, the audience welcomed her back with opened arms. She made many of her fine works in the 90s, but most notably she represented her country at the Venice Biennale in 1993 where Kusama received heightened recognitions from the international art world. Her mature works continued to share the characteristic obsession with repetition, patterns and accumulations - that is when she came up with a term of the obsessive artist, a title well deserved in every aspect. Kusama proceeded to work on her trademarks by covering surfaces - walls, floors, canvases, household objects and even naked assistants - with the already famous and unique dots. However, it should be noted that the artist was never able to get a grip of herself psychologically and never stoped seeking help from mental institutions.
Kusama made a career for herself by placing dots on literally any surface she could find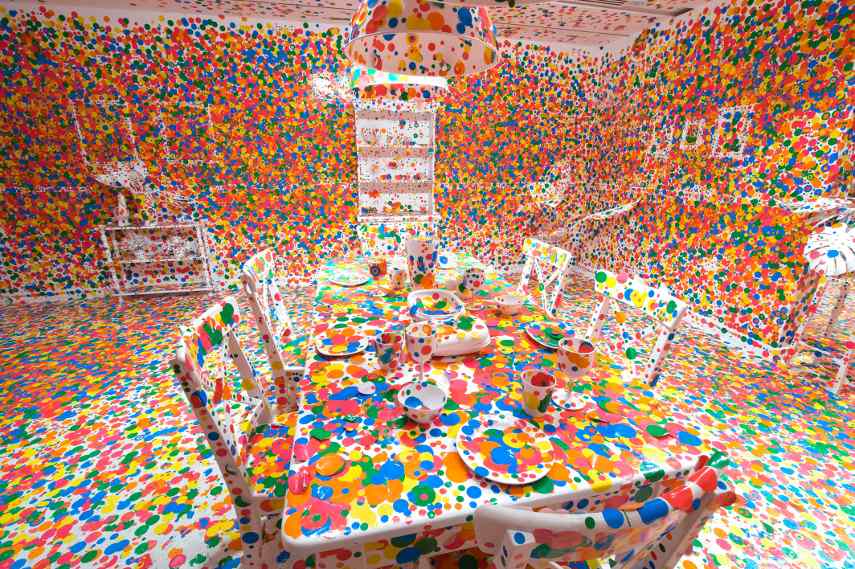 Contemporary Works
Although she is now in her late eighties, Yayoi Kusama is still very active and continues to prove her reputation as the arguably most important modern artist of Japan. In recent years, she has created large public sculptures on commission and has made several films and documentaries, the most recent released in 2008. The same year, Kusama became the best-selling living female artist, with works breaking record prices at auctions. She continued to create pieces of art richly infused with autobiographical, psychological and sexual content. During this time, Yayoi also published a few novels and poem collections, as well as heavily influencing the fashion scene of the world. Unfortunately, she is still troubled by her mental state and even to this day she lives in a hospital in Tokyo - a hard choice she made a long time ago. Kusama once stated: If it were not for art, I would have killed myself a long time ago. Yet another example of how fate likes to toy with the most brilliant of us all. In October 2006, Yayoi Kusama became the first Japanese woman to receive the Praemium Imperiale, one of Japan's most prestigious prizes for internationally recognized artists.
[caption id="attachment_242276" align="aligncenter" width="855"]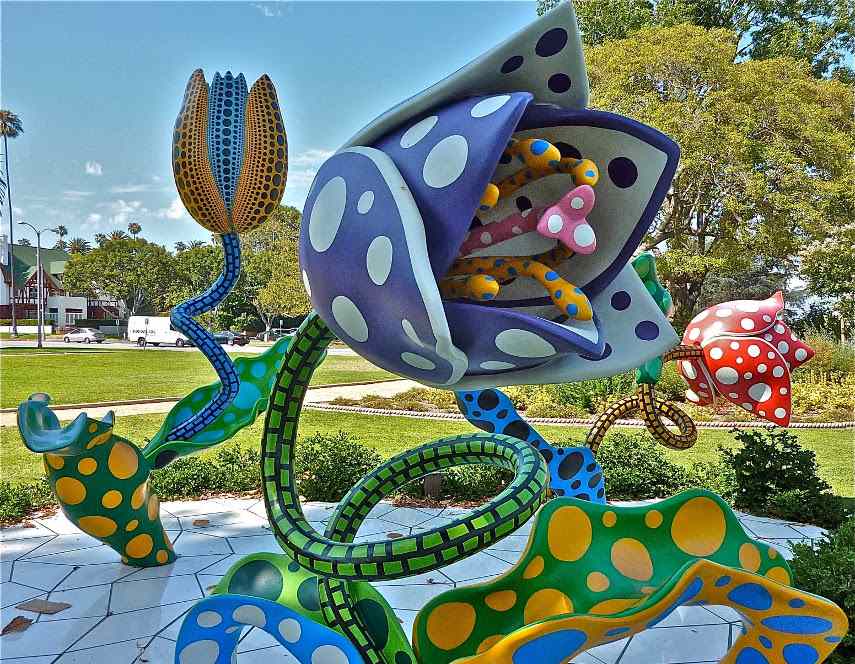 Yayoi Kusama - The Flower[/caption]
The Legacy Of Yayoi Kusama
Ultimately, there aren't many contemporary female artists whose name precedes them as much as is the case with Yayoi Kusama. She did not only help push modern art down the direction of progress and advancement but also proved that it is possible to mix attributes of feminism, minimalism, surrealism, Art Brut, pop art and abstract expressionism without endangering any one style. Whether you choose to attribute her success to the artistic talent, her bravery or childhood hallucinations, there is no denying that Yayoi Kusama is one of the most era-defining artists of her generation - not the mention that her work is probably the most instantly recognizable of all the pieces in recent history. All in all, a true legend of Japanese art.
The artist is represented by David Zwirner 19th Street New York in New York, David Zwirner 20th Street New York in New York, David Zwirner London in London, Hang-up Gallery in London, Marlborough Fine Art London in London and Marlborough Gallery Monaco in Monaco.
Yayoi Kusama lives and works in Tokyo, Japan.
Featured Image: Yayoi Kusama - Photo of the artist - Photo Credits Pizca
All Images Photo Credits Yayoi Kusama