Yoshitomo Nara is one of the most popular Japanese painters who portrayed wide-eyed children and dogs. Along with the painting, he draws, makes sculptures and illustrations. His major breakthrough occurred in 1990's when the Pop art expansion spread across Japan. What he found most appealing is the general acceptance of pop art, which he used to promote somewhat contradictory ideas and subjects. The innocent children with their wide eyes, pastel colors and cute clothes were depicted carrying weapons, showing hostile affinities and breaking the soft image of innocence.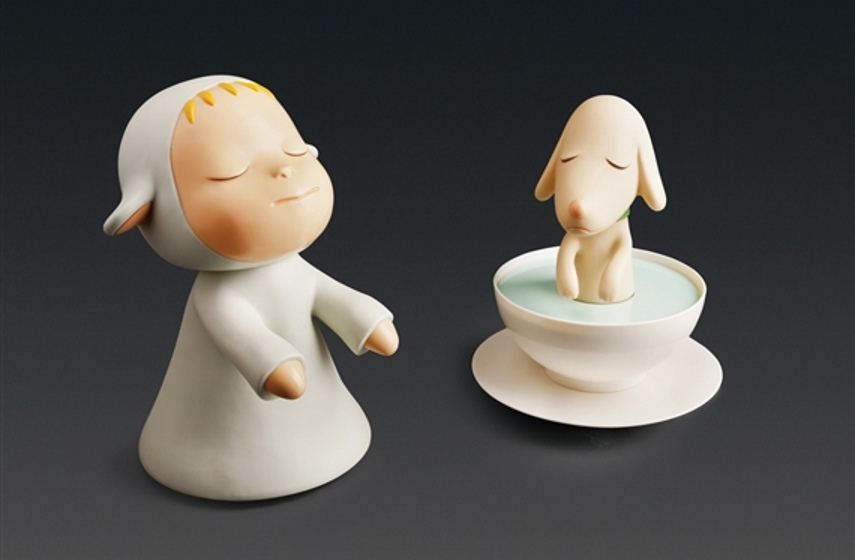 Girl and Dog in the World of Yoshitomo Nara
Nara was born in 1959 in Aomori, Japan. In 1985 he graduated from Aichi Prefectural University of Fine Arts and Music and two years later earned an MFA there. He left Japan for Germany where he studied at the Kunstakademie in Düsseldorf. When he started painting he combined his desire for expression with books and music he loved, creating an explosive fusion of popular culture elements. The most important influences are the manga and anime from the time of his childhood, with their innocent looking characters who go on great adventures. His favorite characters are a little girl and a dog. However, Yoshitomo Nara gave those cute looking figures a different twist, portraying them in dark and mysterious manner, painting them in almost horror like the light. This contradictory composition originated from strict social conventions in Japan, which no one could fight against, so the opposing nature of youngsters and weapons were a perfect medium because of their power to induce strong feelings. Most of the intellectual, creative and artistic members of the modern Japanese society felt the need to rebel against the social oppression imposed by the government however, it had to be done under the veil of free artistic expression no one could censor. His ambition was powered up by his love for punk music, which gave him the energy to be a rebel himself. Nara liked the characteristic spirit of the punk culture, he enjoyed the positive influence they had on young people's attitudes and aspirations, and however, he did not enjoy their rough aesthetics in fullness.
Nara's paintings are minimalist but carry an explosive fusion of pop culture elements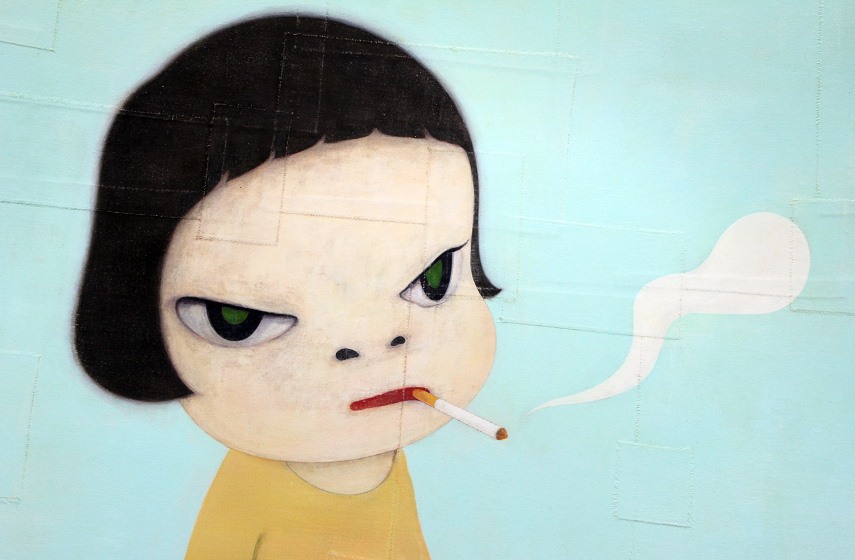 Soft Pastel Colors of the Rebellion
Instead of making his subject punk rock, he wanted to make them appear cute and vulnerable, and in more appealing aesthetics. During his educational years, he came to love Renaissance paintings and literature and often found inspiration in the paintings of old masters. He liked the positive values of Japanese tradition and used it quite often as a source of inspiration. He combined the traditional with contemporary and often used cites from rock and punk songs, graffiti and street art to enrich the motivational background of his work. Growing up in post-World War II Japan gave him to an opportunity to witness social and cultural change, to be part of the generations that were open to Western culture. His mindset was settled for openness, for the ability to incorporate new with traditional, keeping the quality unchanged and both element equally significant. Also, his upbringing was quite modern, as he was able to explore as many books as he wanted. He grew up to be fiercely independent and it determined the fictional nature of his subjects, too. The subjects of his work vary, from the typical allegorical satire to the odd looking wide-eyed kids, whose vulnerability of induces slightly disturbing feelings. The colors are pastel, soft-hued and the lines are bold, similar to the ones they use to portray anime characters.
The nature of Nara's sujbects is extremely confidant and independent
Playing with Weapons and Toys
The main subject is the contradiction, the strange sight of kids carrying weapons, knives, sometimes even displaying famous brand logos on them. The idea is to place weapons instead of toys, in order to show how easily the violent nature of humankind can be awakened. It is enough just to be part of the modern society to encounter some type of violent behavior. Children with weapons are a metaphorical depiction of grown up people who represent the bad kind, the one who would exchange noble ethical principles for acquiring power and wealth. Those are the ones who carry bigger weapons, and can successfully hide behind the seemingly innocent wide-eyed gaze. He develops his idea extremely well and has a major group of followers and appreciation around the globe. Critiques love him, general audience, even more, and fellow artists even feature him in their art, like the band Fantômas did in their album Suspended Animation in 2005. He uses his painting for commercial purposes also, and so far he has published many pieces for magazines, catalogs, and books and had his artwork appear in many videos. In 2010 there was a major retrospective exhibition held in New York, entitled Yoshitomo Nara: Nobody's Fool. From 2001 to 2003 and 2004 to 2005 he had two retrospective exhibitions touring Japan and United states - I Don't Mind If You Forget Me and the Yoshitomo Nara: Nothing Ever Happens.

Minimalistic portraits of babies carry a deeper and emotional message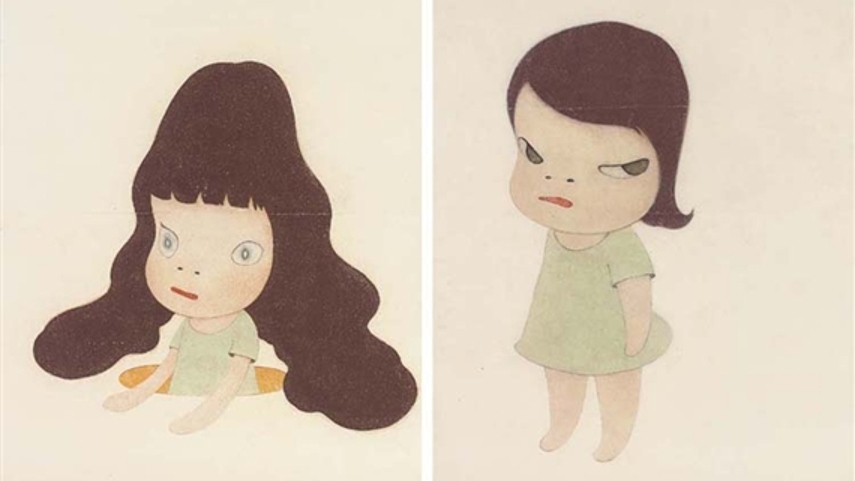 Naive Aesthetic and Simple Form
With something as simple as the 2D image, minimalist portrait of the moody child, Yoshimoto Nara manages to create something emotional and deep. Pop aesthetics serves him as a platform for the proud presentation of the confident children, whose eyes gaze straight into the viewer, or when they are closed they engage the viewer into the inter-subjective and introspective analysis. Their still glares, cheeky expressions, and cute appearance use the postmodern ability to transfer something deeper without having to sacrifice their simplicity. In pop culture cartoons are not made just for childer, their message resonate among the adults pretty well, so his medium makes perfect sense to those who want to dig deeper for the message and not just label him as sweet, cartoonish artist. The naive aesthetic gives the characters certain appeal, but their facial expression does not imply friendliness and cuteness. They look like the kids who just premeditated some sort of mischief or did something bad, and now are hiding under the veil of presumed innocence. In just one single frame Nara displays his composition of 2D canonization of the human spirit. Those children are grown men in masks, and a perfect example of the social oblivion that misinterprets them as victims and ones who require protection, while they are perfectly safe, ready, willing and able to commit a bad deed.
The artist is represented by the Pace Gallery London, Pace Gallery Beijing, Pace Gallery Hong Kong, Pace Gallery Menlo Park, Pop Fine Art Los Angeles and Galerie Fluegel-Roncak.
Yoshitomo Nara lives and works in Tokyo, Japan.
Featured image: Yoshitomo Nara - Portrait of the artist, image via Japantimes.co.jp